Review: Plácido Domingo is ageless as ever in 'Don Carlo,' opening the L.A. Opera season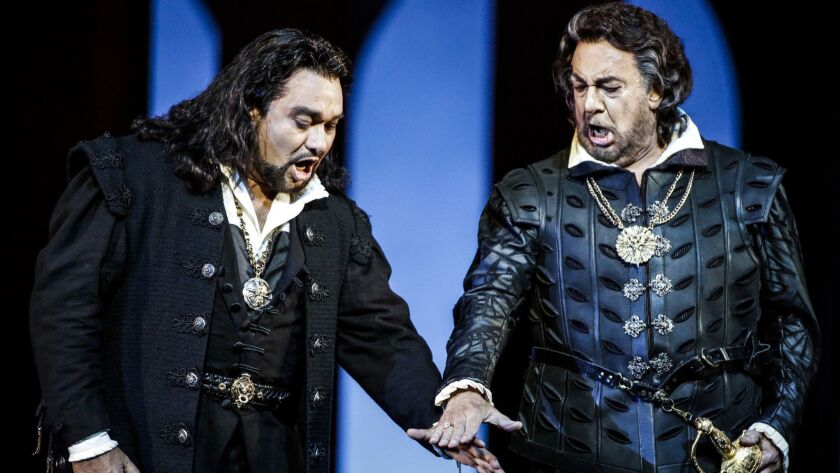 Music Critic
Turning 78 in January, Plácido Domingo defiantly still subscribes to his motto: I rest, I rust. Over the summer, Domingo took on what he has called one of the most difficult challenges of his more than half-century career. He made his conducting debut at the Bayreuth Festival in Wagner's "Die Walküre," and it seemed like a bad idea.
The Bayreuth orchestra pit is a notoriously sunken cavern with an unearthly acoustic, thrilling to the audience but disorienting to the first-time conductor. At the curtain calls for the first of three performances, Domingo was unbelievably booed for what was said to be leaden leadership. (Less of interest to the scandal-fixated opera press, however, was how Domingo reportedly rose to the occasion; the remaining performances were much better received.)
On Saturday night, Domingo opened the new season of Los Angeles Opera at the Dorothy Chandler Pavilion with what initially seemed to be another bad idea: Singing the role of young freedom fighter Rodrigo in Verdi's "Don Carlo." Throughout his 70s, the storied singer has traded dashing tenor roles for avuncular, princely, age-suitable baritone ones. Rodrigo, on the other hand, is a man probably not more than 30.
And again, the unbelievable. The greatest opera star of our time, and surely the most beloved, Domingo was not greeted by the applause that always accompanies his appearance here. Only this time, that was a triumph.
The audience simply didn't recognize him at first.
From a distance, at least, Domingo looked, moved and sounded, say, 40. For a brief second, until he opened his mouth, I worried I had missed an announcement of a cast change. With his first notes, I had to listen hard to recognize a voice I've heard most of my life and know so well that I've had no trouble recognizing it even interviewing him over terrible telephone lines.
The Domingo phenomenon of a great singer having passed his sell-by date not by years but decades (famed soprano Renée Fleming is, for example, winding down her opera career at age 59) is starting to get a little surreal.
It is certainly possible to complain that Domingo isn't a real baritone, having a distinctive tenor ring he'll never, and probably never want to, shake. Call him, if not a baritone, something new — a Domingotone.
And, yes, he no longer has the vocal flexibility for dynamic gradation. If he belts, he makes you believe he's assertive, because he has something to convey and has earned the right to be heard.
The main thing, though, is that Domingo, despite a willingness to try just about anything — once! — has always been an old-school singer; perhaps the greatest pleasure in this "Don Carlo" is its unapologetic display from a consistently impressive cast of traditional, grand, lapel-grabbing Verdi singing.
Based on Schiller's play, "Don Carlo" provides an expansive historical canvas. Originally five acts (with versions in French as "Don Carlos," and Italian), it can easily last five hours with intermissions. The Spanish Inquisition is in full swing. While serving the needs of Italian opera for romance — Carlo loves his young stepmother, Elisabeth, to whom he was originally betrothed, and hates his father, the authoritarian Philip. This is set amid a vast grand opera canvas showing the complex interplay between political and religious tyranny.
Very little of that canvas is painted in Ian Judge's 2006 period production for L.A. Opera, staged by Louisa Muller for its revival. The company uses a four-act reduction Verdi made for practical reasons. John Gunter's claustrophobic set of arches makes the opera seem wholly a palace and romantic intrigue.
But those red arches do have one important advantage, that of providing acoustic baffling for the voices. The sound from the singers onstage Saturday had a rare vividness for the Chandler.
Those voices included Ferruccio Furlanetto, who was Philip in 2006 and who has become all the more profoundly moving and nuanced; the debut of the powerhouse Russian mezzo-soprano Anna Smirnova as the cunning Princess Eboli; and two commanding L.A. Opera regulars, Ana Maria Martinez (Elisabeth) and Morris Robinson (the Grand Inquisitor).
Ramón Vargas might have made the volatile Carlo seem overly juvenile. But not only did he need to avoid being overshadowed by the Domingotone in his memorable duets, but Domingo's very presence was also a reminder that in his tenor days, he had been an exceptional Carlo (his recording of the opera conducted by Carlo Maria Giulini is rightfully the most recommended).
"Don Carlo" was one of the operas with which James Conlon began his now 12-year tenure as L.A. Opera music director by showing off his intensity. The drive remains, but what is admirably different now is a far richer orchestra sound, giving a new weight to the bass, a downright miraculous feat in this bass-shy hall. The result is a far greater overall sense of dramatic gravity.
But what was really different was the spectacular chorus. Now trained by Grant Gershon, the crowd, as individuals and as a frightening mob, became a protagonist, reminding us always of the bigger picture. In Verdi's geopolitical cosmos, the people must rise again and again against injustice, or they rust.
"Don Carlo'
Where: Dorothy Chandler Pavilion, 135 N. Grand Ave., Los Angeles
When: 7:30 p.m. Saturday, Sept. 29, Oct. 4 and 11; 2 p.m. Oct. 7 and 14
Price: $24-$379 (subject to change)
Info: (213) 972-8001 or LAOpera.org
---
Inside the business of entertainment
The Wide Shot brings you news, analysis and insights on everything from streaming wars to production — and what it all means for the future.
You may occasionally receive promotional content from the Los Angeles Times.