Getty museum closes because of fire, but 'the safest place for the art is right here,' spokesman says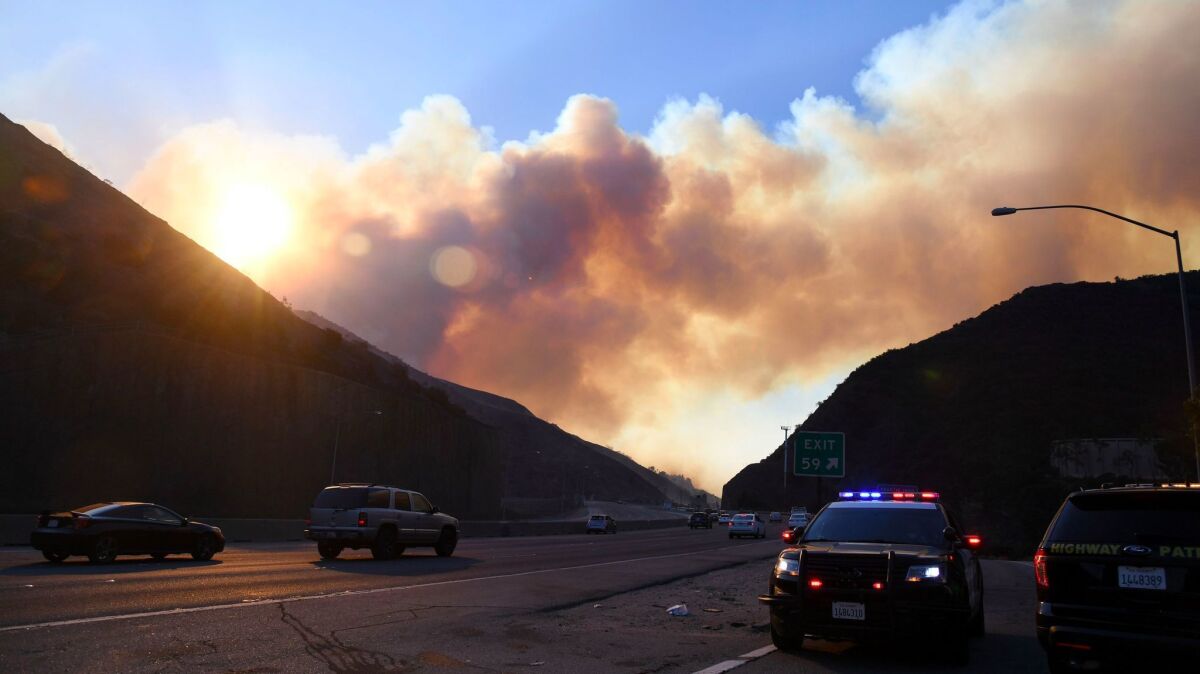 The Getty Center has closed for the day because of wildfires burning across the 405 Freeway, but officials say the flames pose no immediate danger to the museum's art.
"The safest place for the art is right here at the Getty," Ron Hartwig, the Getty's vice president of communications, said Wednesday after the freeway had been shut down and images of ominous smoke and flames near the museum appeared on social media.
Right now, Hartwig said, "Our greatest concern is for our neighbors."
Part of the confidence at the Getty Center stems from how the complex of buildings was designed and constructed more than 20 years ago.
Air quality and its possible deleterious effects on the art is the main concern, but the museum's sophisticated air filtration system is doing its job just fine, the museum said. The system works like a reverse air conditioner, forcing air out of the galleries rather than sucking it in, while maintaining the necessary temperature and humidity levels. Closing the buildings eliminates the opening of doors that would let in polluted air.
Plants with the highest water content are planted closest to the building, Hartwig said, noting the museum's travertine and metal exterior. Brush is cleared regularly, he said, and a million-gallon reserve water tank is on site.
Should an evacuation become necessary, the Getty Center has an emergency plan that was tested in September 2012. That year the museum implemented a voluntary evacuation after a fast-moving brush fire erupted in the Sepulveda Pass. Staff and visitors were escorted off site, while security and other essential personnel remained.
Trying to evacuate the art is not in that plan, Hartwig said, reiterating that the building is the safest place for the collection in the event of a disaster.
The museum will base decisions about future closures on communication with police and fire departments.
The nearby Skirball Cultural Center closed to the public Tuesday because of air quality concerns and planned to be closed today too, said Mia Cariño, vice president of communications. The center is closed to most staff as well.
"Essential engineering and security staff is there to monitor the situation," Cariño said. "We're monitoring the conditions of the galleries — temperature, humidity, air quality. So far everything is fine and they're staying in touch with the fire department and police department."
ALSO:
Get our L.A. Goes Out newsletter, with the week's best events, to help you explore and experience our city.
You may occasionally receive promotional content from the Los Angeles Times.