From 'Breakfast at Tiffany's' to 'Pink Panther': The music of Henry Mancini, remembered
Henry Mancini was one of the most popular film and TV composers of the 20th century, with 72 Grammy nominations, 18 Oscar nominations (including four wins) and his music playing in concert halls and living rooms alike.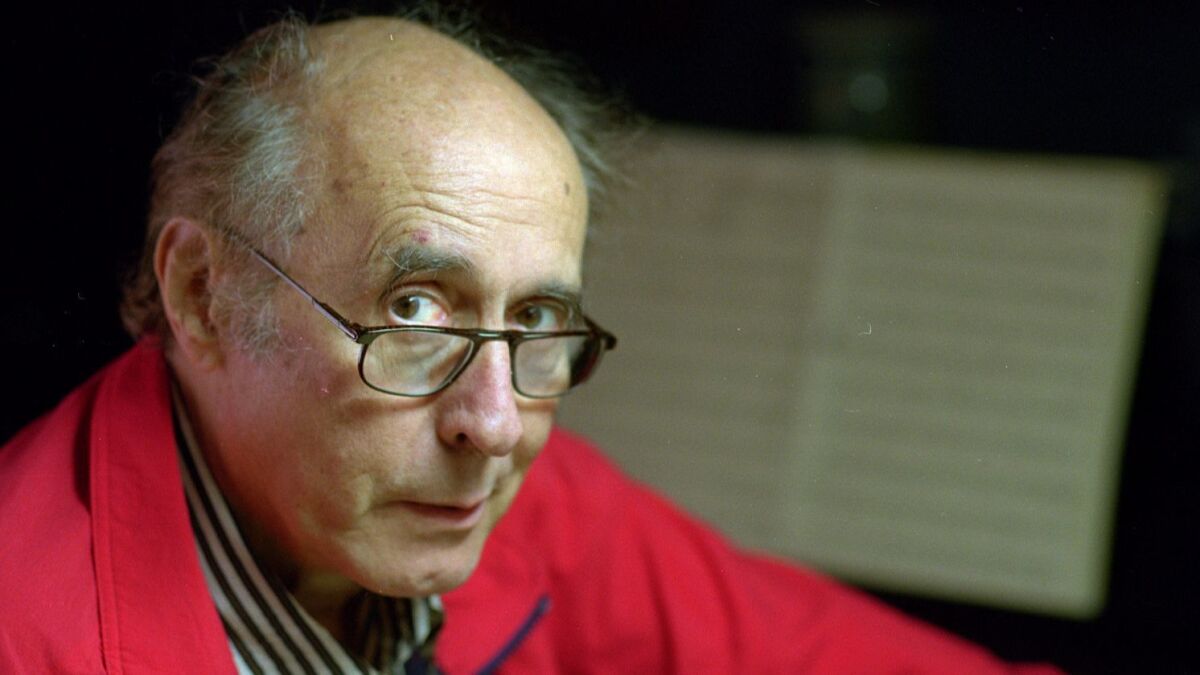 And though Mancini died in 1994, his friends, family and fans got to time-travel back to his heyday of the 1960s during a star-guided tour Saturday, a concert titled "Mancini Delivered: A Musical Tribute to Ginny and Henry Mancini" at the Wallis Annenberg Center for the Performing Arts in Beverly Hills.
Among those assembled for the evening were John Williams, Kristin Chenoweth, Quincy Jones, Patti Austin and Julie Andrews, who co-hosted part of the show. Andrews' husband, director Blake Edwards, collaborated with Mancini on 26 films, including "The Pink Panther" and "Breakfast at Tiffany's." Andrews relayed how the two men met on the Universal Studios lot in the late '50s, and Edwards asked Mancini to write the music for his new TV series, "Peter Gunn."
"Blake told me that when he first heard that iconic 'Peter Gunn' theme, he just about fell down," Andrews said. "He was gobsmacked."
She also recalled the time in 1968, while she was filming "Star!" in France, when Edwards phoned her from L.A. and played the new recording of Mancini's ballad for the film "The Party."
"I've never told anybody this story before," Andrews told the Wallis audience. "When the song ended, I said, 'Blake, that is gorgeous.' 'It is, isn't it?' he said. There was a small pause. Then he said, 'Now' — he cleared his throat — 'Will you marry me?' "
The concert Saturday was produced by Gregg Field, who is married to the composer's daughter, Monica Mancini, and serves on the USC Thornton School of Music board alongside Wallis Managing Director Rachel Fine.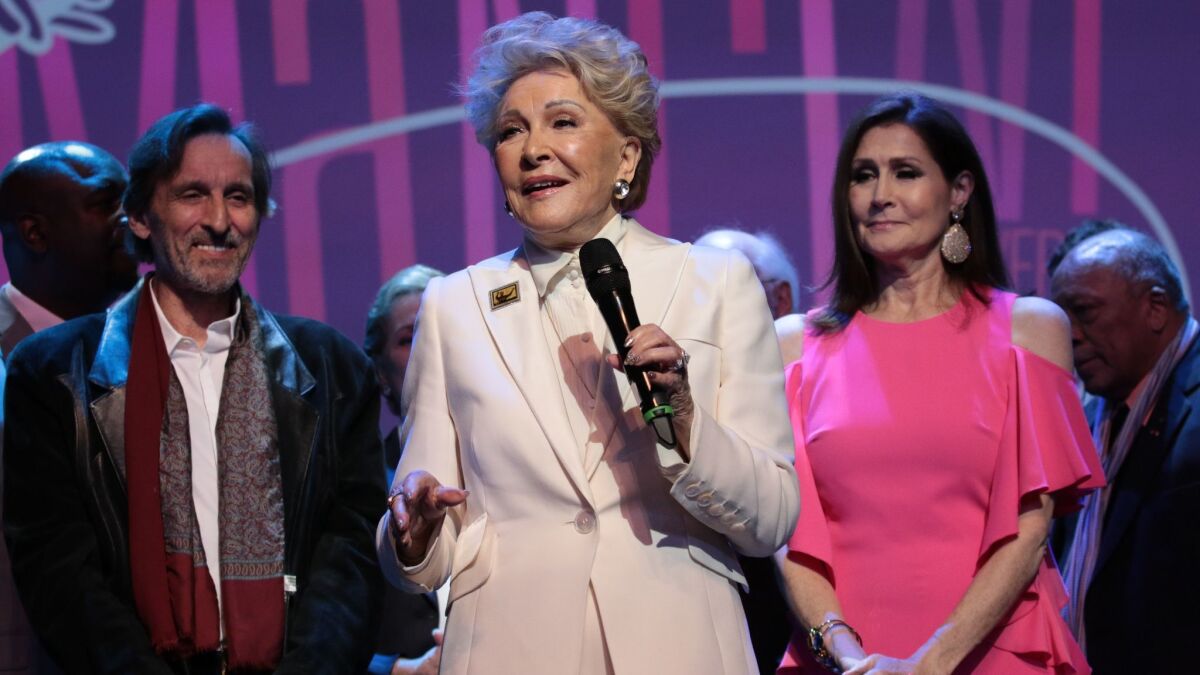 SIGN UP for the free Essential Arts & Culture newsletter »
In an interview before the event, Field noted that Ginny Mancini, Henry's wife of 47 years, is 92. "She's in perfect shape — there's nothing old about her — but she's not going to agree to another big event like this," he said. "So this is really the last gathering of these old friends, and making music together and celebrating Hank."
The Henry Mancini Institute Orchestra was present to back performers and to play selections from "Victor Victoria" and "The Thorn Birds." Henry Mancini's friend Jack Elliott founded the institute in 1997 at UCLA, and it relocated to the University of Miami in 2009.
The Wallis program was part concert, part remembrance; in the intimate 500-seat Bram Goldsmith Theater, it felt something like a private birthday party.
"Pink Panther" cast member Robert Wagner slinked onstage in Inspector Clouseau garb during the show's opening theme, and he summoned two costumed police officers to cart away saxophonist Dave Koz.
Monica Mancini sang some of her father's songs, including "It Had Better Be Tonight." Her brother, Christopher, a songwriter who remixes his father's music, sang a reworded version of the bossa nova standard "Dindi" by Antônio Carlos Jobim as a tribute to his mother.
"Henry's beloved Ginny," Andrews said, addressing her friend. "You were a huge force in his life, and by his side always. I remember you telling him off in words that are unspeakable up here. And he teased you mightily."
When composer Williams took the stage, after conducting Chenoweth in an arrangement of "Moon River," he too directed his memories at Ginny.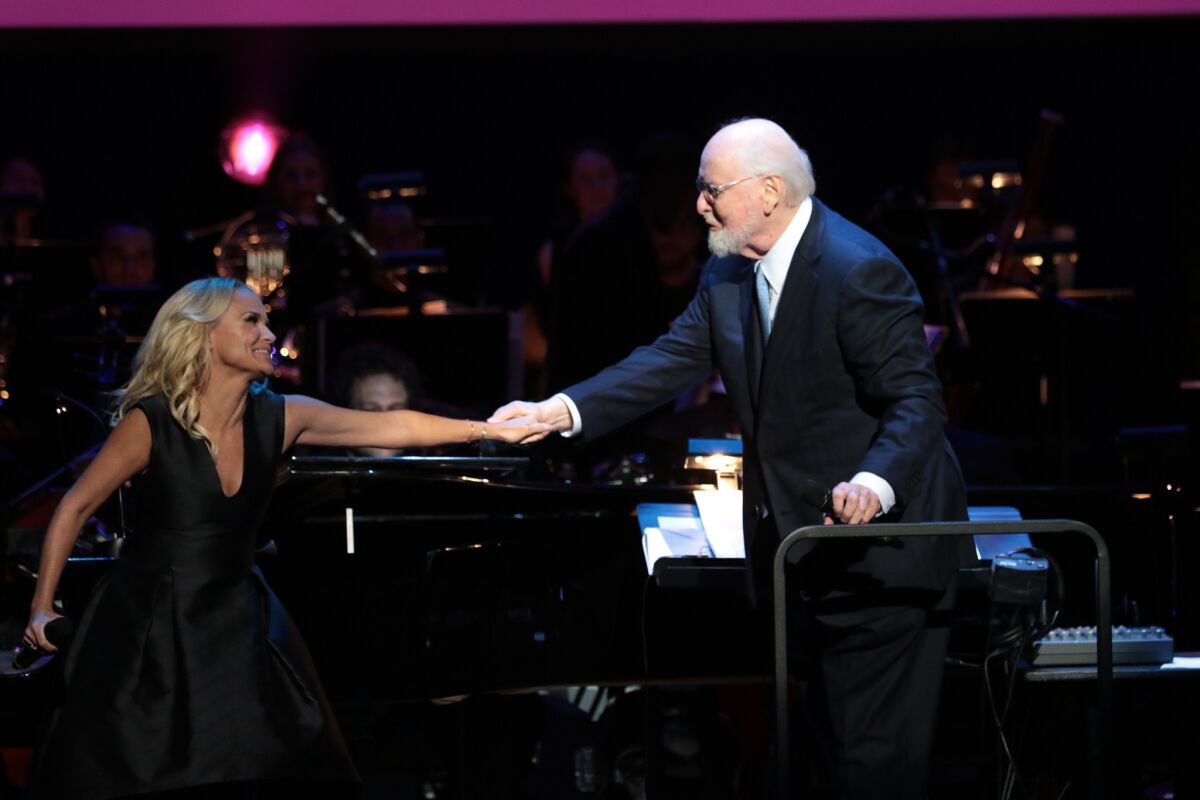 "I was all of 25 years old when Henry invited me to Universal Studios to play in his orchestra for a film session," he recalled. "And apparently, it went very well, and I began to play with Henry on all of his recording sessions. He frequently had a chorus, and there was a beautiful young girl I kept noticing on session after session. One day I said to one of my musician friends, 'Who is that fabulous blond girl up in the chorus? The third one in from the left.' And he said, 'Forget it. That's Ginny, and she's married to Hank.'
"So when Ginny invited me to be her date tonight, after I think 60 years" — Williams savored the pause — "I feel like I have finally made it."
Quincy Jones followed, describing how badly he wanted to score films and how hard that was for an African American in the 1960s. He credited Mancini for his first big gig, "The Pawnbroker," in 1964.
Then the concert, a benefit that raised nearly $1 million for the Wallis, continued with Jones calling Williams back to the stage and conducting the orchestra in the sizzling, snarling theme from "Peter Gunn," with Williams playing the famous revolving piano ostinato — a part he played on the original recording.
The music was from 60 years ago, but it could not have sounded more fresh.
Follow The Times' arts team @culturemonster.
ALSO
A backstage, meditative adventure with 'The Encounter's' Simon McBurney
Improv maestro Gary Austin, founder of the Groundlings, dies at 75
Clearing up confusion over 'Hamilton' tickets for L.A.: What you need to know
Lin-Manuel Miranda's 'Hamilton,' as vital as ever, opens in San Francisco
L.A. Without the NEA: Series looks at what's lost if agency gets the ax
---
Get our L.A. Goes Out newsletter, with the week's best events, to help you explore and experience our city.
You may occasionally receive promotional content from the Los Angeles Times.