Review: 'Honky Tonk Laundry': A country-flavored jukebox musical, set to spin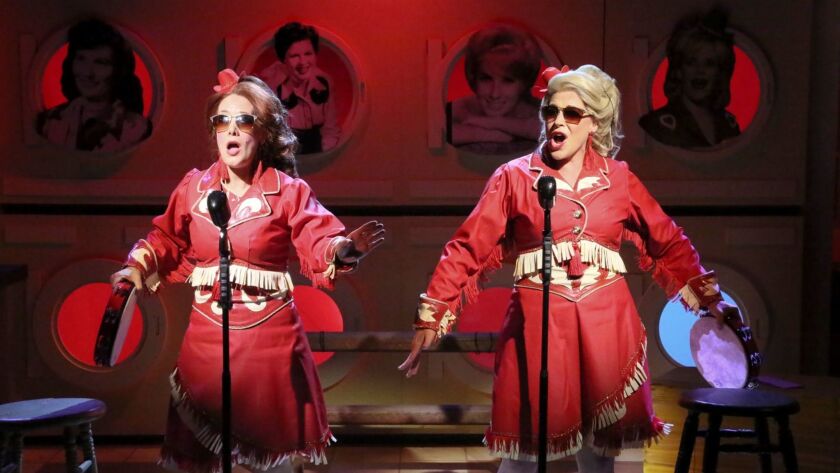 Playwright Roger Bean has based his career on jukebox musicals like "Life Could Be a Dream" and "The Marvelous Wonderettes," durable crowd-pleasers that have been widely produced throughout the U.S.
Bean's formulaic froth follows a familiar pattern, namely the "let's put on a show" scenario popular since the heyday of Mickey Rooney-Judy Garland musicals. "Honky Tonk Laundry," now in its Los Angeles premiere at the Hudson Mainstage, is no exception. Unfortunately, in this case, Bean's fizzy conceit goes a bit flat.
Although not specified, the action is, we assume, set somewhere in the deep South. The locale, beautifully detailed by scenic designer Tom Buderwitz, is the Wishy Washy Washateria, a small-town laundry business run by hardworking gal Lana Mae Hopkins (Bets Malone). Lana Mae inherited the business from her mother but slavishly answers to her "boss man" husband, Earl, who apparently has never shown up or done an honest day's work in his life.
SIGN UP for the free Essential Arts & Culture newsletter »
Lana Mae is in desperate need of a new employee when Katie Lane Murphy (Misty Cotton) blows into the Wishy Washy, hysterical after being jilted by her two-timing boyfriend. Lana Mae gives her a job. And when Lana Mae predictably learns that her own hubby has been cheating on her, she decides, with Katie's encouragement, to pursue her long-deferred music career by putting on a show right there in the Wishy Washy.
Lots of toe-tapping country music, from the familiar to the obscure, is interspersed throughout the action. Bean, who also directs, elicits lively turns from Malone and Cotton, both savvy stage veterans with terrific voices.
Their material is another story. Checking the program, there's no hint that this is a period piece, although considering the retro tenor of big-haired tunes such as "D-I-V-O-R-C-E" and "Stand by Your Man," it might have behooved Bean to make it one. And Lana Mae's all-too frequent folksy sayings, which seem lifted from some Idioms "R" Us website, lack the coloration of genuine regional wit.
Still, the dynamic duo of Malone and Cotton manage to haul this show into the ranks of Bean crowd-pleasers. "Laundry" may be a wash sometimes, but its two talents nail down their laughs, hit their high notes and yank a few tears along the way.
♦ ♦ ♦ ♦ ♦ ♦ ♦ ♦ ♦ ♦
'Honky Tonk Laundry'
Where: Hudson Mainstage, 6539 Santa Monica Blvd., Hollywood
When: 8 p.m. Fridays-Saturday, 3 and 7 p.m. Sundays; ends Oct. 1
Tickets: $45 and $55
Information: (323) 960-7773, www.plays411.com/honkytonklaundry or www.honkytonklaundry.com
Running time: 2 hours, 10 minutes
Support coverage of the arts. Share this article.
'HAMILTON' IN L.A.:
Review: How the national tour cast stacks up
The scene: Opening night in Hollywood
The creative team in conversation: 'My fight every day was their fight 250 years ago'
---
UPDATES:
11:15 p.m. Aug. 31: This article was updated to reflect the extension of the run to Oct. 1.
---
Your essential guide to the arts in L.A.
Get Carolina A. Miranda's weekly newsletter for what's happening, plus openings, critics' picks and more.
You may occasionally receive promotional content from the Los Angeles Times.