The iPalpiti festival: 20 years of peace through music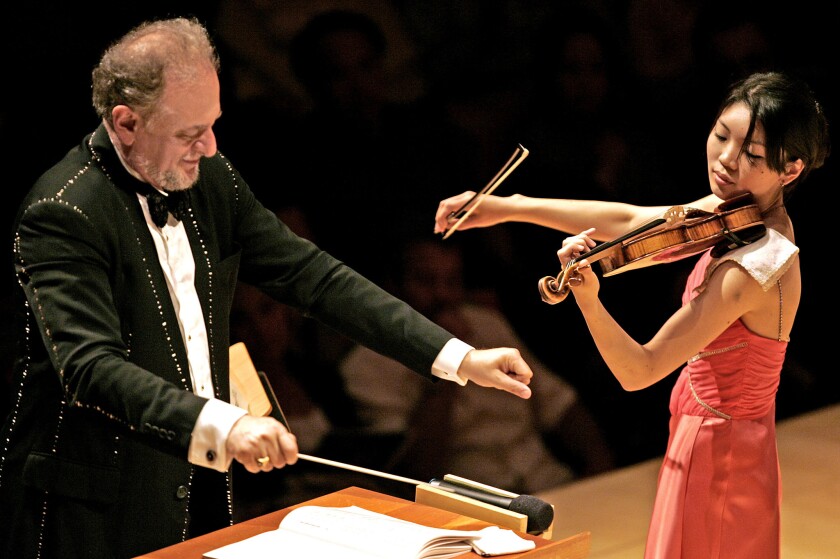 Inside Laura Schmieder's Century City office are posters from several years of the iPalpiti Festival of International Laureates, the annual showcase for young-adult musicians she and her husband, Eduard, founded 20 years ago.
She points to one poster for the showcase concert of the 2005 festival at Disney Hall. On it are photos of the iPalpiti orchestra; Eduard Schmieder, who is the orchestra's conductor and music director, and a young man in dark glasses, a long black coat and what appear to be snakeskin-print pants.
"That's Cameron," she says. As in Cameron Carpenter, the star organist that Times music critic Mark Swed has called "astoundingly original" and "full of joy and daring."
"He came in wearing zebra pants, had purple hair and matching shoes," Laura Schmieder recalls of Carpenter's audition at the Juilliard School in New York for that festival. "After he played a few bars, Eduard turned to me and said, `We take him.' It was such an explosion of talent."
Since its founding in 1997 as Young Artists International by the Schmieders, the orchestra, festival and musical-talent network known as iPalpiti since 2008, has fostered the careers of 379 musicians from 45 countries.
Reached by phone in Encinitas where the festival began last Thursday, Eduard recalls violinist Karina Canellakis, who made her iPalpiti debut in 2004. Canellakis leads the L.A. Philharmonic on Aug. 8 at the Hollywood Bowl in an all-Mendelssohn program, returning in April to conduct the L.A. Chamber Orchestra.
"Karina was very musical with a lot of intellect, which helps to become a conductor," Eduard says.
Carpenter and Canellakis, as well as pianist Valentina Lisitsa and crossover violinist David Garrett, are just some of the talents who got their start with iPalpiti (Italian for "heartbeats").
"From the beginning, our mission has been to discover and support post-conservatory musicians, whose talents were destined to make them the leading classical musicians of their generation," says the iPalpiti website. Some have called iPalpiti the "musical Peace Corps."
On the occasion of the 20th annual iPalpiti Festival, five concerts are being performed in Los Angeles and Beverly Hills between Sunday and July 30 by various members of the ensemble, with the full iPalpiti string orchestra led by conductor Eduard Schmieder featured at Walt Disney Concert Hall on July 29.
That event typically draws connoisseurs of the ensemble's precision, warmth and intensity, as well as those curious to see emerging young professionals.
This year's festival features 23 musicians from 18 countries, including six concertmasters from international orchestras. Some of them return, Laura said, because they see iPalpiti as a rejuvenating experience. "It's a special booster for when they return to their orchestras," she said.
Along with returning veterans, the ensemble's younger players — 21 and up — are indeed laureates, prizewinners who need the right platform to help them toward the next career step. "We take care of these young people who have dedicated their lives to the tradition of classical music," Eduard says.
From May to August, Eduard will have participated in 10 festivals in seven countries, including a second invitation to conduct the iPalpiti Orchestra at the Mozarteum in Salzburg, Austria.
"I never go for famous," Eduard says. "I go for talent. No gimmicks. I listen for honesty and positive emotional energy in performance."
Conductor Schmieder, a Russian-trained violinist who is also director of strings at Temple University's Boyer College of Music and Dance in Philadelphia, says he's especially proud that iPalpiti is a nonprofit organization.
"The great violinist and humanitarian Yehudi Menuhin helped get us off to a good start by lending us his name," he says. "Maybe I'm naive, but instead of undermining, if people supported each other, there would be peace."
The orchestra's Disney Hall program on July 29 includes Mozart's Adagio and Fugue in C minor and Sinfonia Concertante for Violin, Viola and Orchestra, and the Beethoven-Mahler Quartetto "Serioso" No. 11.
Eduard says the program "starts with tragedy and ends with sunshine," adding that the encores, announced from the stage, will be "very unusual."
While the L.A.-based couple share the joy of fostering gifted musicians, it is Laura who had to become a Jill-of-all-trades. She handles iPalpiti's chamber music programming (Eduard takes care of the orchestral side) and everything else, from visa problems to lost instruments.
"Because of her administrative abilities, it's sometimes easy to forget that Laura is a first-rate music coach and teacher who has done some transformative things in chamber music," says iPalpiti chairman Jonathan Steinberg. "She's a big presence."
Over the years, Laura says iPalpiti has been "very choosy" about what they perform. "Musicians take notice of our programming," she says. "It has to be music that moves you."
On July 30, the festival concludes at LACMA's Bing Theater with Ernest Chausson's seldom-performed Concerto in D for Violin, Piano and String Quartet. "I waited 20 years to have this piece on a program," Laura says. "It's massive, so you need the right group, the right combination."
Although Eduard demurred when asked about highlights of the past 20 years, Laura offered this:
"Always the highlight for me is the ensemble's first rehearsal," she says. "After handling so many logistics to make the festival possible, I say I'll never do it again. Then I hear the sound they immediately make and think, 'It was worth it.'"
♦ ♦ ♦ ♦ ♦ ♦ ♦ ♦ ♦ ♦
iPalpiti Festival of International Laureates
When: Multiple iPalpiti soloist concerts through July 30. Grand finale orchestral ensemble performance July 29.
Where: Venues throughout Los Angeles, San Diego and Orange counties. Grand Finale performance July 29 at Disney Hall, 111 S. Grand Ave., Los Angeles. July 23 and 30 soloist performances at LACMA's Bing Theatre, 5905 Wilshire Blvd., Los Angeles. July 27 at UCLA's Powell Library Rotunda. July 26 at Greystone Mansion, 905 Loma Vista Dr., Beverly Hills. July 25 at Rolling Hills United Methodist Church, 26438 Crenshaw Blvd., Rolling Hills Estates.
Tickets: Free-$180
Information: (310) 205-0511, iPalpiti.org
SIGN UP for the free Essential Arts & Culture newsletter »
Support coverage of the arts. Share this article.
ALSO
Times art critic Christopher Knight's latest reviews
Times theater critic Charles McNulty's latest reviews
Times architecture critic Christopher Hawthorne's latest columns
---
Inside the business of entertainment
The Wide Shot brings you news, analysis and insights on everything from streaming wars to production — and what it all means for the future.
You may occasionally receive promotional content from the Los Angeles Times.