Jane Kaczmarek, 'Long Day's Journey' and the dark role that's a complete departure from 'Malcolm'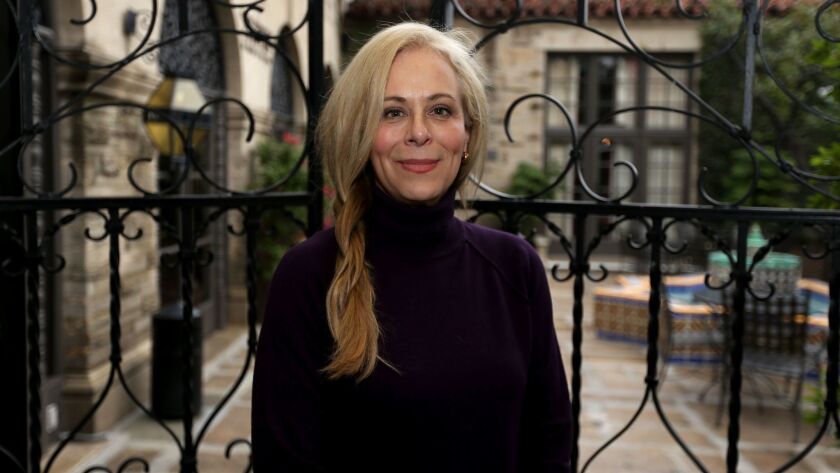 "There's a beautiful line by T.S. Eliot," says the actress Jane Kaczmarek: "Something about how we wander through life, '… and the end of all our exploring will be to arrive where we started and know the place for the first time.' That's how I feel about working in the theater. I've kind of come full circle."
Kaczmarek is talking by phone during her daily drive to the Geffen Playhouse, where she's starring opposite Alfred Molina in a revival of Eugene O'Neill's "Long Day's Journey Into Night," opening Wednesday. A friend is at the wheel.
"In my dotage, there's nothing more luxurious than having someone drive," the 61-year-old actress jokes, adding that she first became aware of this when her children started driver's ed. "I let them drive, and then I started to enjoy it."
For fans who know Kaczmarek best as Lois, the control-freak mom on the Fox sitcom "Malcolm in the Middle" — she was nominated for an Emmy all seven seasons of the show — her role in "Long Day's Journey Into Night" will be a serious departure. But for Kaczmarek, playing Mary Tyrone, the dreamy, drug-addicted mother at the center of O'Neill's classic drama, is something of a homecoming.
"I first played Mary when I was 26," she says. She was a graduate student at the Yale School of Drama at the time. "I had absolutely no idea what I was talking about. I didn't know what a dead baby was like. I didn't know what a failed marriage was like. I did know what Catholicism was like."
Although literary critics warn against linking fictional characters too closely with real-life counterparts, not even the most doctrinaire could deny that the Tyrones in "Long Day's Journey" closely resemble the O'Neills. (The playwright himself was sufficiently uneasy about the similarity that he left instructions that the work should never be performed; his widow disobeyed, authorizing the first production in 1956.)
The Tyrones' twentysomething son, Edmund (Colin Woodell), is a would-be writer suffering from consumption and drinking too much — just as O'Neill did at that age. Edmund's older brother, Jamie (Stephen Louis Grush), and their father, James (Molina), are alcoholic actors. Their mother, Mary, was raised in a convent, lost a son in infancy and became dependent on morphine. During one very long day in their Connecticut summerhouse in 1912, as fog threatens to roll in, the four family members grow intoxicated and hash out a lifetime of grievances.
"In previews, we've been getting some funny little giggles when Mary says, 'I wanted to be a nun,'" says Kaczmarek, who attended Catholic school as a child in Milwaukee. "I wanted to be a nun when I was very young. We all wanted to be nuns. You don't really have a sense anymore of how mystical Catholicism was. Mass was still in Latin. There were the vestments, the incense. If you had a vivid imagination — as I did — it was just an an incredible fantasy, a very beautiful escape."
For lack of good TV shows and video games, Kaczmarek recalls, she and her childhood friends played nuns and communists. "We'd drape pillowcases around our heads and run around the yard shouting, 'The communists are coming!' We had to save the orphans."
In separate interviews Kaczmarek and her director, Jeanie Hackett, agree that "Long Day's Journey," written in 1941-42, remains thoroughly accessible in spite, or maybe because of, its famous bleakness.
"There's a great line in the fourth act," Hackett says. "Jamie says, 'All I wanted was a little heart-to-heart talk concerning the infinite sorrow of life.' I feel like I'm looking for that a lot of the time. I thought, 'Gee, that would be a great marketing line.' But everyone went, 'No.'"
Audiences, used to a steady diet of 90-minute, intermission-free plays may quail at the three-hour run time of "Long Day's Journey." When people say, "Oh, it's so long," Hackett says she responds, "Think of it as a great binge-watch."
"I think I've seen every production of this play out there," she says, "and when it's done well, you don't want it to end."
While preparing to play Mary back at Yale, Kaczmarek spent time at Monte Cristo Cottage, the O'Neill family summerhouse in Connecticut.
"We went in our costumes and spent the day doing the play where it had happened," she says. "What a rare opportunity that was. I was a little Polish girl from Milwaukee. I owe that school everything."
But Kaczmarek suggests that playing Mary now is even richer. "At my age, knowing loss, you don't have to draw on anything else. There's an emotional well that is so available when one is older. It's just right there."
Hackett agrees. "Jane, I think, was just born to play Mary. It's so challenging to turn on a dime between accusing and crying to denial to laughter. She is finding that in a big way."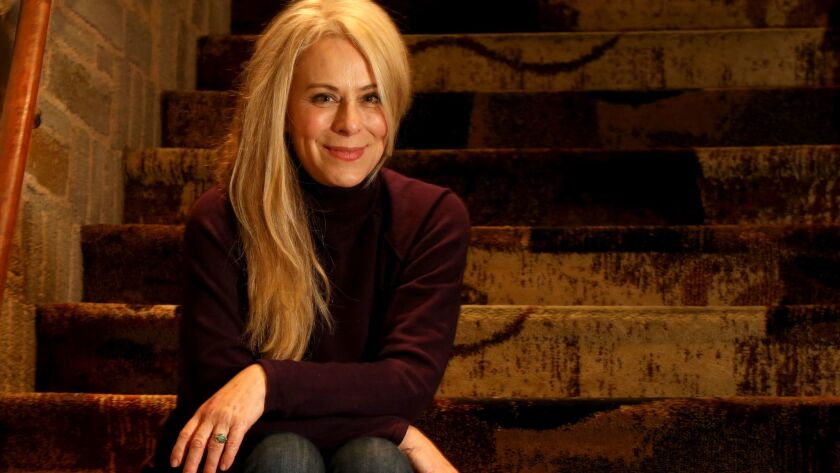 As chance would have it, Kaczmarek needed no Method-style firsthand exploration into morphine addiction.
"I'm one of the lucky ones who has been on morphine several times in my life — all medicinally," she says brightly. "I have had my hip replaced four times, and it's popped out of the socket three times — twice in my bathroom! I don't wish it on anybody."
Those surgeries took place primarily while Kaczmarek was working on "Malcolm in the Middle," which ran from 2000 to 2006. Around that time she had three children with her husband, actor Bradley Whitford, who was on NBC's "West Wing."
After both shows ended, "we hung on for a few years, but the marriage ended too," Kaczmarek says. "That was a huge, huge, huge heartbreak."
As heartbreaks will, Kaczmarek's led to soul-searching.
"It's a funny thing, getting older," she says. "You realize that your days are numbered. You start to ask yourself what you want to do, and who you want to do it with, and how to make that happen."
SIGN UP for the free Essential Arts & Culture newsletter »
While recording Arthur Miller's "A View From the Bridge" for the BBC in 2015, she worked for the first time with Molina, known to friends as Fred.
"Something kind of clicked. I was just overcome by, 'Oh my God, I just want to work with him for the rest of my life.' And actually I got in my car and called my agent and said, 'All I want to do for the rest of my life are plays with Fred Molina.'"
They later did a recording of "Fathers and Sons" for L.A. Theatre Works, and they starred last summer at the Williamstown Theatre Festival in the well-received U.S. premiere of Australian Tom Holloway's drama "And No More Shall We Part." At this point, they had played husband and wife so often that Kaczmarek began to refer to them as the Lunt and Fontanne-ski of contemporary theater — like the legendary Broadway acting team Alfred Lunt and Lynn Fontanne, if Fontanne had been Polish.
With Hackett, they began searching for a big classic to do together, getting together at Kaczmarek's house to read scripts.
"Finally Fred said, 'Why are we shying away from it? We want to do something big. We know 'Long Day's Journey' is the one we have to do," Hackett says.
The magic hasn't faded, Kaczmarek says.
"I told Fred the other day, all I need to do is look in his eyes, in any scene in this play, and emotionally I'm right where I need to be," she says. At this point in her life, Kaczmarek says, she wants to spend her life being with her kids and doing theater.
"I did my first play at 15, and it was like the top of my head blew off," she says. "I feel like I've come home again, and I'm kind of experiencing it again for the first time, like the poem says, and I think I appreciate it it all the more having done other things in the meantime. Fred and I are already talking about our next project."
The frequent hugs don't hurt either, Kaczmarek says through laughter. "Every time Fred or one of the boys hugs me in the play, I'm like, 'Ah. That felt so good.' You know how children have to be touched to thrive? Well, as an adult divorced woman, maybe that's why I came back to the theater: because you get to be hugged a lot."
'Long Day's Journey Into Night'
Where: Geffen Playhouse, 10886 Le Conte Ave., Westwood
When: 7 p.m. Tuesdays-Fridays, 1 and 7 p.m. Saturdays, 2 p.m. Sundays (check for exceptions)
Tickets: $32-$90
Information: (310) 208-5454, www.geffenplayhouse.org
Follow The Times' arts team @culturemonster.
ALSO
Al Pacino and the role that pulled him to the Pasadena Playhouse stage
Chita Rivera on touring, and staying political, at age 84
'Every Brilliant Thing' approaches suicide with touching comic sincerity
'Waitress' and 'The Color Purple' coming to the Hollywood Pantages
---
From the Oscars to the Emmys.
Get the Envelope newsletter for exclusive awards season coverage, behind-the-scenes stories from the Envelope podcast and columnist Glenn Whipp's must-read analysis.
You may occasionally receive promotional content from the Los Angeles Times.