Male or female? Black or white? The paintings of Lezley Saar play with labels and expectations
There's more at stake than gender identity in Lezley Saar's exhibition "Gender Renaissance" at Walter Maciel Gallery. The L.A. artist's surreal yet tender paintings of ambiguously gendered 19th century people were inspired by her son's transition from female to male, but they also scramble expectations about race and the very definition of humanity.
The majority of the works are small, intimate portraits or fantastical tableaux featuring one or two people. "The Silent Woman" depicts a mustachioed figure wearing a long green coat over a full-skirted gold dress. There is a pentagram on the floor, and nearby an hourglass and a baby boar teeter precariously atop a table. The symbolism is opaque, but perhaps intentionally so. The painting evokes the arcane codes of a secret society as well as a sense of mystery and possibility.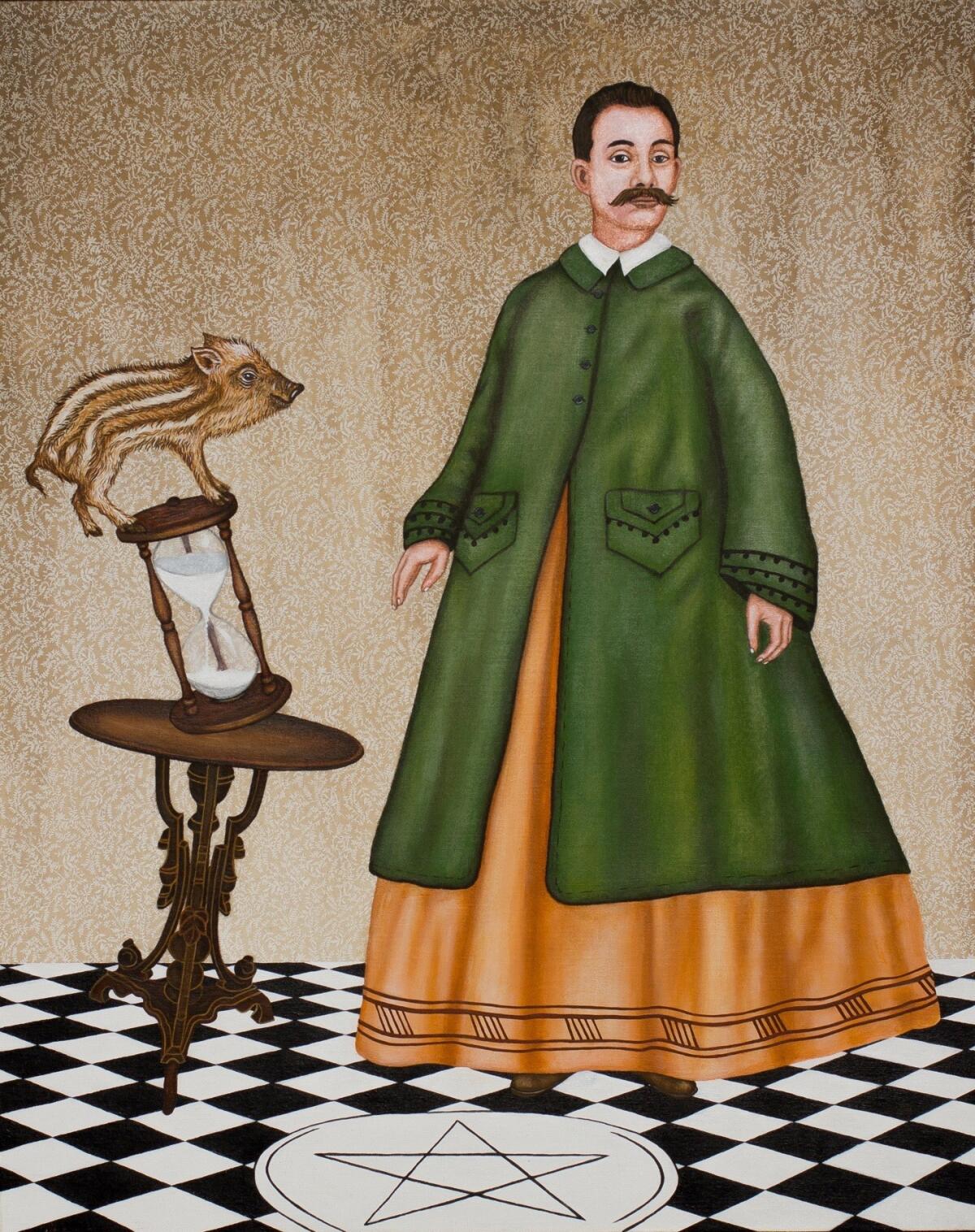 Potential is also suggested in "Vesta the Johnny." It depicts real-life vaudeville male impersonator Vesta Tilley standing next to an enormous egg. Indeed, eggs appear in several of Saar's images, reminding us that we all emerge from the same raw material before we are labeled male, female or anything else.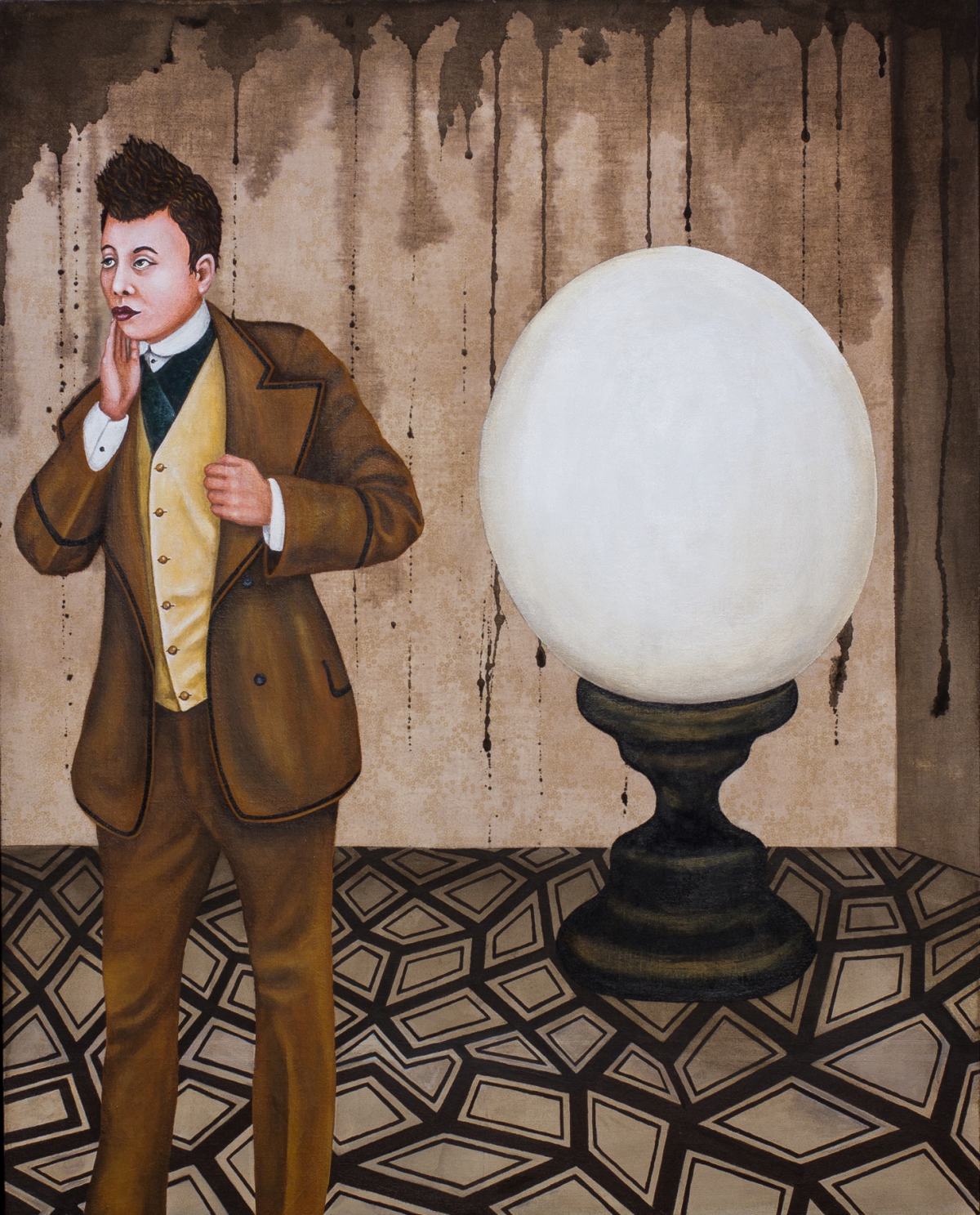 The standout work in the show is the largest: a wall hanging at least 8 feet high, resembling a tapestry or a heraldic banner. But in place of a pastoral scene or an aristocratic insignia, it depicts an albino with a long, dense mane of pure white hair and eyes closed in peaceful repose. The hair suggests both an Afro and a powdered wig, while the face's flaring nostrils and full lips also suggest an African derivation, despite the pale pink skin. The portrait confuses binary distinctions between male and female, white and black, while the figure's beatific expression suggests a majestic transcendence. We are in another realm here, one in which traditional distinctions are no longer relevant.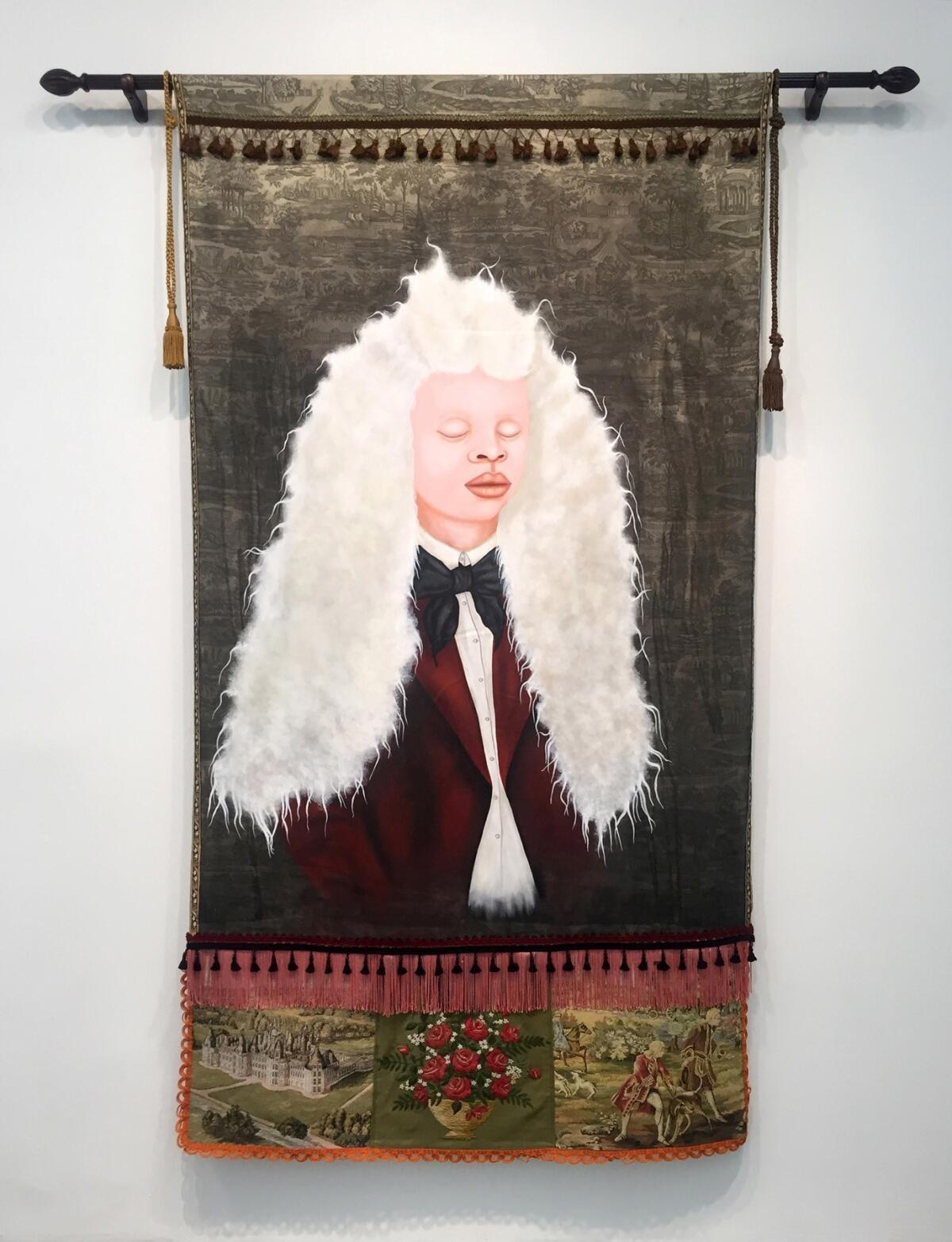 SIGN UP for the free Essential Arts & Culture newsletter »
Saar extends this space in small portraits that blend human countenances with objects from the rest of the natural world. In one, the person's ears have been replaced with a seashell and a bat. In another, mushrooms grow where hair should be. These are surreal, metaphoric gestures to be sure, but they also evoke the Enlightenment-era vogue for collecting and studying natural specimens. Here, however, the samples are not objects to be poked and prodded, sorted and classified, but intrinsic parts of ourselves.
Walter Maciel Gallery, 2642 S. La Cienega Blvd., L.A. Through July 1; closed Sundays and Mondays. (310) 839-1840, www.waltermacielgallery.com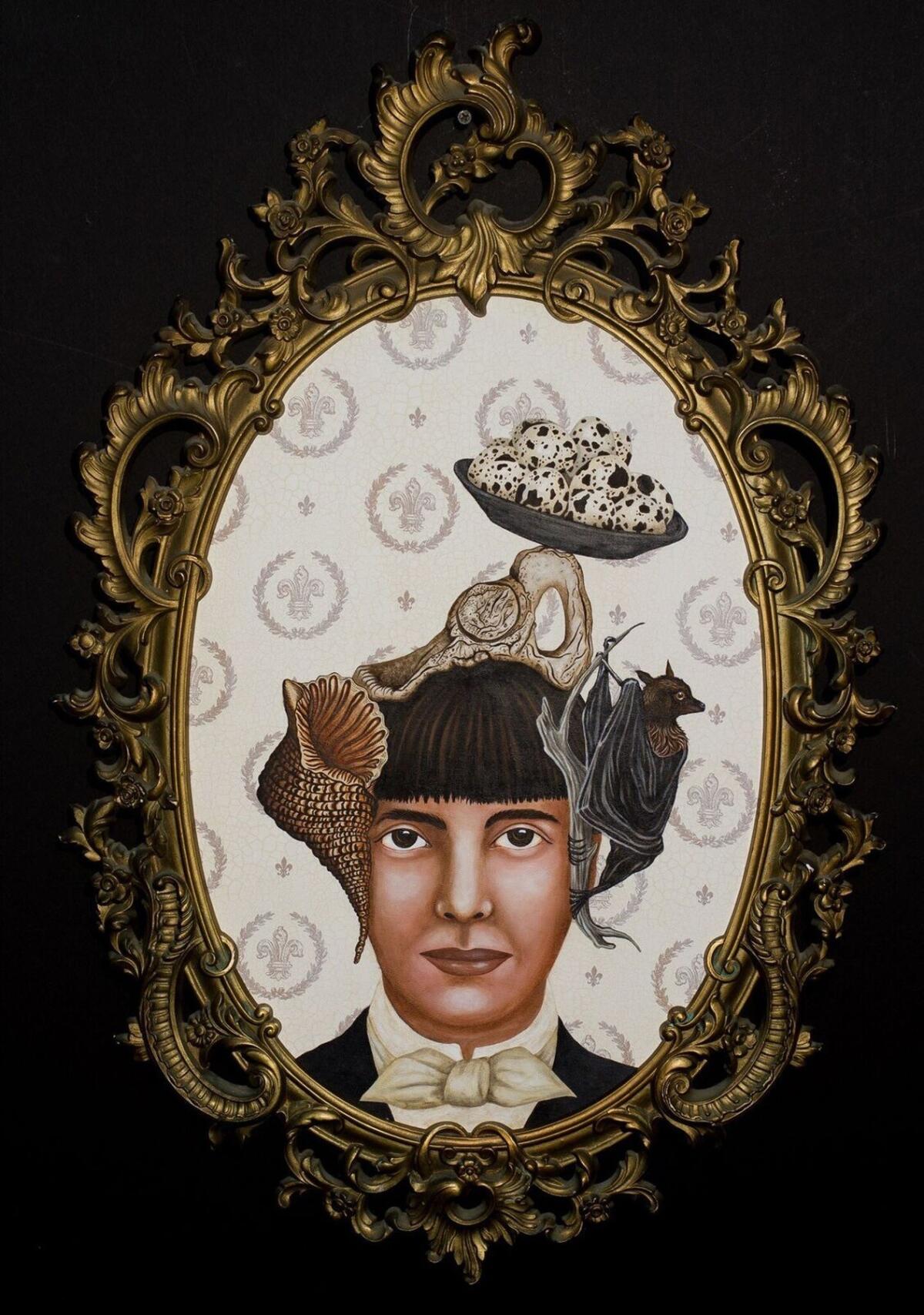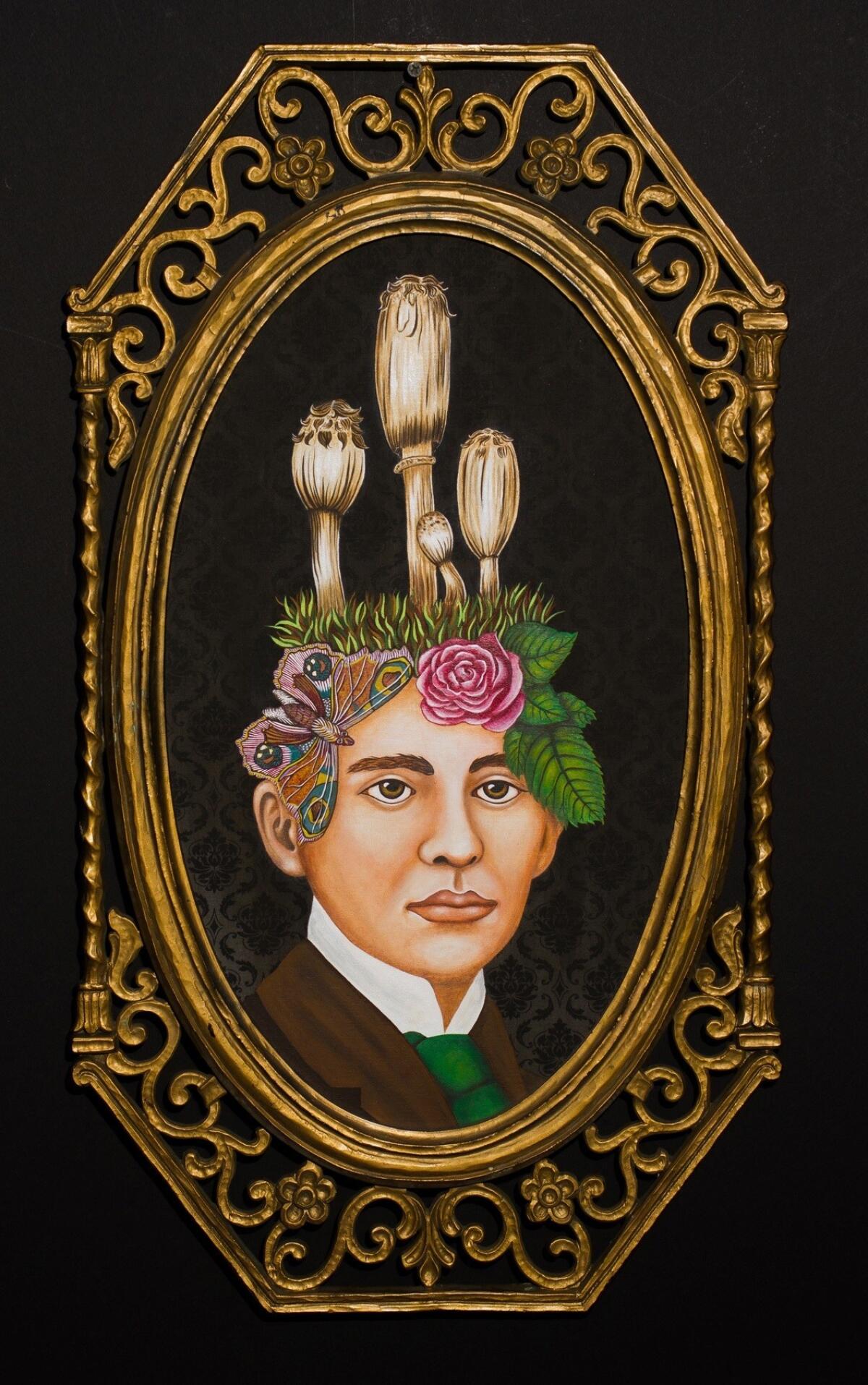 Support coverage of the arts. Share this article.
MORE ART COVERAGE:
At the future LACMA, plans call for radical change to how we see the permanent collection
Architecture review: Temple loses some of its eccentric personality in stylish redesign for Marciano Art Foundation
Art review: New Marciano foundation proves the potential and the pitfalls of a vanity museum
Get our L.A. Goes Out newsletter, with the week's best events, to help you explore and experience our city.
You may occasionally receive promotional content from the Los Angeles Times.