There's Madonna, Marsalis, Colbert and more: Why everyone is jookin with Lil Buck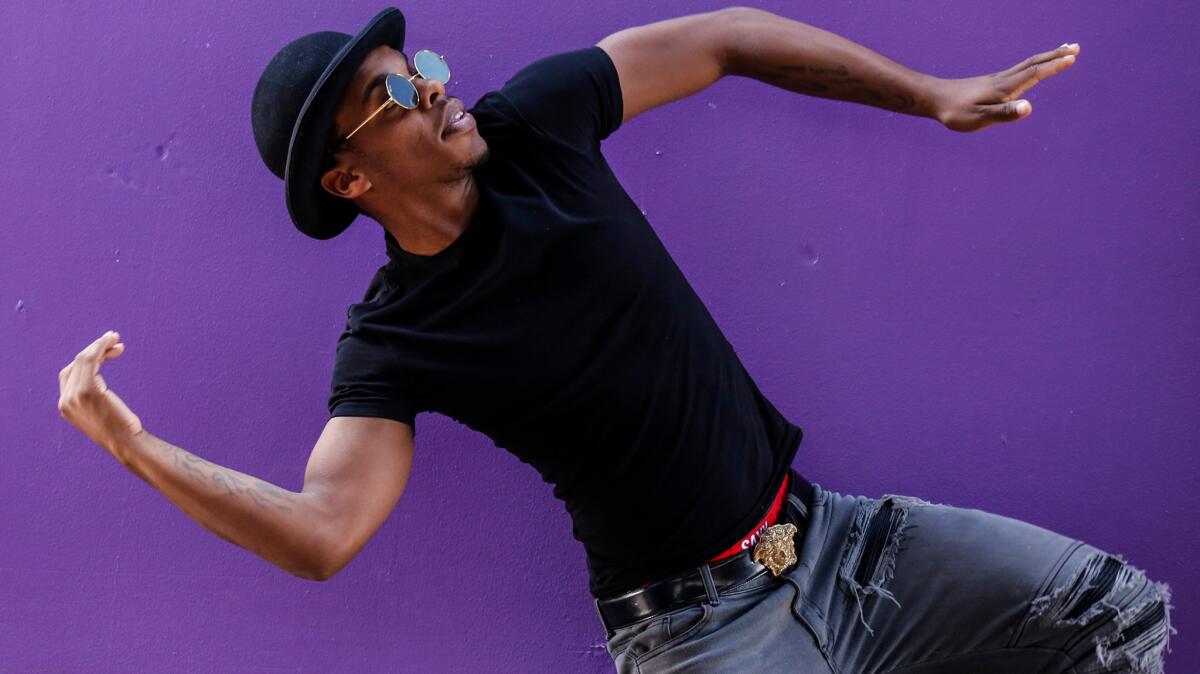 Reporting from NEW YORK —
Within one month, dancer Charles "Lil Buck" Riley completed a stint on Madonna's "Rebel Heart" tour, came to New York for a highly praised "Jazz at Lincoln Center" program with Wynton Marsalis and tap star Jared Grimes, shared a Minneapolis program with cellist Mihai Marica and took his act to North Carolina and the Kennedy Center in Washington, D.C. He also managed to show up on "The Late Show With Stephen Colbert" and wow a Manhattan crowd waiting for the daily ticket lottery for "Hamilton."
So when Lil Buck said with a laugh, "I live in Las Vegas, technically," it's clear that these days Vegas is only a place where he's passing through. The 27-year-old dancer has become an internationally known exponent of the dance style known as Memphis jookin, winning the attention of serious dance critics and introducing jookin into temples of high culture.
Gifted with seemingly impossible flexibility and control, able to balance and spin on the toes of his sneakers and undulate with seamless fluidity, Lil Buck is an accomplished dancer technically. But his greater gifts are his spontaneity and expressiveness — as well as his openness to collaborating with a range of artists. Amiable and relaxed, he delights in kindred artistic spirits without concern for labels or genres. He has shared the stage with Yo-Yo Ma, the New York City Ballet and Cirque du Soleil. He's as interested and passionate about arts education as he is about performing.
One of his newer collaborations brings him to the Broad Stage in Santa Monica this week. In "What Moves You," he and Marica come together in an intimate exchange of music and dance.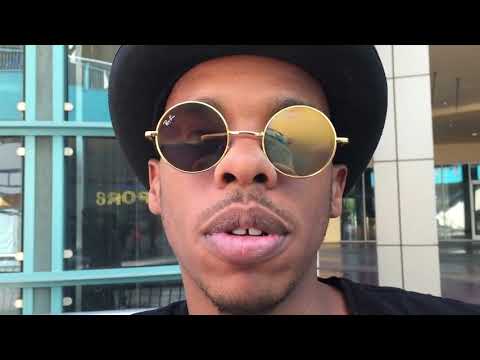 Lil Buck, a performer known for a style of street dance called "Jookin," practices a few of his moves on Fremont Street in Las Vegas. Buck has collaborated with Yo-Yo Ma and will be performing in Los Angeles with a cellist, marrying classical music
"We have a great synergy about what we're going to be doing together," Lil Buck said. "The program combines Bach and a few of my musical selections that I perform to. Mihai plays a lot of Bach, and I like Bach because it's very spontaneous. And it's a great challenge for both of us, because with Bach it's very hard to read what's coming up next."
Marica said he sees the collaboration with Lil Buck as an extension of chamber music.
"The goal is to let both the aural and visual mediums influence each other as much as possible, which brings an element of improvisation to our performance," he said by email. "And this is an area where Lil Buck really brings the magic. The way the music flows out of his body is mesmerizing, which actually makes it a bit of a tricky proposition to be on stage with him. I try to be in complete contact with him, which involves looking at his movements while I play and letting him influence the way I build my lines."
Lil Buck found time to discuss his career after he and Ron "Prime Tyme" Myles, a fellow jookin expert he has known since high school, had just spent three hours rehearsing for the Kennedy Center event. They worked intensively in the studio with Damian Woetzel, who directs the Vail International Dance Festival where Lil Buck and Myles have become regulars, and who has directed many of Lil Buck's collaborations since 2011.
Lil Buck was born in Chicago, but he and his six siblings moved to Memphis when he was young. The city's burgeoning street dance scene first captivated him at age 12.
"Jookin is not just a dance. It started as a culture," he said. "It's been a part of our culture for a long time, starting with something as simple as a bounce in the way you moved when you listened to music. It started from Memphis underground rap music, and the way we felt when we heard it.
Jookin went into Memphis clubs, and dancers would want to open up the floor "to do our thing," he said. "It went from there to people just hitting the strut, and it turned into this line dance called the Gangsta Walk."
Early on, Lil Buck picked up moves from friends and his sister. When his mom would stop at a red light, he'd see kids doing it in a parking lot. "I'd never seen any style like this."
But jookin didn't come easily to him at first.
"I practiced for hours," he said. "I was still in high school. Sometimes I would go home after school and dance until I don't know what time."
Working to create his own form of movement, Lil Buck developed the toe moves and extreme ankle flexibility that mark his performances, along with an ability to build moments of suspension, such as when he arches back deeply with his leg raised in front.
"I wanted to have a style of my own," Lil Buck said. "Some people were doing crazy things on their toes but weren't staying up there for too long. I wanted to be the one who stays on my toes longer than anybody! I would literally walk through the house on my toes all day, just to get used to that feeling, and build that strength. My toenails used to come off. It was crazy."
During those years, Buck made a fortuitous and important connection with New Ballet Ensemble, a Memphis classical dance company. His group of jookers were using the ensemble's studios to rehearse, and soon an intriguing cross-pollination developed.
"We did an equal exchange: We would teach the ballerinas hip-hop for an hour, and vice-versa," Lil Buck said.
When New Ballet Ensemble artistic director Katie Smythe observed Buck's distinctive moves, she didn't see jookin, she saw ballet, Lil Buck recalled with a laugh. Smythe praised his turnout and invited him to join the company. Lil Buck began taking ballet class regularly — once he confirmed he wouldn't be required to wear tights.
"I saw the ballerinas' flexibility, and these were goals I wanted to accomplish," he said, adding that he realized he could learn a lot. "I was already used to classical music. Me and my friends used to always play around and dance to it."
New Ballet Ensemble became Lil Buck's dance home, a place where he "acquired a classical foundation and connected to the larger world," Smythe said. "He became a valued collaborator and teacher." And he returned home "to inspire us all," she said.
Lil Buck said he still appreciates that training.
"Ballet helped clean up a lot of my moves and gave me an extra boost of core strength beyond what I had already — to be able to spin on my toes and stay up there," he said.
At 19, Buck moved to Los Angeles and started working in commercials and music videos. He moved to Las Vegas when Cirque du Soleil hired him for its Michael Jackson show. He's still "on call" for Cirque, but most of the time he is too busy with his expanding schedule of collaborative performances.
Marica is a relatively new addition to the artists who have come to appreciate Lil Buck's collaborative gifts.
"There will not be two performances that will resemble each other because of the improvisational nature of our interaction," Marica said. "The beauty of working with Lil Buck is that I am challenged to play the music differently every time and in doing so create a true dialogue."
For his part, Lil Buck said he loves the power of collaboration, of making things up and "being in that moment of making something new."
"Through collaboration, you learn so much, and get to take so much with you," he said. "It opens so many doors. It expands the mind."
calendar@latimes.com
MORE:
Why a white woman's discrimination lawsuit against the Getty is no joke and could set a precedent
How Amazon's Hollywood chief scored a landmark deal with Woody Allen
Michael Fassbender picks up 'Assassin's Creed's' history on the job
Follow The Times' arts team @culturemonster.
Get our L.A. Goes Out newsletter, with the week's best events, to help you explore and experience our city.
You may occasionally receive promotional content from the Los Angeles Times.