Review: Women, united: Evil stirs 'The Madres' to action in Argentina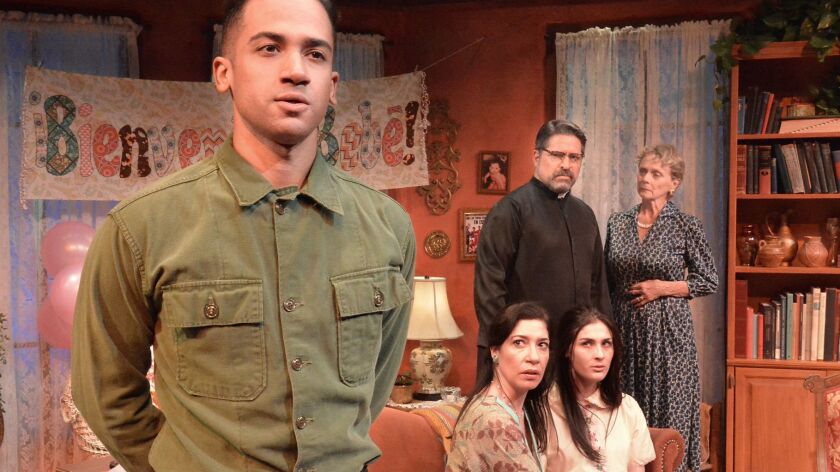 Evil can look benign. It can appear official. It can masquerade as kind. It can show up at the door in the form of a boy you watched grow up, now wearing a crisply pressed military uniform as he strides about asking questions.
In the new play "The Madres" at the Skylight Theatre in Los Feliz, the malignity emanates from the military dictatorship in Argentina from 1976 until 1983. During that period, an estimated 9,000 to 30,000 people disappeared during the forced conformity of the National Reorganization Process. Then as now, the mothers of the disappeared gathered publicly to show those in power that they saw what happened and weren't going to let anyone deny or forget.
They are the madres of a story by Los Angeles playwright Stephanie Alison Walker. Because of family connections she visited Argentina as a child throughout the 1980s, and she lived and worked there for several months in 1998. She learned about the madres as an adult and once went to march with them. Among her reasons for writing the play is to educate Americans about a history that many don't know.
That's a worthy goal, and Walker layers in a lot of information. The piece is explanation-heavy, however, and slow to build. Most crucially, it lacks menace in a mostly flat, momentumless staging overseen by director Sara Guerrero.
The story unfolds in Buenos Aires in 1978. As the performance begins, photographs of marching women and portraits of missing loved ones are projected onto the walls of an unassuming apartment (set design by Christopher Scott Murillo, projections by Nick Santiago). A nation's tumult has insinuated itself into every nook and cranny of this household, which is presided over by Josefina Acosta, a precise, plain-spoken woman in her late 60s (portrayed through this weekend by Margarita Lamas, then by Denise Blasor).
Josefina is perfectly ordinary, but her family has become of interest to authorities. Unannounced visits begin. The first is by a priest (Gabriel Romero) from their parish who was reassigned to a government facility. Then comes a young soldier (Alexander Pimentel) who grew up alongside Josefina's granddaughter.
The granddaughter has gone missing and her mother — Josefina's daughter, Carolina (Arianna Ortiz) — has become one of the marching madres.
The Skylight production is most effective at capturing family interplay, quarrelsome when boundaries are overstepped, fond when common ground is regained. Although the first act drags through stretches of exposition, the second half sparks to life in the simultaneously tender and fierce emotions surging between Ortiz's Carolina and Natalie Llerena as a visitor who's only half-expected. Their haunted minutes together are raw and real — a riveting depiction of all that's precious.
Theaters in San Diego, Chicago and Austin, Texas, have lined up to present "The Madres," so decision-makers clearly see value in this script, particularly at a time when female solidarity is making headlines. This first production isn't all that it could be, but perhaps Walker and her future theatrical partners will find ways to move audiences' hearts into their throats.
♦ ♦ ♦ ♦ ♦ ♦ ♦ ♦ ♦ ♦
'The Madres'
Where: Skylight Theatre, 1816½ N. Vermont Ave., Los Feliz
When: 8:30 p.m. Fridays and Saturdays, 2 p.m. Sundays, 8 p.m. Mondays (except April 2); ends April 29
Tickets: $15-$41
Info: (866) 811-4111, skylighttheatre.org
Running time: 1 hour, 55 minutes
Twitter: @darylhmiller
ALSO
Reprise musical series tries again
'New Colossus,' Actors' Gang's tale of immigrant struggle, extends its run
Tony Kushner on 'Angels in America,' 'West Side Story' and surviving Trump
---
The complete guide to home viewing
Get Screen Gab for weekly recommendations, analysis, interviews and irreverent discussion of the TV and streaming movies everyone's talking about.
You may occasionally receive promotional content from the Los Angeles Times.