Michael Arden, man of the moment in L.A. theater, stages a revival of a famously 'troubled' musical
"I don't know what I'm doing."
Director Michael Arden is addressing his cast and crew, assembled in a large circle on the first day of rehearsals for "Merrily We Roll Along" at the Wallis Annenberg Center for the Performing Arts in Beverly Hills.
For the next five weeks, these people will gather in the confines of a black-box theater for eight hours a day, six days a week in preparation for their opening Wednesday.
Arden does, in fact, know what he's doing. He's been thinking about "Merrily" for a long time. In high school, he played the small role of the club pianist and understudied the show's lead character, Franklin Shepard. Now, nearly 20 years later, Arden is staging a revival of the famously "troubled" Stephen Sondheim-George Furth musical, which opened on Broadway in 1981 and closed after only 16 regular performances and 44 previews.
Many, including the critics, found the show's structure confusing. "Merrily" revolves around three friends — Franklin, Mary and Charley — beginning in 1976 as jaded adults and playing backward to 1957 when they were just starting out, full of hope and optimism.
"I think it was ahead of its time," Arden says. "People absorbed information through entertainment in a different way than they do now. We soak up information in a way that is not as straightforward and linear as it once was."
Interest in the musical has never waned. It's been staged around the world, and its songs, including "Not a Day Goes By" and "Old Friends," are regularly performed in cabarets and concerts. A new documentary, "Best Worst Thing That Ever Could Have Happened," directed by original Broadway cast member Lonny Price, premiered at the New York Film Festival in October and hit theaters Nov. 18.
For Arden, it was the music — for which Sondheim received a Tony nomination — and the musical's message that drew him back to the show.
"I fell in love with it," he says. "What it has to say about how and why we sacrifice our ideals to achieve our dreams is really important and something worth examining for audiences now."
Arden is no stranger to the Wallis. Last year, his revival of "Spring Awakening," a collaboration between his theater company, the Forest of Arden, and Deaf West Theatre, moved to the Wallis from a small theater in downtown Los Angeles. The musical, which featured actors performing in English and American Sign Language, transferred to Broadway and picked up three Tony nominations, including a directing nod for Arden at age 33.
"The point was never really Broadway," he says. "It was to create an opportunity for these performers to tell a story in a unique way."
Now Arden is back at the Wallis, this time as the center's first artist in residence.
"I had just started this job last year, and we met and started talking about potential ideas. It was instinctive — it just felt right to have Michael here," says Wallis Artistic Director Paul Crewes. "My only expectation is: Make great work."
For his first show as artist-in-residence, Arden is going big. "Merrily" has a cast of 20 and a 12-piece orchestra. Next summer, to coincide with gay pride week, he'll stage a more intimate play, Alexi Kaye Campbell's "The Pride," on the Wallis' smaller stage.
"My goals are to create programming that is diverse, that reflects the sort of vast landscape of patrons of the arts and Los Angeles," Arden says. "Unless we build theater and performing arts, then we're not going to be creating future patrons. We need to make it accessible."
---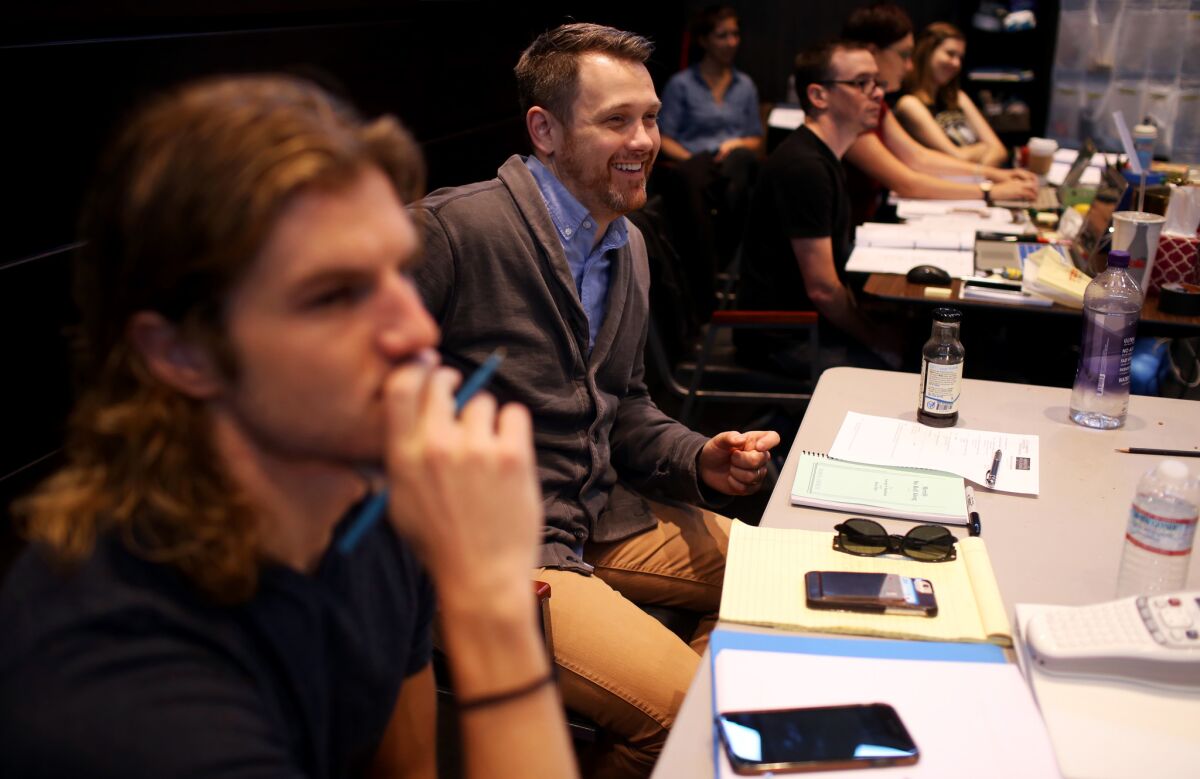 On the first day of rehearsals, the cast settles into its initial read-through of the show. Most of these actors have not worked together, and for many, this is their first Sondheim production.
"Let's all relieve ourselves of trying to act," Arden says, "and just go through this."
After each scene, the director breaks to ask the actors if they have any thoughts on what they've just heard.
"Is this production colorblind or color-conscious?" asks Amir Talai, who plays Joe. That's an icebreaker in a room of strangers. A lively discussion ensues as other actors weigh in with insights on the role of Gussie, who is played by an African American actress.
"I felt it was really important to have on stage a cast representing all of the many colors of the city the play takes place in," Arden says later. "Say you have a young black kid, and you come to see a Sondheim show. You love the material, but you look on stage, and you don't see anyone who looks like you. That puts a barrier between the audience and what they're trying to absorb."
Arden's multicultural "Merrily" cast is led by actors heavy with Broadway credits, including Aaron Lazar ("The Last Ship," "A Little Night Music"), five-time Emmy winner Wayne Brady ("Kinky Boots," "Chicago"), Donna Vivino (the original Young Cosette in "Les Misérables") and Saycon Sengbloh (Tony nominee for "Eclipsed").
SIGN UP for the free Essential Arts & Culture newsletter »
Diversity was not on Arden's radar growing up in Midland, Texas, where Midland Community Theatre quickly became his home away from home.
"My mother had me very young, and when I was about 1½ or 2, my father committed suicide," Arden says. His mother struggled with drugs and alcohol, he says, and when he was in fifth grade, he went to live with his grandparents.
"I had a sort of rocky upbringing, and I think the theater was a safe place for me," he says. "I created my family with the people I met in the theater and escaped in the stories I told and the characters I got a chance to play. It's just always felt like home."
That may be why Arden has made the Wallis — and L.A. — a sort of home away from home for his cast.
"He gets personal with us some days. Like, 'How are you feeling today — talk about what's on your mind.' And we're in a business where nobody cares about how you're feeling," Sengbloh, who plays Gussie, says with a laugh.
"He's really created a family and a safe, nurturing environment for us to explore and play and flourish," says Vivino, who plays Mary.
Arden understands well the nomadic life of actors. He has lived in Los Angeles for about a decade but spent years in New York, where he studied drama at Juilliard. While still in school, he made his Broadway debut in the 2003 Roundabout Theatre-Deaf West revival of "Big River," playing Tom Sawyer opposite deaf actor Ty Giordano's Huck Finn. To get the role, Arden had to learn American Sign Language.
"He was always the first to learn the signing and his lines, which is not easy to do," says Jeff Calhoun, who directed "Big River." "Michael has that combination of talent and a spirit you want to be around. He was one of those bright lights everyone always was attracted to."
Between theater gigs, Arden worked in television and commercials (including one for Domino's Pizza with Donald Trump) and performed on stage with Barbra Streisand during a tour of Europe. He returned to Broadway in 2006 for "The Times They Are A-Changin'." He was cast as the lead in Twyla Tharp's dance-musical set to Bob Dylan songs. It was at the opening-night party of the critically panned, short-lived production that he met his future husband, actor Andy Mientus.
"I guess you could say that was the best thing that came out of that show," says Arden, who married Mientus a week before starting rehearsals for "Merrily."
In 2009, Arden auditioned for Trevor Nunn's revival of "A Little Night Music."
"He managed to sing complex Sondheim lyrics with a wonderful degree of meaning — a naturalistic thing that you yearn for in musical performance," recalls Nunn. In the end, though, the part went to Lazar, whom Arden has cast as Franklin in "Merrily."
But Nunn, the director whose long list of credits includes "Cats" and "Les Misérables," was so impressed by the young actor that he made a point of staying in touch. A year later he tapped Arden for the lead in a revival of Andrew Lloyd Webber's "Aspects of Love" at the Menier Chocolate Factory in London. Nunn saw early signs of Arden's interest in directing.
"We had a lot of conversations about the show and about life in general and about theater in general, and what I came to realize was that acting was a great love of his, but his connection to theater wasn't going to end there," says Nunn, who encouraged him to try directing and has served as a mentor.
Naturally, Arden's background as a performer has served him well as a director.
"He's fearlessly creative and imaginative, and he's very sensitive to us as actors," says Lazar, who had performed with Arden, the actor, several times.
"The bottom line is that we trust him," adds Brady, who plays Charley. "He can help you access certain things. He's been there himself."
Arden wrestled with how to deal with some of the so-called problems of previous productions of "Merrily" — particularly the age of the characters: "It always bothered me as an audience member because I was watching a 40-year-old playing 20 or a 20-year-old playing 40." He toyed with the idea of multiple casting, but Sondheim nixed that idea, telling Arden that he wanted to stay true to the wishes of Furth.
"'Merrily' to me was always about looking at how people change, and I thought it would be interesting to see how we could physicalize that change," Arden says. So he cast actors to dance as "ghost" versions of three actors when they were younger.
Two weeks into rehearsals, Arden and his choreographer, Eamon Foley, are working on a complex dance-music sequence for "Opening Doors" that involves the six actors. Foley, at just 23, has several Broadway performing credits to his name, including two Sondheim shows, "Gypsy" and "Assassins."
"I know the footwork is hard, but once you get used to it …" Foley demonstrates the dance to the "ghost" trio, making it look easy as he sings a line while performing the move. At the same time, Arden instructs Lazar, Vivino and Brady on what they should be doing with their hands during this scene.
"OK, let's start again at the top," Arden calls out.
---
By all rights, Arden should be a household name. He's appeared in dozens of popular films and television shows, most recently as a regular in the Charlie Sheen series "Anger Management." But Arden's face isn't exactly famous, as was evident during this year's Tony Awards. On arguably his biggest night in professional theater, the face that 8.7 million people at home and in the Beacon Theatre saw when nominees for director of a musical were announced was not that of Arden but of actor Christopher Fitzgerald, a nominee for the musical "Waitress."
"I knew it was happening before it happened," Arden says. "Everyone's camera was on them, and I was like, 'Where is my camera?' I turned to Andy, and I said, 'My camera's not here. They put the camera on the wrong person.'"
He laughs and shakes his head.
After "Merrily" opens, Arden will hop a plane to New York to lead a two-week musical workshop for a revival of the Stephen Flaherty-Lynn Ahrens' "Once on This Island." He's also developing a production of Frank Wedekind's "Lulu," which he hopes to do with his theater company at a Los Angeles art gallery in July.
Is Broadway on his mind for "Merrily"?
"I just want to open this on Nov. 30, and that's it," he says with a laugh. "Talk to me after that."
---------------------------
"Merrily We Roll Along"
Where: Wallis Annenberg Center for the Performing Arts, 9390 N. Santa Monica Blvd., Beverly Hills
When: In previews now, opens Wednesday, ends Dec. 18. Performances 8 p.m. Tuesdays-Fridays, 2 and 8 p.m. Saturdays, 2 and 7 p.m. Sundays.
Tickets: $29-$110 (subject to change)
Information: (310) 746-4000, TheWallis.org
Follow The Times' arts team @culturemonster.
ALSO
'Hansel & Gretel Bluegrass' gives an old tale new relevance
Faith Prince brings her 'Faith-isms' to L.A. Opera's 'Wonderful Town'
Opera for the late-night cocktail crowd: Checking out 'After Hours'
Beauty baths, hair styling, 1,750 pounds of carrots: the life of a Cavalia horse
---
Get our L.A. Goes Out newsletter, with the week's best events, to help you explore and experience our city.
You may occasionally receive promotional content from the Los Angeles Times.