Commentary: How the ballet world's choreographer of the moment is still searching for his next move
Memo to choreographer Alexei Ratmansky: Play Misty for me.
Yes, everyone in the ballet world is aware that you're one of the artists defining the art, someone renowned or notorious — depending on whom you ask — for reimagining ballet classics. (More on that subject shortly.)
But at least some of us are far happier when you step away from those secondhand projects and grapple with music and movement in your own voice, as you did at least part of the time during American Ballet Theatre's run ending Sunday at the Music Center. The rest of the time, unfortunately, you left principal dancer and Internet sensation Misty Copeland dressed for action but far too often offstage with nothing to do but pluck her feathers like some neglected parrot.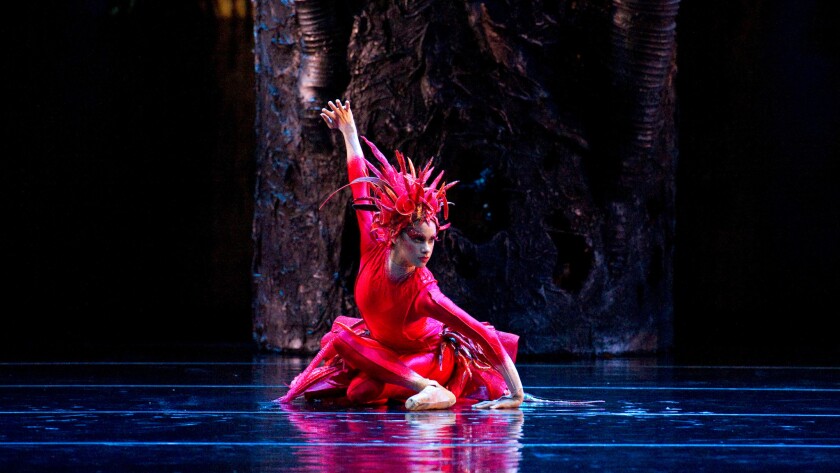 Watching Copeland dance "Firebird" at the Dorothy Chandler Pavilion, we saw a wonderful ballerina come to terms with a not-so-wonderful role. To begin with, you, Mr. Ratmansky, assigned to other American Ballet Theatre dancers much of the music that Igor Stravinsky composed for her character.
A Firebird corps inherited most of her opening solo and, later on, this Firebird was allowed only sporadic appearances in the sequence where, in other versions, she alone destroys the forces of evil.
Keeping a star-dancer offstage when the composer wanted her in the spotlight muted Copeland's dazzle during a special Music Center benefit Thursday, though ticket holders paid up to $308 (not including the after-party) to see her decked out in Galina Solovyeva's fiery tutu. (They also found Copeland-as-Firebird books and dolls on sale in the Dorothy Chandler lobby.) But the marginalization of the title character meant that the ballet belonged to the unusually playful hero Ivan, interpreted with great assurance by Marcelo Gomes.
As usual, Mr. Ratmansky, your expressive ambitions and showpiece instincts often clashed, so this Ivan didn't convincingly subdue or tame this Firebird in their pas de deux (a major plot point). Gomes and Copeland attended to its challenges masterfully, but crude and mostly ineffective comedy all but wrecked the contributions of the enchanted maidens. Stella Abrera coped resourcefully with a thankless part, and Cory Stearns did manage to dominate Simon Pastukh's large-scale scenic effects as an entertainingly deranged Kaschei.
The American Ballet Theatre, featuring Misty Copeland, perform "Firebird" for a benefit gala at the Music Center.
(Robert Gauthier / Los Angeles Times)
Maiden (Stella Abrera), leads other maidens during the American Ballet Theatre performance of "Firebird" for a benefit gala at the Music Center.
(Robert Gauthier / Los Angeles Times)
Firebirds dance in the opening sequence. as the American Ballet Theatre, featuring Misty Copeland, performs "Firebird" for a benefit gala at the Music Center.
(Robert Gauthier / Los Angeles Times)
Maidens offer apples to Ivan (Marcelo Gomes), while Maiden (Stella Abrera), left, jealously looks on during the American Ballet Theatre performance of "Firebird" for a benefit gala at the Music Center.
(Robert Gauthier / Los Angeles Times)
Ivan (Marcelo Gomes) dances with Firebird (Misty Copeland) during the American Ballet Theatre performance of "Firebird" for a benefit gala at the Music Center.
(Robert Gauthier / Los Angeles Times)
Kaschei (Cory Stearns), left, faces off with Ivan (Marcelo Gomes) during the American Ballet Theatre performance of "Firebird" for a benefit gala at the Music Center.
(Robert Gauthier / Los Angeles Times)
This one-act ballet premiered in Orange County four years ago, and Laura Bleiberg's Times review was generally approving, though noting the "mixed choreographic results." That hasn't changed and is typical of Ratmansky remakes of the most famous titles and scores in Franco-Russian ballet.
Those remakes include "The Nutcracker" in several versions (including ABT's) starting in 2001, "Cinderella" for the Mariinsky (2002), "Romeo and Juliet" for National Ballet of Canada (2011), this ABT "Firebird" (his second attempt, following 2012) and reconstructions of "Sleeping Beauty" for ABT (2015) and "Swan Lake" for the Zurich Ballet (2016). "The Bright Stream" may not be an iconic title outside Russia, but Josef Stalin's hatred of the original production made Ratmansky's 2003 remake for the Bolshoi big news in the post-Soviet era.
Readers, it may help to know that Ratmansky, 47, was born in St. Petersburg, Russia, and trained at the Bolshoi School. His remakes brought him to international prominence because they filled a growing repertory need: With so few 19th century story ballets wearing out their welcome from relentless repetition, many companies, their dancers and their audiences welcomed his novelties — something new on paper but never genuinely transformative, just a comfortable rehash. No matter that such projects have inevitably betrayed his weaknesses in balletic storytelling and characterization.
In October, audiences at the Dorothy Chandler saw that Mariinsky "Cinderella," and watched arguably the greatest classical company anywhere flounder in aggressive, heartless choreographic fragmentation.
I'm happy to report that Ratmansky has long displayed a taste for something greater than new editions of ballet's greatest hits. He has been so prolific with one-act music visualizations that he's now well-nigh inescapable on European and American ballet stages.
Dorothy Chandler audiences got a sample with a program that ABT performed starting Friday: two ambitious and largely successful works that, coupled with "Firebird," represented the first time that Ballet Theatre has presented an all-contemporary program on this stage. That's right: Nothing over 4 years old from a company that — on tour, at least —has often seemed far more attached to the past than the present. The sense of adventure Friday remained palpable, especially with refined music-making under the leadership of David LaMarche and Ormsby Wilkins.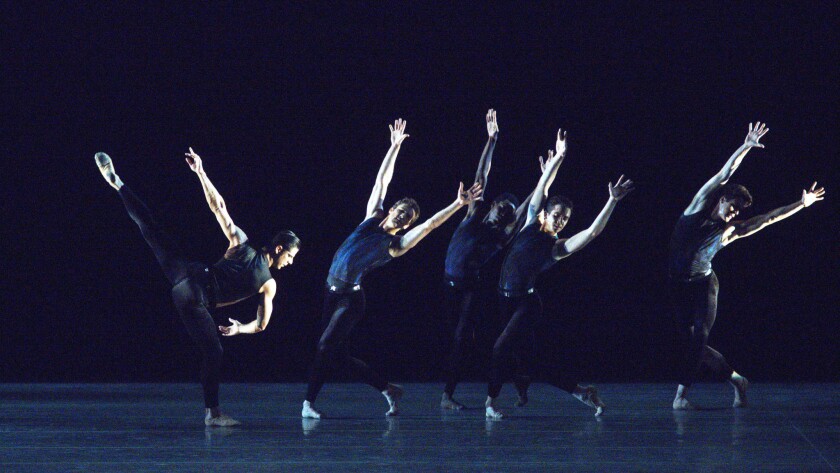 Besides "Firebird," the three-part weekend program included a segment from Ratmansky's Shostakovich cycle, "Symphony #9." Three years ago, ABT presented his Shostakovich "Chamber Symphony" here, but this time out, he camouflaged his limitations more adroitly with the deft alternation and then interplay of a perky couple in green (Craig Salstein and Abrera on Friday), a romantic couple in purple (Alexandre Hammoudi and Veronika Part), plus a virtuosic odd-man-out (Herman Cornejo) and a hardworking corps.
Unusual sliding steps and buoyant jumps-in-place linked this piece to "Firebird" (created the same year), and, midway through, the prevailing darkness of the stage yielded to a George Tsypin backdrop: people holding flags plus an occasional airplane or blimp.
Despite a few moments when it threw showy steps against inappropriate music (another Ratmansky trademark), "Symphony #9" made the company look great. What's more, his bold attempt to turn Leonard Bernstein's meditative "Serenade After Plato's Symposium" into a ballet score changed eight of ABT's most distinctive soloists into paragons. Nine if you include violinist Benjamin Bowman.
Plato's consideration of love in its many forms here became a series of showpieces testing the dancers' and Ratmansky's ability to look at the ballet vocabulary from unusual angles, many of them bracingly idiosyncratic.
James Whiteside began the playoffs powerfully and, as the other six men clustered in support, a pattern emerged. Only a conventional pas de deux for Gomes and Devon Teuscher (the lone woman in the cast) broke the emphasis on experiment and self-realization.
A scene from Alexei Ratmansky's "Serenade after Plato's Symposium."
(Rosalie O'Connor)
Jeffrey Cirio soars in "Serenade after Plato's Symposium."
(Rosalie O'Connor)
Dancer Calvin Royal III in "Serenade after Plato's Symposium."
(Rosalie O'Connor)
Blaine Hoven in "Serenade after Plato's Symposium."
(Rosalie O'Connor)
The work premiered four months ago, and on Friday it reunited most of the original cast: Blaine Hoven, Calvin Royal III, Gabe Stone Shayer, Jeffrey Cirio and the high-flying Daniil Simkin besides those already mentioned. Jrme Kaplan costumed the men in a patchwork of patterns and colors suggesting many different eras and points of origin.
To close the evening, another "Firebird." If Misty Copeland's genuine star power brought a sense of occasion to the Thursday benefit, the fine but less starry Friday cast told a different story. Isabella Boylston's sharpness of attack distinguished her performance of the diminished title role, Hammoudi as Ivan forged an intense partnership with Cassandra Trenary as the lead maiden and Roman Zhurbin glowered impressively as Kaschei. But there are better versions than this one, even if the 1910 original has never been properly restored. Maybe that's a project, Mr. Ratmansky, you should consider.
You became American Ballet Theatre's artist in residence seven years ago, and if your relatively recent interest in reconstructing (rather than supplanting) ballet masterworks continues along with your attempt to find his own true voice as a choreographer, there will no longer be any need to escape your inescapable prominence.
---
Inside the business of entertainment
The Wide Shot brings you news, analysis and insights on everything from streaming wars to production — and what it all means for the future.
You may occasionally receive promotional content from the Los Angeles Times.