Hollywood and art world stars turn out to honor Jeff Koons at MOCA (and to dance to John Legend)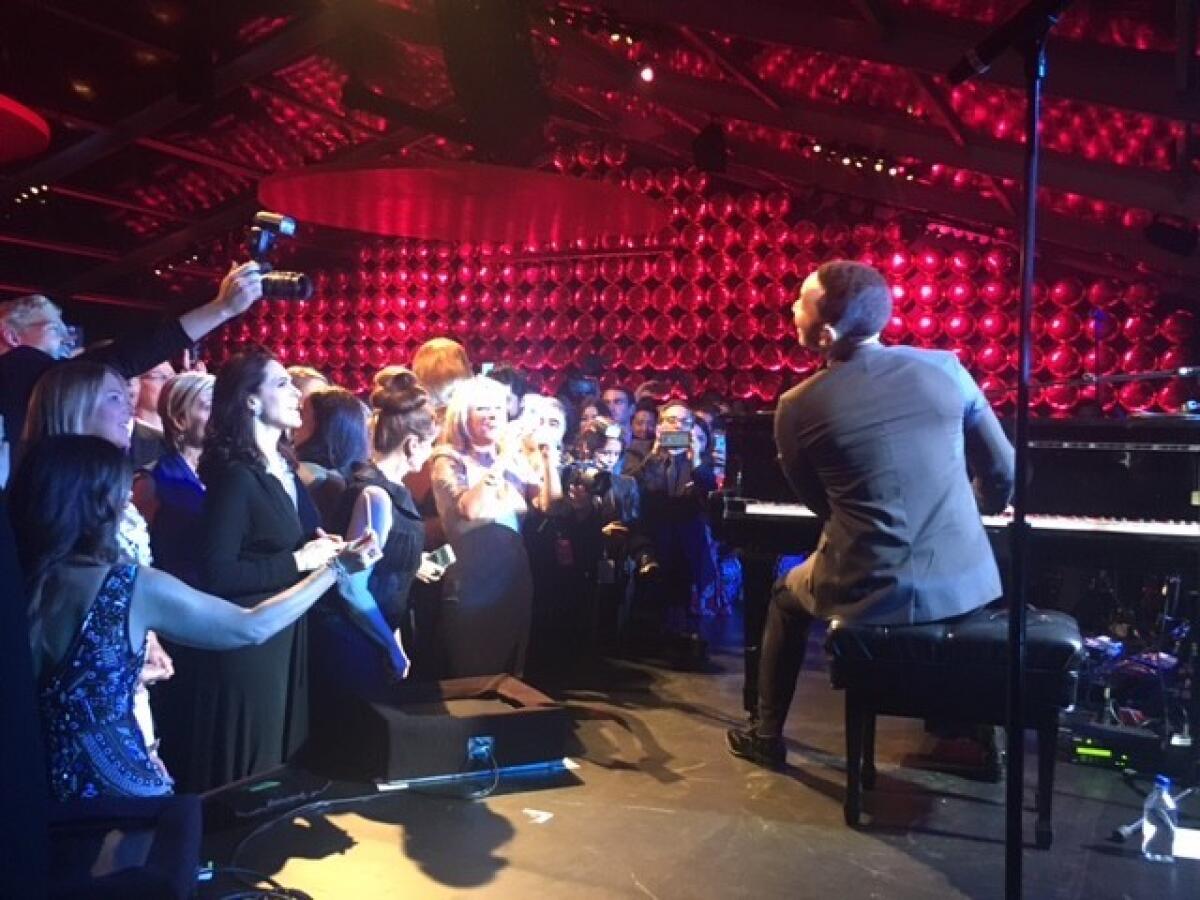 The annual Museum of Contemporary Art gala Saturday night was, in a word: magenta. Bright, reflective magenta — a celebration of the lavish and colorful kind.
MOCA transformed its Geffen Contemporary location into a shimmering Jeff Koons-scape, honoring the New York artist for his creative and philanthropic contributions. Koons has helped to raise more than $5 million for the museum in the last five years, and the party drawing more than 600 art stars, Hollywood celebrities and others was the museum's thank you. The design, by event producer Ben Bourgeois, was inspired by Koons' "Celebration" series of sculptures and paintings. A purple carpet and hot pink step-and-repeat backdrop for arrivals came with glowing magenta ceiling discs reflecting magenta-tinted tabletops in the dinner tent, where walls lined with mylar balloons were — you guessed it — shiny magenta.
During the cocktail reception, actors Pierce Brosnan and Sharon Stone and artists Doug Aitken, Jonas Wood and Sterling Ruby mingled with other guests including gallerists Jeffrey Deitch and Larry Gagosian under an open-air canopy, while sipping Champagne and nibbling on beef sliders and dollops of caviar. Koons' "Balloon Dog" plates, produced in partnership with MOCA and French porcelain maker Bernardaud, were on display — and for sale at $9,000 apiece. "A bargain!" MOCA Director Philippe Vergne joked.
"I think Jeff Koons has been an incredible force in the art world for about 40 years now," Vergne added on a more serious note. "And an incredible philanthropist. It's meaningful to me because this museum was founded by artists. And when I see artists giving back, I'm incredibly moved by that."
Photos: Red carpet arrivals for the MOCA gala »
Surveying the scene upon his arrival, Koons was understated about the affair.
"It's wonderful to be honored, but I really see this as an event where we're celebrating Los Angeles and how vital the art world is here, the whole community," he said. "I think, too, we're celebrating how art gives people the opportunity to find concreteness in their lives."
A museum representative later said the event raised more than $3 million. Here's a recap of the evening, from the purple carpet poses to the surprise musical guest at night's end.
---
5:30 p.m.
En route to gala
Uber driver said he'd never been to MOCA before, but he knew Koons. He'd seen the artist's work at another downtown L.A. museum. "I like his Michael Jackson thing at the Broad," he said of Koons' sculpture there.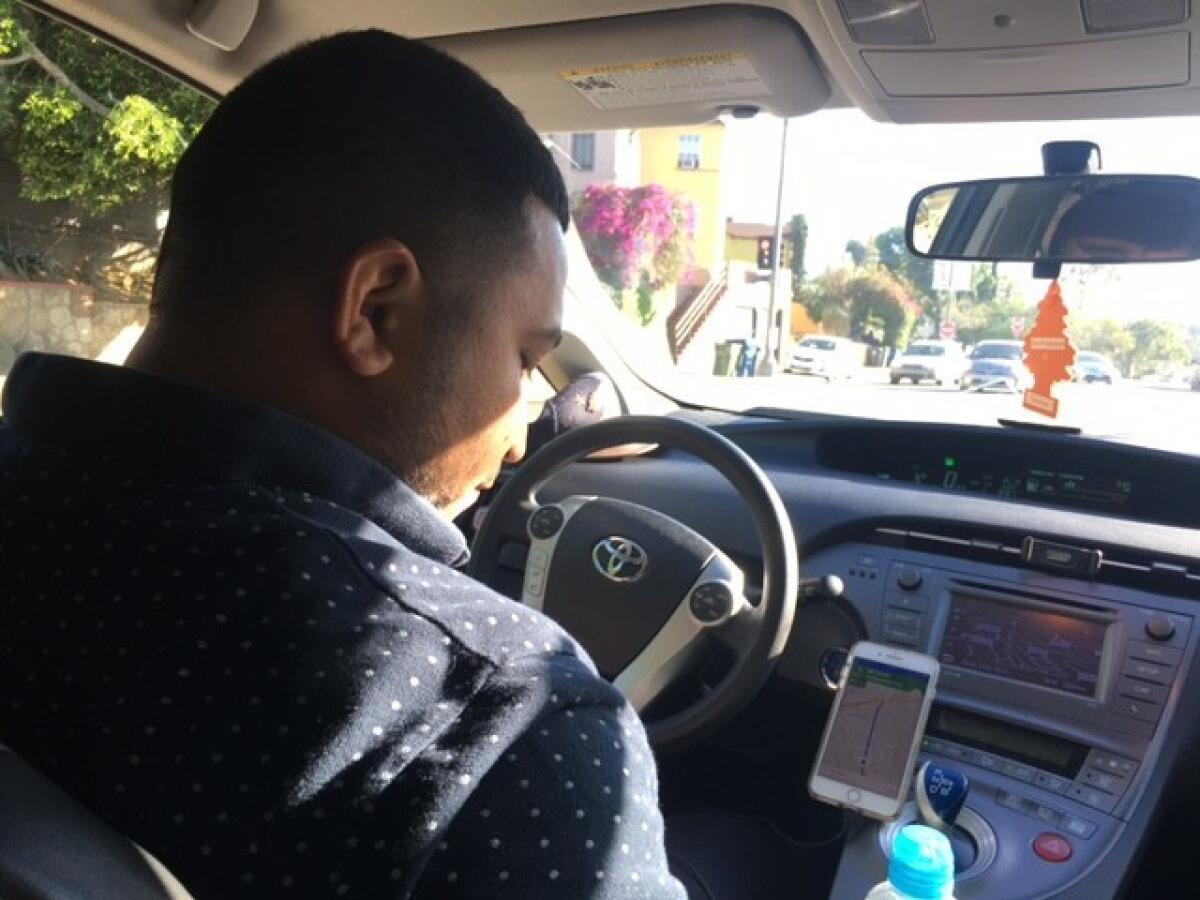 6:10 p.m.
Purple carpet arrivals
MOCA board co-chair Lilly Tartikoff Karatz was among the first to arrive on the purple carpet, followed by a stream of celebrities, artists and other art world figures. Jennifer Tilly ("Family Guy," Oscar-nominated for "Bullets Over Broadway") said she collects Koons' work, including three Balloon Dog plates in pink, yellow and orange. She stores them in her Las Vegas apartment, which "seems very appropriate," she said. "He's shiny and sparkly and big. You never know what to expect from him. I love his work." Meanwhile, Brosnan, a painter himself and who introduced Koons during dinner, called the artist "a unique talent." "The humor of his work, the audacity of the work — he's just a good guy," he said.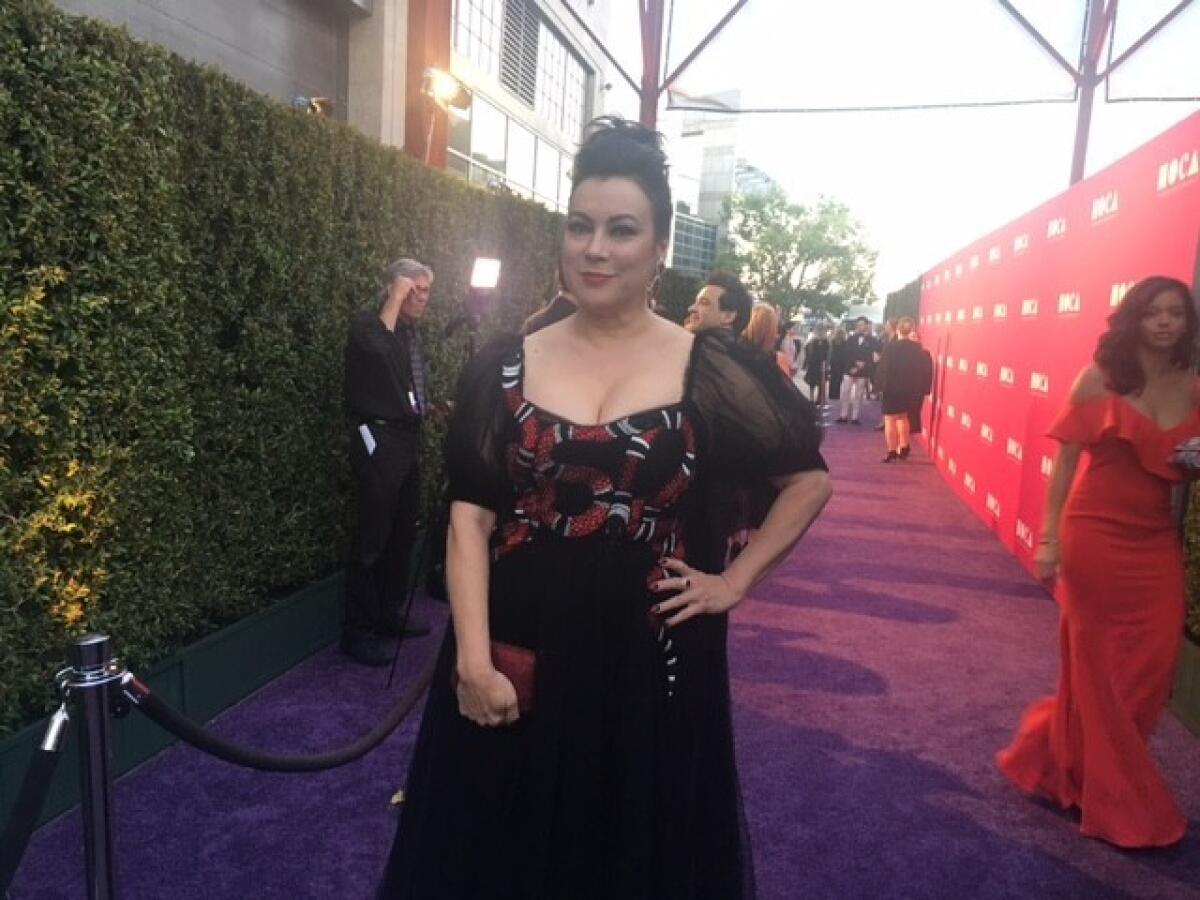 7:04 p.m.
Perusing the works
During the cocktail party, guests ogled Koons' "Balloon Dog" plates and wandered through exhibits at the Geffen, including "Carl Andre: Sculpture as Place, 1958–2010," "Arthur Jafa: Love Is the Message, the Message Is Death" and "Selections From the Permanent Collection: Catherine Opie and Sterling Ruby."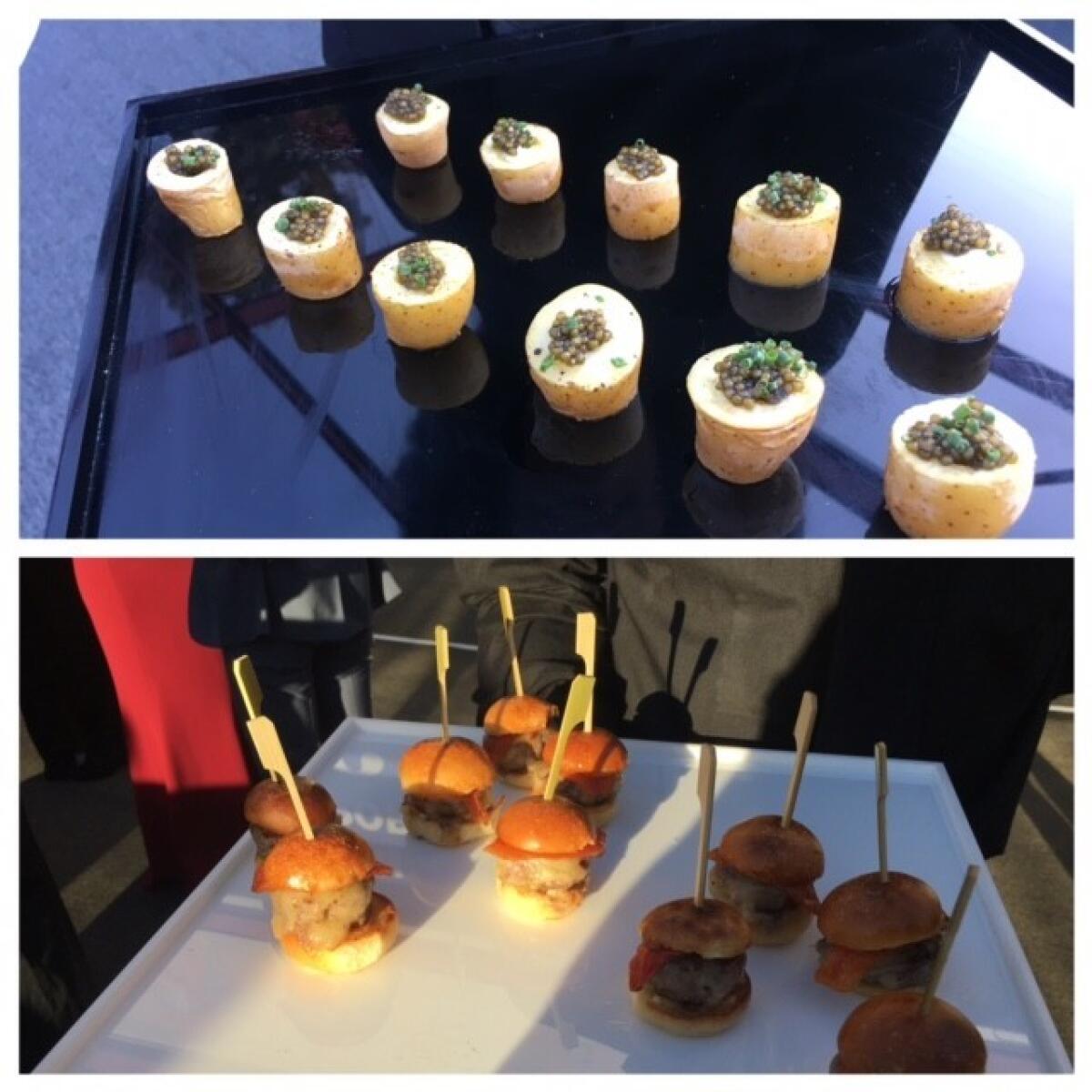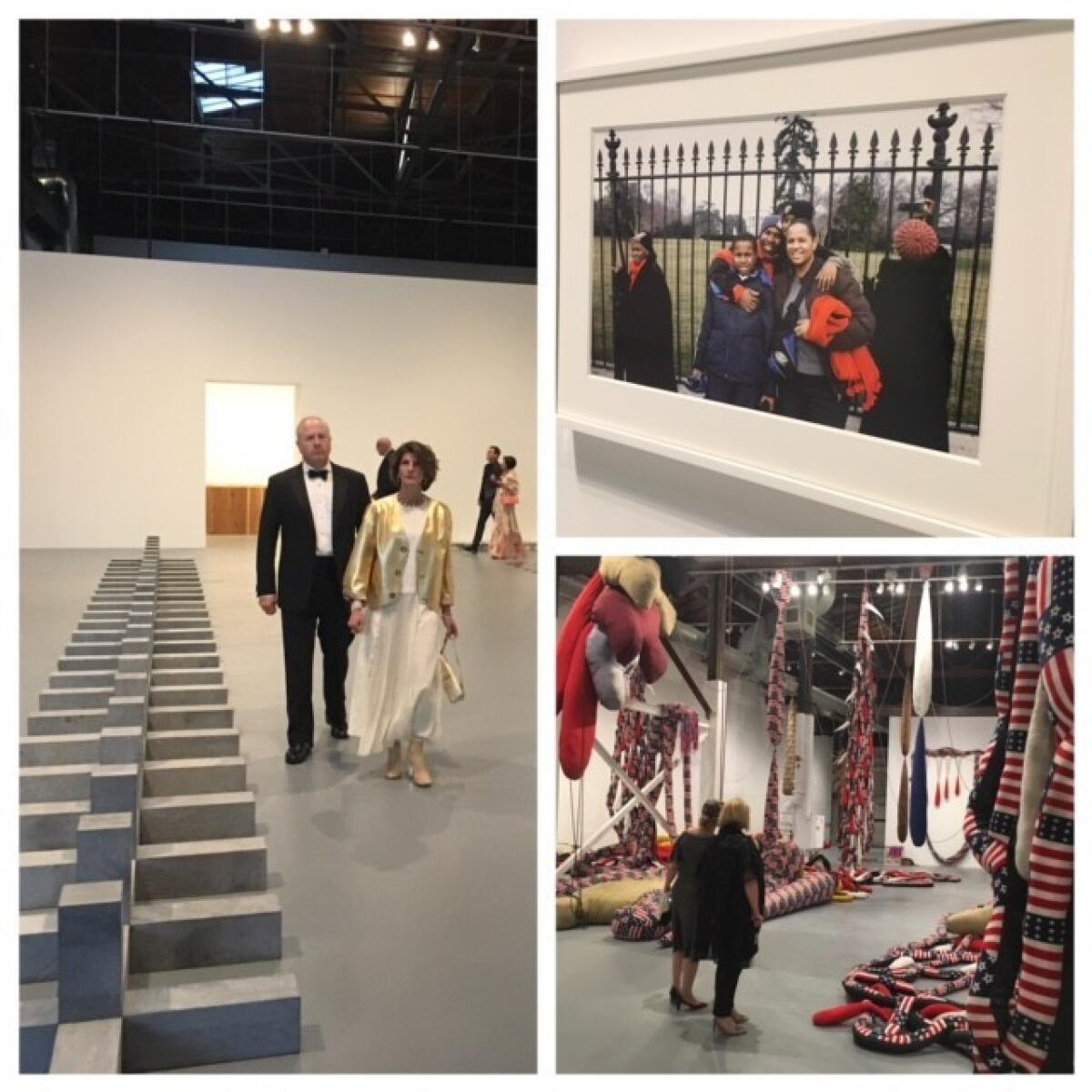 Around 7:10 p.m.
Jeff Koons arrives
He's soon greeted by friends, artists Doug Aitken and Carmen Ellis. "It's a wonderful evening, a real celebration," Koons said, surveying the scene.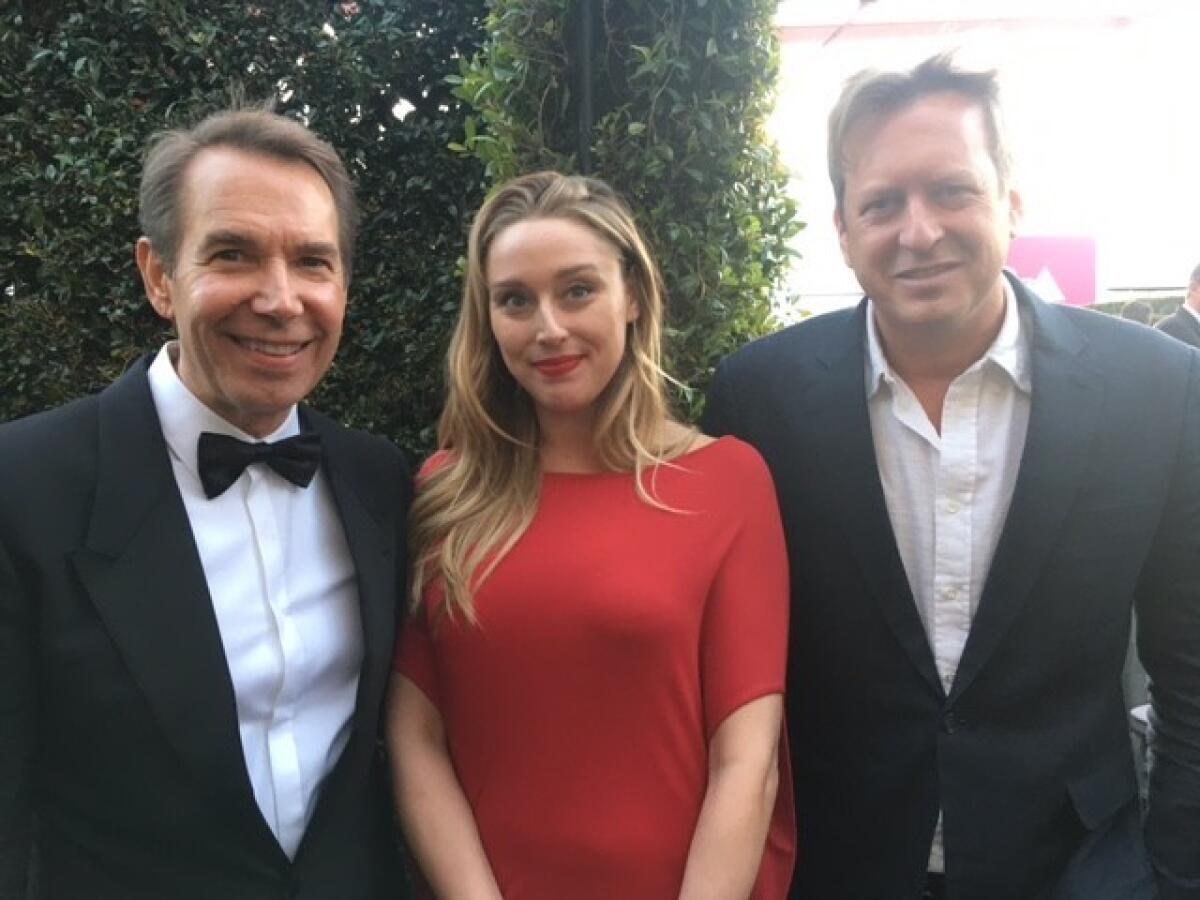 About 7:40 p.m.
Cocktails are in full swing
Former MOCA Director Deitch was spotted reuniting with former MOCA chief curator Paul Schimmel. Artists Jonas Wood and Mary Weatherford chat; both will be in the inaugural exhibition of the soon-to-open Marciano Art Foundation in L.A. Of Koons' work, Wood said: "I love the big Hercules with the big gazing ball." Of MOCA gala co-chair Maurice Marciano, Wood took it up a notch: "He's the man!" Deitch, who will open a gallery in L.A. this fall, said he "wanted a space large enough to do ambitious, curated shows."
Added DJ M.O.S.: "I'm playing Tom Tom Club 'Genius of Love' right now, because Jeff Koons is a genius and I love his art!"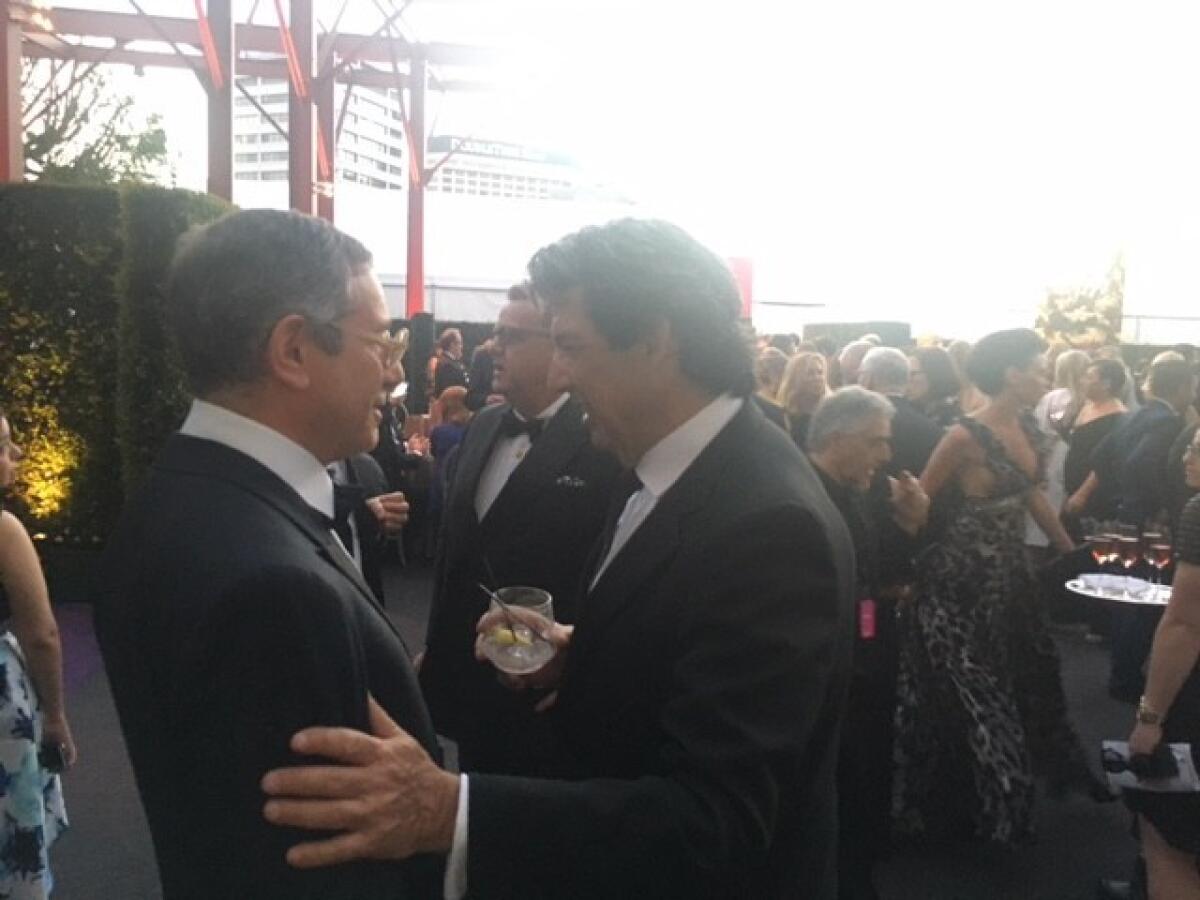 Nearly 8 p.m., dinner hour
One more last-minute purple carpet arrival
Paris Hilton arrived just in time for dinner. She said she was "obsessed" with Koons' work. "He makes incredible art and he also gives back," she said. "He's a genius, he's innovative, he's a pioneer, he's ahead of his time. He's a legend and will be remembered forever."
8:15 p.m. or so
Dinner starts
After gala co-chair Marciano got everyone's attention, a Puck-catered dinner of loup de mer with spinach-fennel puree was served. Wine aplenty led to spirited table hopping and chatting. Ryan Seacrest chatted with art collector Charles Berez. "I'm not a big art collector in this crowd!" Seacrest joked, despite being on the board of trustees at the Los Angeles County Museum of Art. "I'm a budding collector."
Another moment: Sharon Stone met Eli Broad for the first time, while in the background Tartikoff Karatz urged Broad to take her card. "I have her card," Broad said. "Take it anyway!" Tartikoff Karatz urged. "Oh, it's just nice to meet you, finally!" Stone said. Broad said he was proud that his downtown L.A. museum, the Broad, has the largest collection of Koons works of any U.S. museum.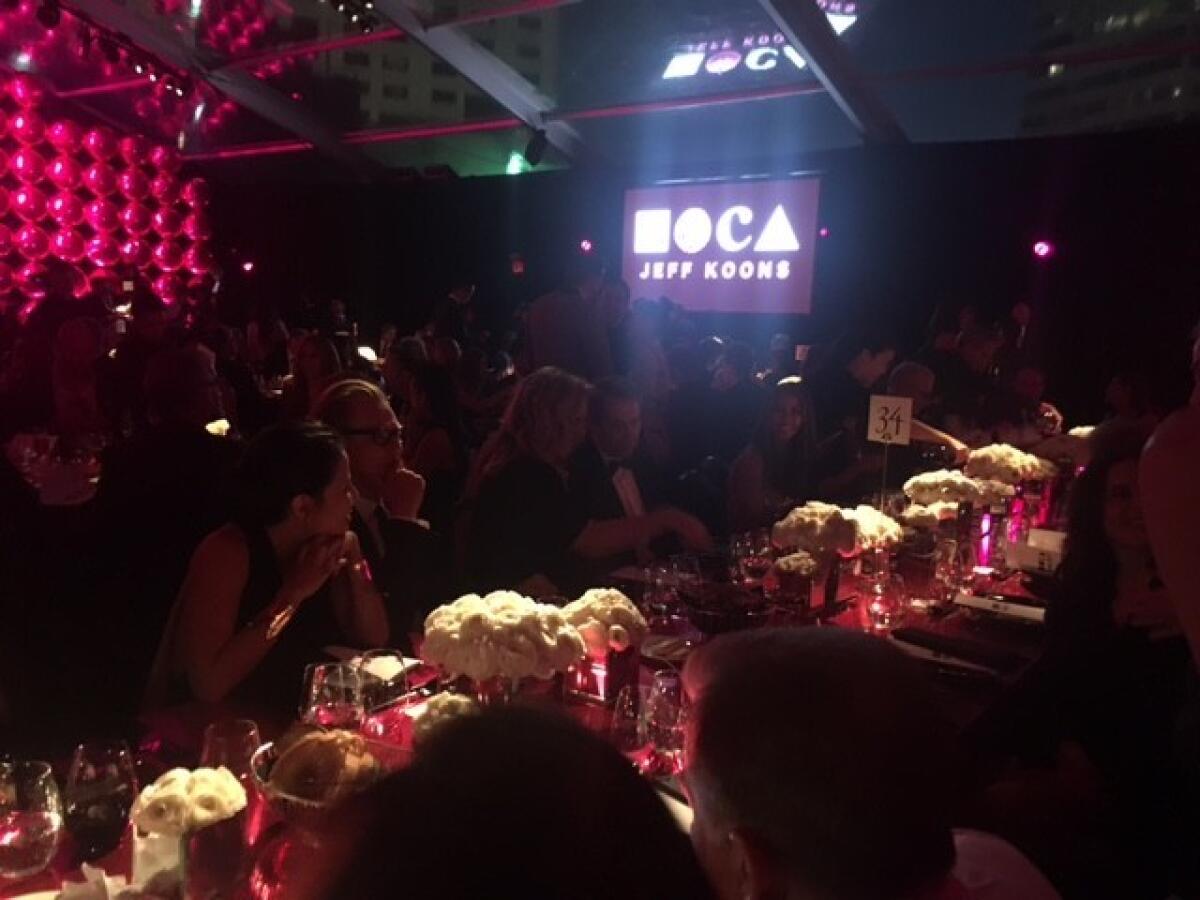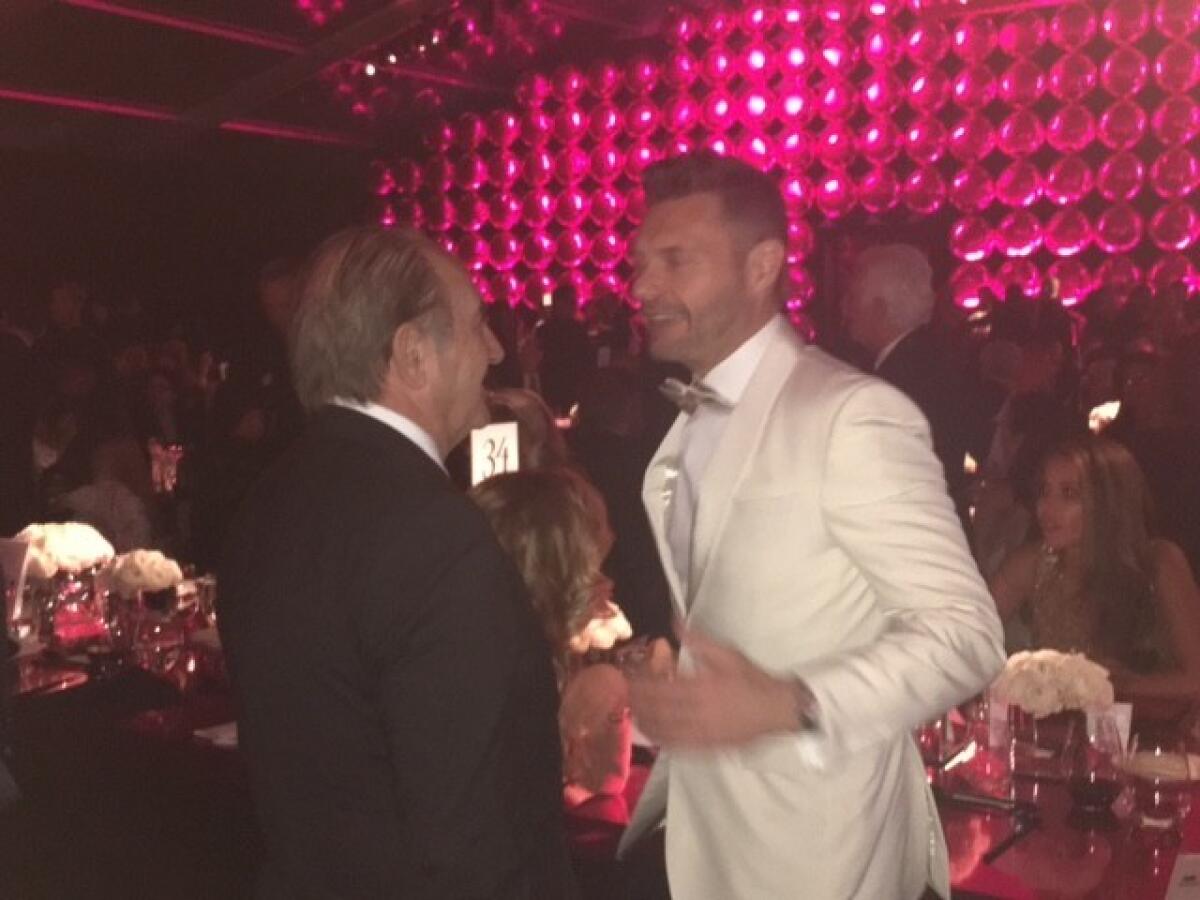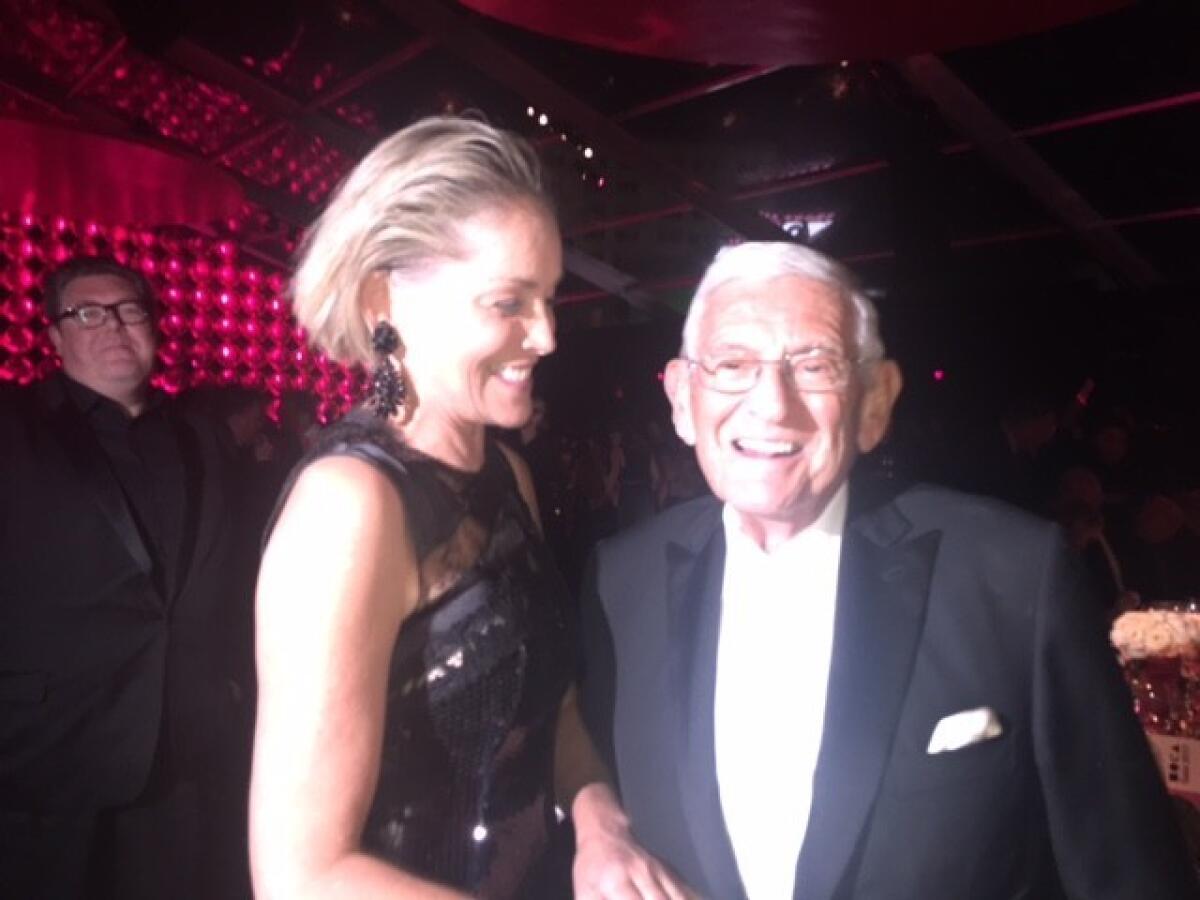 Between 9 and 10 p.m.
Oh, yes — speeches
During dinner Vergne, Brosnan and Koons addressed the crowd. "Marcel Duchamp has Philadelphia, that's where they have their most condensed collection of his work. I have Los Angeles," Koons said as the crowd erupted in applause.
Dessert is a chocolate hazelnut Napoleon with a chocolate Koons balloon bunny and magenta-colored rasberry sorbet.
10 p.m.
And the surprise musical guest is ....
John Legend. He's joined by another surprise guest midway through his set, singer-songwriter Miguel. This got nearly everyone up on their feet, phones swaying in the air, including Brosnan, who has pretty good rhythm.
11 P.M TO MIDNIGHT
Dancing, drinks and doughnuts
Because really, that's how every gala should end, magenta or otherwise.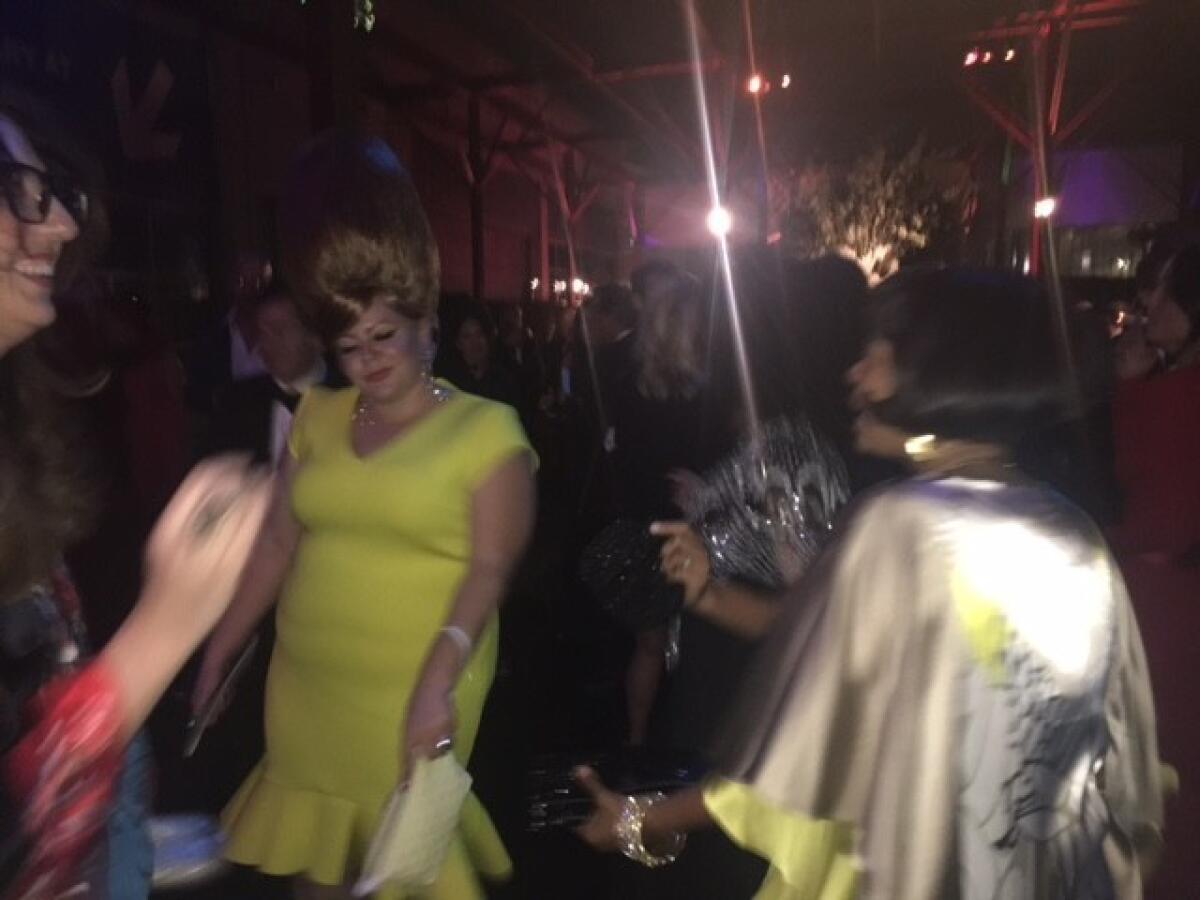 ---
UPDATES:
1:50 p.m.: This article was updated with an estimate of how much money the gala raised for the museum.
Get our L.A. Goes Out newsletter, with the week's best events, to help you explore and experience our city.
You may occasionally receive promotional content from the Los Angeles Times.