Review: From housing project to gallery wall: Nathaniel Mary Quinn's portraits put subjects in a new light
By turns monstrous and whimsical, Nathaniel Mary Quinn's portraits at M+B are fractured, richly inventive images of former residents of the Chicago housing project where he grew up. They are somewhat reminiscent of the work of Wangechi Mutu, although rather than using found imagery directly, Quinn draws or paints from various sources — photographs, comics, history painting, fabric patterns and more — putting them all together in distorted collisions resembling faces.
"Super-Fly" features a hairline that looks like Superman's and a red-and-blue garment, but everything in between comes from somewhere else: a bulbous, pink cartoon nose, photorealistic brown-skinned eyes, ears and lips (all apparently from different sources), and a black-and-white image of an emphatically cocked arm clad in a delicate print. The portrait tweaks the notion of the singular, indomitable superhero, injecting it with a jaunty come-what-may panache. This make-do aesthetic also resonates with the work's reference to the 1972 blaxploitation film "Super Fly," the story of a drug dealer who orchestrates his own second chance.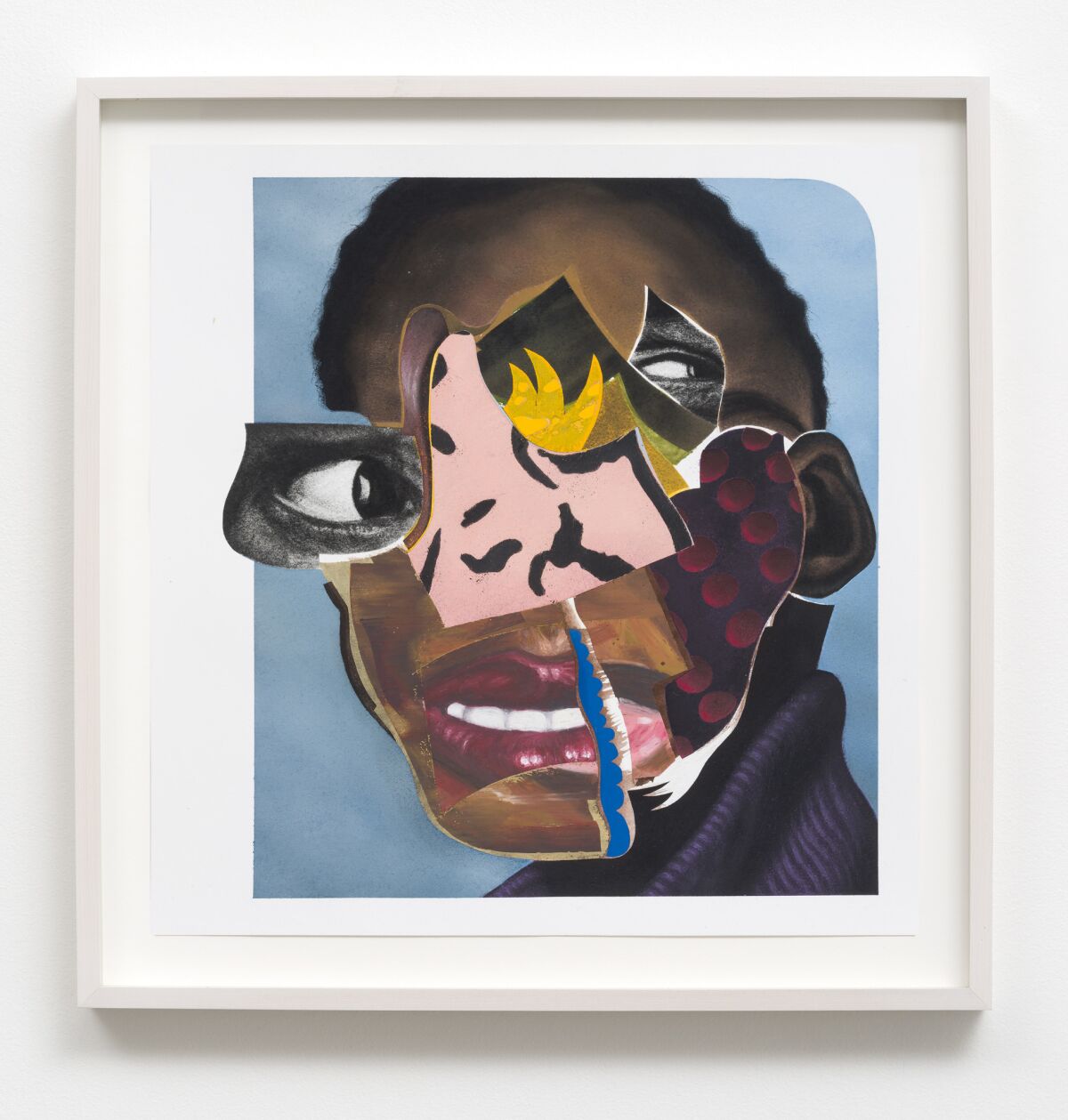 Although portraiture as collage is nothing new — see Cubism or Surrealism — Quinn's works add dimension to the tradition. Yes, we all contain multitudes, but these portraits give depth and texture, both flattering and unflattering, to subjects rarely seen in contemporary art. I was reminded of the totally different work of photographer Dawoud Bey, who seeks to give his sitters — often kids from poor neighborhoods — the gravity and stature of Renaissance portraiture. Quinn does a similar thing, granting his subjects a complexity they often don't receive in other places.
------------
M+B, 612 N. Almont Drive, Los Angeles. Through June 25. Closed Sundays and Mondays. (310) 550-0050, www.mbart.com
Follow The Times' arts team @culturemonster.
Get our L.A. Goes Out newsletter, with the week's best events, to help you explore and experience our city.
You may occasionally receive promotional content from the Los Angeles Times.