Warhol, Nico, a naked handstand, a crucifix: The Broad kicks off 'Happenings' with songs and shocks
Kembra Pfahler is in the Broad museum offices and library carefully smearing white paint onto a black crucifix. She stands in a dark Chinese tunic, preparing for an hour of live songs and transgressive performance art, closing a night dedicated to the legacy of Andy Warhol and his Teutonic superstar, singer and fashion model Nico.
"I was really inspired by Nico. I love her music, I love her delivery, I love her personality," says Pfahler, known for boundary-shattering work with her group the Voluptuous Horror of Karen Black. She's still hours away from her confrontational collision of rock 'n' roll, body paint, nudity, big hair and religious symbols.
"I do performance under the auspices of available-ism — making best use of what's available, which is our bodies and our costumes," she says.
It's Saturday, the first of this year's "Summer Happenings" at the Broad. Curators have gathered a small crowd of musicians and artists who share a connection with (or at least admiration for) the Warhol tradition. Now in its second year, the series uses live performance to connect audiences with the contemporary art collection on the museum walls.
Nico, born Christa Päffgen in Cologne, Germany, entered the 1960s Warhol scene at his New York workspace the Factory, where she appeared in experimental films and famously sang on the first Velvet Underground album in 1967. She enjoyed a solo career singing dark but critically respected songs until her death in 1988.
On this Saturday, live sets by Pfahler and intersex performance artist Vaginal Davis unfold in the Oculus Hall, with Jenny Hval on an outdoor stage and Tiny Vipers (a.k.a. Jesy Fortino) singing amid a pair of Warhol Campbell's soup can paintings, a large Elvis Presley silkscreen and other Pop art in a third-floor gallery. A screening of the 1972 experimental film "The Inner Scar" delivers Nico herself wandering a barren landscape.
The events, strictly limited to ages 21 and older, are specific to the museum, says Ed Patuto, the Broad's director of audience engagement. "There is this back and forth between the performers and the art that is free-flowing," he says. "We want this to be a different kind of experience than you would have at a club or at a festival."
Brandon Stosuy co-curated the Nico night with Bradford Nordeen.
"Ideally, you wouldn't see this lineup in any other space, because it wouldn't make sense anywhere else," Stosuy says.
The next event, on July 29, will center on the work of Japanese artist Takashi Murakami. Co-curated by Stosuy and Ryu Takahashi, the night will look for connections to Murakami's fusion of traditional Japanese culture with frenzied pop culture. Among the performers will be Cibo Matto's Miho Hatori and Los Angeles singer-songwriter Devendra Banhart. "We were trying to find ways to pull from music that sounds like what Murakami's work looks like," Stosuy says.
As Pfahler is painting her cross, watching closely is Nao Bustamante, whose video art installation in the lobby is swaddled in colorful knitting that she calls "feminist fiber art on steroids." Her weeping face fills the screen. The image echoes 1966 film footage of Nico crying in "Chelsea Girls," directed by Warhol and Paul Morrissey.
Bustamante calls the night's collection of artists "inspired" and credits the museum for bold programming: "A space can be daring once or twice, but the Broad has been daring 30 times. It keeps running with it. It's exciting."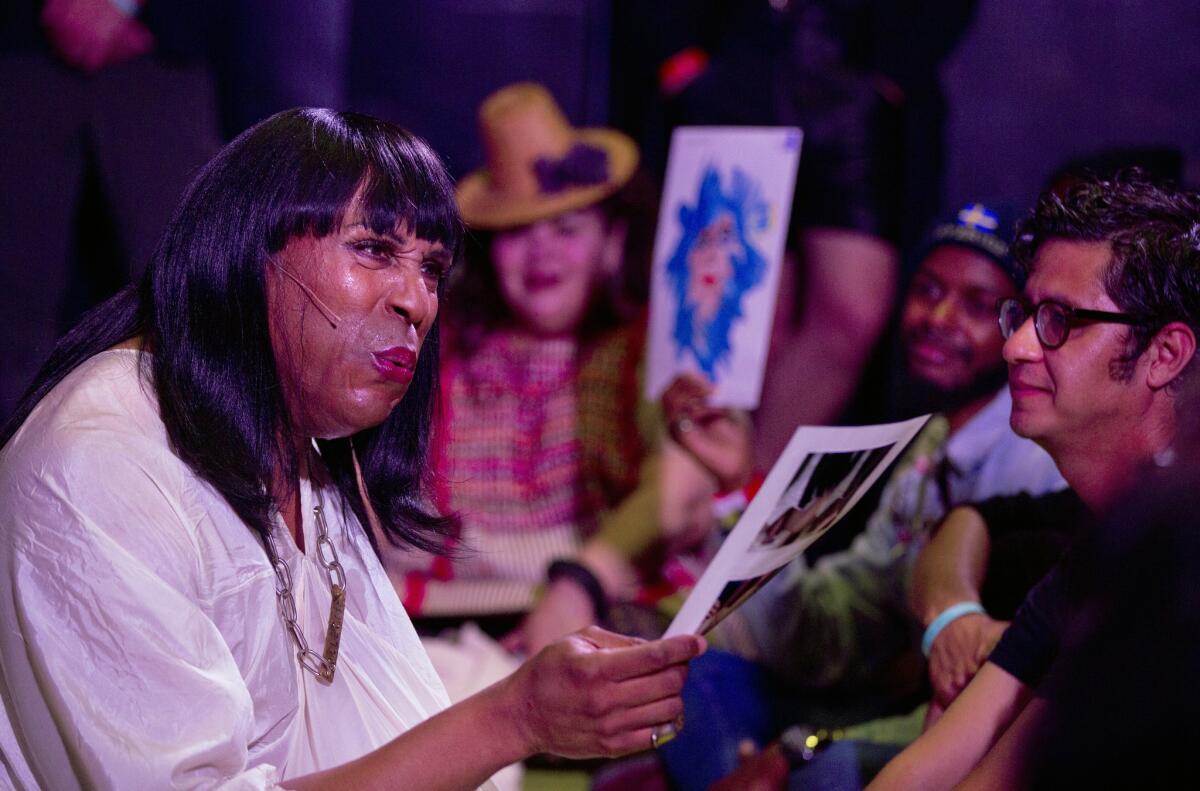 SIGN UP for the free Essential Arts & Culture newsletter »
Moments later, Davis sweeps into the room, standing 6-foot-5 in a golden robe, her wig removed and bald head shiny with sweat. "Oh, hi, Kembra!" she says excitedly. "I had no idea there would be so many people!"
Davis lives in Berlin but grew up in Los Angeles. The Broad performance is her first here in five years. Warhol twice photographed Davis in the '80s with a Polaroid camera, once at the old Retail Slut clothing store in Los Angeles and again at a costume party in Manhattan. Davis dressed as painter Frida Kahlo, wearing a fake mustache and a Cabbage Patch doll in her hair.
"Andy took a Polaroid of me. He said, 'Who are you supposed to be?'" Davis recalls with a laugh. "I may not have known his whole canon then, because I was just a child, but I knew that he was a famous artist. In those days, I didn't really consider myself a performance artist yet. I was just doing what I felt like organically."
Davis says she admired Warhol's gatherings for the way they mixed things up, "so there's debutantes and someone just released from prison," she says. "If it's just all models or actors or rich people, it's so boring."
Also this evening, Hval begins a set with "Lorna," a dreamy track from her album last year, with a band of costumed players that includes synthesizers and a tuba. Nico, Hval says, was an indirect but meaningful influence.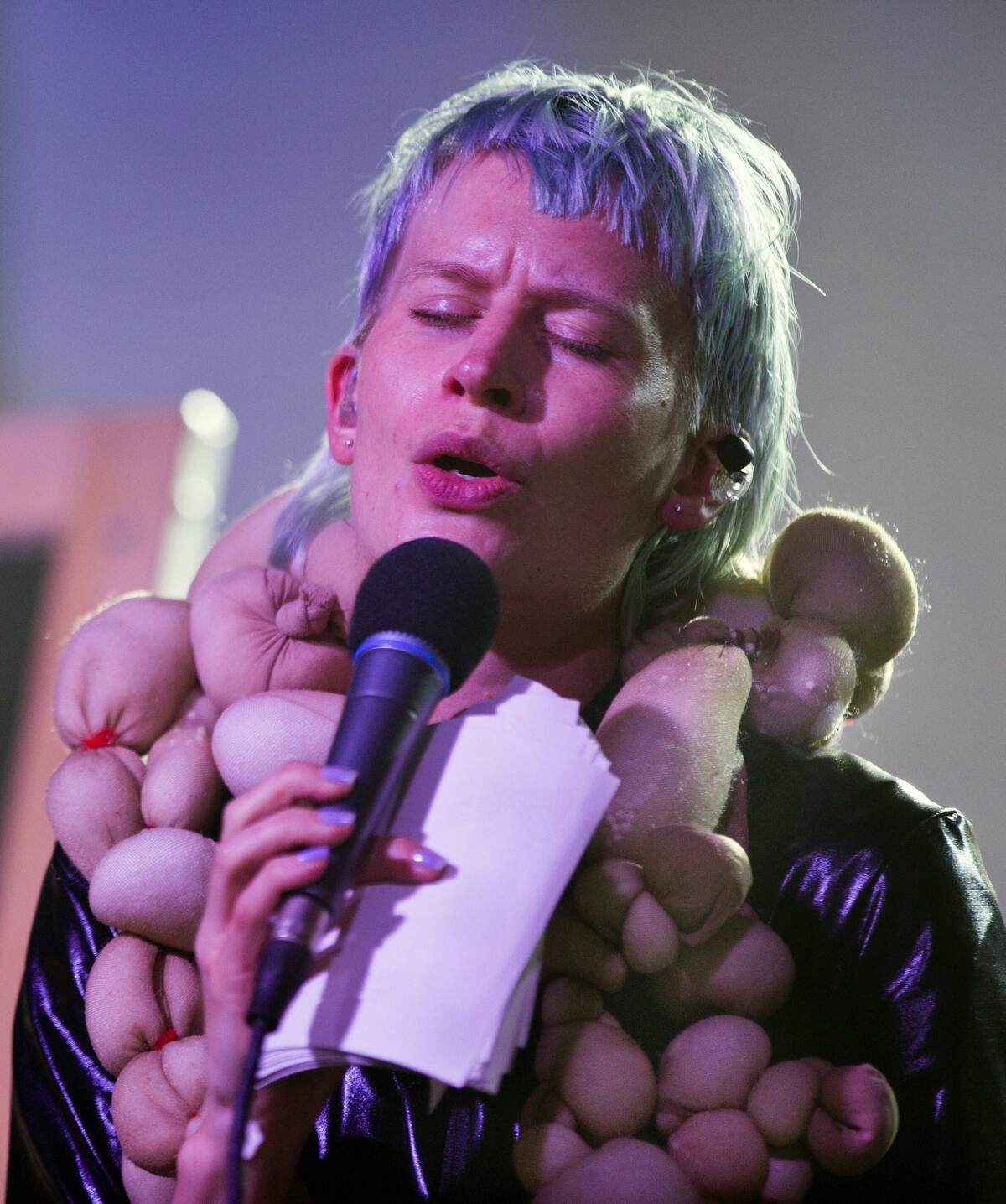 "I don't sound like her, for sure, but I've listened a lot to her albums with John Cale. They're amazing," says Hval, her hair cut short and dyed a deep blue. She notes "the combination of acoustic instruments and eeriness, the drones in the songs. ... It's a beautiful place to be as a listener. It's like being inside a painting or drawing."
Hval flew her band in from Oslo five days early to rehearse new, previously unheard material. She has been part of Warhol-themed nights before, adjusting her usual club shows for the sometimes intimidating gallery environment.
"We take a room, and we try and find out what that room is about," Hval says. "I think of performances as a trail of thought. If you start by asking a question, it's going to inform the rest of the stuff I perform, and maybe I'll change lyrics or improvise, and maybe things will happen that make me think about the material in new ways."
The night's three hours of live art ends with Pfahler, by now painted yellow and wearing a black fright wig accented by a pink bow. She stands center stage with two women flanking her in identical wigs, one with skin painted green, the other painted red. Each wears a smock with a big "K" sewn to the chest — presumably for "Kembra," though standing together the smocks read a more provocative "KKK."
"They got really mad at me today because I didn't know what I was going to do," she tells the full room to laughs from the crowd. "But it wasn't because I was being lazy. It's because I'm tortured and sick and rundown from working, just like you."
To a pre-recorded track, the three women sing songs and slowly disrobe. As she prepares to sing "Ghost Boyfriend," Pfahler says: "When the solo happens, I'll take my underwear off and I'll try to stand on my head. I know you're sick of seeing that. I'm sorry."
Soon, Pfahler is nude onstage except for yellow body paint and laced thigh-high boots. She does a handstand with her back to the audience, legs spread, as the two women place the freshly painted white crucifix on a certain part of her body, once again challenging some onlookers not to be offended.
The performance is not exactly what Nico would do, but Pfahler still draws a connection to Warhol, closing an evening that is by turns meditative, personal and uncompromising.
♦ ♦ ♦ ♦ ♦ ♦ ♦ ♦ ♦ ♦ ♦
'Summer Happenings'
July 29: "Strange Forest" (centered on Takashi Murakami). Devendra Banhart, Miho Hatori's New Optimism, Afrirampo, Ikue Mori, Dustin Wong & Takako Minekawa, Oorutaichi, Tokiko Ihara
Aug. 26: "Oracle" (centered on the exhibition of the same name). Xiu Xiu, A Place to Bury Strangers, Arshia Haq & Amy Alexander, Keijaun Thomas, Linda Mary Montano, Raquel Gutiérrez & Gabie Strong, Elliot Reed & Pauline Gloss, Lisa Teasley & David Harrow
Sept. 23: "Basquiat," with Zebra Katz, Downtown Boys, DJ Rashida, Michael Stock, Mecca V A and the Movement movement, Shani Crowe, Jay Carlon, Damon Locks
Cost: $25
Info: (213) 232-6200, www.thebroad.org
Support coverage of the arts. Share this article.
MORE STORIES ON ART AND PERFORMANCE:
The stomach-churning, visceral power of Chris Finley's weightlifter portraits
A million points of dark: The thrilling pencil drawings of Eric Beltz
Sparks fly when art mingles on the walls of 'Flaming June VII'
The clever conceptual riddles of Tatsuo Kawaguchi
It's bathroom art: Joel Holmberg's toilet portraits
Get our L.A. Goes Out newsletter, with the week's best events, to help you explore and experience our city.
You may occasionally receive promotional content from the Los Angeles Times.