Review: Low-tech magic buoys 'The Old Man and the Old Moon' at the Wallis
Fairy-tale nuts will get a huge kick out of "The Old Man and the Old Moon," a PigPen Theatre Co. production now in a limited run at the Wallis Annenberg Center for the Performing Arts in Beverly Hills.
The brainchild of a few Carnegie Mellon freshmen back in 2007, PigPen has performed to considerable critical acclaim across the country. This latest offering is prime stuff, incorporating live music, ingenious puppetry and amazingly innovative low-tech effects into a charming, original fable appropriate for most ages. (The tinier tots at a recent matinee seemed challenged by the peripatetic story line and 90-minute running time.)
Mingle a Hans Christian Andersen story with "The Goonies," and you get a rough idea of the plot. Since time immemorial, the Old Man (Ryan Melia) has been entrusted with keeping the leaky moon filled with liquid light. But when his wife, the Old Woman (Alex Falberg), goes adventuring without him, the Old Man abandons his lunar duty and tenaciously pursues his straying love. By impersonating a former war hero, the Old Man secures a berth on a ship headed to a war zone — but bamboozles his gullible shipmates to change course and follow him westward toward a lost city of light where treasure awaits.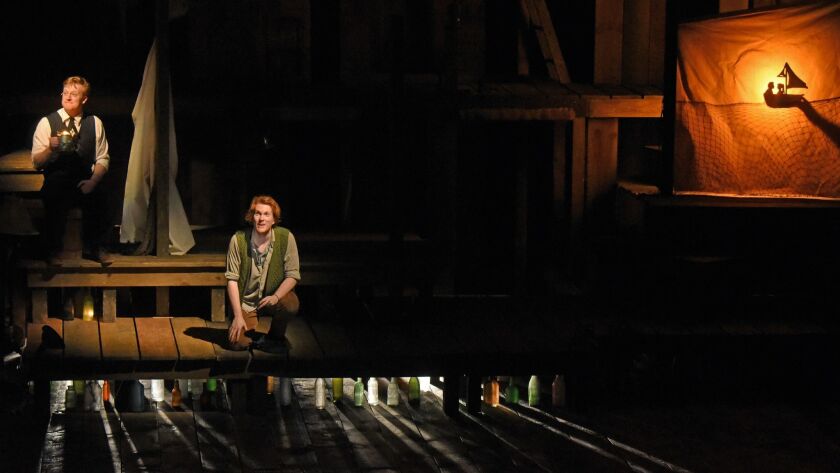 During the course of his adventures, the Old Man braves oceans, deserts — he even lands in the belly of a monstrous fish. (He escapes with the help of a fellow captive who, as we learn, has a mysterious connection to the Old Man's story.) However, as a result of the Old Man's dereliction, the emptied moon disappears, sparking worldwide chaos.
That's just a thumbnail of these hectic proceedings, which tend toward the overwrought (hence those fidgety kiddies). However, there's so much sheer enchantment in the mix, criticism seems niggling.
Stuart Carden, credit as co-director with the members of PigPen, briskly orchestrates the keenly marshaled mayhem. The cast, which includes Matt Nuernberger, Dan Weschler, Ben Ferguson, Curtis Gillen and Arya Shahi, doubles as musicians and singers who perform toe-tapping, Gaelic-seasoned music from the company's debut album. Their combined musicianship is a highlight, but the music is just the tip of their onstage responsibilities. All perform a dizzying array of roles: actors, puppeteers, prop masters, lighting specialists, Foley artists.
Lydia Fine, who designed the set and costumes, deserves high praise for her puppet design, as does Mikhail Fiksel for his integral sound and Bart Cortright for his clever lighting — sometimes as simple as a lantern held aloft by an actor but sufficient to set an appropriately magical mood.
♦ ♦ ♦ ♦ ♦ ♦ ♦ ♦ ♦ ♦
'The Old Man and the Old Moon'
Where: Wallis Annenberg Center for the Performing Arts, Bram Goldsmith Theater, 9390 N. Santa Monica Blvd., Beverly Hills
When: 7:30 p.m. Wednesday-Friday, 2 and 7:30 p.m. Saturday, 2 and 7 p.m. Sunday; ends Sunday
Tickets: $25-$85
Information: (310) 746-4000, thewallis.org/oldman
Running time: 1 hour, 30 minutes
Support our coverage of local artists and the local arts scene by becoming a digital subscriber.
See all of our latest arts news and reviews at latimes.com/arts.
---
Your essential guide to the arts in L.A.
Get Carolina A. Miranda's weekly newsletter for what's happening, plus openings, critics' picks and more.
You may occasionally receive promotional content from the Los Angeles Times.