Demonstrators protest L.A. Opera over casting of white singer as an Egyptian pharaoh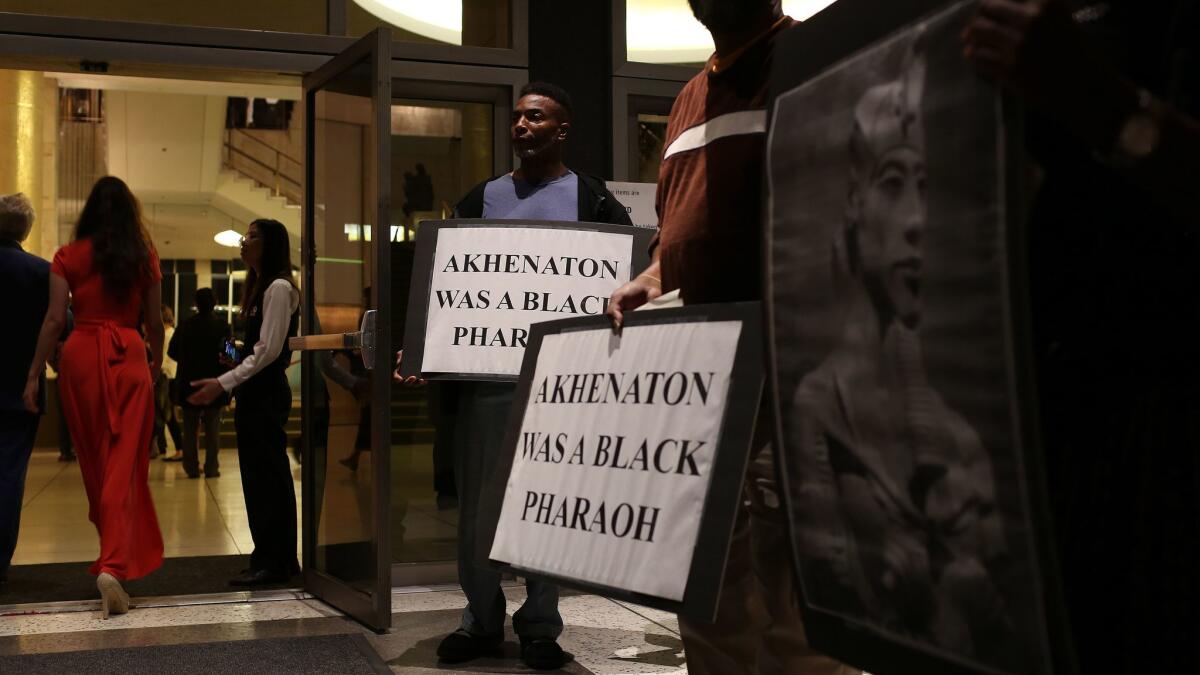 Ticket holders to Los Angeles Opera's opening night of Philip Glass' "Akhnaten" on Saturday were greeted by about 25 peaceful demonstrators who voiced their frustration over a white actor singing the title role of an Egyptian pharaoh.
Protesters carried signs outside the Dorothy Chandler Pavilion that read "our black history matters" and "Akhenaton was a black pharaoh," the latter using one of the many spellings of the pharaoh's name. Demonstrators handed out fliers and engaged in friendly conversations with opera-goers while one protester called out "Akhnaten was not a white man" as audience members filed into the building.
"We're here to very peacefully inform people about our great history," said Legrand Clegg, West Coast president of the Assn. for the Study of Classical African Civilizations, which organized the "Black History Matters" demonstration in collaboration with the Black American Political Assn. of California. Clegg described the protest as a "teachable moment."
Like most other modern opera companies, L.A. Opera implements a policy of colorblind casting. The practice, which prioritizes vocal and dramatic abilities, results in white actors playing black characters, and black actors singing traditionally white roles.
L.A. Opera responded to the protest by reaffirming its policy.
"While we strive for overall diversity in our casting, we have a long-standing policy of ignoring age, race and other physical characteristics when it comes to casting particular roles," the company's statement said.
The company noted that the role of Akhnaten calls for a countertenor, that rare male singer with a highly controlled falsetto and a vocal range that matches a traditional female mezzo-soprano. The role also calls for "outstanding stamina and agility — vocally and physically," said L.A. Opera, whose production requires Akhnaten to appear nude and, in carefully choreographed sequences, climb stairs or be lifted and rotated in the air by castmates.
Anthony Roth Costanzo, who sings Akhnaten in this production and sang it in a London run earlier this year, was one of only two performers whom L.A. Opera found to have the musical skill set and physical requirements for the role, the company said.
When asked about plans for a protest before opening night, Costanzo said he was "profoundly humbled and honored to represent a person as historically significant as Akhnaten." He said his research and preparation for the role have given him a deeper respect for the pharoah and he "hopes to be able to both honor Akhnaten's legacy and realize the vision of the composer with the unique vocal register in which I sing."
L.A. Opera noted that, although race was not a factor in casting, a number of performers of color are in this production, including African American mezzo-soprano J'Nai Bridges, who sings the role of the Egyptian queen Nefertiti.
In an interview before opening night, Darryl Taylor, a black countertenor who sang the role of Akhnaten in 2011 at Long Beach Opera, said he had tickets for L.A. Opera's production. He said he supported the company and its casting policies "100%."
He pointed to his role in L.A. Opera's 2014 production of "Dido and Aeneas" — the first time three black countertenors appeared on one stage — as an example of the company's inclusivity.
"We weren't chosen to sing in 'Dido and Aeneas' because we were black," Taylor said. "L.A. Opera chose us because we were the most qualified."
Taylor said the production is an example of the benefits of colorblind casting policy, noting that the practice allows "black singers to sing a host of roles that were written for aristocracy in Europe in the 18th century or earlier."
SIGN UP for the free Essential Arts & Culture newsletter »
The colorblind concept, however, has started to generate more questions as a movement grows to feature more characters of color on stage, TV and film, and as that movement is joined by calls for authenticity in casting. Among the discussions to take off in recent months: whether the blockbuster film "Doctor Strange" should have cast white British actress Tilda Swinton as a character written in the comics to be a Tibetan man, whether transgender characters on TV should be played by trans actors, or even whether children of color should have been cast as Elsa in Disney's "Frozen Live" at California Adventure.
Questions of race and casting specifically on the operatic stage have sparked controversy before. The use of makeup to darken or lighten the complexions of actors playing black or Asian characters in some productions of "Otello" and "Madame Butterfly" in particular has been criticized.
In a statement to The Times, L.A. Opera said it agrees with "Akhnaten" protesters that the historical contributions of people of color have long been distorted or ignored.
"Not only do we wholeheartedly support all peaceful efforts to right these wrongs," the company said, "we hope that in our own way, we can be part of the solution. We are working toward a world where people of all backgrounds experience, as artists and audience members, the transformative power of opera."
The Black History Matters group described itself as scholars, students, community leaders and ordinary citizens protesting the whitewashing of African history and Egyptian history in particular.
"The American public is unaware of the greatness of people of African descent because the academic, scientific and media establishments, through conspiracy, have suppressed, distorted or ignored the contributions of black people," Clegg said.
Clegg cited Akhnaten's significance as a black historical figure and likened the portrayal of the pharaoh by a white actor in "Akhnaten" to any production that would cast a white man as Martin Luther King Jr.
"Akhnaten and Nefertiti are icons in our community, and our children deserve to have heroes. It's an insult," he said. "We are tired of it and we are demanding that the truth be told."
Toward the end of the protest, three demonstrators arrived on the steps of the Dorothy Chandler Pavilion dressed elaborately as Egyptian royalty in flowing white garb. As latecomers rushed to make the 7:30 p.m. curtain, the demonstrators proclaimed the greatness of the black leaders of Egypt and performed a brief ritualistic dance in the Music Center plaza.
Diane Rhodes Bergman, vice president of marketing and communications for L.A. Opera, talked with Clegg by phone before opening night. He accepted Bergman's invitation for him and members of his group to attend a future performance.
Follow The Times' arts team @culturemonster.
ALSO
Times music critic Mark Swed's review of 'Akhnaten'
Interview: The star of 'Akhnaten'
System of a Down's Serj Tankian goes classical with symphonic concerts in Northridge
Get our L.A. Goes Out newsletter, with the week's best events, to help you explore and experience our city.
You may occasionally receive promotional content from the Los Angeles Times.