Review: Ron Nagle's mind-bending art, like mini movies in sculpture form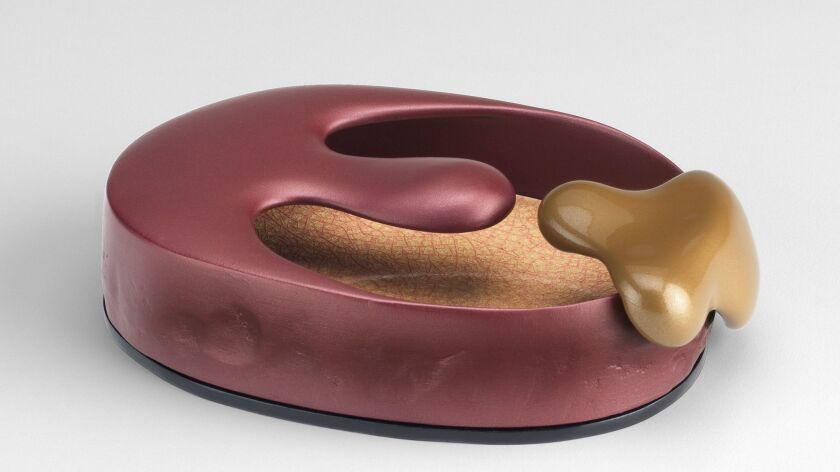 A lot has happened in the world since Ron Nagle's last solo show in Los Angeles, which was in 2005.
A lot more has happened in his work, which is still intimate, whimsical and sensual, yet now asks big existential questions without suggesting that the answers might be simple, direct or logical. Titled "Ice Breaker," Nagle's mind-bending exhibition takes visitors to the heart of what it means to be alive to life's ups and downs.
Risk and possibility are Nagle's stock in trade. He serves them up in abundance at Matthew Marks Gallery, where 15 pint-size pieces are enshrined inside 15 glass cubes, each perched atop its own pedestal. Four more similarly scaled sculptures stand in four space-saving cubbyholes, each of which has been cut into the middle of each of the four walls.
Reliquaries come to mind. So do stashes.
The combination of religious veneration and illicit substances, or spiritual enlightenment and surreptitious bliss, takes stunning shape in Nagle's subtly subversive works. The form of their presentation amplifies the content of individual sculptures.
SIGN UP for the free Essential Arts & Culture newsletter »
That cooperative synergy flies in the face of the idea that abstract art is a high-minded affair that has nothing to do with the animal impulses of flesh and blood reality. The two collude beautifully in Nagle's pieces of 3-D poetry. Each appeals to the lizard brain without overlooking the more sophisticated machinations of our cognitive hardware.
All sorts of stories can be read from the 77-year-old artist's work. Many resemble landscapes, their super-saturated palettes, exquisitely textured surfaces and unnaturally streamlined formations recalling aquariums customized by connoisseurs of beauty. Others seem to be bookends that have evolved so radically and idiosyncratically that they no longer have partners that look anything like them.
None of Nagle's sculptures sits still. Each occupies time as if it were a movie still, a thin slice of an animated cartoon, a documentary about microorganisms or a thriller in which something dreadful has just happened. Or is about to. Or both.
Sometimes the drama recalls that of a cell dividing in two ("Message to Raphael") or a cell having second thoughts about splitting ("French Stickler"). More often, it involves a solitary being venturing, cautiously and curiously, into unknown territory ("Sandmandia" and "Penniman").
"Historical Land Mind," "Witzelsucht" and "Cult Classic" include two components or characters that approach each other, tentatively and gingerly. The sense of anticipation toys with mind.
Without stating anything explicitly, these pieces paint a pretty vivid picture of the world today, when questions about how individuals interact with neighbors and strangers are as charged and loaded as they have been in a long time.
Matthew Marks Gallery, 1062 N. Orange Grove Ave., L.A. Through April 8; closed Sundays and Mondays. (323) 654-1830, www.matthewmarks.com.
Follow The Times' arts team @culturemonster.
ALSO
Diego Rivera's Cubist masterpiece arrives at LACMA
Jimmie Durham's art throws some well-aimed stones
Demian Bichir plays it cool in 'Zoot Suit'
'Balls,' the opera about Billie Jean King's 'Battle of the Sexes'
Making sense of Measure S, the latest battle in L.A.'s long war over development
---
Your essential guide to the arts in L.A.
Get Carolina A. Miranda's weekly newsletter for what's happening, plus openings, critics' picks and more.
You may occasionally receive promotional content from the Los Angeles Times.