Review: With just carved wood or terra cotta, one artist makes the miniature feel monumental
Ryosuke Yazaki's sculptures, carved from wood or fashioned from terra cotta, possess a palpable 1950s vibe. They evoke the rounded, elemental forms of Isamu Noguchi or Henry Moore, but where those iconic artists tended toward the monumental, Yazaki's works operate at a much more relatable, almost miniature scale.
With one exception, the pieces are under 27 inches tall. Most would be easy to pick up with one hand. They are decidedly anti-heroic, and all the more appealing for that.
SIGN UP for the free Essential Arts & Culture newsletter »
The works depict mysterious organic forms: curvilinear orbs connected by a slim tendon, networks of cavities that resemble the chambers of the heart, or battered, chunky masses that rise like miniature cliffs.
The carving "Chijyo," which means "above ground" in Japanese, is a landscape of sorts, with two levels of undulating dunes or waves, one stacked atop the other. Nearly flat like a relief, it is the most pictorial of the exhibition's eight works. Painted a deep blue, it suggests a reflection in water. "Neon," made from terra cotta, could be an abstraction of the stacked volumes of architecture, or it could be a fragment from a ruin.
The charm of Yazaki's sculptures is that they feel large despite their intimate scale. In this sense they possess an aura almost like ceremonial objects, things whose meaning extends beyond their immediate form. They look as if they might be used in some futuristic ritual.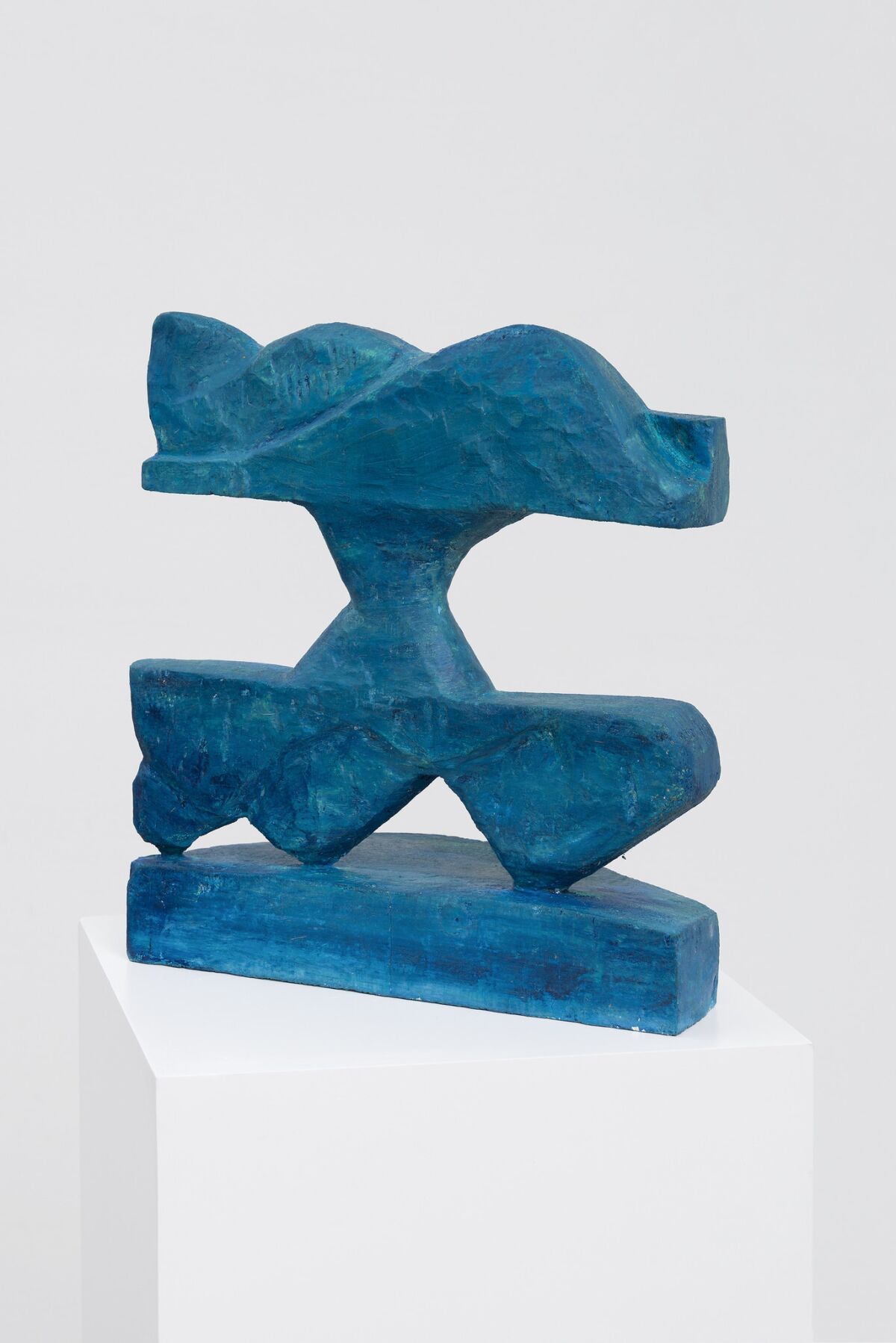 The artist underscores this idea by employing Japanese materials with particular historical associations. The carved works are made from three different kinds of wood: hinoki and sawara, which are traditionally used for making bathtubs, and kusunoki, used for chests and drawers because of its insect-repelling properties.
Perhaps these domestic connections, along with the works' modest scale, account for their relatable appeal despite their odd, abstract shapes. They bring the grandeur of high Modernist sculpture down to earth, from lofty, larger-than-life forms to something you might hold in your hands.
M+B, 612 N. Almont Drive, L.A. Through Aug. 31; closed Sundays and Mondays. (310) 550-0050, www.mbart.com
Support coverage of the arts. Share this article.
MORE ART:
'Dennis Hopper: The Lost Album' buoyed by photos with cinematic insight
In Alejandro G. Iñárritu's virtual reality film at LACMA, the immigrant's story finds its power from an unlikely place
Get our L.A. Goes Out newsletter, with the week's best events, to help you explore and experience our city.
You may occasionally receive promotional content from the Los Angeles Times.