Audiosphere: The 'Song Exploder' podcast analyzes music's DNA, one track at a time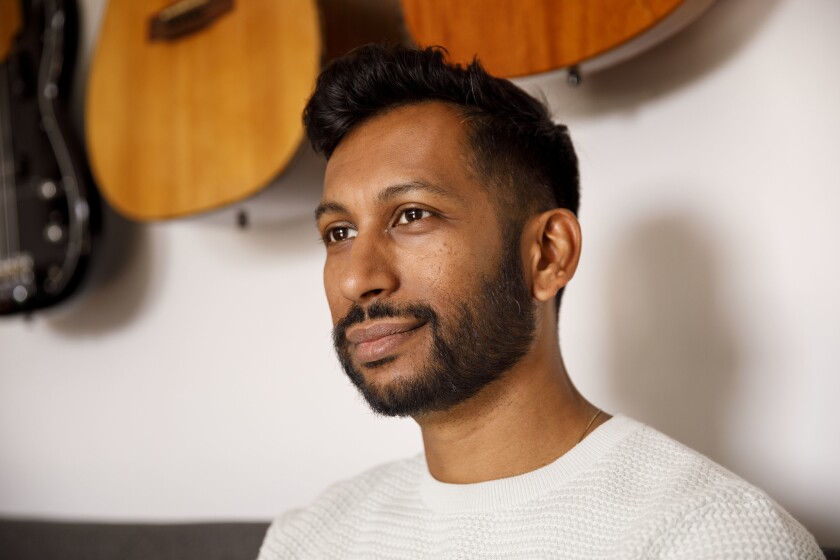 Years before he got into podcasting, Hrishikesh Hirway heard a strange sound on his street late at night.
It was a passing truck, dragging glass bottles behind it that clinked against the pavement. He grabbed a recorder and ran outside to capture the sound, then looped it to create a "little texture" in a song by his synth-pop project, the One AM Radio.
"No one is ever gonna know that happened, but that's such a strong memory for me," he says now, sitting in the home studio in Eagle Rock where he creates his biweekly music podcast, "Song Exploder." "It's an important part of the song's DNA. And I thought about how so many songs have those kinds of secrets in them."
On "Song Exploder," Hirway and his guests — who have included the likes of "Royals" pop singer Lorde, "Game of Thrones" composer Ramin Djawadi, hip-hop group the Roots and indie rock pioneers R.E.M. — excavate those secrets, using a tune's isolated tracks, or "stems," to explore the songwriting and recording process. With the musicians themselves serving as narrators, listeners get to hear songs stripped to their component parts and learn how — and why — those parts were created.
On Saturday, Hirway will brings his skills to the Theatre at the Ace Hotel in downtown Los Angeles as part of the latest edition of the multimedia event series Pop-Up Magazine.
Hirway, who grew up in Massachusetts and moved to Los Angeles in 2002 to pursue film composing, became fascinated with stems about a decade ago when he began doing remix work. Going through each part of the tune to decide what to include in the remix, "I'd hear the song in a totally new way," he says.
"I'd realize: Of course, there's all this beautiful detail in here … that you miss when you hear the final song," he adds.
He launched "Song Exploder" in January 2014 with a friend as his first guest: electronic musician Jimmy Tamborello, who discussed a track from the Postal Service, the 2003 one-off project he did with Death Cab for Cutie singer Ben Gibbard. From there, Hirway quickly accumulated an impressive list of guests through a combination of industry connections and word-of-mouth. Garbage's Shirley Manson — whom he met through his work with the Pablove Foundation, a childhood cancer charity — was an early participant; so was Austin, Texas, rock band Spoon, which signed on after someone at its label, Loma Vista, became a fan.
A breakthrough moment for the show came in June 2015, when Bono and the Edge of U2 did an episode.
"Once that came out, it really showed there was no limit to who could be on the podcast," says Hirway.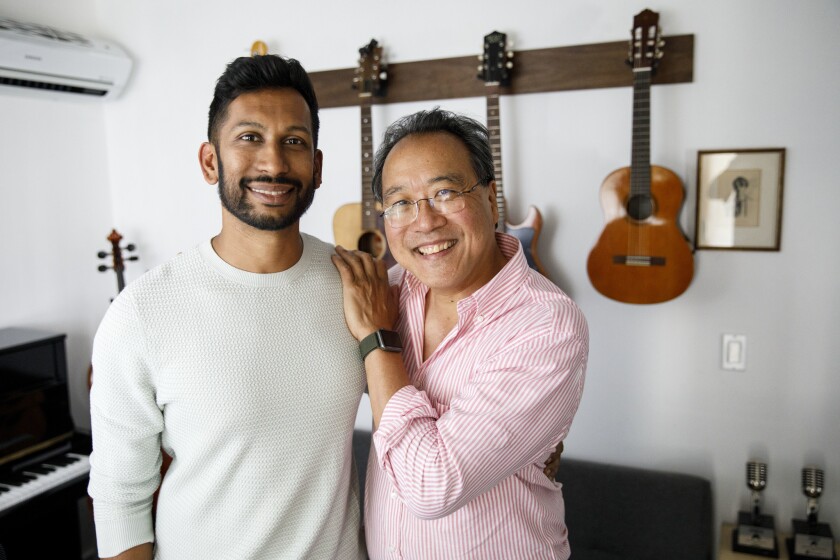 Song stems have long been a source of fascination among music fans; search YouTube for "isolated vocals" or "isolated drum track" and thousands of results come up. What makes "Song Exploder" stand out is the unique way in which Hirway presents them. Instead of playing each track straight through, he uses snippets of them as narrative devices, weaving them in and out of his guests' commentary to illustrate how they serve as the song's building blocks.
To do this, Hirway spends far more time on editing than most podcast producers — 20 to 25 hours per episode, he estimates, for a show that rarely runs longer than 20 minutes. In the process, he edits himself out of the conversation almost entirely. "I wanted it to feel like this intimate, first-person conversation that the listener is having with the artist," he says. "I didn't want them to feel like I was getting in the way somehow."
Hirway's tiny home studio, occupying half of a converted garage, is as meticulously well organized as an episode of his podcast. Guitars hang neatly along one wall; framed gray-scale posters adorn another, advertising a joint tour of the One AM Radio and Tamborello's solo project, Dntel. Hirway, dressed in black from head to toe, notes that Marc Maron's "WTF" podcast was an early inspiration, for the "insider's view" quality of its interviews. But a bigger influence was Nate DiMeo's short, carefully scripted history podcast, "The Memory Palace." "They're really meditative and beautiful," Hirway says of DiMeo's shows. "They share a lot of the feeling I want from art."
Thao Nguyen, who has appeared on "Song Exploder" as both a guest host (interviewing singer-songwriter Neko Case) and artist (discussing a song from her band, Thao & the Get Down Stay Down), thinks Hirway's specificity is what makes his podcast so special. "As songwriters, there are few avenues in which we can talk in detail about the elements over which we intensely labor, elements that could forever go unnoticed," she writes via email. "It's so gratifying to remember how excited you were when you came up with those things." Listening to other artists' episodes, she says, "you become a student of songwriting again."
Despite his podcast's seemingly technical subject matter — guests often discuss what synthesizer was used to produce a certain sound or how close the mikes were to the drums — Hirway excels at getting his guests to open up about some of the most personal and emotional parts of their craft. On Nguyen's episode, she discussed a song written about her estranged father; more recently, French electro-pop artist Christine and the Queens played a vocal demo she recorded while crying.
"One of the things that I try and push for is for a song that the artist has a very strong emotional connection to," Hirway says. "The sonic part of 'Song Exploder,' the part where you get to hear the stems isolated, [is] like candy. … But the thing that makes an episode memorable or maybe meaningful for someone is when it also has heart in there as well."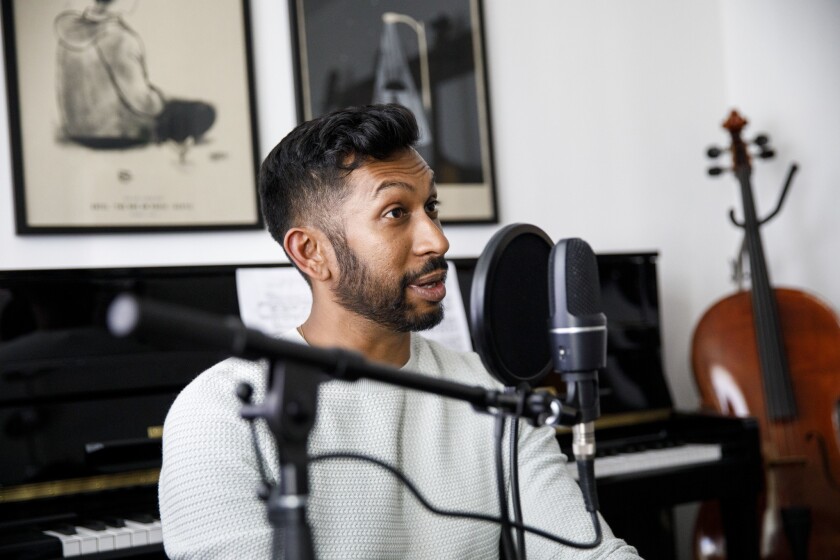 Inspired by the success of "Song Exploder," Hirway launched a second podcast, "The West Wing Weekly," in March 2016. Each week, he and actor Joshua Malina discuss an episode of "The West Wing," the early 2000s television drama set in a fictional White House that, then and now, appealed to audiences starved for more progressive ideas and civil discourse in their politics.
"He's just a great conversationalist," says Malina, who was a regular on "The West Wing" for four seasons. "Thirty seconds into my discussion with Hrishikesh, I find myself laughing as he guides us into a provocative, entertaining dialogue. He's just good company."
He also possesses, according to Malina, a "great combination of charm and tenacity" — which came in handy when he cajoled "Hamilton" creator Lin-Manuel Miranda into writing and performing a "West Wing"-themed rap for the podcast's intro music. "Josh was, like, 'I can't believe that this actually happened,' " Hirway recalls, laughing.
Miranda has also been a guest on "Song Exploder," joining a list that, as the show approaches its 150th episode, is further testament to Hirway's charm and tenacity: Arcade Fire, "Black Panther" composer Ludwig Göransson, Nine Inch Nails, St. Vincent, Metallica, Solange, Iggy Pop, Björk, Ghostface Killah. The show reflects both Hirway's diverse tastes and his conviction that all good songs, regardless of how or in what genre they were created, have stories to tell.
"I don't think there's [any] part of a song that I immediately think is not interesting," he says. "I think that's sort of the underlying principle of the show — all of it is potentially interesting."
"Pop-Up Magazine"
When: 7:30 p.m. Sept. 29
Where: The Theatre at Ace Hotel, 929 S. Broadway, downtown L.A.
Price: $39
Info: popupmagazine.com
---
Get our daily Entertainment newsletter
Get the day's top stories on Hollywood, film, television, music, arts, culture and more.
You may occasionally receive promotional content from the Los Angeles Times.