Q&A: Tarell Alvin McCraney on life after 'Moonlight' and his play in L.A., 'Head of Passes'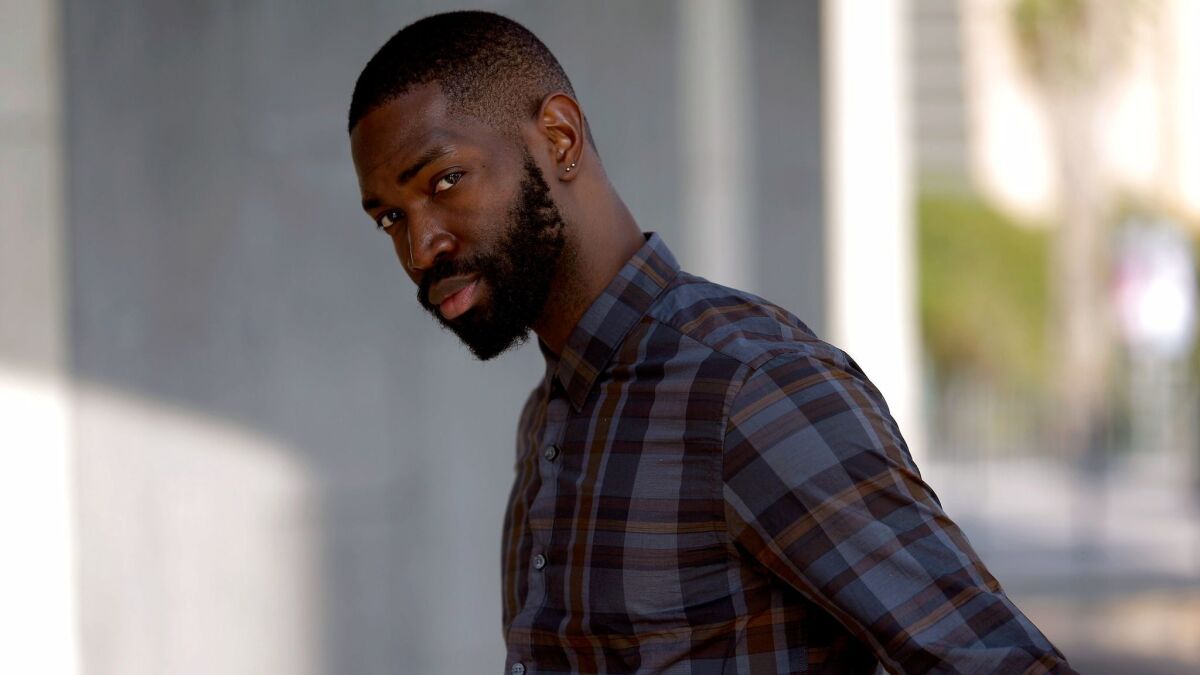 Eight months after winning the Oscar for adapted screenplay with director Barry Jenkins for "Moonlight," Tarell Alvin McCraney might be expected to be leading a different life. After all, most outside of the theater world had not known the MacArthur fellow before he took the Academy Awards stage.
But life's actually pretty much the same, McCraney said. "It's still equally as busy as it was before. My priorities didn't shift and so the work around those priorities is still largely never done."
Those priorities include completing summer programming for a Miami community center and staging of his play "Wig Out!" in Washington, D.C. And as rehearsals kicked off in Los Angeles for his play "Head of Passes," which officially opens at the Mark Taper Forum on Sunday, OWN announced that he'd be creating a television series for Oprah Winfrey's network.
Oh, and in July he began his stint as chair of the Yale School of Drama's playwriting department.
During "Head of Passes" rehearsals, The Times spoke with McCraney, 36, about having actress Phylicia Rashad bring his words to life, the differences between stage and screen, the dream-like call from Winfrey and his advice for the next generation of storytellers.
---
How would you describe "Head of Passes"?
I call it a prayer. I dedicate it to my grandmothers because their relationships were the relationships that gave me permission to talk to God.
This is the second time Phylicia Rashad has the lead role. How does it feel to be working with her again?
Well, the first time we started working together I was a little intimidated until we got in the room, and I don't mean I lost respect for her. It grew so much for her, in fact. I was shy and intimidated and she instantly was, like, "This work is important and we're going to do what's on the page." And the attack and sort of precision with which she goes at the language, you sort of get worried for her. [He laughs.] You can tell she has a generosity of spirit and she also believes in the work. Once you have an artist like this … I'm not writing around ego, mine or anyone else's. We're all in this because we believe the story we're telling is important. She's dope.
In the months since the Oscars, your name has become one of the many synonymous with pushing industry diversity.
Well let's be clear, because what I love about what you're saying is that somebody wants something to be synonymous with pushing industries forward. As much as I would like people to think I'm some sort of paean or bastion of hope, the person we really have to thank for "Moonlight" is Barry Jenkins. If we're going to think about those people on the ground doing it, Barry is one of them. … They thought it ["Moonlight"] was going to be this street film. They thought it was this street film that wasn't going to be serving all this beauty and grace. But not on Barry's watch.
I tell people that my ideas aren't really that radical. I've got friends who are radical — burn the place down, start from the ground. Usually, my brain doesn't go there. I'm just telling stories about these connections I'm curious about often.
On the theater side, I say that I'm interested in when theater was both religious and community-necessary. This goes way past what we think of as the great Broadway era to every cosmology's natural origin, every campfire, every shogun tent and coliseum. Those places to tell stories were political, spiritual and community-oriented. That's not a radical idea. I wish it was but it isn't. I just work with people who want to tell stories in that way and make the conversation between the art and story come alive.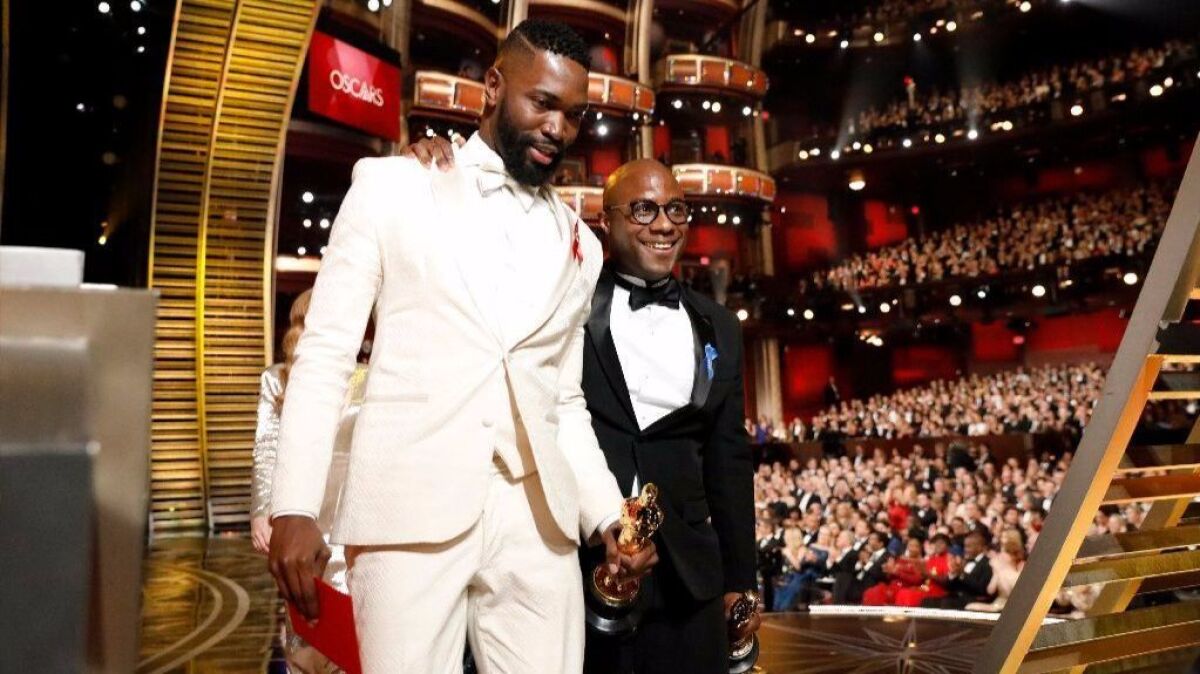 As much as people try to control their image, not all of us is the great Beyoncé Giselle.

— Tarell Alvin McCraney
I hope when people hear my name they know that I'm a person who's trying to collaborate with those interested in sitting around the hearth. More often than not, those are the exciting people: the Barrys, the Avas ["Selma" director Ava DuVernay], the Tinas ["Head of Passes" director Tina Landau], the Phylicias. They go, "Cool. That's what you want to do? Let's get it done."
The only caveat of this, though, is that we haven't even really begun to invite the radicals. Like that wonderful line in "Salome," I come to make room for the ones coming after. Because these people coming after are going to deliver us something. We just need to watch out. Just look at the luscious, juicy deliciousness that is black art right now. I just feel like we're only scratching the surface.
Tell us about the show you'll be doing for OWN.
It's a story I brought to [producers] Mike Kelley and Melissa Loy, and then subsequently to [actor] Michael B. Jordan, about a boy who wants to make himself into a man. Coming from the neighborhood I grew up in specifically, there was a moment I became real clear and conscious about the steps toward manhood and what that meant — and I don't mean manhood as in masculine. I mean manhood in that you've been identified as this thing, and the world tells you your set of options. What now do you do? What buttons do you press? What do you draw toward you? What cloak do you put on? What invisibility do you take off?
I remember looking back and thinking about those things while my white counterparts kind of got to bumble around toward things — fumble towards ecstasy, as Sarah McLachlan would say — whereas I had to make some pretty distinct decisions because the pressures that were coming to me were at once finite. ... I remember feeling like there were limited choices, and those choices were sometimes herculean. That's what I wanted to talk about and be as specific as possible in that storytelling, because I know it's not true for everybody.
They thought it was a good story and said we should go talk to some people. We pitched it and talked to our friends at OWN. Then Oprah called me one day …
So Oprah has your phone number?
[He laughs.] She said I could tell this story: I had just got back from somewhere and was flying to New Haven the next day. She calls me. I'm like, "Hey." She says, "I'm really excited. … Are you sleeping?" I say, "Yes I was." She's, like, "Well you can get off the phone." I'm, like, "No, no." She's like, "Well, then you can tell people you thought it was a dream when Oprah called."
And I did think it was a dream, but at the same time I knew enough to wake up and get it.
What does the social media response tell you about yourself or the stories you want to tell?
I'm not going to lie. I missed a lot of it.
You were working.
We had started class at the Yale School of Drama and there is a lot to do. Michael B. was, like, "The announcement is out" — because who doesn't like hearing from MBJ. Everybody loves MBJ, so when he's your cheerleader, it's the strangest thing because he's so good at it.
I just honestly think less about the announcement and more about the responsibility of the work. There's a lot to be done until we're up and running. I try not to talk too much about any of that until I have something for you to see.
How has Yale been going amid all of this?
The School of Drama has always served as a litmus test for the industry, and the theater industry is in flux. It wants very desperately to be inclusive and equitable. It's not. The drama school is trying to take on those challenges. … I'm excited about it and ready to get to it … but I'm tired!
You seem to have bountiful energy through it all.
I don't have bountiful energy. [He laughs.] I just know how to take naps. And sometimes Oprah calls you.
What advice do you have for the next generation?
I love my deans and the people I work for, but I always have to shyly laugh because the shaman in me is always, like, "Hey, little young people. The magic we're asking for is all up in who you are. So I can sit here and tell you how to make this thing happen, but that'd be dumb. Then it'd be just something I did, and I'm not interested in that. We need you. We desperately need your energy, your radical ideas, the story through your aperture, your vision through the filter that is you."
I think young people think I'm lying when I say that … but you've got to stop wasting time in practice. You're going to fail so many times. Just fail better. You're going to mess up. You have to. And you're going to do work that is problematic politically and personally and work that is devoid of spiritual engagement, and your job is to keep trying to find your place in that work every time.
And everyone is, like, they just want to put it out there and get it done. Why don't you put it out there until you're sure? Because once it's out there you have no control. As much as people try to control their image, not all of us is the great Beyoncé Giselle. We don't have that kind of infinite control of how people look at it and when they get it. …
I also ask people all the time: Are you honestly wanting to be an artist or do you just want to get famous? Because they're not equal in my mind. … You can be famous without being an artist. I can scroll down my Instagram timeline all day. … If that's what you want, there are ways to get to that. But if you want to be an artist, you've got to practice. That's the best I can give you.
♦ ♦ ♦ ♦ ♦ ♦ ♦ ♦ ♦ ♦
'Head of Passes'
Where: Mark Taper Forum, 135 N. Grand Ave., L.A.
When: In previews through Saturday, opens Sunday. Shows at 8 p.m. Tuesdays-Fridays, 2:30 and 8 p.m. Saturdays, 1 and 6:30 p.m. Sundays. Ends Oct. 22.
Tickets: $25-$95
Info: (213) 628-2772, www.centertheatregroup.org
MORE THEATER NEWS AND REVIEWS:
Review: Paul Rudnick's new 'Big Night' at the Kirk Douglas
Review: Matthew Bourne's 'The Red Shoes'
Review: 'Ain't Misbehavin' ' at La Mirada Theatre
Review: Nick Payne's 'Incognito'
The 99-Seat Beat: This week's picks from the small-theater scene
Get our L.A. Goes Out newsletter, with the week's best events, to help you explore and experience our city.
You may occasionally receive promotional content from the Los Angeles Times.