'From the man who gave you "Hamlet" and "Lear"': Why live theater needs movie-style trailers
It has all the hallmarks of a movie trailer — the fast pace, the quick cuts, the relentless beat. "Something primal," a deep voice intones. "Something raw. Something otherworldly. Something wicked this way comes." But it's not. "It's 'Macbeth' as you've never seen it," the voice continues, "tickets at DenverCenter.org."
While the blurring of film and television has been getting all the attention, theater has been smudging a few lines as well; in the increasingly fevered battle for an audience, everyone needs a movie trailer, including stage productions. At the cineplex, on television and online, "coming attractions" advertisements increasingly include plays, musicals and opera.
"Right now I don't want to do any kind of advertising unless I have some kind of video to show, because that's how people are consuming these days," says Deborah Warren, the director of marketing at L.A.'s Center Theatre Group, which has commissioned trailers for recent productions of "Archduke," "Amelie" and "The Sunshine Boys."
The catch is that nothing seen in these trailers — not the actors, not the choreography, not even the music — will be featured in the plays. Regional theaters use trailers to sell tickets long before the actual productions begin, sometimes before they are even cast. The art of live-theater teasers, it turns out, is the ability to capture the spirit without the specifics.
"The big challenge is not to make it seem boring," Warren says. "Mark is very clever at finding the nugget in a show that will elevate it to the level of the live experience."
"Mark" is Mark Ciglar, founder of the Northridge-based Cinevative, one of the few firms in the country specializing in the niche art of live-theater trailers.
On a late-summer morning, he stood in Mack Sennett Studios in the Silver Lake neighborhood of L.A. shooting the trailer for Denver Center for the Performing Arts. As thick fog rolled ominously across the soundstage, two actors emerged from the murk dressed in tight, black leather short-shorts with silver-buckled codpieces secured by harnesses. A giant cauldron bubbled behind them, illuminated by the jarring flashes of neon blue light.
"It looks like a rave, but it's 'Macbeth,'" says Ciglar, who is tall and thin and — with his jeans, tennis shoes and glasses hooked over the top button of his crisp-blue shirt — very Hollywood.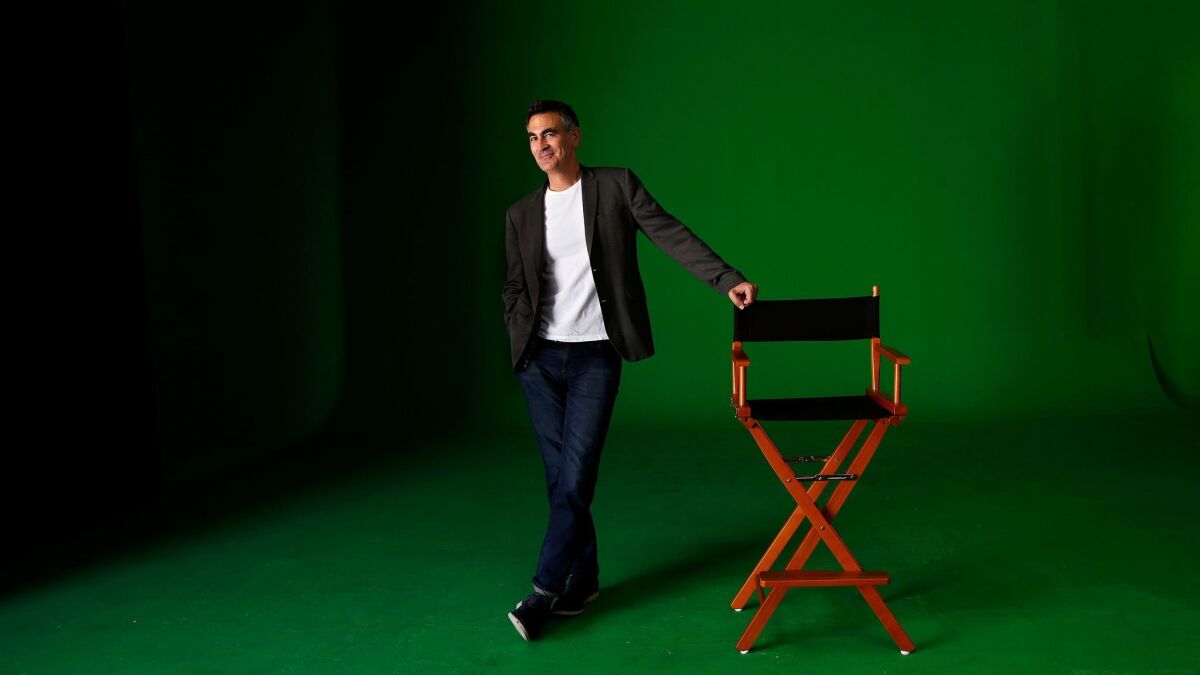 What's happening in the theater is not really happening onstage.
— Cinevative founder Mark Ciglar
The "Macbeth" trailer, which is airing on local and cable TV in the Denver area, is one of three he is shooting for Denver Center, and three of the theater's representatives sit on metal folding chairs at the back of the room.
"And cut, we got it, beautiful. Witches are done. If we could strike the cauldron, let's get ready for the fight," Ciglar shouts.
The actors have just stripped out of their witch robes to reveal the aforementioned outfits. They are fit, with gleaming pectorals and bulging biceps. One, Matthew Spencer, is a professional mixed martial arts fighter.
"We should call this Macbuff," someone jokes in the darkness.
Video is good for many things, but capturing the unique spirit, pathos and excitement of the live theater experience is not one of them. That's why it's handy that Ciglar rarely films the actors onstage in the process of performing in a production. He's not selling a specific cast or performance, he's selling an emotion.
"What's happening in the theater is not really happening onstage," he says. "We have to figure out what's happening in the minds of the audience in order to create a visual representation of that. Not what they're seeing, but what they're feeling."
After an early career acting and directing, Ciglar founded Cinevative in 2001 to fill what he saw as a real need in the regional theater world.
"When I first started I was really drawn to film trailers — they were little works of art unto themselves," says Ciglar. "I thought, 'How often do we see trailers that are better than the actual movie?' And that never happens with theater."
With Cinevative he set out to prove that you could make something that was as good — or better — than what is seen onstage.
Cinevative has worked with more than 50 regional theaters across the country. Broadway has its own universe of high-powered advertising firms like SpotCo and Serino/Coyne that handle show campaigns from top to bottom. Only a few other companies nationwide, including HMS Media in Chicago, do what Cinevative does on a similar scale.
Unlike Broadway, the marketing budgets for regional theater are tiny: about $5,000 to $6,000 per spot. As a cost-cutting measure, companies generally hire Ciglar to shoot two or three promos in the same day — all for a single season.
This practice can create wild green-room juxtapositions. On the day of the "Macbeth" shoot, Ciglar also filmed promos for "The Who's Tommy" and "American Mariachi." Actors for the former waited patiently, clad in crisp white jeans and T-shirts as the "Macbeth" witches slithered by, and the all-female band Mariachi Reyna de Los Angeles arrived in full folk-music regalia with silver bangles and shiny instruments.
Locally, Ciglar has worked with the Hollywood Pantages and Center Theater Group, which stages work at the Mark Taper Forum, Ahmanson and Kirk Douglas theaters. CTG's Warren points to a promo Ciglar did for "Archduke," about the assassination of Archduke Franz Ferdinand, as an example of how a trailer can sell the notion of a play.
At Cinevative's new, green-screen-equipped studio in a Northridge office park, Ciglar pulls the spot up on his computer. It transposes still shots of the actors in the play against atmospheric images of moving trains, a map of Europe and finally the barrel of a gun as it fires the fatal shot that will incite the beginning of World War I and change the course of human history.
"Can we trace the destruction of the world back to one bullet?" asks Ciglar, with excitement. "Let's follow that bullet through time."
That was the idea he presented to CTG's marketing team in a pitch meeting after they gave him ideas from the producers and director about what the production should look and feel like. Cinevative often accomplishes its goals by using animation, bold graphics, CGI and a moving musical score. The core creative team is small — usually between five and 12 employees at any given time — and they wear many hats.
A single trailer generally takes about six weeks from start to finish to complete, with Cinevative handling all the nuts-and-bolts of production, including hiring actors, recording a score if none exists, commissioning story board artists, filming and editing.
For theaters that can't afford an original trailer, Ciglar has created what he calls an "iTunes for marketing videos," called "Video Marketing Essentials," which is basically a library of stock Cinevative trailers for popular shows like "Oklahoma," "Our Town," "Grease" and "The Wiz." Smaller theaters can license these videos and pay Cinevative a small fee to add their particular theater and ticket information.
"Having higher-quality video provides a tremendous lift," says Emily Kent, the director of marketing for the Denver Center, which began working with Cinevative last season. "We were pleased with what we did last year and the shows did really well, so we have high expectations for sales."
Denver Center initially reached out to Ciglar because it had an unusual problem. As a company that regularly hosts touring Broadway shows, it needed to make the promos for its own productions.
"The big thing is that you're so far out that you don't know what the production is going to look like, and yet you have to try and make it work," says Denver Center's director of creative services, Rob Silk. "The combination of green screen technology and Mark's Broadway sensibility, where it's quick and eye-catching, no matter what the production, is really helpful."
To accomplish this task Ciglar says he looks for inspiration not from film trailers, but from commercials.
"Hallmark Cards, beer commercials," he says. "When you think about the most emotional commercials, the one thing that they all have in common is that you never see the product."
You won't see the final product in theater trailers either, and most of the time, that's for the best.
MORE FROM THE THEATER WORLD:
When the playwright becomes the star: How one writer is jumping from her script onto the stage
At SCR, the musical 'Once' raises its hopeful voice
Remembering theater director and Royal Shakespeare founder Peter Hall, who turned language into life
---
Get our L.A. Goes Out newsletter, with the week's best events, to help you explore and experience our city.
You may occasionally receive promotional content from the Los Angeles Times.