Critic's Notebook: I survived 24 hours of Taylor Mac: a necessary 246-song attack on the heteronormative narrative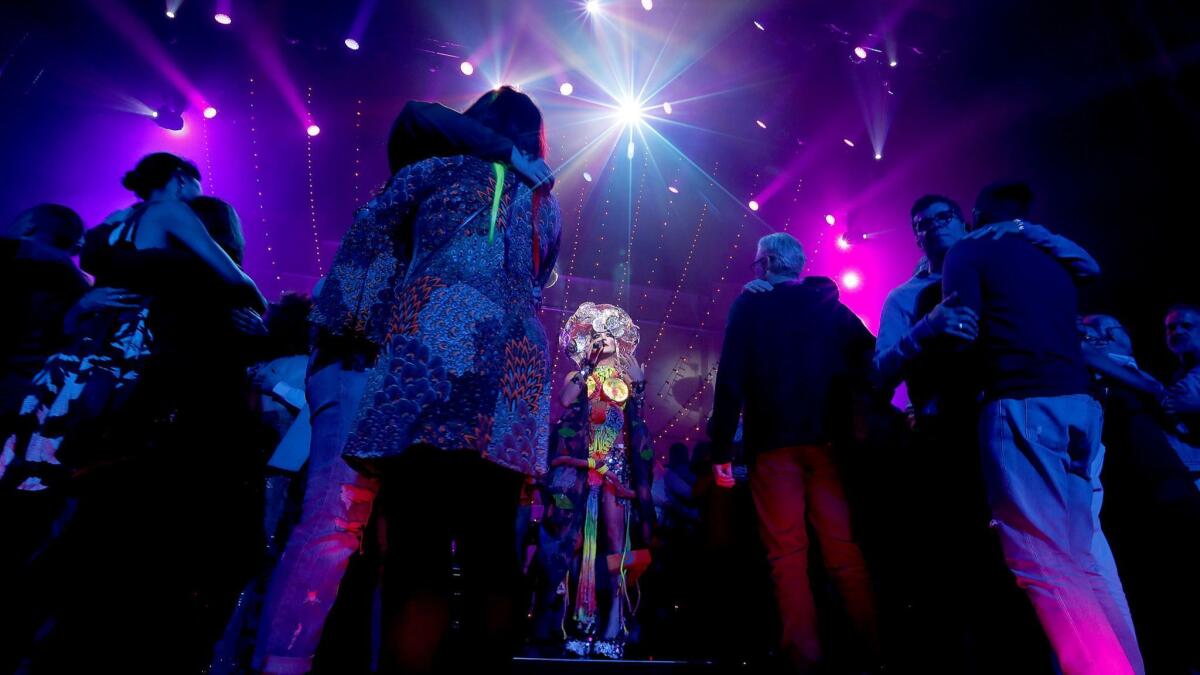 Taylor Mac's "A 24-Decade History of Popular Music" is a necessary and great American epic for our time. It is, on the surface, like nothing else, a queering of American history with the help of a quirky selection of 246 songs, a great many of them put to audacious use.
Throughout the four six-hour shows presented at downtown L.A.'s Theatre at Ace Hotel — the last was Saturday, each performed without break — Mac, whose stage persona is a drag queen and whose endearingly troublesome choice of personal pronoun is judy, mercilessly scrutinizes decade after decade from a gay perspective in an outrageously elaborate attack on the "heteronormative narrative."
This particular judy is hardly the first performance artist with a mission to show that the American melting pot includes not only a variety of ethnicities but also attitudes about gender. There is no straight arrow of history, only what we make of history. But no one else has ever had anything like Mac's glittery arsenal of techniques for doing the astounding.
There are the 24 outfits, more like wearable drag queen art installations — "bring down the vagina" as Mac calls for the last one and enters into an incredible Pop art gown by Machine Dazzle (who is, not inaccurately, credited in the program as a performer not designer). There is an indescribable array of contributors, some of whom are part of the touring company and many local musicians for the Los Angeles performances.
Those special to L.A., included eccentric acrobats, mariachis and burlesque dancers. The Centennial High School Marching Band took an inspiring turn, just before a fender-bender gender-bender of giant American and Russian penis balloons. Comedian Margaret Cho tore off her top as she read the Lesbian Avengers manifesto.
Taylor Mac performs "A 24-Decade History of Popular Music" at the Theatre at Ace Hotel in Los Angeles. The costumes - a new one for each decade - are by a designer known as Machine Dazzle. This look made its appearance in the final quarter of the the cycle, on March 24.
(Luis Sinco / Los Angeles Times)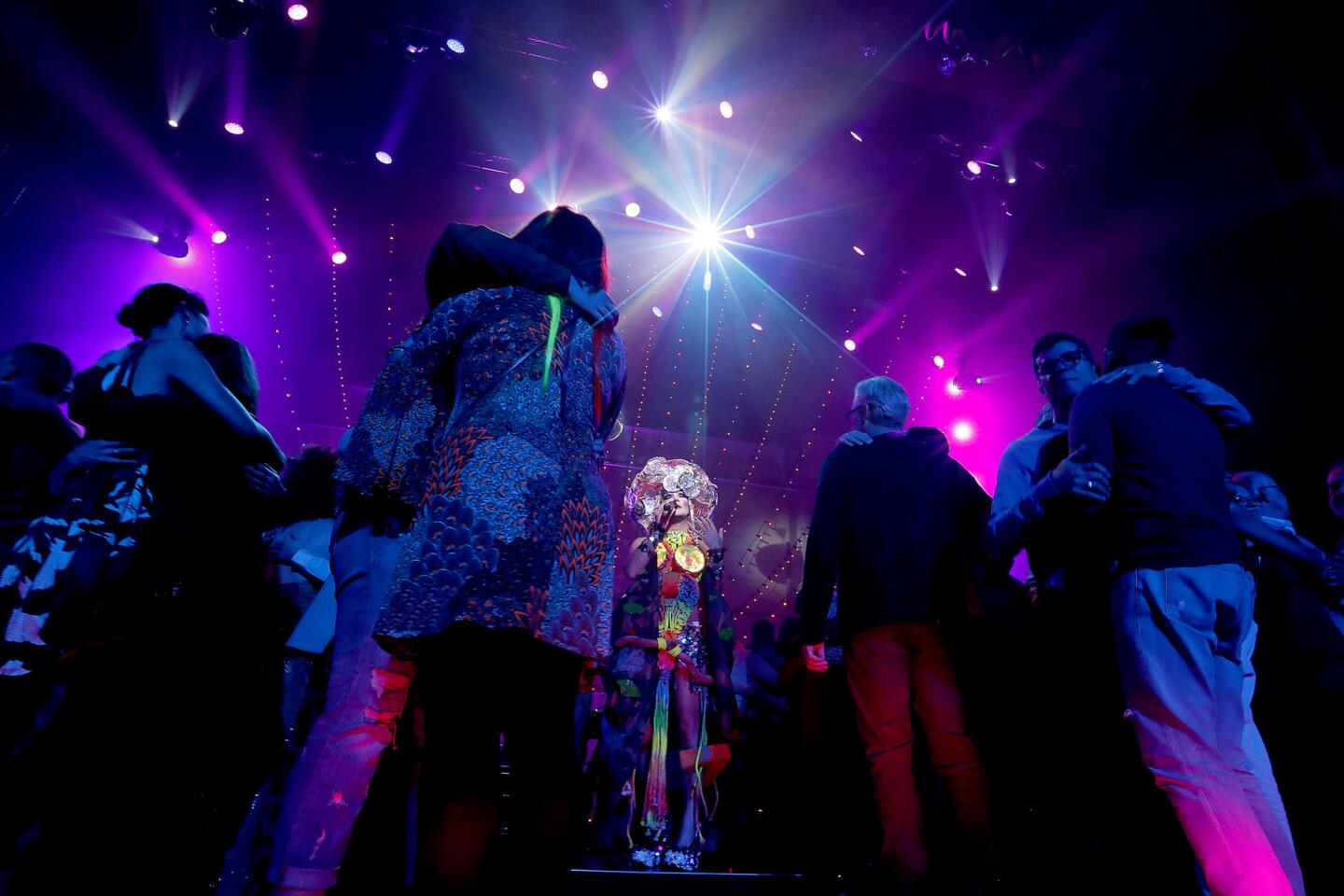 Taylor Mac calls audience members to the stage to participate in a "gay junior prom" on March 24.
(Luis Sinco / Los Angeles Times)
Taylor Mac wades into the audience during "A 24-Decade History of Popular Music" on March 24.
(Luis Sinco / Los Angeles Times)
Taylor Mac during an onstage costume change in "A 24-Decade History of Popular Music." His band can be seen in the backlight.
(Luis Sinco / Los Angeles Times)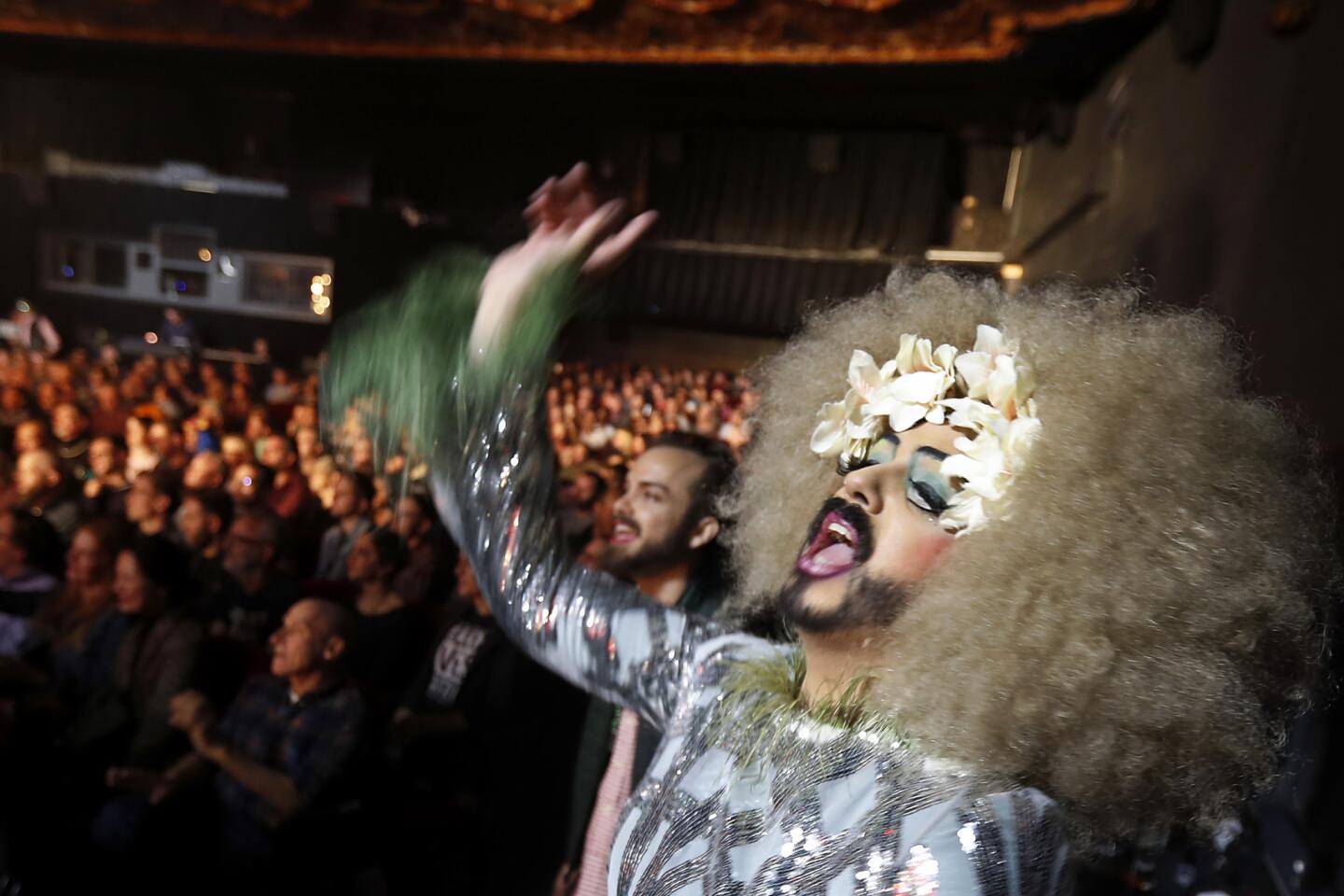 Joining Taylor Mac for "A 24-Decade History of Popular Music" were all-purpose helpers known as Dandy Minions. They dressed for the occasion, as did many audience members.
(Luis Sinco / Los Angeles Times)
A performer navigates an aisle during the March 24 performance of "A 24-Decade History of Popular Music."
(Luis Sinco / Los Angeles Times)
Taylor Mac performs "A 24-Decade History of Popular Music" in Los Angeles.
(Luis Sinco / Los Angeles Times)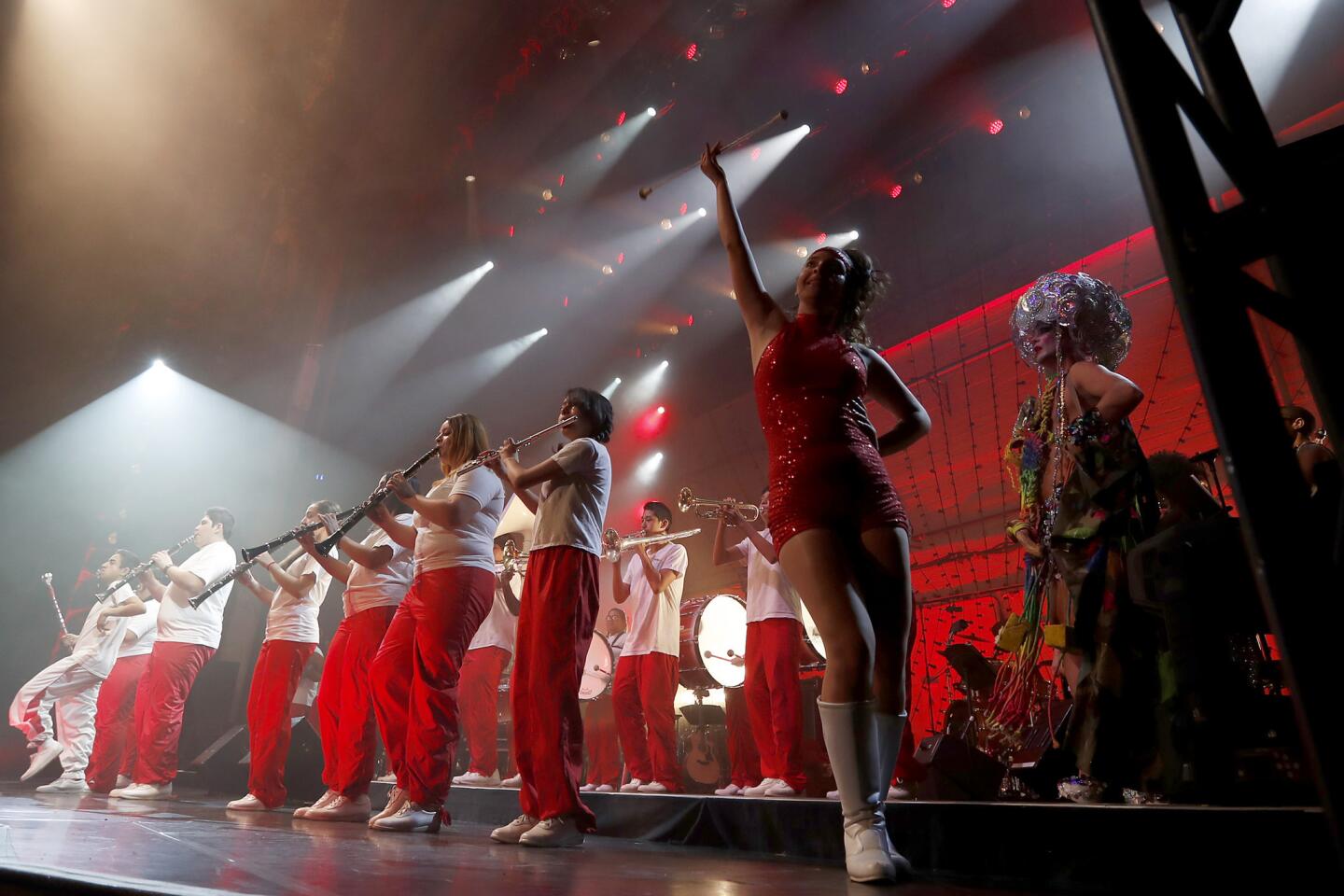 Taylor Mac, right, cedes the stage to the Centennial High School Marching Band on March 24.
(Luis Sinco / Los Angeles Times)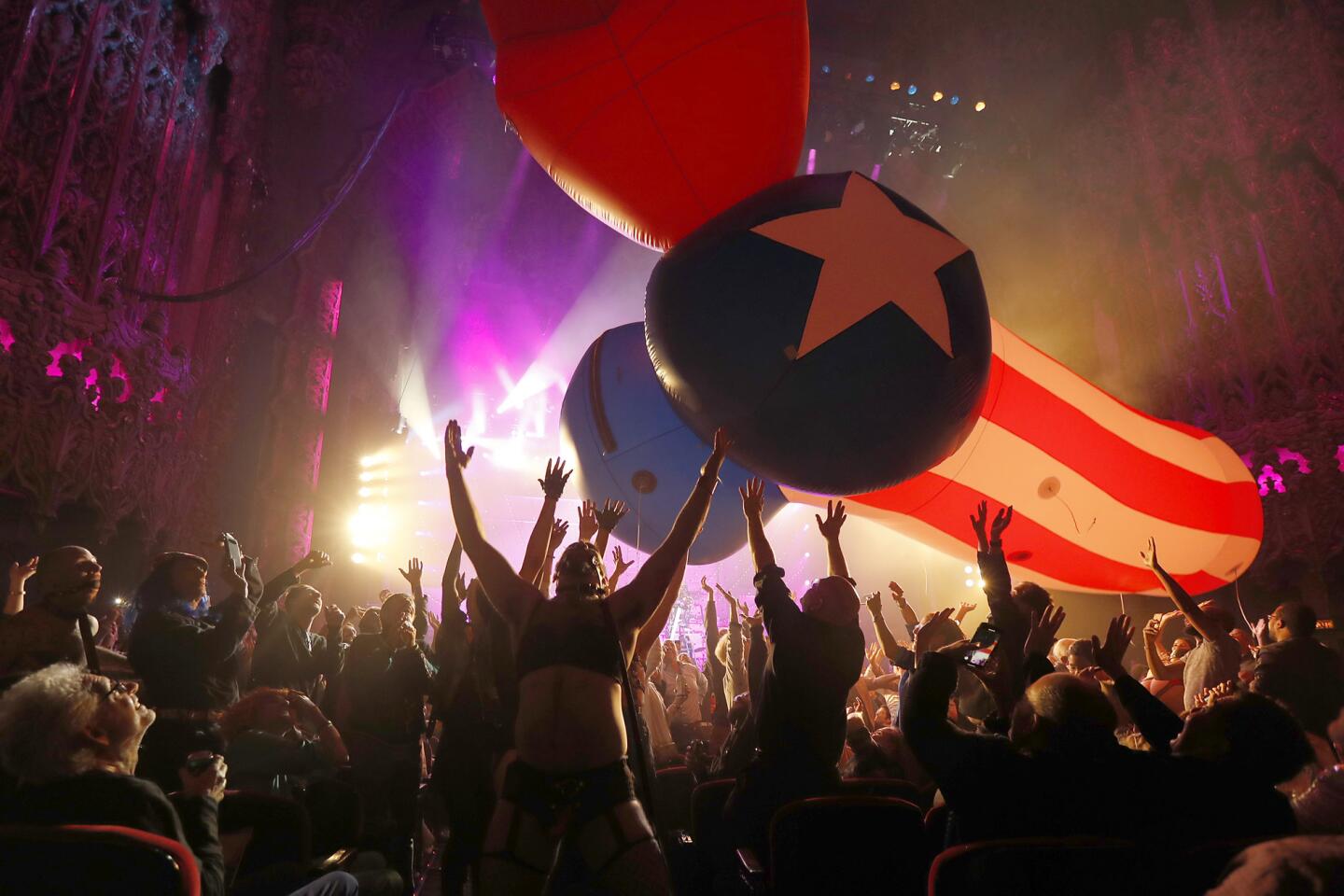 Inflatable penises representing the Cold War-era United States and Soviet Union are passed through the audience during the final quarter of Taylor Mac's "A 24-Decade History of Popular Music" in Los Angeles on March 24.
(Luis Sinco / Los Angeles Times)
Taylor Mac in "A 24-Decade History of Popular Music" in Los Angeles.
(Luis Sinco / Los Angeles Times)
Mac's main resource, though, is the audience. If you don't like being told what to do, especially when participating in a history of resistance, the Ace could seem like the last place you wanted to be the past two Thursdays and Saturdays. Whether it's singing or dancing or snuggling with a neighbor, you can get pretty sick of judy telling you that it's going to go on a lot longer than you will want it to.
People are brought up to the stage for all kinds of humiliating, sexual or otherwise, escapades, although many a victim took to the limelight delightedly. The motivations for this can be many and anything — from Mac needing to make actual contact with the audience, feeding off an audience, to commanding hordes onto the stage, while feeding off the unpredictability of these encounters.
But in the end — and it takes the full 24 hours to fully appreciate this — the spirit of American history is here comes everybody, and for Mac community is in the essence of performance. With no intermissions you don't hang out with those you know, instead you interact in the theater with your neighbors.
Oh, those decades. Each is a stretch thematically and theatrically — the thread, the polarization of society. There is a crew of flamboyant dandy minions, different for each show, passing out ping-pong balls or a cup of vegan lentil soup when it comes time to deconstruct the Depression. Deconstruction and the thickest layers of irony are tools of Mac's trade.
An inspired decade was the one from 1846 to '56, where Mac staged a smackdown between Walt Whitman and Stephen Foster. It was judy's contention that Whitman, the great poet, not Foster should be known as the father of American song. The lyrics in such Foster classics as "My Old Kentucky Home," "Massa's in de Cold, Cold Ground" and "Camptown Races" can be shown to be, especially from a 21st century perspective, of simplistic sentiment and downright racist.
In a competition between Mac's satirized renditions of Foster contrasted with grippingly eloquent readings of Whitman poems (the best readings I've ever heard), it was no contest. Mac divided the audience into pro-Foster and pro-Whitman factions, and after each round held a vote, with the winners throwing their ping-pong balls at the losers.
Once the crowd had grown violently anti-Foster, Mac sang Foster's "I Would Not Die in Springtime" with heartrending poignancy, emphasizing just the kind of loneliness that summarizes Americans who throughout our history have been outside the heteronormative narrative. Little is ever as it seems.
Nothing in the end was as it seems. Since politics weren't supposed to be discussed in polite society at the dinner table after a decade of deconstructing Reconstruction, best that the entertainment be something innocent, like "The Mikado" set on Mars. Of course, Mac also reminded us that Gilbert and Sullivan did their own reconstructing of minstrel songs.
The vast array of musical arrangement, all by pianist and music director Matt Ray, was dizzying. Mac's vocal style is broadly Broadway, with generous amounts of drag queen falsetto, but over a seemingly impossible expanse of songs, judy demonstrated a full command of conveying lyrics, an ability to bring tender intimacy even to rock and rap. Mac could be cloying on rare occasion, yet even then there was purpose, as in "Danny Boy" following more horrific songs to describe the plight of World War I soldiers in the trenches and nothing more is left to be said.
Rather than repeat judy's self, Mac looked at the horrors of World War II pretty much from the outside, from the perspective of those who remained at home — the women, the prisoners. A wrenchingly personal performance of "Soliloquy" from "Carousel" lingers from that decade.
As Mac moved into the present, the history became more personal, growing up gay in a Christian Science family in Stockton. Nina Simone, Patti Smith, Bob Dylan (every word in "A Hard Rain's A-Gonna Fall" telling) became the apt soundtrack for the civil rights-era 1957 March on Washington. Bruce Springsteen might have been in for a surprise that "Born to Run" would sound an anthem for Stonewall, but it worked.
Over the decades the band got smaller and smaller, Mac dismissed a musician each decade, so that it went from 24 to, in 2006 to the present, only Mac. The flamboyance got less flamboyant, the jokes less funny, as the AIDS crisis was addressed through little-known songs written by out gay men of the time. There was dancing in the street for 1996 to 2006, when Mac had all the lesbians in the audience on the stage. Even so, some of the fun was gone, as though Mac were looking for saviors.
For the last nine songs, Mac was alone onstage, with no headdress and heavy makeup now making Mac look like a sad, tired clown, with piano, banjo or ukulele. In these, Mac's own songs, the music is simple, the words are not with their Brechtian convolutions, stream of consciousness and existential angst.
Throughout American history Mac sought to uncover dandy revenge. But tearing away layer after layer, judy became more and more exposed. All that power exerted over the crowd came to seem pretense. The entitlement (a term Mac repeatedly glowered over having been used in The Times) was of little use to judy any more. It was time to lose that too.
"You can lie down, get up and play," is the last line of the 246th song, "When All the Artists Leave or Die." Mac distractedly strummed a uke. The audience quietly sang along. No longer needing to be told, we knew what to do. And why.
Get our L.A. Goes Out newsletter, with the week's best events, to help you explore and experience our city.
You may occasionally receive promotional content from the Los Angeles Times.