Review: 'Understory' is two artists' ode to the American basement, and every surface is covered in felt
Trickster spirit suffuses "Understory," a brilliant installation by Timothy Paul Myers and Andrew Barnes at Walter Maciel Gallery. "Understory" replicates a suburban American basement, that familiar subterranean entertainment center, junk repository, work area and family archive — a site that, in itself, collapses categories and time periods. Myers and Barnes furnish the space with all the typical contents, from laundry machines to dart board, sheathing every object and every surface — including floor, walls, stairwell and beamed ceiling — in felt.
At first, the scene confounds the eye. Illuminated by a few bare light bulbs, the atmosphere of the room appears luminous and granular, as if seen through a fine mist. Maybe this is what James Turrell's basement looks like. All of the objects (and most are the real thing within) appear dipped in thick-tongued light. In a crayon box, the pale, pinkish color might be labeled Flesh. The whole has a disorienting, homogenizing flatness and at the same time a weird radiance.
And how alive the assembly is with emotional resonance. So many touchstones of the everyday and of the life of a family are there: the stowed-away baby toys, the guitar leaning in a corner, the pegboard-hung tools, the random old appliances, the unused pet-food bowl, the stray ping-pong paddle.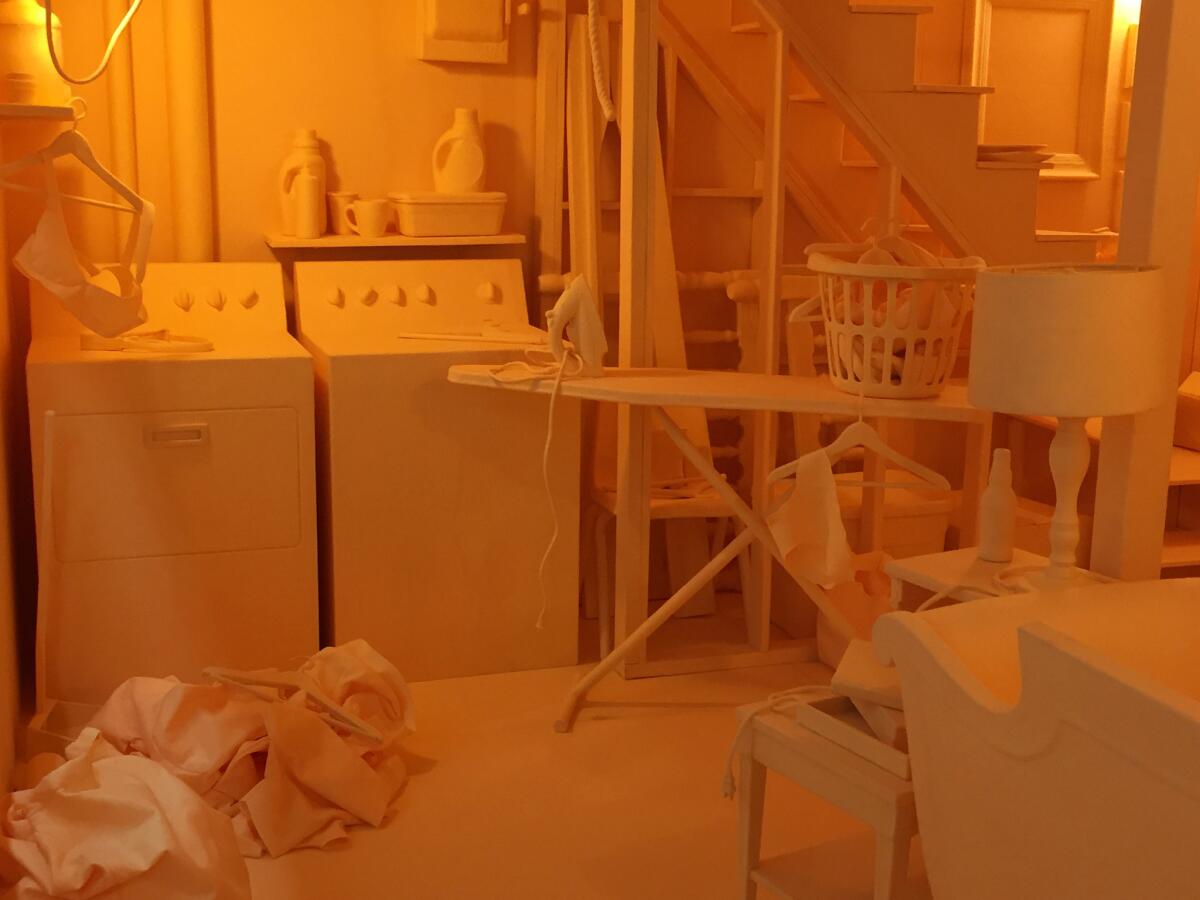 SIGN UP for the free Essential Arts & Culture newsletter »
Myers and Barnes, based in New York, created a tableau in gray felt here last year, a living room whose fireplace gushed with flowers. The mundane and fantastic converged with uncanny, mesmerizing presence.
"Understory" astonishes on a larger scale, and slightly differently. Everything in the basement is ordinary, remembered as much as reimagined. The felt imposes an extra layer between now and then; it mutes and neutralizes. But the act of encasing everything in this second skin is a worshipful sort of labor that also amplifies each object's significance.
The artists' method might seem like a single, formal conceit having to do only with the outer surface of things, but driven by the trickster impulse, it yields a perceptual friction that reverberates deeper and deeper inward.
It's what Lewis Hyde called the ambiguity, the doubleness, the paradox of the trickster — a disrupter and a master of the kind of creative deception that is "a prerequisite of art."
Walter Maciel Gallery, 2642 S. La Cienega Blvd., L.A. Through Dec. 23; closed Sundays and Mondays. (310) 839-1840, www.waltermacielgallery.com
See all of our latest arts news and reviews at latimes.com/arts.
MORE ART:
Gerardo Monterrubio's 'Mano-Made' works
When clothes are more than clothes: Phyllis Green at Chimento Contemporary
Applause, and a caution, for the planned Museum and Institute of California Art
Get our L.A. Goes Out newsletter, with the week's best events, to help you explore and experience our city.
You may occasionally receive promotional content from the Los Angeles Times.