Aaron Sorkin's 'To Kill a Mockingbird' breaks box-office record for Shubert Organization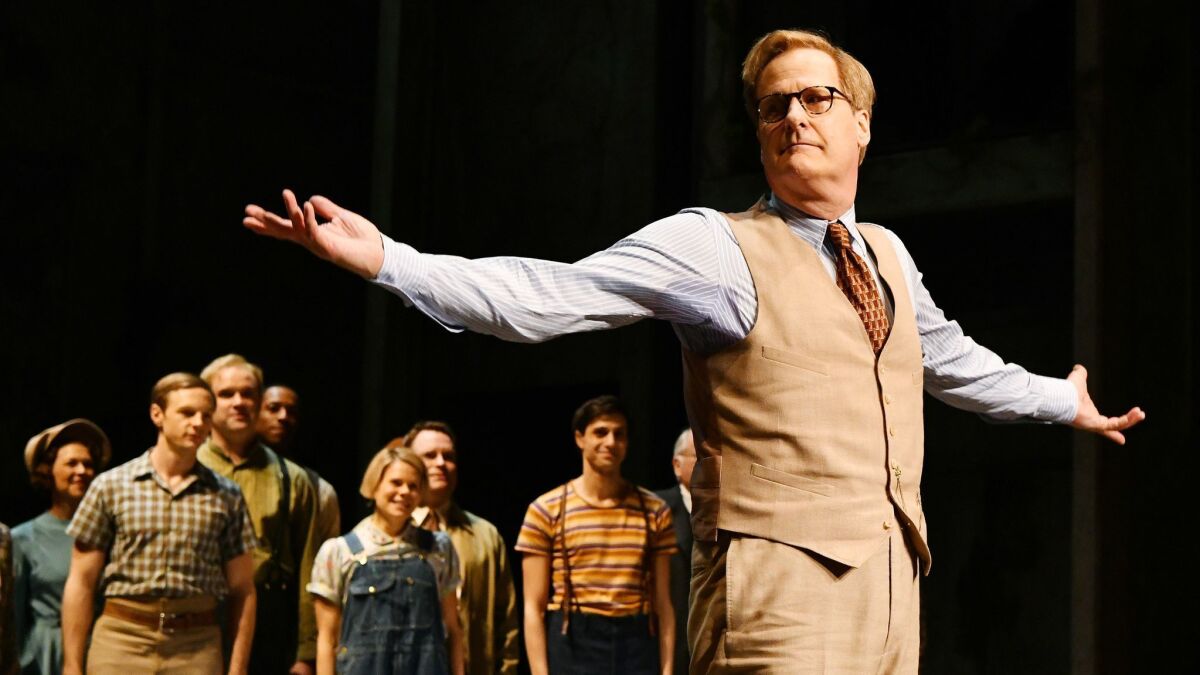 Aaron Sorkin's Broadway adaptation of "To Kill a Mockingbird" has broken an internal box-office record after only eight performances.
The latest staging of Harper Lee's landmark American novel smashed the all-time weekly box office record for a Broadway play in the Shubert Organization's 118-year history, producer Scott Rudin said in a statement on Wednesday.
Director Bartlett Sher's highly touted show opened Dec. 13 and stars Jeff Daniels as the beloved Atticus Finch and Celia Keenan-Bolger as his daughter Scout.
The production grossed a record $1,586,946.02 just after the first full week of shows wrapped, with capacity at 100% or greater for each performance. It also has an advance of more than $22 million in ticket sales, according to the statement.
"Betrayal," which Rudin also produced in 2013, previously held the all-time record with $1,442,087. It hit that number after nine performances.
In his review, Times theater critic Charles McNulty described Sorkin's adaptation as "a masculine take on one of the greatest novels of girlhood ever written."
"What was once a bildungsroman about a rowdy, independent-minded tomboy whose moral education involves coming to terms with the hypocrisies and willful blindness of the adults around her in Depression-era Alabama is now the story of an idealistic attorney forced to confront the limitations of the law as an instrument of justice in a racist society," McNulty wrote.
Tickets for the show are on sale through Sept. 8, 2019, but the run is currently open-ended.
Follow me: @NardineSaad
---
Get our daily Entertainment newsletter
Get the day's top stories on Hollywood, film, television, music, arts, culture and more.
You may occasionally receive promotional content from the Los Angeles Times.