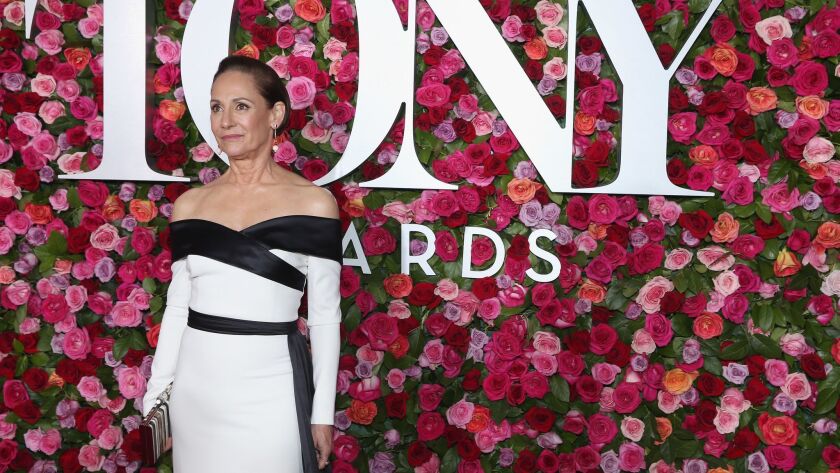 Laurie Metcalf was anything but a shoo-in for a Tony Award, so her win Sunday for featured actress in "Three Tall Women" naturally raises the question: Did "Roseanne" controversy play a part in her victory?
Metcalf's performance in the Edward Albee classic earned much critical praise, and Tony voters certainly love her, giving her the leading actress trophy last year for "A Doll's House, Part 2." Her win this year also could possibly be credited to vote-splitting between Denise Gough, the front-runner for her performance in "Angels in America," and her "Angels" co-star Susan Brown.
But it is possible that Metcalf's profile got a bump in the immediate aftermath of the Roseanne Barr scandal, in which the title character of ABC's rebooted series made a racist comment on Twitter. The network quickly canceled the show.
That happened May 29, well before Tony voting closed.
The cancellation of the show had fans rallying on social media for a spinoff series. Fans and industry watchers called for a show centered on Metcalf's character, Jackie.
The real-life drama only served to heighten awareness of Metcalf and draw attention to her performance in "Three Tall Women" — a performance that L.A. Times' theater critic Charles McNulty had called "vibrant," and that the New York Times had lauded as the work of a "peerless comedian … a very Albee creature."
Metcalf's Tony win caps a year during which she received Oscar, Screen Actors Guild and Golden Globe nominations for her portrayal of strident, over-worked mother Marion McPherson in Greta Gerwig's film "Lady Bird."
READ MORE: Full coverage of the Tony Awards »
ALSO
Allison Janney, Laurie Metcalf and others share their thoughts on sexual misconduct, controversial films and the female gaze
Laurie Metcalf's personal journey of 'Lady Bird'
On my disastrous tea with Glenda Jackson and 'Three Tall Women'
Glenda Jackson steals the show in a thrilling, emotionally affecting 'Three Tall Women' on Broadway
---