Bruce Springsteen gets his Tony Award: 'one of the most exciting things I've ever experienced'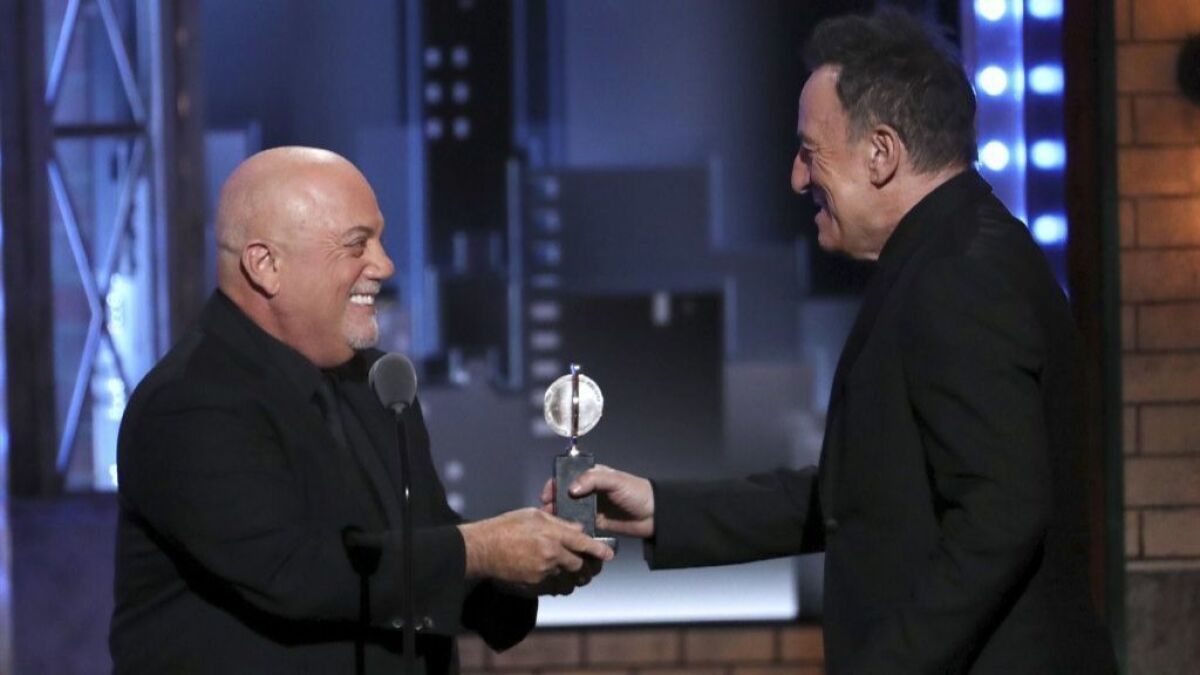 Bruce Springsteen may have been born to run, but Sunday evening, after an introduction by his buddy Billy Joel, the Boss casually made his way up to the Radio City Music Hall stage to accept the American Theatre Wing's Special Tony Award for his one-man show, "Springsteen on Broadway."
"This is deeply appreciated, and thanks for making me feel so welcome on your block," Springsteen said to the Broadway crowd.
Springsteen's critically acclaimed show at the Walter Kerr Theatre has generated "Hamilton"-level demand, with average ticket prices soaring past $500. The singer has logged 130 performances since opening in October, and the production has grossed $65,306,322 as of June 3, according to Playbill. It's set to close Dec. 15.
In the show, Springsteen meshes songs with tidbits from his 2016 memoir, "Born to Run," to form an emotional map leading the audience on his journey from working-class youth in Freehold, N.J., to super stardom. The Walter Kerr Theatre, with its 947 seats, is a far cry from the concerts Springsteen typically plays.
Los Angeles Times theater critic Charles McNulty called "Springsteen on Broadway" an "intimate, dreamlike encounter with a music legend accustomed to selling out football stadiums."
"A special event if ever there was one," McNulty wrote. "[It] slips out of genres to invent a new hybrid form. Call it a confessional jam session."
The Tony puts Springsteen, who's also writer and director of his show, one letter closer to achieving EGOT status — missing only an Emmy. In 1994, he won the Oscar for original song for "Streets of Philadelphia," and the rock legend has racked up 20 Grammys.
Springsteen has come close to snagging an Emmy. He was nominated twice, in 2001 for his "Bruce Springsteen and the E Street Band: Live in New York City" and in 2009 for his Super Bowl halftime performance.
Honoring popular musicians with Special Tony Awards isn't new for the American Theatre Wing. It honored Barbra Streisand with a Special Tony Award in 1970, and Bette Midler received one in 1974. Barry Manilow and Diana Ross received Special Tony Awards in 1977.
But Springsteen — a populist, all-American rock icon, if ever there was one — gave the Tonys stage especially accessible appeal on Sunday. And he seemed equally appreciative to be there.
"This is one of the most exciting things I've ever experienced," he said of his show, before giving a quick round of thank yous and exiting the stage.
Follow me on Twitter: @debvankin
---
Get our daily Entertainment newsletter
Get the day's top stories on Hollywood, film, television, music, arts, culture and more.
You may occasionally receive promotional content from the Los Angeles Times.