Review: Twyla Tharp's 50th anniversary program, while graceful, becomes predictable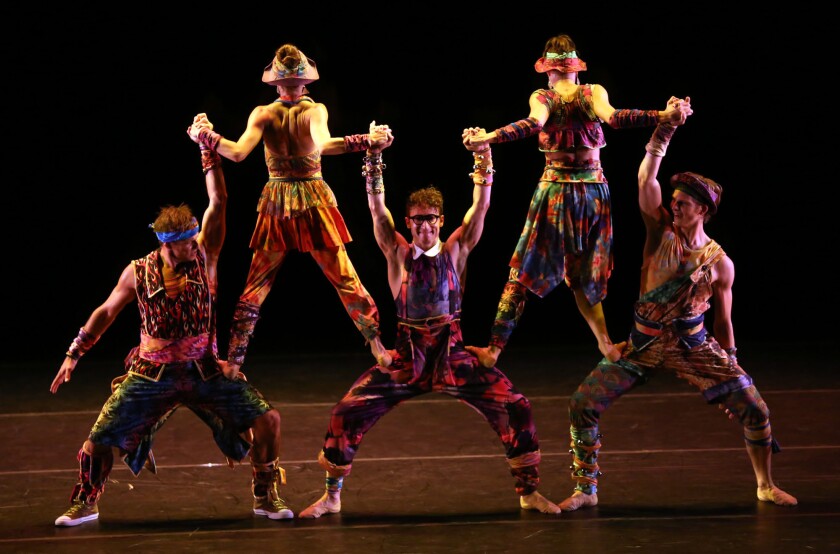 Twyla Tharp once choreographed different recordings of Frank Sinatra singing "My Way" in the same piece. That double dose of self-aggrandizement should have prepared us for her 50th anniversary tour, a project that keeps her in the spotlight (if offstage) while rebuilding her reputation as a serious dance-maker after weak ballets and Broadway jukebox musicals tarnished it in recent years.
The tour arrived at the Wallis Annenberg Center on Thursday, deploying a dozen excellent dancers in two new works preceded by brief, celebratory dance fanfares. Set against piano performances of Bach excerpts (16 of them, plus repeats), "Preludes and Fugues" offered the same quick-change juxtaposition and overlap of movement idioms that marked many of her masterpieces.
Jogging and shadowboxing intercut with classical steps and ballroom partnering — often spliced in unexpected ways or executed in reverse — here was evidence that, at 74, Tharp could still combine virtually every kind of human motion clearly and gracefully at any speed.
SIGN UP for the free Essential Arts & Culture newsletter >>
Unfortunately a sameness or numbness soon set in because Tharp seldom developed her movement ideas and, instead, invariably abandoned them for dollops of ballet virtuosity. And this relentless use of ballet technique as exclamation points made "Preludes and Fugues" increasingly predictable. Only occasionally did she dare finish what she'd started: in a quasi-visceral solo for Ron Todorowski, for example, or a bracingly rough duet for Amy Ruggiero and Matthew Dibble. It wasn't enough.
In blogs published in the New York Times, Tharp wrote that sections of the work reflected the influence or inspiration of Merce Cunningham, Jerome Robbins, Martha Graham and George Balanchine. Her Wallis program note simply called it "the world as it ought to be." Nonsense. In the Tharpian universe, "Sue's Leg" or "Deuce Coupe" embody the world as it ought to be. "Preludes and Fugues" is merely an ice-cold career résumé.
Although Tharp made her professional debut with the Paul Taylor Dance Company, Taylor wasn't among the choreographic luminaries she cites in her blogs. However his goofy, scattershot style of dance farce informed her "Yowzie," set to seven vintage blues and jazz recordings and featuring wondrously eccentric, multicolored costumes by Santo Loquasto. With less reliance on ballet technique and more on gymnastics, the work seemed a deliberate invocation of Tharp's supremely loose-limbed modern dance suites of the early 1970s.
You might argue that the music by Jelly Roll Morton, Henry Butler and others had a stylistic unity that her arbitrary, inorganic choreography lacked. But even the gay stereotyping played for laughs and other crude humor couldn't defeat these dancers. Yes, they worked awfully hard at seeming brainlessly irrepressible, but their skill and generosity quickly triumphed. One highlight: In "Preludes and Fugues," Rika Okamoto's romance with Daniel Baker had a unique soulful chemistry.
"Yowzie" may not be the world "as it is" (Tharp's words), but it's a reminder of how much the dance world was enriched and emboldened by this indomitable maverick.
---------------------
Twyla Tharp
Where: Wallis Annenberg Center for the Arts, 9390 Santa Monica Blvd., Beverly Hills
When: 8 p.m. Saturday, 2 p.m. Sunday
Tickets: $49-$119
Info: (310) 746-4000, www.thewallis.org
MORE:
The musical adaptation of the offbeat French movie 'Amélie' sparkles
Alvin Ailey at Dorothy Chandler: Brutality chic in modern dance
---
Inside the business of entertainment
The Wide Shot brings you news, analysis and insights on everything from streaming wars to production — and what it all means for the future.
You may occasionally receive promotional content from the Los Angeles Times.