Upright Citizens Brigade brings its 55-hour improv comedy marathon to L.A.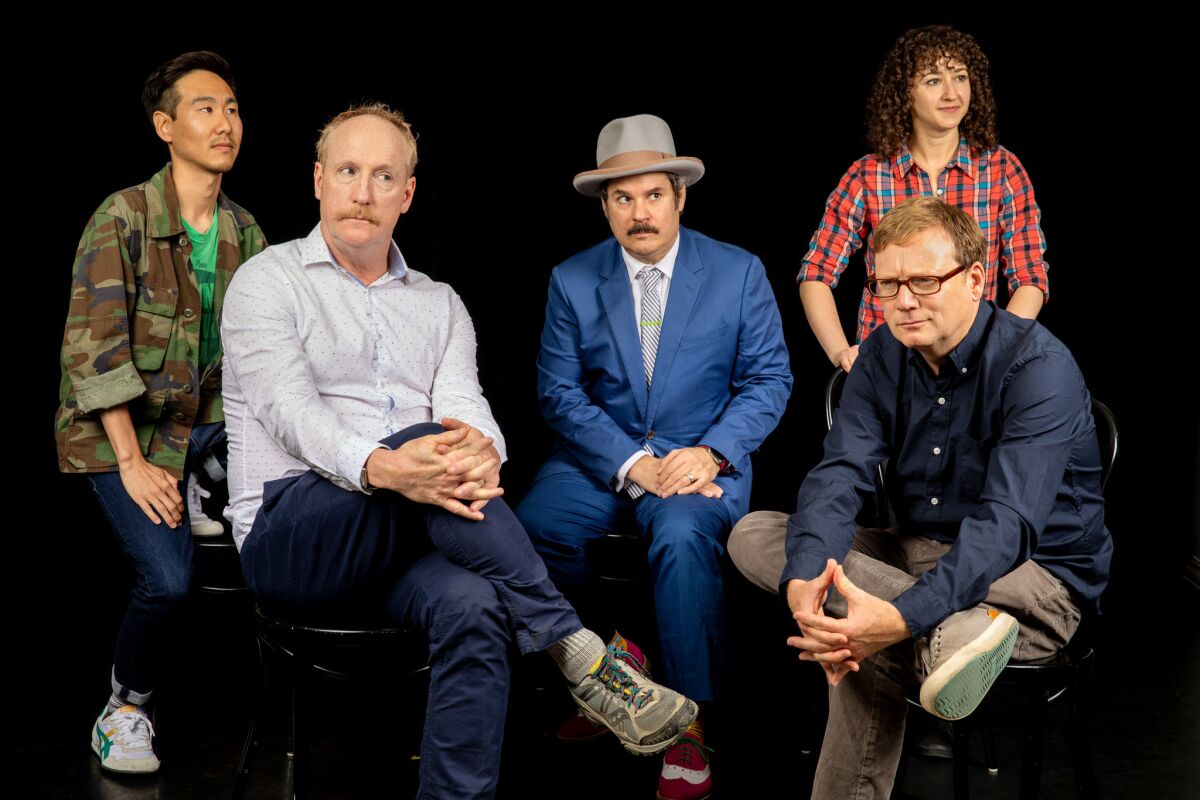 After 20 years in New York, the Del Close Marathon — the Upright Citizens Brigade's 55 hours of nonstop long-form improv comedy, with more than 500 performers from across the country — is taking place in L.A. for the first time.
Sitting on the couches in UCB's Inner Sanctum theater on Sunset Boulevard — one of the two Hollywood locations where the marathon will be held Friday night through Sunday — five of this year's improvisers talked about the big event, as well as that rite of passage for comedians: bombing onstage.
Paul F. Tompkins, Andy Daly, Beth Appel, Will Choi and Matt Walsh — the latter the "Veep" actor and one of the "UCB4" who founded the troupe in 1997 with Matt Besser, Ian Roberts and Amy Poehler — said bombing can be a learning experience. It's also fodder for future laughter. Which is good, because it never stops happening.
"There was that devil-may-care, sort of punk-rock ethos," Walsh said of his early improv days in Chicago. "We did a bit where, like, supposedly Besser and Ian lost a bet, and they had to eat a can of dog food. We just bought corned beef hash, but ultimately the audience was experiencing someone eating a can of dog food, as laid out. But it's just kind of a bummer, and it gives you such a nausea reaction. It's like: That's a bad bit."
OUCH: David Mamet's Harvey Weinstein play opens. The reviews? 'Monstrous misfire' »
Walsh and company started their training program in 1997 after moving to New York from Chicago, where they had studied with Del Close, an improv and comedy guru who shaped performers from John Belushi to Tina Fey. They founded the marathon in Close's name after he died in 1999.
For some in improv, the worst moments are times when a fellow actor initiates a bit and "it feels like everybody in the room knows what my next move is supposed to be — except for me," said Daly, who co-created and starred in the Comedy Central show "Review."
"Sometimes I will start to sweat onstage, and that's what tells me it's going poorly. Like, my sweat glands know before my mind does."
Will Choi, who created the Asian American variety show "Asian AF" at UCB, remembered one particular early show.
"I was so in my head that I wasn't paying attention to what anyone was saying to me, and I was just thinking," he said. The moment that killed him? "I said a line, and there was a sigh in the audience. I was like: Just get me out of here."
Daly commiserated: "You feel the full weight of the regret of the money that person paid to park."
The five laughed as they shared bomb stories but all agreed that — as risky and unpredictable as improv seems — it's actually one of the safest forms of comedy.
"The audience's expectations for improv are the lowest," said Appel, artistic director of UCB in L.A. "And then higher when you get to sketch, and then even higher when you get to stand-up. So, it might make it riskier for the people onstage, but the audience is more appreciative of any tiny joke you're able to pull off."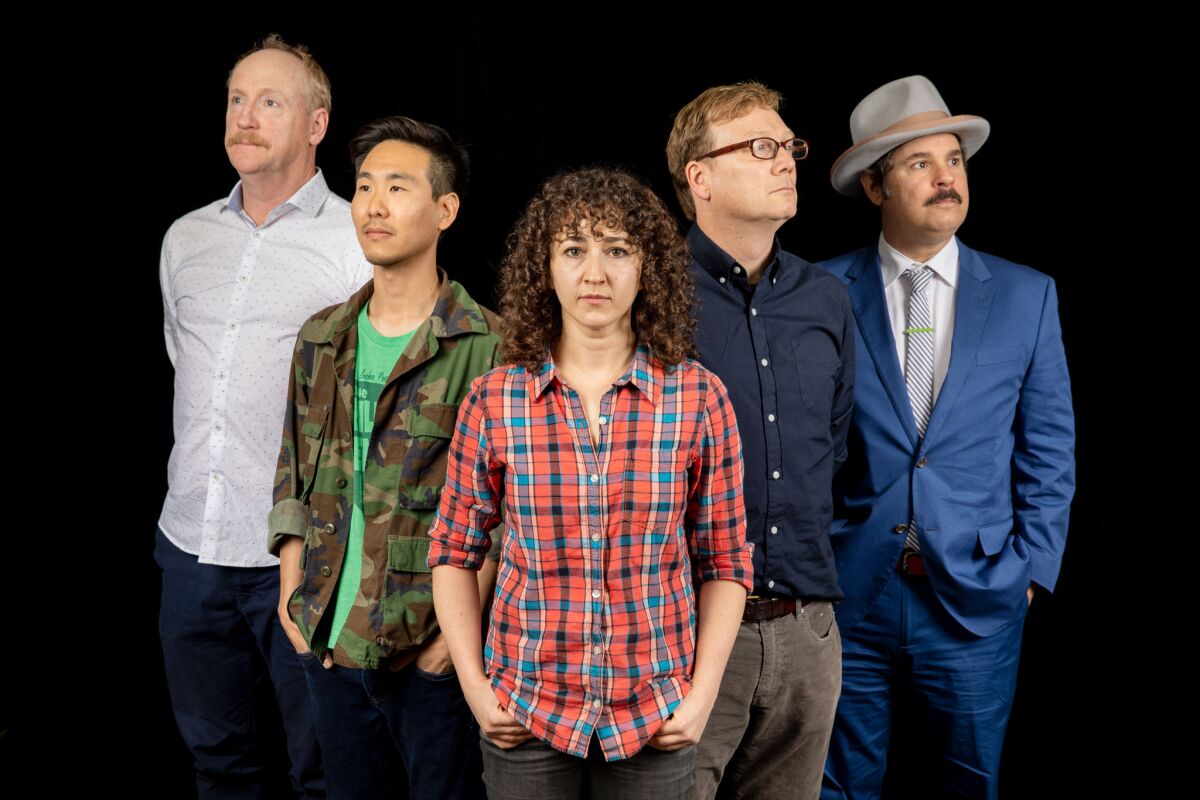 Sometimes I will start to sweat onstage, and that's what tells me it's going poorly. Like, my sweat glands know before my mind does.
— Andy Daly
Tompkins, who started in stand-up and as a writer on HBO's "Mr. Show With Bob and David," came to improv relatively recently through podcasting.
"The part I like best about it is that you are never immune to a bad show," he said. "But for me it was a big exercise in letting things go, because I will obsess over things. And one of the things that I love about improv is: You have to let things go. You can't dwell on it."
Added Walsh: "It's so disposable, too. It's like sand art. There's no point in obsessing over it."
"Yeah," Tompkins said, "unless it's really bad. Unless it's like, oh, that was humiliating."
"Then it becomes a great story," Walsh said.
In a separate phone interview, Del Close Marathon performer Natasha Rothwell, a writer and actor on HBO's "Insecure," said the beauty of improv is the failing. "And just doing it anyway, and getting up from it," she said.
"So much of my mistakes and my major bombs were just like wild lessons that I learned. I'm hard-pressed to look at one and be like, oh man, shame, shame, shame — kind of like 'Game of Thrones.' I'm more just like, oh yeah, I remember when I learned about listening — that's when I walked through someone's church and said it was a bowling alley."
=====
UCB's Del Close Marathon
Where: UCB Sunset, 5419 Sunset Blvd., L.A.; and UCB Franklin, 5919 Franklin Ave., L.A.
When: Friday-Sunday
Tickets: $10-$20
Info: delclosemarathon.com
=====
See all of our latest arts news and reviews at latimes.com/arts.
---
Get our L.A. Goes Out newsletter, with the week's best events, to help you explore and experience our city.
You may occasionally receive promotional content from the Los Angeles Times.