Valley Performing Arts Center is ready for its second act
As Thor Steingraber assesses the decision to build a 1,700-seat performing arts venue in Northridge, a word comes to mind: courageous. Filling all of those seats hasn't always been easy since the Valley Performing Arts Center opened five years ago.
"There was a honeymoon phase, for sure," said Steingraber, who became executive director in early 2014. "They ran a half season in the spring of 2011, and all those concerts were really well attended. By the time you get 12 to 18 months later, and the honeymoon is diminished, then comes the slog to fill concerts day in and day out."
VPAC was the dream of local arts supporters who wanted their own Music Center in the San Fernando Valley. It took 10 years to plan and build, at a price of $125 million, much of that raised right during the Great Recession. For its first few seasons, under former director Robert Bucker, the venue drew a fairly typical arts audience — largely older and more affluent — with mostly conservative, classical programming.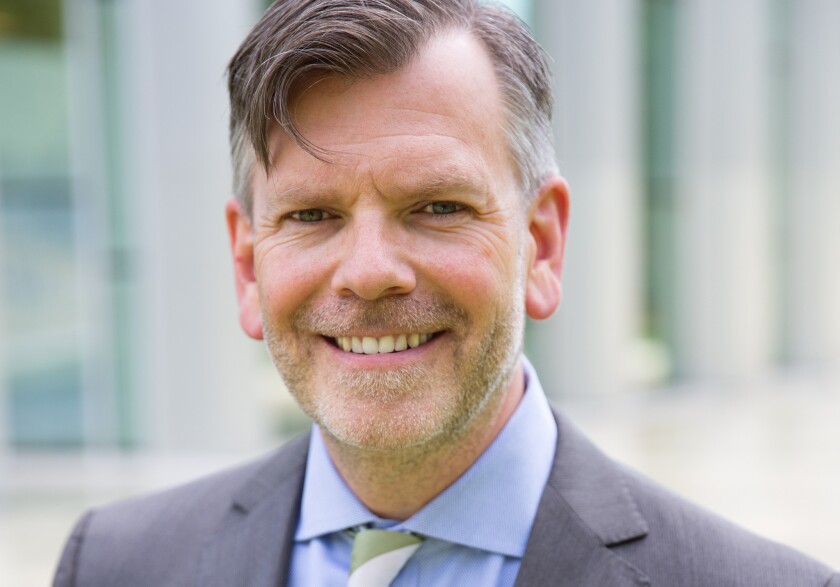 "When I got there, attendance was hovering in the 45% range," Steingraber said. "So the biggest challenge was figuring out what a vital, full audience could be on a regular basis."
VPAC continues to find success with pop artists and celebrity classical soloists such as pianist Yuja Wang, but it seems to have found a broader audience with more diverse programming targeting specific audience segments. Packed-house events from this season include a concert by Mariachi Vargas (which drew first-generation Latin Americans, among others), the Russian National Orchestra (a predominantly Russian turnout) and Broadway singer Lea Salonga (a heavily Filipino crowd). The coveted under-40 crowd turned out for Taylor McFerrin (the beatboxer and DJ who performed with his father, vocalist Bobby McFerrin) and Sarah Koenig (host of the podcast "Serial").
------------
For the Record
An earlier version of this article referred to the Russian National Ballet Theatre instead of the Russian National Orchestra.
------------
Next season, VPAC will try to capitalize and expand on these audiences with a series devoted to popular Latino artists, three full-scale Broadway musicals and an election-themed Dia de los Muertos event from the theater troupe Culture Clash.
VPAC also found its groove nurturing relationships with Southern Californian artists. Jacques Heim, choreographer for dance company Diavolo, workshopped a new piece for an audience of 800 on Good Friday. The upcoming season will feature a monthlong celebration of composer John Adams with programming by Christopher Rountree of wild Up and Patrick Scott of Jacaranda.
Not everything has been a home run. Steingraber reckoned that of this season's 48 shows, 10 didn't quite deliver. Country music hasn't been the draw he expected, and one of the current season's most touted events — Stewart Copeland's rock score for the 1925 film "Ben-Hur" — undersold. (That didn't stop Steingraber from programming two more silent films with live accompaniment next season.)
A former opera and theater director, Steingraber helmed the Kimmel Center in Philadelphia before overseeing the free Grand Park concerts as vice president of the Music Center. "My time in Grand Park really wired my brain differently," he said. "It was about building an audience experience."
That rewiring has led to some liberation at VPAC. Despite the venue's capacity, Steingraber has tailored intimate programs where audience members sit on stage with musicians. Next season, some events will turn the orchestra pit into a dance pit, and others will offer table service with food and alcohol.
"Once you start thinking that way," he said, "then you can actually start to bust wide open: What other artists can I now approach about doing a concert?"
SEASON HIGHLIGHTS 2016-17
The Valley Performing Arts Center announced its 2016-17 season on Friday. Among the highlights:
Tyne Daly in Jerry Herman's "Dear World," Sept. 30
Philharmonia Orchestra, London, with Esa-Pekka Salonen, Oct. 5
The Ravi Shankar Foundation & Opus 3 Artists present Bickram Ghosh's "Drums of India," Oct. 6
Jazz at Lincoln Center Orchestra with Wynton Marsalis, Oct. 8
"An Evening With Kelli O'Hara," Oct. 14
Aida Cuevas with Mariachi Reyna de los Angeles, Oct. 16
"Written in Water," Ragamala Dance Company, Oct. 29
"Vote of Die Laughing: A Post-Modern Political Vaudeville," Culture Clash, Nov. 1
Charlie Chaplin's "Modern Times" with New West Symphony, Nov. 18
"The Age of Adams: A John Adams Birthday Celebration," Jan. 14-Feb. 16, 2017
"West Side Story," March 10-12, 2017
Buster Keaton's "The General" with New West Symphony, March 25, 2017
"The Bollywood Musical Review," Taj Express, April 19, 2017
Lila Downs with Monsieur Periné, April 22, 2017
"Man of La Mancha," May 5-7, 2017
Martha Graham and wild Up, May 13, 2017
Follow The Times' arts team @culturemonster.
---
Inside the business of entertainment
The Wide Shot brings you news, analysis and insights on everything from streaming wars to production — and what it all means for the future.
You may occasionally receive promotional content from the Los Angeles Times.