Review: In 'The Wholehearted,' a female boxer looks for redemption out of the ring
In Deborah Stein's play "The Wholehearted," world-premiering at the Kirk Douglas Theatre in Culver City, a female prizefighter named Dee Crosby finds herself at a crossroads in life.
For those who don't follow women's boxing, Dee's most recognizable precedent will probably be Maggie, the dauntless, heartbreaking figure Hilary Swank played in the 2004 Clint Eastwood movie "Million Dollar Baby." But unlike Maggie, who is paralyzed by a sucker punch during a match, Dee has suffered her worst injuries outside the ring.
Suli Holum, who plays Dee, and Stein co-direct "The Wholehearted" and are the principals of an experimental theater company with video designers and songwriters on tap. For this two-week run — part of the DouglasPlus series for new, in-progress and experimental work — the house has been reconfigured so that most of the seating is on the stage, arranged around a boxing ring, like the crowd at a fight.
Four screens perch above the set, each visible to a quarter of the audience. They display recorded footage as well as live video — some filmed by Dee on the spot with a handheld camera, some captured by a cameraman, Stivo Arnoczy, who strides into the theater from the lobby just often enough to make the artifice disconcerting.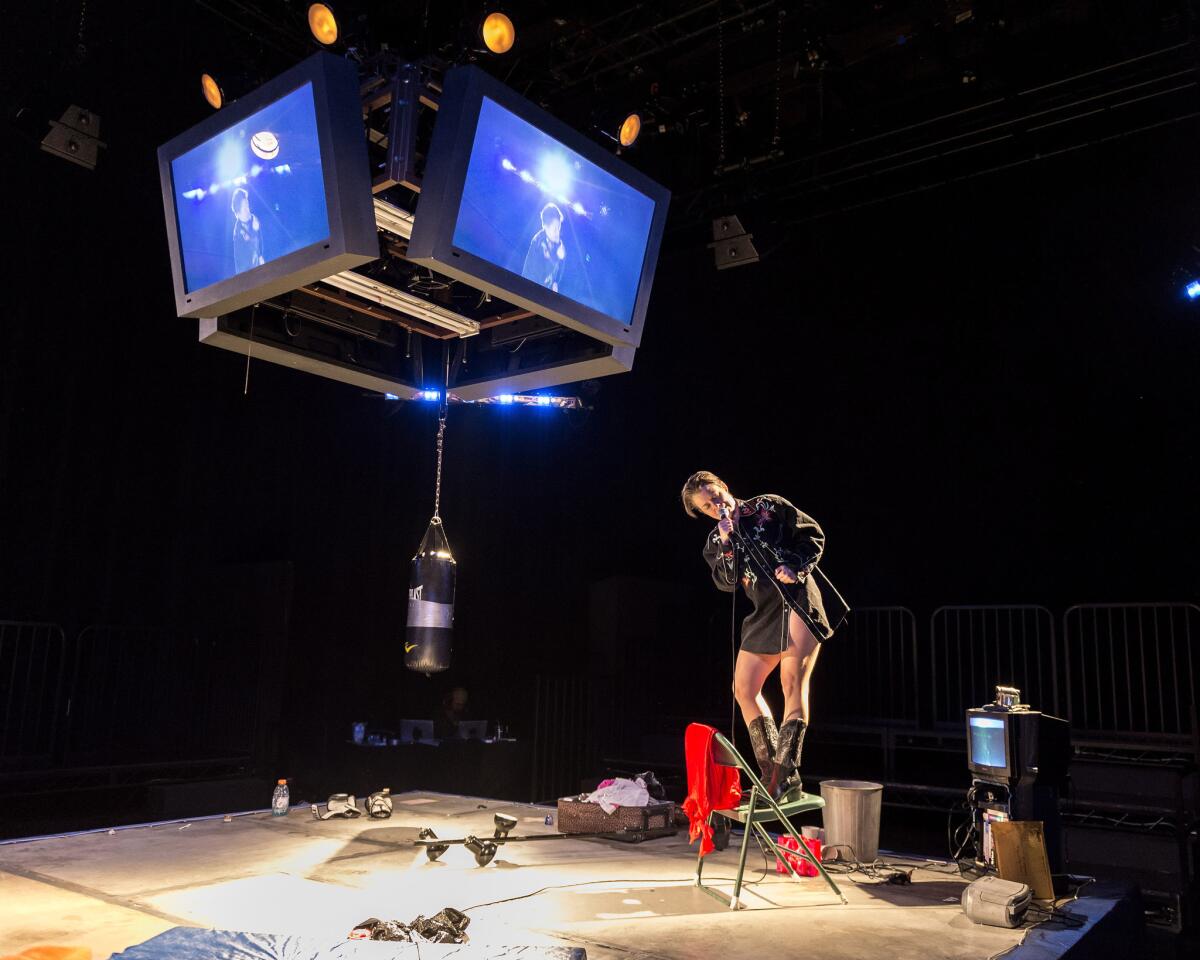 Sometimes the various formats are woven together into a dazzling tour de force, as when Dee reenacts a match that plays above her head, aping her onscreen self's swings and dodges.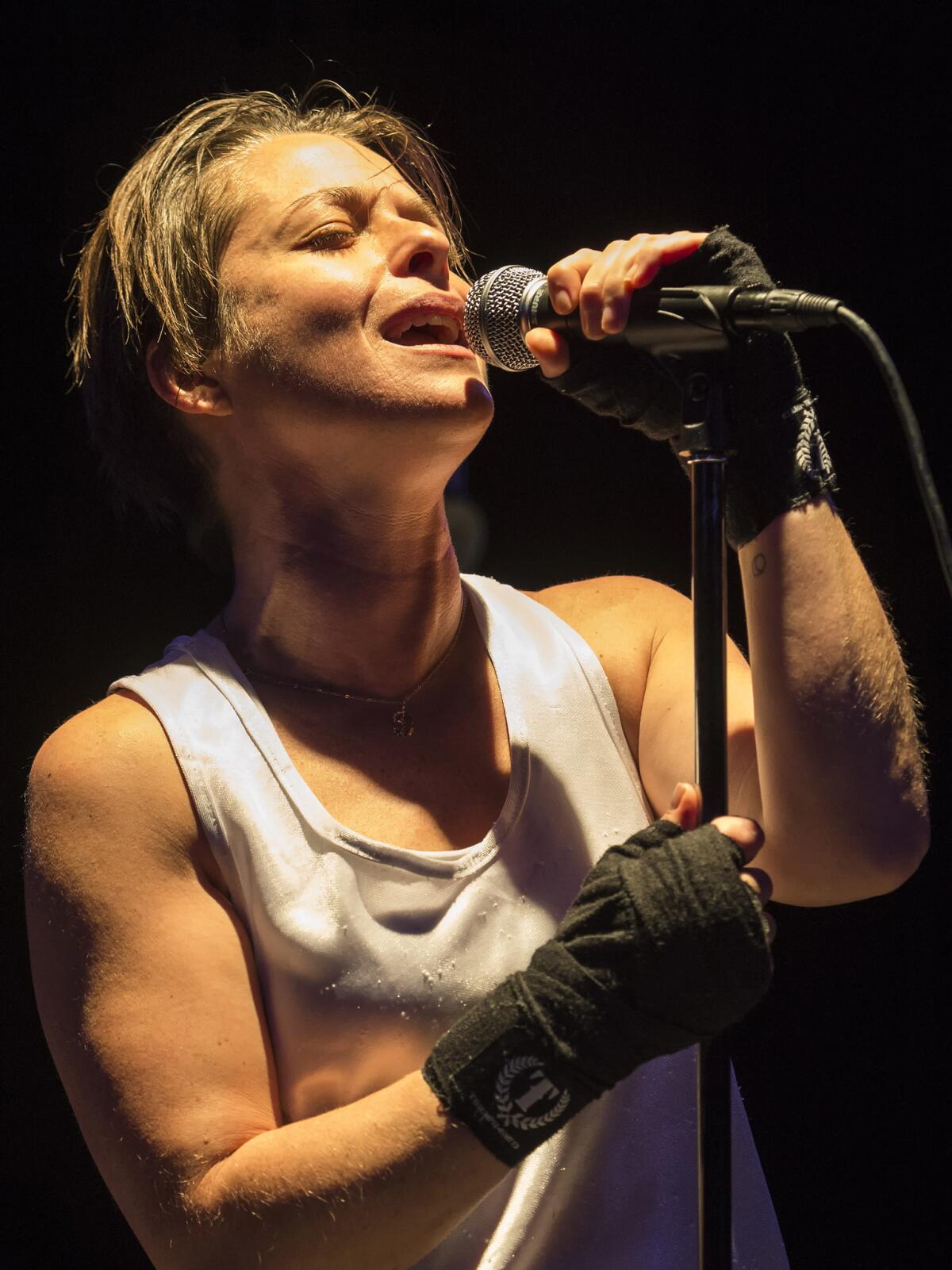 Holum, who mostly plays Dee but slips into other characters as well, punctuates her monologue with original country-western tunes by James Sugg and Heather Christian. These songs, performed in the style of the feisty classics that play before the curtain (Johnny Cash's "Boy Named Sue" and Loretta Lynn's "Fist City"), deepen the script's exploration of gender roles and violence. They're also catchy, and Holum performs them with raspy panache.
For all its high-tech, cutting-edge flair, the true pleasure of "The Wholehearted" is of an old-fashioned sort: Holum's fearless, fierce, vulnerable performance. Her Dee may be physically scrappy, but her face can't hide her aching fragility.
As we learn from the sleekly produced exposition — fictional clips from "Entertainment Tonight"-style TV programming — Dee is a former champ. As a young girl, she was plucked from obscurity by a creepy older man, Charlie Flaxon, who trained her, married her and then, at the height of her fame, spectacularly attempted to kill her.
Now Charlie is out of prison, and Dee is hiding out in a storage room at the gym, plotting her revenge. She's also recording a video apology to the high-school girlfriend, Carmen, she abandoned 20 years ago but never forgot.
SIGN UP for the free Essential Arts & Culture newsletter »
Sure, it's a stagy premise, and the script might benefit from more nuance, especially in the figure of Charlie, whom Holum portrays by slicking pomade into her hair and strutting around like Elvis. It's hard to believe Dee put up with him for a second, much less abandoned true love for his shenanigans.
The play is so eager to show us the irony in Dee's story — not even the strongest woman in the world can fight back against domestic violence — that it overplays its hand at times. But Dee's tender recollections of Carmen — a kiss under the stars, or a sweetly sarcastic put-down, as trite and unforgettable as in so many first loves — form the beating heart of "The Wholehearted."
------------
"The Wholehearted"
Where: Kirk Douglas Theatre, 9820 Washington Blvd., Culver City. 8 p.m. Tuesday-Friday, 2 and 8 p.m. Saturday, 1 and 6:30 p.m. Sunday (call for exceptions)
Tickets: $45 (subject to change)
Information: (213) 628-2772 or www.centertheatregroup.org
Running time: 1 hour, 5 minutes.
Follow The Times' arts team @culturemonster.
ALSO
A tale of two Lears: Glenda Jackson and Antony Sher scale Shakespeare's mightiest tragedy
Sondheim-Furth musical 'Merrily We Roll Along' remains a rutted road
'Harry Potter and the Cursed Child' reminds us of the power of courage in the face of evil
Get our L.A. Goes Out newsletter, with the week's best events, to help you explore and experience our city.
You may occasionally receive promotional content from the Los Angeles Times.