Who brought a 36-foot orb into Disney Hall for 'Atlas'? Yup, that guy again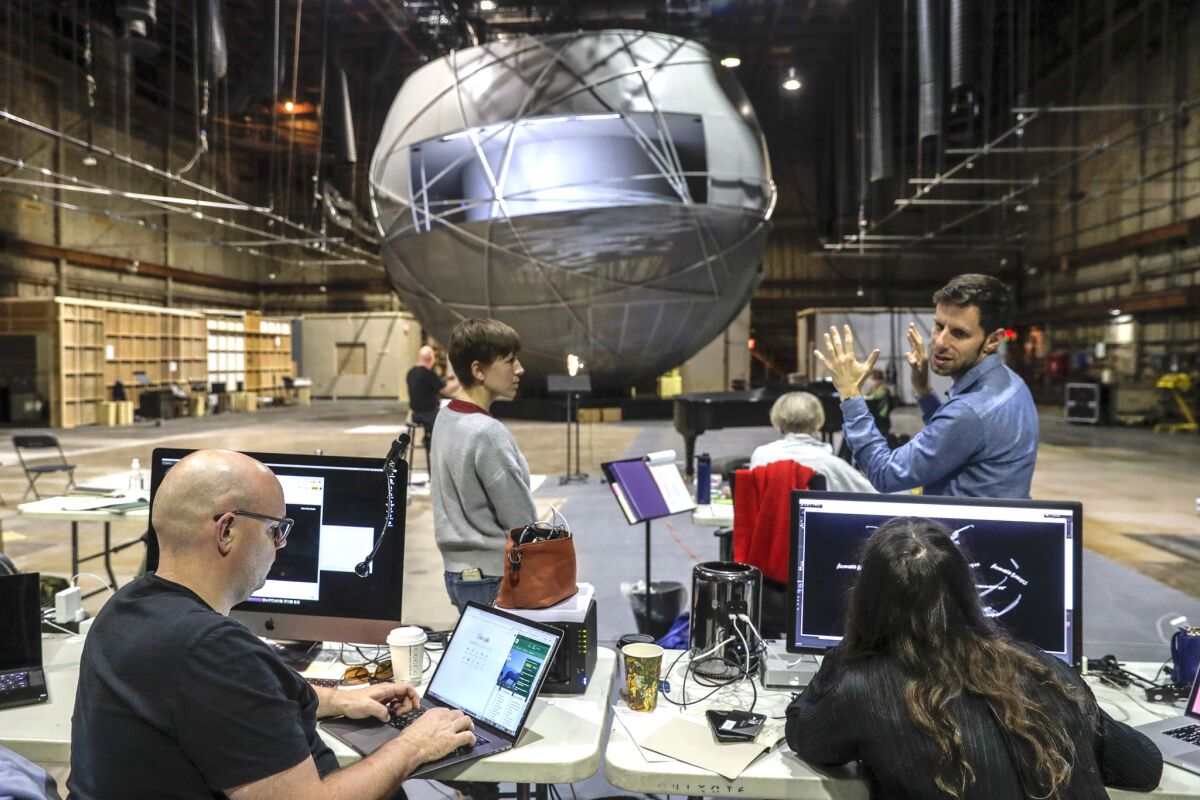 Yuval Sharon, the 39-year-old director and MacArthur fellow who rocked Los Angeles by staging one opera amid the hustle and bustle of Union Station ("Invisible Cities") only to follow it up with another in 24 moving vehicles ("Hopscotch"), does not seem to have the words "small scale" in his vocabulary.
So it should come as no surprise that Sharon is shaving down the stage at Walt Disney Concert Hall to accommodate the 36-foot-diameter sphere that serves as the core set piece for "Atlas," Sharon's interpretation of avant-garde composer Meredith Monk's elusive 1991 opera.
Nor should it raise eyebrows that Sharon is removing the first four rows of seats in the hall to create an orchestra pit like the one architect Frank Gehry told The Times he originally envisioned for the space. ("I read that article and I wrote Frank, and I said, 'Guess what?' " Sharon effused.)
"I think when people walk into the space," the director said, "they are going to realize they are not in for their usual Disney Hall experience."
An unusual Disney Hall experience is a fitting exit for Sharon, who is concluding his three-year residency as the Los Angeles Philharmonic's first artist-collaborator with three performances of "Atlas" beginning Tuesday.
The opera is a three-hour-plus paean to the power of the human spirit and a futuristic deep dive into the ways opera as an art form can be meticulously deconstructed and reconstructed to resemble a radical new medium. It aims to be opera that is mindful of the novel ways the body and voice can move together as one and the otherworldly places experimental music can transport the kernel of an idea.
Although Monk is 76 and has been bending and reimagining genres for decades longer than Sharon, the two artists seem cut from the same cosmic cloth. It was the music of "Atlas," played by a professor at the tail end of a semester at UC Berkeley, that awakened a young Sharon to the possibilities of iconoclastic opera, helping him to realize that contemporary artists were still working to evolve and expand the art form.
The epic scale of this production is a way of expressing how significant I feel the piece is.
— Yuval Sharon, on directing Meredith Monk's "Atlas"
"Atlas" would become Sharon's colossus, an idea that lived in the back of his mind for years. Then came the day he met Monk and gave voice to that thought. To his surprise, she was interested. When his residency began at the L.A. Phil in 2016, "Atlas" was his goal.
"The epic scale of this production is a way of expressing how significant I feel the piece is," Sharon said in a green room at the L.A. Phil. "It's such a major revival. It's a piece that challenges all the norms of how you produce opera."
"Atlas" was born in 1991 as part of Opera New World, a Houston Grand Opera program with the goal of redefining opera repertory. It had performances that same year in Philadelphia and Minneapolis and its New York premiere in 1992 at the Brooklyn Academy of Music. After that, it lay dormant until now.
FROM THE ARCHIVES: Unorthodox L.A. opera genius Yuval Sharon arrives on the world stage »
Monk said she wanted "Atlas" to be resurrected but wasn't sure it was possible due to the organic nature of her creative process. She had served as composer, director, choreographer and actor, and "Atlas" had been molded with ornate specificity to the talents of the 18 singers she cast.
Monk is known for never performing in other artists' work and thus never being directed by other people. She broke form in 2012 when Sharon directed her in John Cage's "Song Books." The pair developed a genuine connection, and Monk learned how devoted Sharon was to "Atlas." Monk told Sharon that if anybody could do the seemingly impossible, he could — but he'd better hurry, "before I leave the planet."
Her only caveat? That she not be involved in the particulars of the production. The whole point was to see if "Atlas" could be done independent of her.
"If there is anything Yuval does that I don't agree with, that isn't important," Monk said. "We're passing on a way of thinking about things — a way of performing music and of working together for future generations."
"Atlas" is loosely based on the travels of the early 20th century explorer Alexandra David-Neel, who is best known for her 1924 journey to Tibet. The female protagonist, originally played by Monk, will be sung by mezzo-soprano Joanna Lynn-Jacobs. The character's quest takes her and her spiritual cohorts around the globe — to deserts, forests, the Arctic, the tropics — and eventually to outer space.
"It's fundamentally a story about a young girl who hears the call to explore the highest realization of herself," Sharon said, adding that he could think of no better way to represent the challenge of that quest than by using the fantastical orb that set designer Es Devlin created. Images can be projected on it, so it symbolizes multiple ideas at once.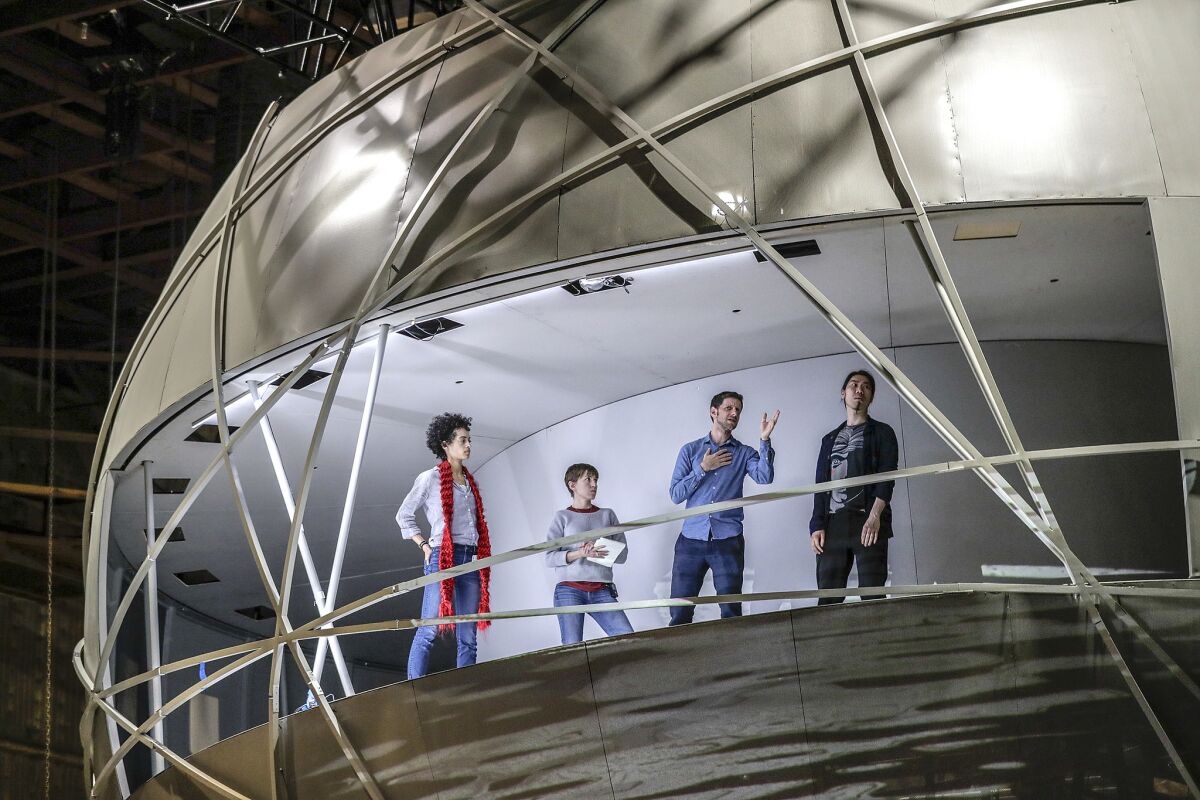 FROM THE ARCHIVES: Yuval Sharon brings his L.A. brand of controversy to Berlin »
The story also speaks to the perils of climate change. In 1991 the world was talking about the dangers of chlorofluorocarbons and mounting damage to the ozone layer. Nearly 30 years later that conversation has morphed into an urgent, divisive dialogue about the ravages of unchecked global warming.
By presenting the audience with diverse landscapes in concert with the consciousness-expanding aspects of art, Sharon hopes viewers will be compelled to ponder the thought that "for us to try to save our home, it's going to take an enormous act of collective imagination."
Giving life to the music of "Atlas" takes imagination too. In 1991 a theater critic for the Houston Post described the vocal effects as including "glottal growls, keening ululations, stuttered monosyllables, yodely register shifts, vibrato manipulation and animal sounds."
Those techniques were on full display during a recent rehearsal inside cavernous Stage 3 at Walt Disney Studios in Burbank. Baritone John Brancy stood 18 feet in the air, inside a recessed cavern in the giant sphere. A massive image of his face was projected on the globe as he sang with animalistic intensity.
"As an opera singer trained at Juilliard, it has been a breath of fresh air to reach within myself to explore all these different sounds and characters," Brancy said, adding that although he had known of Monk's music in school, he was shocked that "Atlas" was not taught as its own lesson in his world music class.
The Los Angeles Philharmonic has installed a 36-foot globe as the primary set piece for "Atlas," director Yuval Sharon's revival of Meredith Monk's experimental opera. Designed by Es Devlin, the orb will show projected images and also open up for pe
The relative obscurity of "Atlas" also struck Lynn-Jacobs, who had not heard the music before her audition. She considered the score a revelation.
"There are very few words," Lynn-Jacobs said. "[Monk] uses phonemes, different little collections of vowels and consonants that don't create a word but that create a mood."
For his part, Sharon hopes that his revival of "Atlas" cements the opera's place in the canon for generations to come. Monk, however, still needs to see if even one revival can succeed.
"Whatever happens, it will be an incredible adventure," Monk said.
Considering what has been accomplished in service of her creation, Monk can rest assured, that much is already true.
=====
'Atlas'
Where: Walt Disney Concert Hall, 111 S. Grand Ave., L.A.
When: 8 p.m. Tuesday, Wednesday and Friday
Tickets: $32-$164
Info: (323) 850-2000, laphil.com
Get our L.A. Goes Out newsletter, with the week's best events, to help you explore and experience our city.
You may occasionally receive promotional content from the Los Angeles Times.