Jedi holiday magic: 'Star Wars' holds top spot on Christmas weekend
Santa and his reindeer got nothing on Rey, Finn and Poe.
Moviegoers may have been immersed in holiday parties and preparations in the days leading up to Christmas, but they still filled theaters for some Jedi Knight magic. As expected, "Star Wars: The Last Jedi" held the top spot at the box office over the weekend.
The Walt Disney Co.-backed space adventure -- the eighth official episode in the Lucasfilm series – grossed $100.7 million this holiday weekend and a whopping $397.3 million through Christmas Day. Director Rian Johnson's distinctive take on the sci-fi franchise has been equally lauded by critics and audiences alike. With its 92% fresh score on Rotten Tomatoes and A rating on CinemaScore, "Star Wars: The Last Jedi" is flying as high as Santa this Christmas.
Sony's video game-inspired "Jumanji: Welcome to the Jungle," which opened Wednesday, held strong as well. The Dwayne Johnson and Kevin Hart-starring action-adventure reboot from director Jake Kasdan, about a group of teens in detention whose avatars set out to break a curse, grossed $50.4 million this weekend. Since its debut, the film has earned $67 million through Christmas Day. The movie got decent reviews (77% "fresh" on Rotten Tomatoes, and an A- rating from CinemaScore, so its future looks bright.
"Pitch Perfect 3," Universal's a capella comedy that's the latest in the series about female friendship and vocal percussion, opened Friday, also proving to be a strong holiday-weekend contender, earning $25.6 million this weekend. The musical comedy, this time directed by Trish Sie, brings back together Anna Kendrick, Hailee Steinfeld, Rebel Wilson and Brittany Snow and others as the Barden Bellas, sending them on a USO tour to entertain American troops. While it received an A- from CinemaScore, the critics weren't as generous – the film landed a 29% "rotten" rating from Rotten Tomatoes.
Taking fourth place at the box office was Fox's musical biopic "The Greatest Showman," about American ringmaster P.T. Barnum and starring Hugh Jackman. The Michael Gracey-directed film, which opened Wednesday, brought in $14 million this weekend. Since its debut, it has earned almost $18.6 million through Monday. It scored an A rating from CinemaScore, but was 57% "rotten" on Rotten Tomatoes.
Two animated features -- 20th Century Fox's "Ferdinand" and Walt Disney Studios' "Coco" – took the fifth and sixth spots at the box office. "Ferdinand," now in its second weekend, grossed almost $9.7 million over the weekend, totaling $29.158 million since its debut through Monday. "Coco," now in its fifth weekend, brought in about $7.4 million this weekend. Since its debut, the film has earned $163.5 million through Monday in North America.
Paramount's near-future comedy "Downsizing," in which scientists have figured out a way to shrink people, had a somewhat downsized opening weekend at the box office. The film, directed by Alexander Payne and starring Matt Damon and Hong Chau, earned about $7.3 million since its release on Friday. Its audience and critics ratings were also not-so-big: the movie received a C CinemaScore and 51% "rotten" rating from Rotten Tomatoes.
Rounding out the top 10 at the box office were Focus' "Darkest Hour," Warner Bros.' "Father Figures" and Fox Searchlight's "The Shape of Water." The Gary Oldman-starring "Darkest Hour" brought in $5.4 million in its fifth weekend, earning around $8.3 million in total in North America through Monday. Oldman is considered a likely best actor nominee for the Oscars.
The opening weekend of the comedy "Father Figures," starring Owen Wilson and Ed Helms, grossed $4.9 million.
And the third weekend of Guillermo del Toro's "The Shape of Water" earned $4.3 million, with a total of almost $8.9 million through Monday.
Steven Spielberg's "The Post," about the Washington Post's 1971 publishing of the so-called "Pentagon Papers" and starring Meryl Streep and Tom Hanks, also opened in nine theaters this weekend. The film, from 20th Century Fox, has earned $830,000 since its debut on Friday. Both "The Shape of Water" and "The Post" are expected to factor in heavily in the awards season, including possible best picture nods.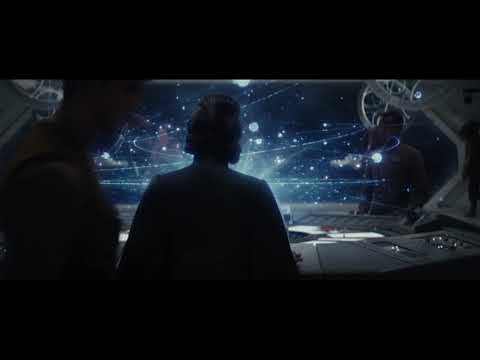 "The Last Jedi" continues the episodic story of Rey (Daisy Ridley), Poe Dameron (Oscar Isaac), Finn (John Boyega) and a few original characters, including Luke Skywalker (Mark Hamill).
Follow me on Twitter: @debvankin
Get our L.A. Goes Out newsletter, with the week's best events, to help you explore and experience our city.
You may occasionally receive promotional content from the Los Angeles Times.