L.A. Philharmonic's Andrew Bain takes spotlight in 'Brilliant Brass'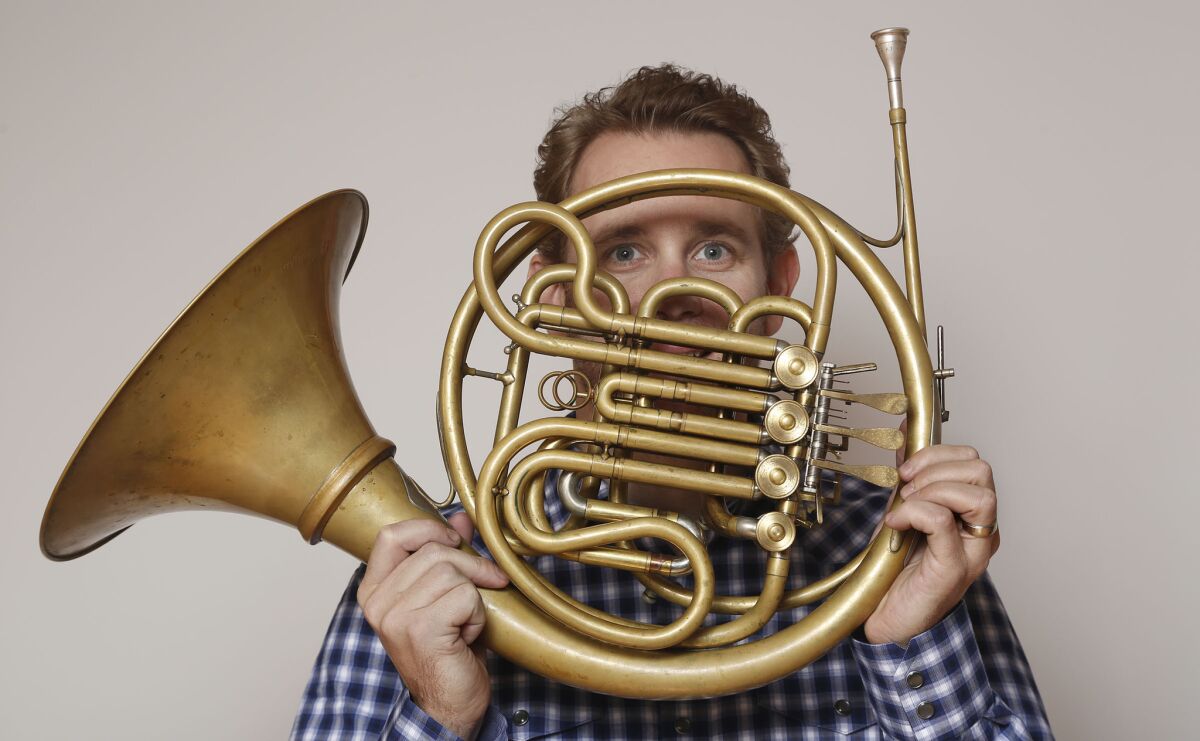 Andrew Bain stands by a window overlooking a streetlight banner with a giant picture of him playing the French horn. Little Bain regards Big Bain wryly.
"This is freaking me out," he says, cradling his instrument like a tarnished brass baby inside the Los Angeles Philharmonic offices near Walt Disney Concert Hall.
Bain has been the principal horn player for the orchestra since conductor Gustavo Dudamel appointed him in 2011. He and principal trumpet player Thomas Hooten will be featured soloists during three performances Friday through Sunday — "Brilliant Brass: Haydn & Mozart." For Bain, 41, the shows will be a highlight in a career that catapulted him across his native Australia and Europe and established him as a local orchestral star.
ESSENTIAL ARTS & CULTURE NEWSLETTER >> Get great stories delivered to your inbox
Nonetheless, Bain is relentlessly humble. Despite his success at a relatively young age, he speaks as though his accomplishments surprise even himself.
He was "not expecting anything" when he nailed his first audition for associate principal horn for the Adelaide Symphony Orchestra in Australia. Winning his next appointment to principal horn of the Brisbane Symphony was "a bit of a shock," and getting a subsequent scholarship to study in Vienna was "really shocking." He was "amazed" to play for Opera Australia at the iconic Sydney Opera House, and later, "incredibly fortunate" to land the position of principal horn with the Melbourne Symphony Orchestra.
"I feel very lucky every day," Bain says, his Australian accent thick and warm-sounding, much like his horn.
Luck, however, has had little to do with it.
"Andrew is an amazing player. It's really that simple," says Chris Ayzoukian, general manager of the orchestra. "His sound is just breathtaking."
That's easy to believe considering the audition process for the L.A. Phil, which requires hopefuls to finish two rounds of blind auditions. They play behind a giant screen so that they're judged strictly on their sound. Only during the final round, when a few elite players remain in the running, does the screen come down.
"It's just you and the stage," Bain says. "And you can immediately see Gustavo because there's, like, a dozen people out there, and then there's this hair."
Bain was born and raised in Adelaide. His parents were teachers. His mother played basketball for the Australian national team, and both parents played lacrosse for national teams. Bain's father taught at a high school that specialized in music, so Bain and his three brothers all learned piano at early ages. When Bain entered high school, the instructors told him he should play horn based on a test that gauged his ability to buzz on a mouthpiece.
"Sport and music are very similar. You need to be disciplined, and you need to be dedicated, and you need to practice," Bain says. "So my mom made us practice every day."
The other great thing about playing horn, Bain soon learned, was that fewer kids played horn than clarinet or flute. He could move up through the ranks rather quickly, a bonus that appealed to his competitive nature.
These days Bain derives great satisfaction from leading his section of the orchestra, which has six players. He helps clarify the conductor's wishes by working on specific passages of music within his group and forming a cohesive artistic front. Since he plays first horn, most of his leading is done through his playing, the section taking cues when it comes to musical phrasing, rhythm and intonation.
Bain also teaches at the Colburn School. He says he's proud of the ways the L.A. Phil is working to reach out to youths, as well as audiences who don't traditionally attend the Phil.
Programs like Dudamel's Youth Orchestra L.A., Casual Friday performances, the CODA program that reaches out to music enthusiasts in their 20s and 30s, as well as the organization's various experiments with lights, projections and staging all help the art form and its culture thrive, he said.
"There are times we'll do projects that aren't comfortable for the audience, but as long as they're done as well as they can be, the audience will respect it and maybe, over time, get used to it," Bain says. "It balances over the course of the season so people don't get used to a steady diet of Brahms, Beethoven and Mozart."
Twitter: @jessicagelt
------------------------------
'Brilliant Brass: Haydn & Mozart'
Where: Walt Disney Concert Hall, 111 S. Grand Ave., L.A.
When: 8 p.m. Friday and Saturday, 2 p.m. Sunday
Tickets: $20 and up
Info: (323) 850-2000, https://www.laphil.com
---
Get our L.A. Goes Out newsletter, with the week's best events, to help you explore and experience our city.
You may occasionally receive promotional content from the Los Angeles Times.