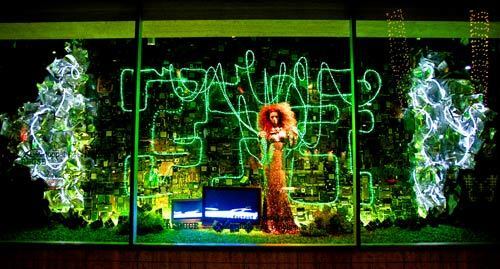 8 Images
Decked out window dressings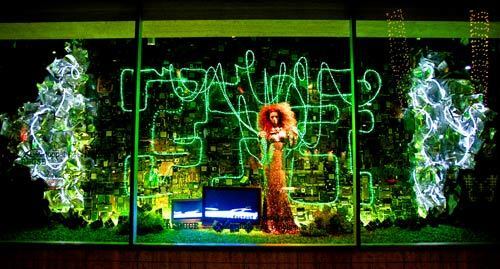 Impressionism meets an apocalypse of trash in one of Neiman Marcus' four big windows on Wilshire Boulevard. The Cady Noland-style panorama coalesces into a series of colored light boxes - flickering landscapes and interiors ignited by blasts of light from TV monitors, electronic fixtures and flexible light tubes --cleverly organized masses of man-made debris that preach recycling, saving rain forests and reducing consumption of electricity.
(Lawrence K. Ho / Los Angeles Times)
One of Neiman Marcus' windows on Wilshire Boulevard is a sparkling wonderland of plastic bottles, bubble wrap and computer packaging, accompanied by video footage. Oh, there are some mannequins too. If there was ever a way to make the end of the world look glamorous, this must be it.
(Lawrence K. Ho / Los Angeles Times)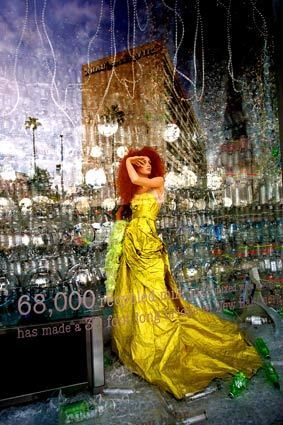 A mannequin with an enormous mop of untamed hair models gobs of taffeta in Neiman Marcus' holiday window displays in Beverly Hills. Text printed on the glass of various NM windows presents facts such as "14 recycled soda bottles = one extra large T-shirt" and "90% of a computer's copper can be recycled."
(Allen J. Schaben / Los Angeles Times)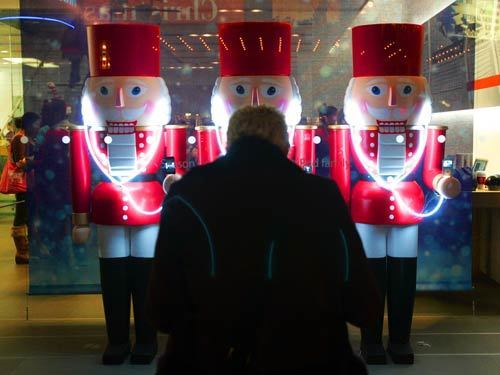 In the window of the Apple Store at the Grove in Los Angeles, neon versions of those familiar white wires trail down the fronts of the nutcrackers in the window. Yep, they all have iPods.
(Lawrence K. Ho / Los Angeles Times)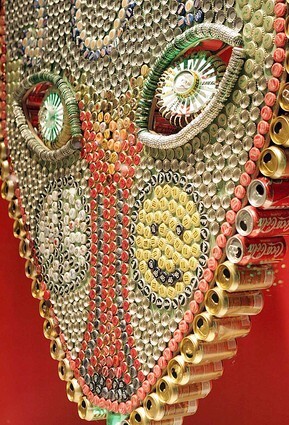 Rudolph the Recycling Reindeer, a giant head that hangs diagonally across the corner window, is the star of the displays at Barneys New York in Beverly Hills. Clunky, funny and weirdly earnest, the huge assemblage is probably a better advertisement for Coca-Cola than for this merchant of high-priced ultra chic, but the message is clear: Recycling is not only necessary, it's cool. Side-by-side Coca-Cola cans, with tops facing front, fill most of the form. Plastic bottle caps and radiating shapes made of sliced cans fill in details. Two Christmas ornament-like forms dangling from the beast's antlers announce that "green is the new black" and exhort viewers to "have a green holiday." Holiday décor doesn't get much more bizarre than this.
(Lawrence K. Ho / Los Angeles Times)
What's going on at Saks Fifth Avenue is a feel-good sales pitch. Like pages of Saks' exclusive "Snowpeople Storybook," the windows on Wilshire Boulevard illustrate a children's story about Snowpeople who find happiness in developing a personal style. Poetic text printed across the lower edges of the windows tells a tale of people made of big snowballs who despair of looking alike even though they know each snowflake is unique. The answer, of course, is fancy clothes. After the frigid fashionistas have gone on a shopping spree, the storyteller concludes: "Difference is brilliant. It's what makes you you."
(Lawrence K. Ho / Los Angeles Times)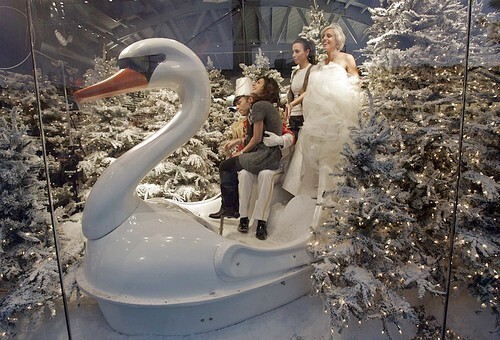 It had to happen: holiday window dressing as an audience participation event. At Marc by Marc Jacobs, a swan-shaped boat glides through a wintry forest of pines. At night a princess mannequin in a white party dress rides in the big bird. During the day — 11 a.m. to 7 p.m. until Dec. 25 — you and your friends and family are invited to sit in the boat and have your picture taken free. Loaded with symbolism, it might put you in mind of Hans Christian Andersen's ugly duckling with a heart of gold. However you look at it, the window is a mind trip, meant to propel you out of a daily grind and into a shop where young women try to become swans by buying clothes.
(Lawrence K. Ho / Los Angeles Times)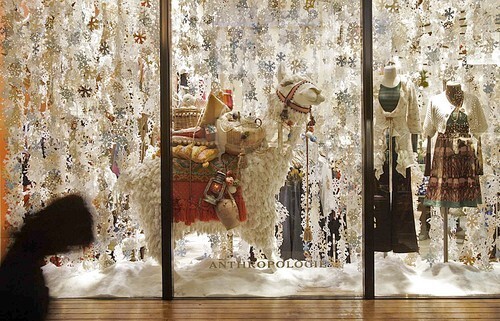 Un-slick, unpretentious, unfashionably cute — and, most important, stress-free — the snowy white beasts of burden at Anthropologie in the Grove are enchanting creations of papier-mâché and cotton fluff. Made by the staff, in what looks like a labor of love, the animals were designed to bring people into the store and to be sold in a silent auction, with proceeds going to charity. If the knitted hats and embroidered skirts don't fit your gift list, how about a full-size camel, weasel or ox? The windows are perfectly suited to the store's bohemian chic style and to pedestrians who take time to look while they shop.
(Lawrence K. Ho / Los Angeles Times)