Review: Jasper Johns at Matthew Marks Gallery a rare treat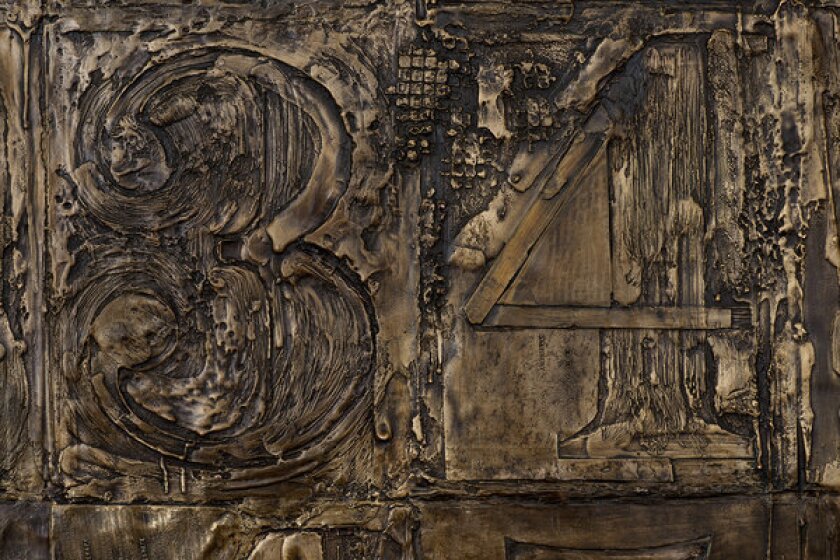 It is with a duly momentous air that Matthew Marks Gallery declares its current Jasper Johns exhibition to be "the first time in Johns's more than 50-year career that he has chosen to debut a major body of work in Los Angeles."
One cannot help but feel that some cosmic tide must surely have turned, for so iconic a member of the New York school to turn his attentions thus westward, with a gallery that is itself a recent high-profile transplant — though the advantageous proximity to Johns' recently opened retrospective in San Francisco couldn't have hurt.
Whatever the cosmic implications, the show itself is a rare treat, offering unmediated access to the workings of a truly robust creative intelligence. With nearly three dozen prints, paintings and bronze relief sculptures, all recent, spread across the gallery's two adjacent spaces, it presents the artist from multiple angles and finds him complacent in none. Indeed, there is scarcely a slack square inch in the show.
Working primarily with a handful of repeated motifs, many of which have appeared in his works for years — numbers, the outline of a boy, a vase that is formed by two faces in profile — Johns approaches composition in a manner that feels continually exploratory, shuffling and reshuffling familiar elements into ever more surprising configurations.
The number motif is an illuminating case in point. In the show's one large (9-by-7-feet) and twelve midsized (20-by-38 inches) cast bronze relief works, Johns presents rows of digits like blocks of type in a printing press, much as he has in countless past paintings. Though structurally identical, each work is utterly unique in effect, distinguished by lush variations in the color and the texture of the bronze, in the relative agitation and placidity of the surface.
Some are marked with stray bits of newspaper print; one bears the unmistakable imprint of a foot (Merce Cunningham's, apparently). In a particularly absorbing bit of visual trickery, the numbers tip sporadically from a positive to a negative imprint, giving the surface a rippling buoyancy.
The avidity that characterizes Johns' approach to the numbers, a motif that might well have become a cliché by now, is equally palpable in the show's paintings and prints. Indeed, Johns' apparently tireless capacity for shifting between media — his talent for bringing the lessons of one to bear upon the other while remaining somehow true to the material integrity of each — is one of the most remarkable aspects of the show.
None of this will be surprising to anyone familiar with Johns' work over the years. What is surprising is how fresh it remains — how unflaggingly energetic and filled with curiosity. Johns reminds us — as Cezanne a century earlier reminded us — that it doesn't take much: a row of numbers, bowl of fruit. What matters is the quality of attention paid.
Matthew Marks Gallery, 1062 N. Orange Grove Ave., Los Angeles, (323) 654-1830, through Jan. 5. Closed Sunday and Monday. www.matthewmarks.com
---
Inside the business of entertainment
The Wide Shot brings you news, analysis and insights on everything from streaming wars to production — and what it all means for the future.
You may occasionally receive promotional content from the Los Angeles Times.