Architect Lorcan O'Herlihy designs intimate spaces for a denser L.A.
It is one of those gloomy June mornings when Los Angeles feels as if it is being deflated by mist, when the Mexican fan palms disappear into alabaster skies.
The bleak conditions, however, seem to have no effect on the hum of activity at a construction site sandwiched between a McDonald's and a low-rise apartment building on Martin Luther King Jr. Boulevard in Exposition Park. Workers are welding, painting, scraping, hammering and otherwise adding the final layers to a four-story structure that, by early next year — just before Martin Luther King Jr. Day, in fact — will house 26 formerly homeless individuals and families, including veterans.
Weaving energetically through teetering ladders and mounds of extension cords is the building's architect, Lorcan O'Herlihy, the ruddy, 58-year-old founder of Lorcan O'Herlihy Architects, a firm based in the West Adams neighborhood.
He leads me on an informal tour of the structure, pointing out details: the L-shaped layout that allows every apartment to receive sunlight and cross ventilation; the elevated patio that provides a safe space for kids to play off the busy thoroughfare; and a notch in the side of the building that leaves a portion of the ground floor parking lot exposed.
"People could barbecue here, they could have an event here," says O'Herlihy gesturing at a pair of parking spaces. "You have to be able to make parking so that it can be reformulated."
He adds, "It's the same old stuff I do."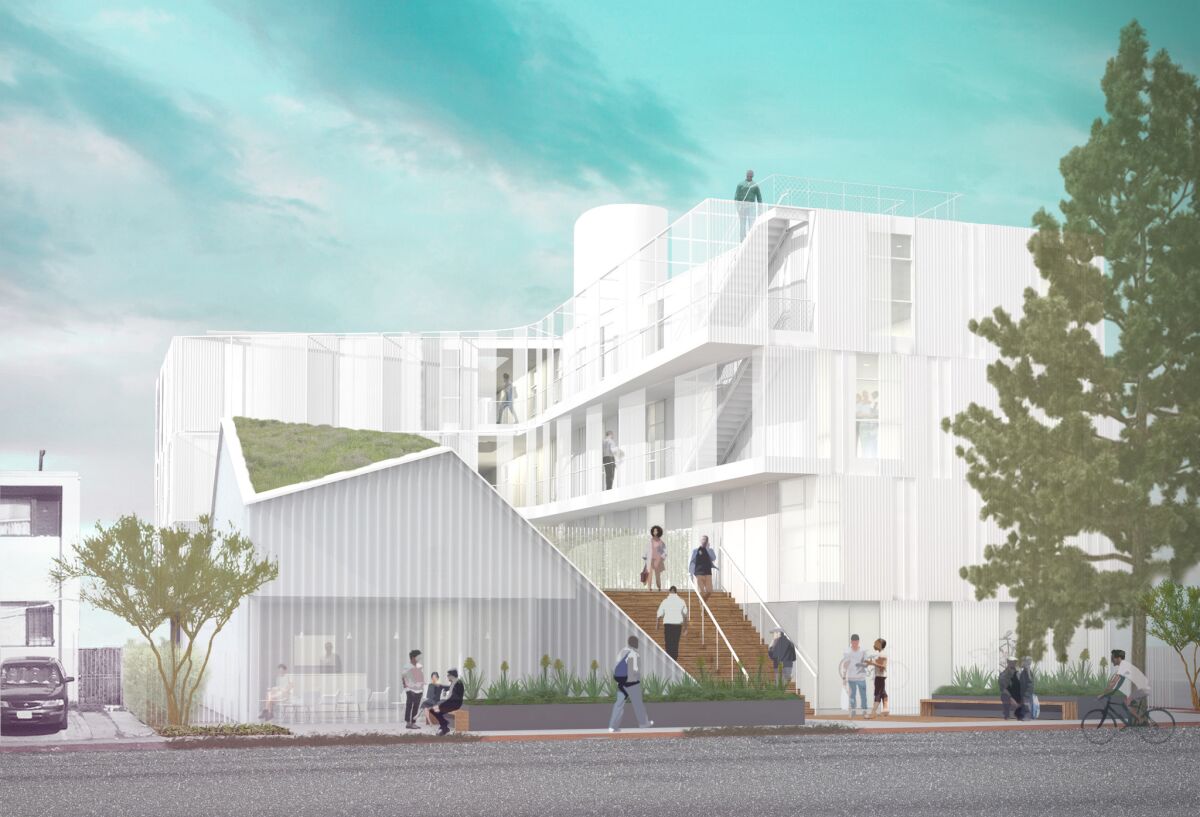 O'Herlihy's "same old stuff" is, in actuality, bringing plenty of fresh thinking to the issue of density at a time in which Los Angeles is building up instead of out — a time when changes in zoning, especially along transit lines, is adding more condos and apartments to the skyline, transforming the landscape of single family homes for which the city is known.
Over the last 15 years, LOHA has made a name for itself by working on projects that make innovative use of tight urban spaces. This includes finding ways to build diminutive parks out of slivers of land, employing underused rooftops as gardens and finding ways to make the point where a building meets the street more than just a blank stucco wall — such as Habitat 825, a condo complex in West Hollywood that features concrete benches out front that the public is welcome to use.
"How do you bring down light? How do you you bring down air?" he asks. "The question is how do you make a building truly sustainable? And not just by plopping down solar on the roof."
Moreover, his firm is bringing this thinking not to luxury housing but to more ordinary dwellings: dormitory buildings at UC Santa Barbara and moderately scaled apartments in places such as Westwood, Koreatown and Silver Lake — as well as the project on Martin Luther King Jr. Boulevard, built for Clifford Beers Housing, a nonprofit housing developer.
"No one calls us to look for high-end housing," says O'Herlihy, with a laugh. "We get sites off the beaten track — when people really want efficiency."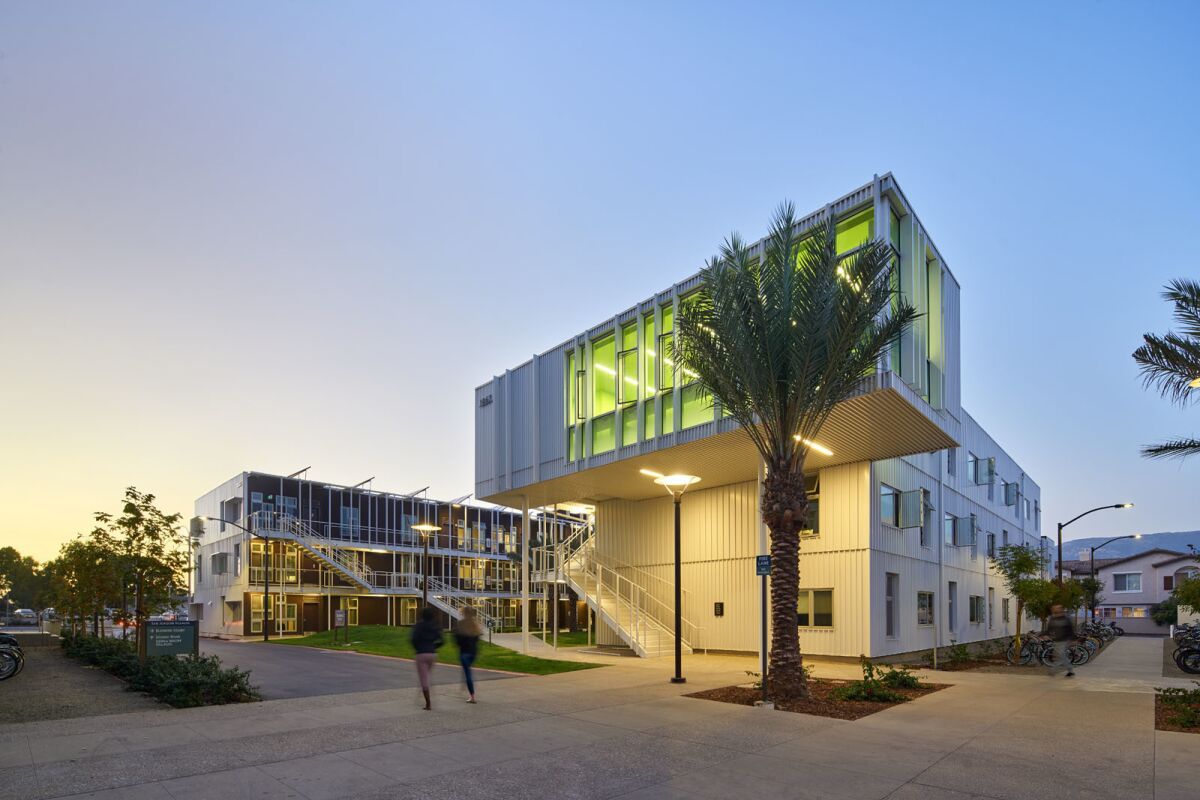 The question is how do you make a building truly sustainable? And not just by plopping down solar on the roof.

— Lorcan O'Herlihy, architect
But efficiency doesn't mean skimping on design.
"The idea is that you would like to live here," says O'Herlihy as he inspects a rounded shaft that will supply air and light to the apartments in the Martin Luther King Jr. development. "This project doesn't look different from any of the other work we do."
Cristian Ahumada, executive director at Clifford Beers, says he couldn't be more pleased by the design.
"The building came out absolutely beautiful," he says. "Most affordable housing, you can drive around and people will say, 'That's affordable housing.' It's a box. It has tiny little windows. It has nothing that breaks the monotony or the flatness of a surface. With Lorcan, we played with breaking up the space, we played with natural ventilation, with open courtyards … Those details are huge."
The goal, says O'Herlihy, is to create space where people could "feel uplifted after being on the street."
"You can pose an argument with architecture, you can raise the level of buildings to the point where your impact is significant — where people are inspired to be there," he adds. "That's immensely important to me."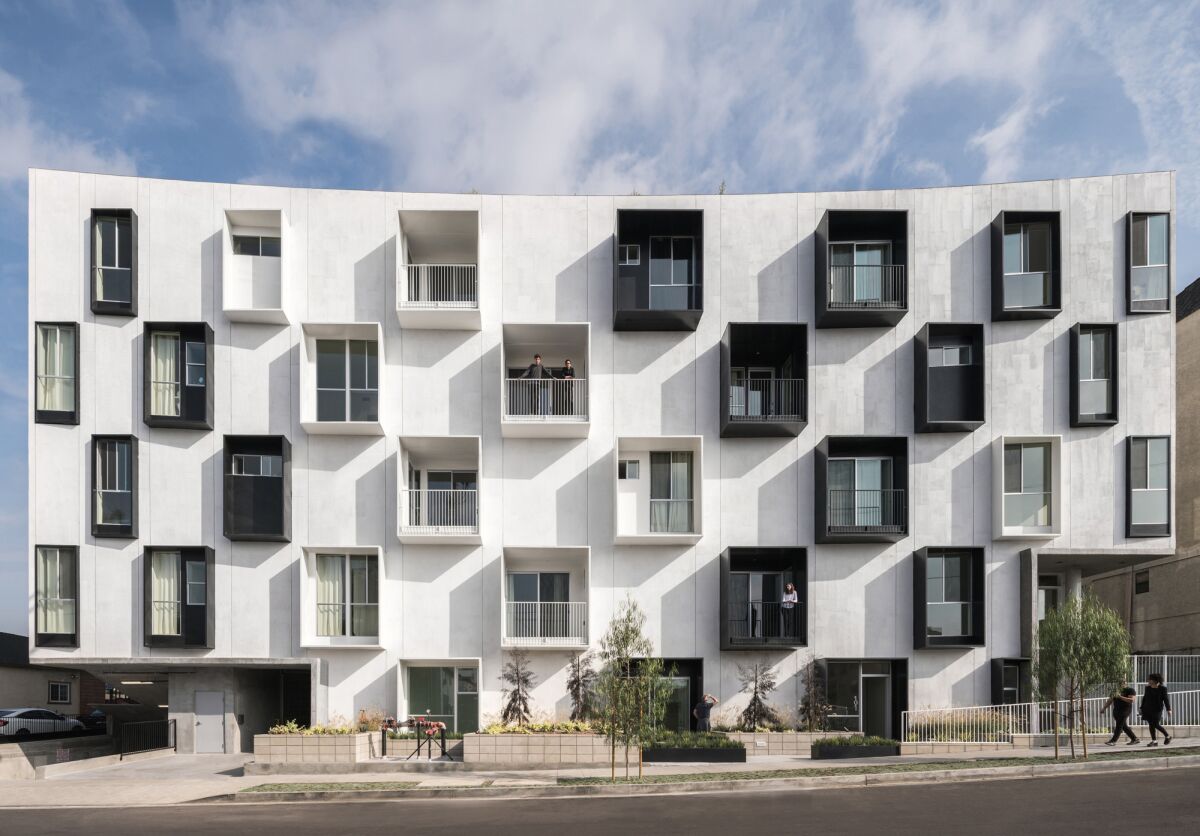 You could say O'Herlihy was born into architecture.
His father, Dan O'Herlihy, born and raised in Ireland, had a bachelor's degree in architecture, but never pursued it professionally. Instead, he got sidelined by acting, appearing on stage in Europe and in a rack of Hollywood films. He even scored an Oscar nomination in 1954, for his role in Luis Buñuel's "Robinson Crusoe." (Some may also recognize his father from "Robocop," where he played a villainous corporate overlord who wanted to redevelop and gentrify a future Detroit.)
Acting afforded the O'Herlihy family an urbane existence. The family lived in Dublin and Los Angeles, and wherever Dan happened to be shooting a film. Lorcan was born in Ireland but spent his childhood years in Los Angeles. (He speaks English like an American, though inflections of a brogue surface occasionally, in particular when he says "Ireland," which comes out as "Ahr-land.")
"My dad would do a film in Russia and he'd bring us on location in Russia," says O'Herlihy. "I lived in Rome. I lived in Madrid — Almería, outside of Madrid. I was always fascinated by cities and I was always fascinated by buildings."
When it came time to choose a field upon enrolling at Cal Poly, San Luis Obispo, the 16-year-old Lorcan chose architecture, largely because he liked to draw. He enjoyed "the materials, the tactility, the ability to draw things that don't exist."
But even if architecture ran in his genes, O'Herlihy's father wasn't convinced it was right for his son.
"My dad used to ask me, 'Why?' " says O'Herlihy. "I'd say, 'I love drawing.' He'd say, 'Get back to me when you really know.' "
That moment came in his fourth year of college, when he read "Between Silence and Light," a book by the influential Louis Kahn, the architect behind the Salk Institute in La Jolla.
"I was 19," he says. "I wrote my dad this 12-page letter talking about Lou Kahn's work. I couldn't sleep for three days."
After graduating from San Luis Obispo, a master's degree from the Architectural Assn. School of Architecture in London followed — as well as a string of jobs, throughout the 1980s, at the offices of prominent East Coast architects: Kevin Roche, who was designing a new pavilion for New York's Metropolitan Museum of Art; I.M. Pei, who was then developing his concept for the glass pyramid that would stand before the Louvre in Paris; and Steven Holl, who was creating a development for the main square in Seaside, Fla.
"They all taught me a passion for architecture, a commitment," says O'Herlihy. "They are all about an having an appreciation of contemporary architecture."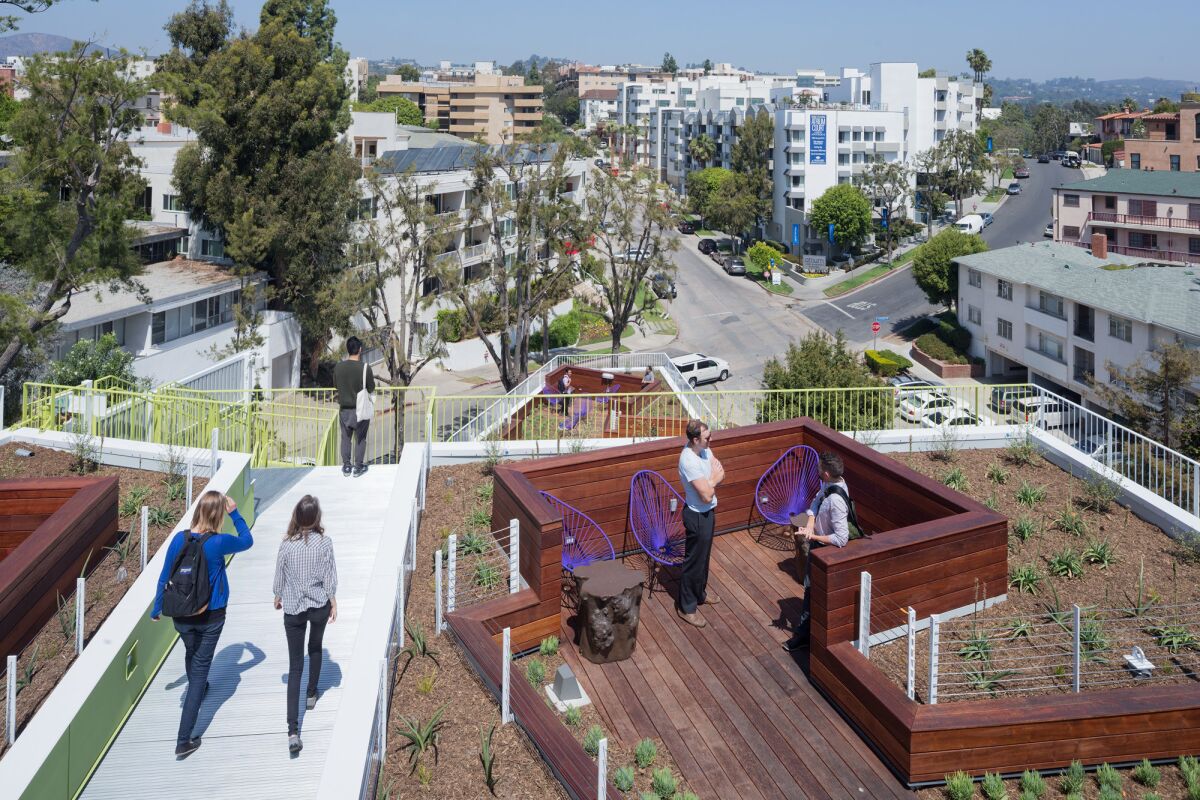 In the late 1980s, he returned to Los Angeles, where he worked independently, designing commercial spaces and private homes, including a house for his parents in Malibu, which earned him an award from the American Institute of Architects — one of dozens of honors he's received over the years.
By 1994, he had founded LOHA, which currently employs more than two dozen people. But it was the design of his own home, completed in 2004, that represented a turning point.
The Vertical House, as it is called, occupies a tight roughly 1,200-square foot lot crammed between apartment complexes off Rose Avenue in Venice. For that project, remembers O'Herlihy, "I was the architect, I was the contractor, I was my own demolition."
To make up for the lack of real estate — the house is only 19 feet wide — the structure rises to three stories. To draw light while maintaining privacy, he staggered narrow, vertical windows around the facade, using these to frame the best views. They also give the building a sense of motion, as if the windows were sliding down the structure like the rain of geometric shapes in a game of Tetris.
"I had a really nice reputation before that," says O'Herlihy. "But my house was important because it was about urban culture."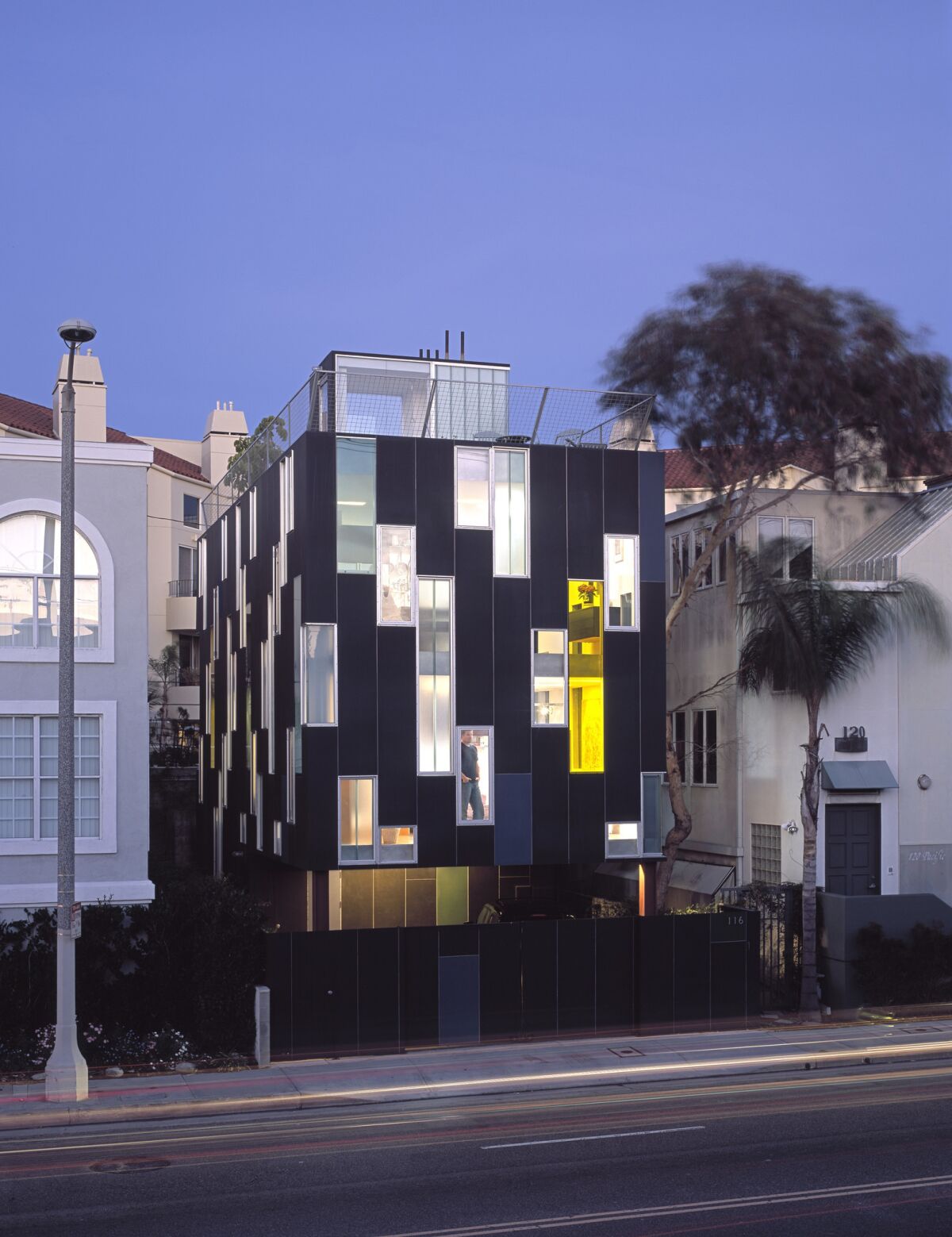 A keen eye to the urban condition is something that has informed O'Herlihy's work ever since.
There are the bus shelters his firm created for the Big Blue Bus system for the city of Santa Monica. The shelters include a kit of components that can be deployed according to need: A busy bus stop can get multiple circular blue shade structures, while lightly trafficked stops make do with less. Urbanism writer Alissa Walker of Curbed describes them as a "dignified place to wait for the bus" — no small thing in a region where bus stops often have a cruel lack of shade.
For an 11-unit apartment building on Formosa Avenue in West Hollywood, he convinced the developer to turn part of the land into a pocket park, which serves as a shared green space for the wider community. He says the move was inspired by his time in places such as Italy and Spain.
"You go to the great cities and they have that," he says, "these small piazzas."
And there are the projects he has built near historic structures. This includes SL11024, a student and faculty housing development in Westwood that stands opposite Richard Neutra's Strathmore Apartments, and Habitat 825, from 2007, which resides next door to Rudolf Schindler's house. Schindler's 1922-built home is now home to the MAK Center for Art and Architecture.
The latter, completed in 2008, stirred up a storm of controversy when it was first proposed. But it demonstrates how the architect navigates fraught urban spaces: The portion of the building closest to the Schindler House is stepped down and its facade gently pulls away from the property line — so as not to blockade its neighbor.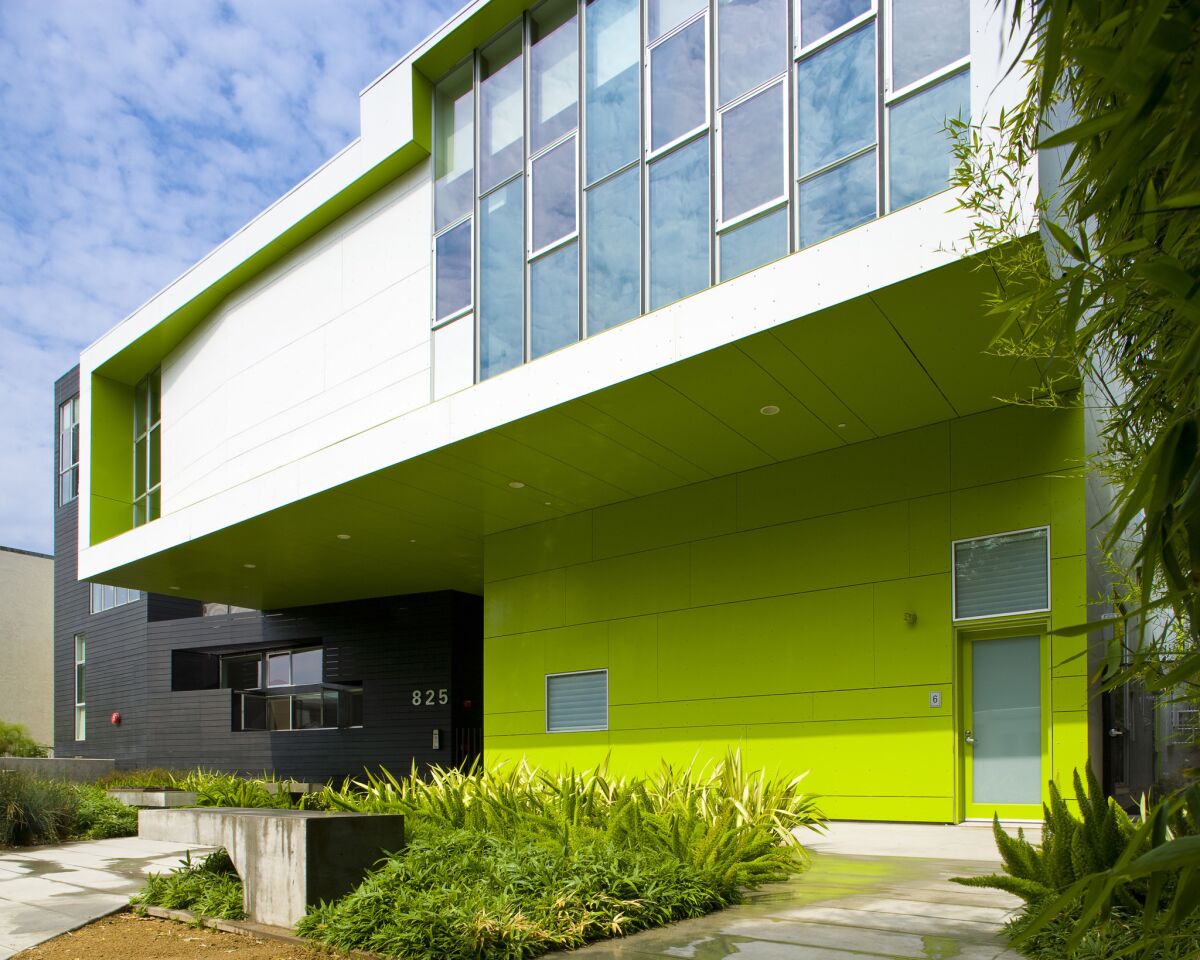 O'Herlihy recalls the wrangling over Habitat 825 as "painful" and he remains grateful to fellow architects, such as Thom Mayne, of Morphosis, for stepping forward and supporting his design. But he says that studying the Schindler House provided him with lessons in urbanism too.
Like a lot of L.A. houses, which are sealed off from the street by hedges, walls or chain-link fences, the Schindler House is fringed by a row of bamboo trees.
"It may be a bamboo wall, but it's a wall," he says. "What I do now is try to break down that wall — widen the sidewalk, break down those barriers."
As Los Angeles grows ever more dense, quality of life will, to some degree, depend on quality of street life. O'Herlihy aims to design for streets that feel open rather than walled off, a concept that he described as "amplified urbanism" in a catalog of his work that was published last year, an attempt "to reimagine the creative, fluid interaction between public and private spaces."
This openness is something he attempts to bring to all of his projects — including another social housing project he is working on in South Los Angeles and a pair of urban planning studies his firm is conducting for the city of Detroit. In the supportive housing project on Martin Luther King Jr. Boulevard, where the location on a busy thoroughfare required a fence — he placed it at the top of the stairs, so the first sight a visitor has of the building isn't a barrier.
"Los Angeles is a privatized city with privatized land," he says, pointing to the building's perimeter. "What if there was an approach where the edges were more accessible to the public? What is the urbanistic quality? Can you do housing and borrow a little space for the public?"
"Imagine how the city would change if you multiply that times a hundred."
Sign up for our weekly Essential Arts & Culture newsletter »
---
Get our L.A. Goes Out newsletter, with the week's best events, to help you explore and experience our city.
You may occasionally receive promotional content from the Los Angeles Times.