A series of "beta" events will be staged in completed storefront areas of The Main Museum in downtown L.A. The events will kick off with a performance by Suzanne Lacy and Andrea Bowers.
On a warm Friday afternoon in downtown Los Angeles, the ground floor of the Hellman Building on East 4th Street is awash in the scrape and bang of construction. A repairman patches holes in the floor with cement, while a painter rollers the walls a universal shade of art-world white.
This lobby will one day become a portion of the Main Museum, the downtown arts institution set to open its doors sometime in 2018. But even though the renovations aren't close to being done, artists Suzanne Lacy and Andrea Bowers are taking over the unfinished space for 10 days starting Sunday for "Performance Lessons," one of a series of informal happenings in advance of the museum's official opening.
In the piece, Lacy, who is known for her work in performance and social practice, will teach Bowers, an artist whose politically minded practice is rooted firmly in drawing, how to be a performance artist.
They will also live in the museum — in a pair of newly painted offices spaces that overlook the lobby.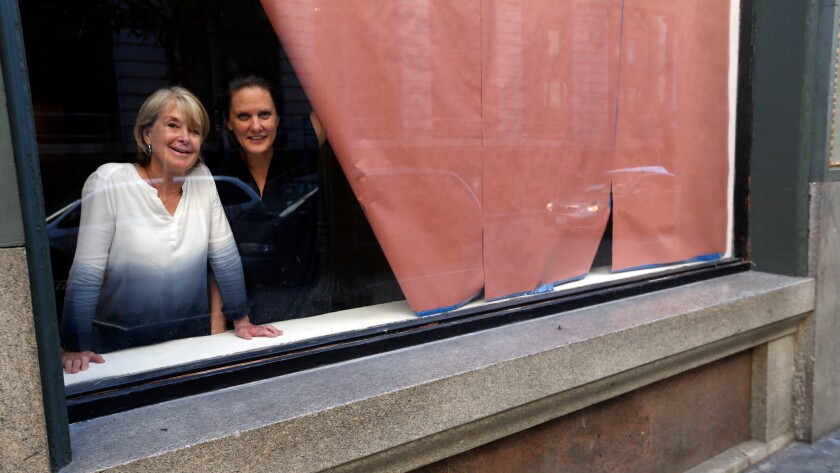 "Mine will be quite small and monk-like," says Lacy, gesturing at her set-up.
"We're getting beds," pipes in Bowers with wry smirk. "And there will be something to sit on."
Bowers and Lacy are art world colleagues. They have both taught at the Otis College of Art and Design (though Lacy recently left to join USC). And after meeting at a REDCAT event in 2006, they've developed the type of easy rapport that good friends develop over a course of a decade.
"Performance Lessons" is a way of exploring an exchange of knowledge between two generations of women with intersecting interests. Lacy received her degree from the feminist art program at CalArts in the early '70s; Bowers got her MFA from the same institution two decades later.
Lacy has staged performances that deal with issues of domestic violence in an Ecuadorean bullring; Bowers has created drawing and photo-based installations that focus on questions of protest and labor.
At the Main Museum, one will learn from the other — and from whoever else happens to wander into the space.
A series of "beta" events will be staged in completed storefront areas of The Main Museum in downtown L.A. The events will kick off with a performance by Suzanne Lacy and Andrea Bowers.
"There is this tradition among male artists of attacking the generation before," Bowers says. "I've been interested in an alternative tradition that is matriarchal and nurturing."
But if you're expecting 10 days of dry art school pedagogy, think again.
They've planned a conversation about whether feminism is funny, a demonstration of Japanese archery and even a special Wiccan gathering.
"I have always had a hard time with theory," Bowers says. "One of the ways I've overcome it is I try to ask an artist that I really look up to teach me about it, or to explain it to me. Or I go to someone and say, 'You were studying with Rosalind Krauss, what does this mean?'
"It's this idea that history is a social thing, not just a text," she adds. "It's transmitted."
The focus, though, will be on performance. Once a day, Lacy will give Bowers a performance-related assignment, which she will proceed to work on the rest of the day. From noon to 8 p.m., the doors will be thrown open so the public can observe and join in.
"We might do some warm-up exercises to get started," Lacy says to Bowers with a grin, "like take off your clothes."
"I don't take clothes off!" Bowers says, laughing. "I think of ideas."
The pair's contagious laughter bounces riotously off the Main Museum's empty walls.
Bowers, however, is nonetheless rattled by the idea of perhaps having to take it all off, a performance-art trope. "I may have to get one of those nude body suits," she says with some resignation.
"Performance Lessons" is the inverse of a 2014 performance that Lacy and Bowers did in New York, in which Bowers taught Lacy how to draw. Called "Drawing Lessons," the piece took place at the Drawing Center, during which the artists inhabited the galleries (in tents and cots) and engaged in all manner of drawing-related activities.
"She asked me to bring props, stuff I wanted to draw," Lacy recalls. "So I brought stuffed animals."
"Not stuffed," interjects Bowers. "Taxidermy!"
"Yes," Lacy confirms. "I had turkeys, skulls, all these other animals."
"At night it was kind of scary," says Bowers. "I would push all her stuff, all this taxidermy, to the other side."
For sessions devoted to figure studies, Bowers invited male curators from the area to participate as models — but the rule was they had remove at least one article of clothing.
"The amazing Nato Thompson [of the arts nonprofit Creative Time] took everything off for us," Bowers recalls. "And there were like 20 to 30 people drawing him."
Bowers says the experience of "Drawing Lessons" was energizing — attracting a constellation of important artists, from Martha Wilson to Mierle Laderman Ukeles — to participate in informal chats and full-blown art-making sessions. Of course, the core mission of the piece may not been entirely fulfilled because Lacy wasn't exactly the world's best student of drawing.
"She could not record what she sees," Bowers says, chuckling.
"I didn't really care," Lacy says.
"She assumes what something looks like and records that," Bowers says.
"Really what we both wanted to do was launch a conversation about feminism and intersectionality and the things we care about," Lacy says. "How do you negotiate power? How do you negate authority? … That's ultimately what we did."
"Performance Lessons" will likewise also draw on the knowledge of important Los Angeles artists. There will be presentations by renowned performance artist Barbara T. Smith and dancer Simone Forti, as well as an opening night talk by Nao Bustamante and Rodney McMillian.
On election night — the last night of the show — they will talk about art and politics and host a special election party.
The project, in many ways, explains Lacy, pays homage to the neighborhood and to the history of performance art in Los Angeles — to the 1970s, when artists began staging actions in old industrial buildings and empty warehouses around the city's core. "Downtown L.A. was at the heart of that moment," she says, "when performance art started becoming a thing."
Allison Agsten, the Main Museum's director, says that "Performance Lessons" is just the sort of work she was seeking to launch the beta series, a show that goes beyond simply hanging an object on the wall.
"It's art that is not just about the endpoint," she explains. "It's really about education. … I want this to be the kind of institution that gives this kind of work a platform."
Bowers and Lacy, she adds, are especially well-suited to pull off the piece.
"The dynamic between [Bowers and Lacy] is incredible," she says. "If this show is anything like our meetings, then it will be both energizing and wildly informative."
+++
"Performance Lessons: Suzanne Lacy Teaches Andrea Bowers Performance Art"
Where: Beta Main, 114 W. 4th St., downtown Los Angeles
When: Opens Sunday, Oct. 30. Runs through Nov. 8, noon to 8 p.m.
Info: mainmuseum.org
Sign up for our weekly Essential Arts & Culture newsletter »
Find me on Twitter @cmonstah.
ALSO
Veterans Make Movies wants us to see an invisible population, the less than 1% of Americans who serve
From Clinton's shimmy to Pepe the frog: Memes and the LOLcat effect on the 2016 election
You can ask the artist formerly known as 'Mattress Girl' artist anything, but Emmatron might answer
White suitor, black maid: Martine Syms takes on black women representations in 'Misdirected Kiss'
Art, Reagan and blackface: Edgar Arceneaux examines controversial performance by Ben Vereen
---