You can ask the artist formerly known as 'Mattress Girl' artist anything, but Emmatron might answer
Emma Sulkowicz, the young woman who made international headlines by carrying a mattress around Columbia University as a work of performance art, will open her first solo art exhibition this weekend — at Coagula Curatorial in Los Angeles.
The exhibition, titled "Self-Portrait," will of course include some performance. Namely, the artist sitting on a pedestal, where viewers are invited to step up and ask her whatever they want. It also will include a life-size cast mold of Sulkowicz dubbed the "Emmatron," which will respond to a set of pre-set questions the artist doesn't want to answer. Viewers will be able to interact with the sculpture via an app.
"You can have a conversation with Emma about the weather or her visit to L.A. or anything," says Coagula founder Mat Gleason. "But if you bring up the things that people have consistently asked, she will send you to the Emmatron. These are all the things she was already asked by the media when she was doing her performance at Columbia."
Gleason invited the artist to do a show after he met her through mutual friends in Los Angeles last spring.
"To me, the mattress piece was such an epic statement," he said. "I followed every story in the news. ... And when I met her, I could tell in a short conversation with her that she is someone who thinks deeply about her art."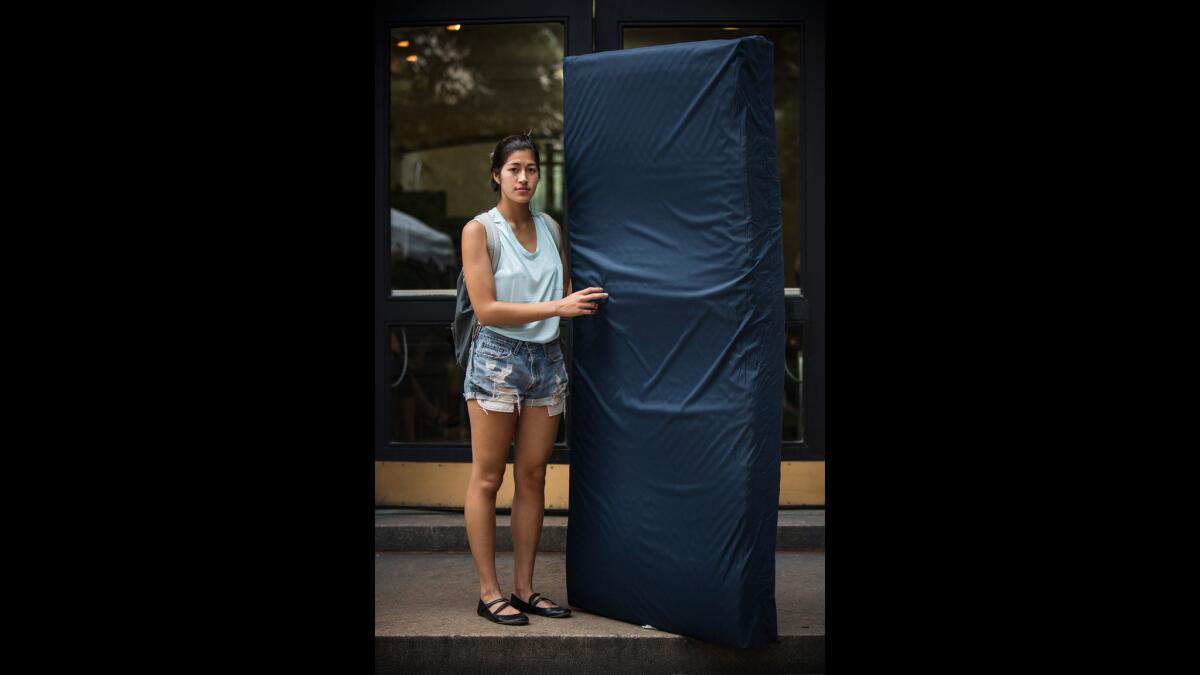 Sulkowicz achieved fame in 2014 after she began staging a performance at Columbia titled "Mattress Performance (Carry That Weight)." The piece, which served as her senior thesis, also was a protest against sexual assault on campus. Specifically, it stemmed from what Sulkowicz alleges was her own rape at the hands of a fellow student, whom a university disciplinary panel ultimately declared "not responsible."
For the work, Sulkowicz stated she would carry the mattress until the male student left or was expelled. He remained in school, so she carried her mattress throughout the year and even at graduation — drawing the attention of the media, including one of the chief art critics at the New York Times. (The young man she accused is now suing Columbia for failing to protect him from what he alleges was an act of gender-based harassment. The university has filed a motion to dismiss the suit.)
Since she graduated, Sulkowicz has continued to draw attention and generate controversy. Last summer, she created an online video titled "Ceci N'est Pas Un Viol" ("This is Not a Rape"), an eight-minute performance that purportedly showed the artist having consensual sex that turned violent.
"I am interested in what the public does with it," Sulkowicz told Artnet's Cait Munro of that work at the time, "which begins with the way they deal with it from the moment it's disseminated."
Now the artist is unveiling her first solo gallery exhibition — and another performance that will no doubt also generate assiduous coverage on both social and regular media. In addition to the pedestal performance and the Emmatron, the show will feature a series of small 3-D printed replicas of the artist, dubbed "In-Action Figures," available as part of an edition of 20.
Gleason says Sulkowicz is playing with her own celebrity for the purpose of the exhibition. "There's a positing of questions there," he said, "of can one move beyond the celebrity? Can an artist make art after trauma?
"I have complete confidence that she will move beyond that," he added, "that she will move beyond the mattress thing."
Emma Sulkowicz, "Self Portrait," opens at Coagula Curatorial at 7 p.m. Saturday and runs through April 3. 974 Chung King Road, Chinatown, Los Angeles, coagulacuratorial.com.
Find me on Twitter @cmonstah.
MORE:
Mattress Girl at Columbia: Victim art turns everyone into a critic
Ava DuVernay's Oscar-week gift: a rare screening with the Broad of Haile Gerima's 'Ashes and Embers'
Keanu Reeves stars in the art book 'Shadows' by L.A. artist Alexandra Grant
Get our L.A. Goes Out newsletter, with the week's best events, to help you explore and experience our city.
You may occasionally receive promotional content from the Los Angeles Times.