Review: Betye Saar's gun-totin' mammies turn stereotype into power at the Craft & Folk Art Museum
They stand as most unusual sentinels around the perimeter of the gallery. A black mammy figure in a red dress holds a broom and a rifle. Another in a dotted apron clutches a high-powered rifle. Yet another, decked out in blue dress and white apron, brandishes a large pistol in each hand, along with a look of total exasperation.
In American popular culture the mammy figure was a depiction of servility. But in the hands of Los Angeles artist Betye Saar, she becomes a warrior, brandishing weapons, contending with injustice, facing the darkest chapters of American history.
A small, taut show at the Craft & Folk Art Museum in Los Angeles gathers roughly two dozen works made by the artist over the last couple of decades. "Betye Saar: Keepin' It Clean," as the exhibition is called, focuses on Saar's washboard pieces. The works employ vintage washboards as a central motif in exploring aspects of black female identity in U.S. history. (Washboards are a nod to one of the few professional opportunities available to black women at the turn of the 20th century: the grueling work of laundry.)
Many of these assemblages also feature the stereotypical figure of the mammy, most famously personified by Aunt Jemima, of pancake mix fame.
"Historically, the mammy was the ultimate image of black female servitude in the American psyche," writes UCLA historian Steven Nelson in the exhibition catalog. "She was kind and giving. She cooked and cleaned and did the laundry. She took care of the children. She was harmless."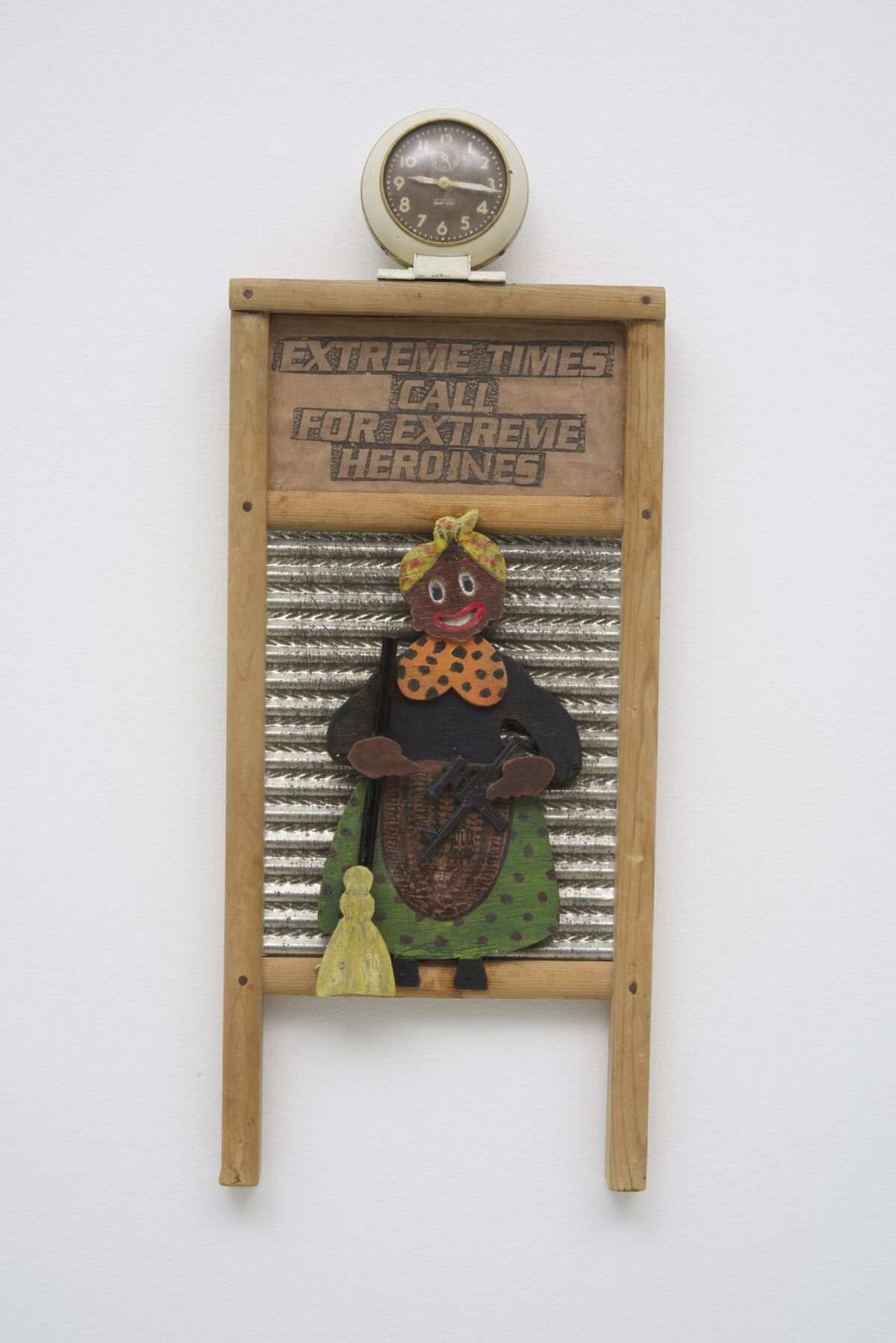 Saar makes her fierce.
In one assemblage, "A Call to Arms," from 1997, the artist takes a mammy crumb brush and gives her rifle bullets for arms. The figure stands before an image of a lynching and atop a washboard bearing a fragment of a poem by Langston Hughes: "I've been a victim: The Belgians cut off my hands in the Congo."
This mammy is no servant. She's a fighter.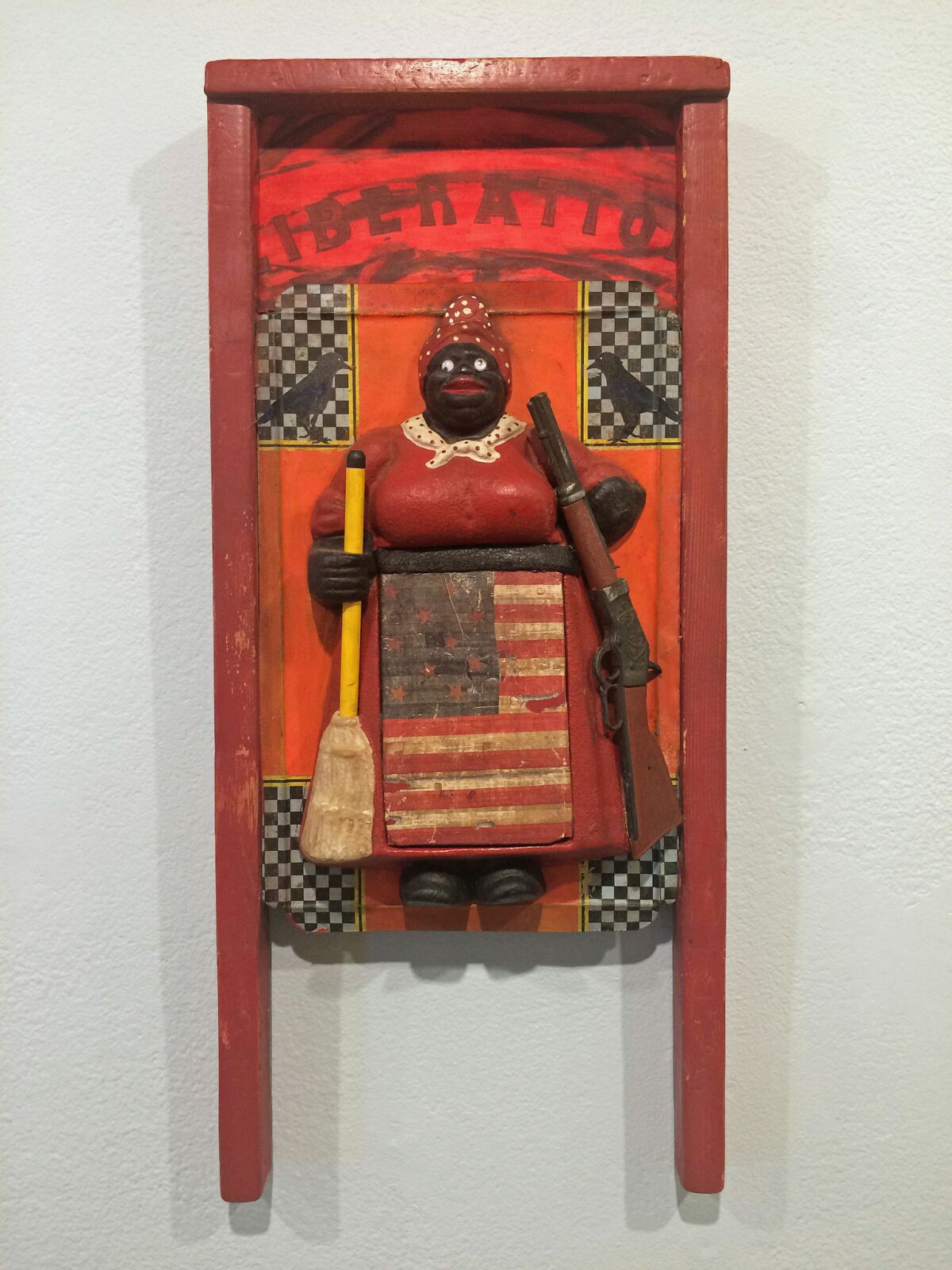 This is something Saar has been doing for decades. The artist, who turns 91 at the end of the month, made the first of these searing assemblages in 1972. "The Liberation of Aunt Jemima" (now in the collection of the Berkeley Art Museum and Pacific Film Archive) features a mammy figurine clutching a rifle and a grenade. A black power fist rises up before her. It remains a key work of American art and of the Black Arts Movement of the 1970s.
In addition to the washboard pieces, the show at the Craft & Folk Art Museum contains some of the works that were on view in the artist's retrospective at the Scottsdale Museum of Art in Arizona last year. (The artist remains sorely overlooked in Los Angeles, where her solo museum shows are few and far between.)
This includes a sculptural installation of a seemingly innocent baptismal gown — one that's been trimmed with slurs describing black children. Across the gallery, a simple bedsheet and ironing board is anything but. The sheet has been lightly embroidered with the letters KKK, the ironing board stamped with an image of slaves in a ship's hold. (This latter work, titled "I'll Bend, But I Will Not Break," was made in 1998, though an emboldened KKK makes it feel more urgent than ever.)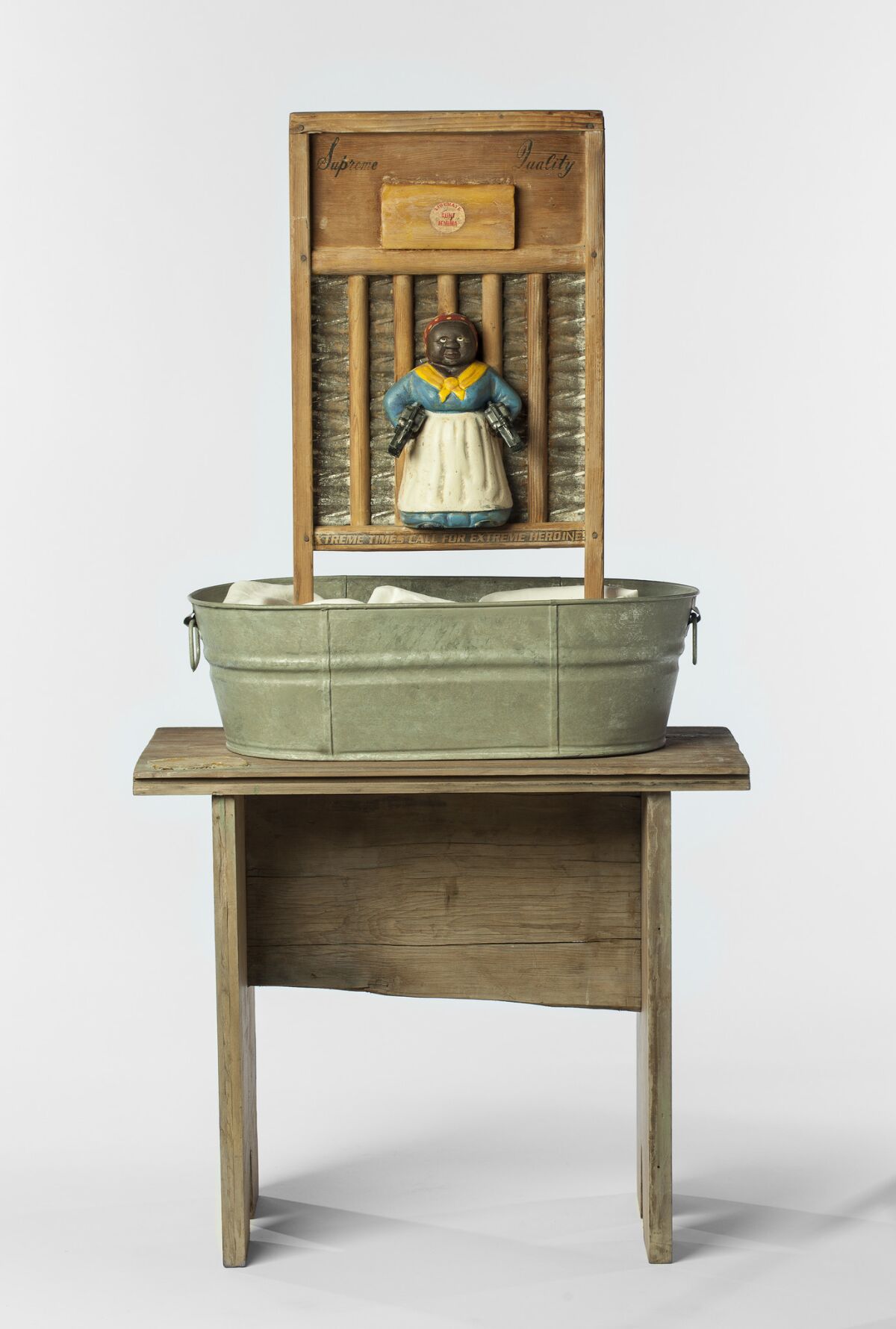 It's the simple washboard assemblages, however, and their collective army of militant mammies, ready to battle, that is perhaps most striking — toxic kitsch transformed by the hands of an artist into trenchant tokens of power.
---
'Betye Saar: Keepin' It Clean'
Where: Craft & Folk Art Museum, 5814 Wilshire Blvd., Los Angeles
When: Through Aug. 20
Info: cafam.org
Sign up for our weekly Essential Arts & Culture newsletter »
ALSO
For Betye Saar, there's no dwelling on the past; the almost-90-year-old artist has too much future to think about
Betye Saar's art on race couldn't be timelier. So why aren't more museums showing her work?
His art centers on African American actors whose film titles 'Fade to Black'
Inside Alejandro Iñárritu's VR border drama at LACMA: What you will see and why you might cry
---
Get our L.A. Goes Out newsletter, with the week's best events, to help you explore and experience our city.
You may occasionally receive promotional content from the Los Angeles Times.