How Colombia's 'Birds of Passage' directors flip the script on the typical narco movie
Films about narcotrafficking in Latin America often go something like this: A charismatic young man of limited economic means gets into the drug hustle and eventually comes to run a vast business empire. His ego gets the best of him and he dies in a hail of bullets. In between, there are lascivious shots of money, over-decorated homes and scantily clad women. If it's a U.S.-made film, one of the central characters will be a DEA agent of generally good morals if questionable tactics. Roll credits. The End.
Now imagine a narco movie told as an epic about two families over a generation, in which indigenous tradition is ruthlessly shaped by outside forces and in which women play a defining role. In this world, dreams have currency and messages are delivered not by gun-toting sicarios, but by an elderly palabrero, or word messenger, who serves as the emissary between powerful clans.
"Birds of Passage," the latest film from Colombian filmmakers Ciro Guerra and Cristina Gallego, takes the pat narrative of the typical drug-running movie and transforms it into a hallucinatory saga.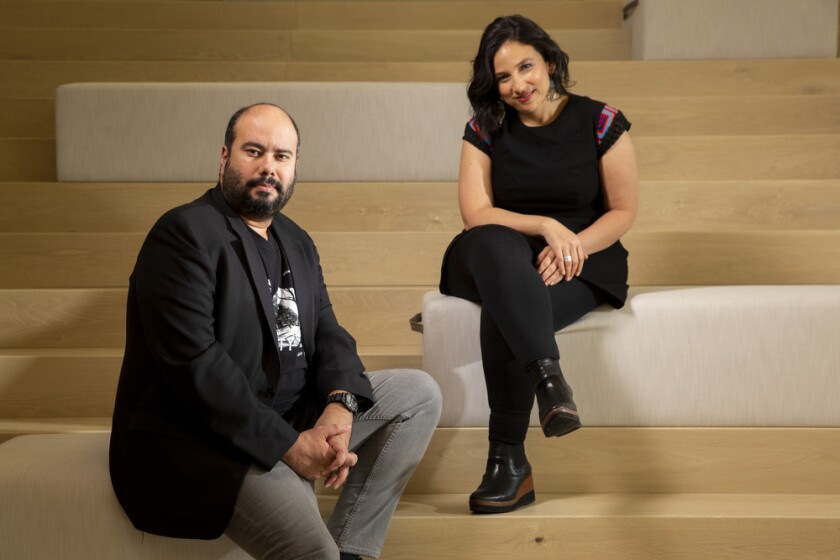 Justin Chang on two Spanish-language dramas at Cannes: 'Everybody Knows' and 'Birds of Passage' »
The film, which was short-listed for this year's foreign film Oscar and opens Friday in Los Angeles, contains not a single reference to the Colombian narcos of the popular imagination: no Pablo Escobar, no cocaine godmother Griselda Blanco, no Cali Cartel. Instead, the focus is on how the early marijuana smuggling trade of the 1960s and '70s reshaped the lives of the Wayuu, an indigenous ethnicity from La Guajira, a remote desert region in the north that is as arid as it is literary. (The family of Nobel laureate Gabriel García Márquez is from the vicinity.)
"Birds of Passage," in fact, actively counters the ways Hollywood has often glorified the drug trade with cinematic yarns about charming anti-heroes.
"This history of narcotrafficking is the history of the destruction of our society, of the moral foundations of a society," says Guerra. "For us, 'Birds of Passage' was a way for us to tell that story — not the one in which someone gets rich and glamorous."
In the process, it reimagines the types of narratives that could be deployed to tell such a tale.
"Gangster films have been made for a long time, and there are histories and themes that get repeated," says Gallego. "We felt that the setting of La Guajira and the world of the Wayuu gave us an opportunity to tell this story in a different way, subverting the genre in the process — a genre that has been very macho, a genre that has been very much of and about men."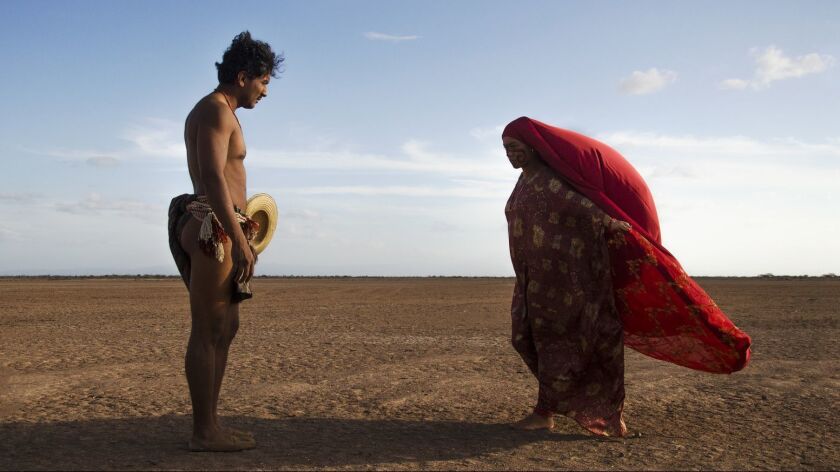 ALSO: Ciro Guerra on his Oscar-nominated Amazon fable 'Embrace of the Serpent' »
"Birds of Passage" is probably the only narco movie to begin with a Wayuu rite that marks a young woman's coming of age. In that mesmerizing scene, Zaida, played by Natalia Reyes, dances with a young suitor named Rapayet (played by José Acosta) — her billowing red wrap a bright splash of color against a canvas of cracked earth.
It is an ambitious movie from a pair of ambitious filmmakers.
Guerra nabbed an Academy Award nomination for foreign language film in 2016 for his hallucinatory "Embrace of the Serpent," which turned the tired trope of the jungle exploration picture into an examination of the survival and loss of indigenous identity in the Amazon. He is also knee-deep in post-production for his first English-language movie, "Waiting for the Barbarians," based on the novel by J.M. Coetzee, starring Johnny Depp and Mark Rylance.
Gallego is a longtime producer — she has a dozen, mostly Latin American films to her credit — and has served as producer on all of Guerra's Spanish-language films, including "Serpent" and his earlier "The Wind Journeys," a critically acclaimed odyssey about a troubadour's trek to return a cursed accordion.
The storylines in "Birds of Passage" inspired her to join Guerra, her longtime collaborator (and former romantic partner), on the director's perch, some of it motivated by the perspective she could bring to the project.
"All of these stories are generally stories told by men," she says. "And stories told by men are stories of how many dead, and how many cars did they have, and how many weapons, and how many women. The stories that have not been told are that of the women."
In "Birds of Passage," major narrative threads feature strong women: Zaida, whose marriage to Rapayet, now a rising smuggler, proves fateful; her daughter, Indira, who must contend with the violent legacy she inherits; and Úrsula, Zaida's mother, and the powerful family matriarch (played by the fierce Carmiña Martínez), who tells Rapayet, when he comes courting: "I'm capable of anything for my family and my clan."
"It's a film about the clash between feminine thought and masculine actions," adds Gallego. "It's about the clash between the rational world and the intuitive, between tradition and wild capitalism."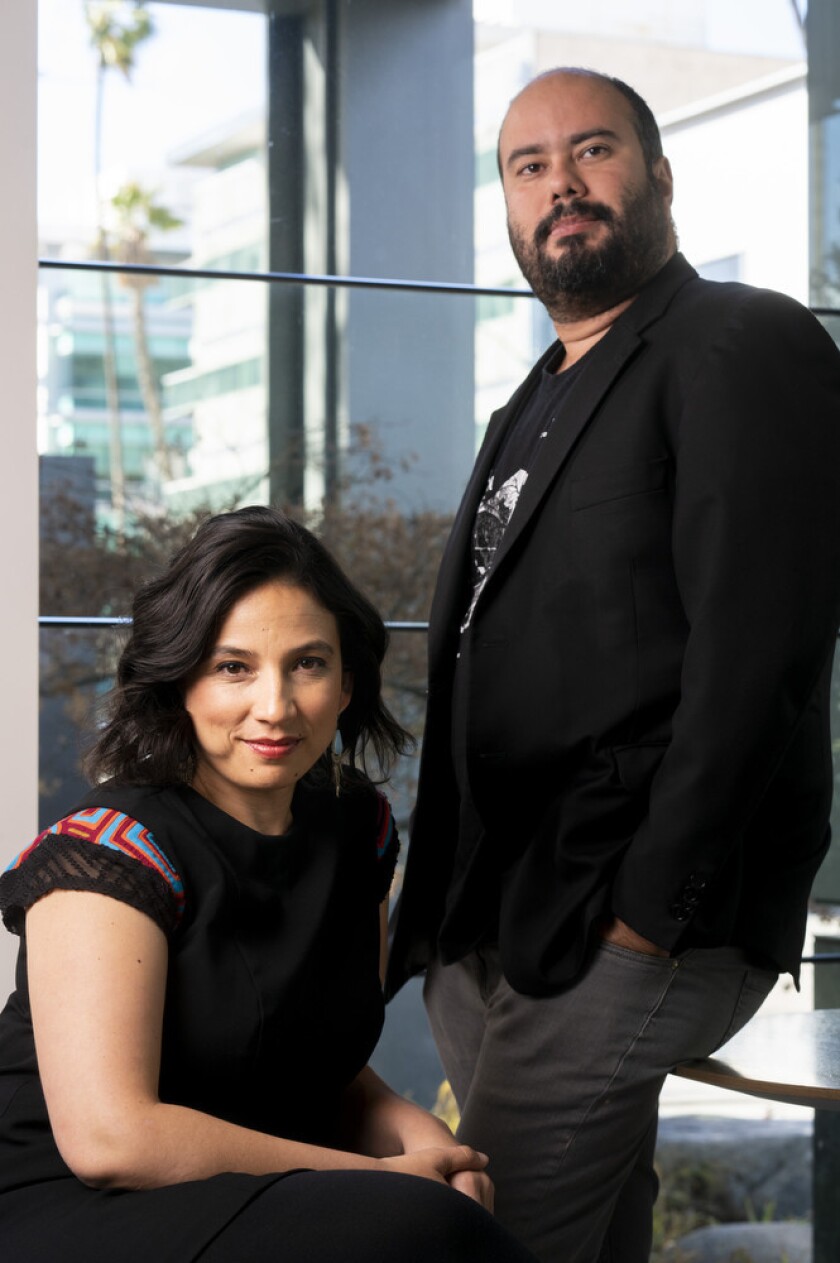 ALSO: How foreign directors are flipping the script on Hollywood story ideas »
"Birds of Passage" is inspired by events that took place in Colombia in the 1960s and '70s. It was the days before Escobar and before cocaine. When Wayuu families in La Guajira began to traffic in marijuana, their remote desert outpost was an ideal place in which to land the small aircraft that could easily move the merchandise to its final destination: the United States.
The Bonanza Marimbera, as this early marijuana boom is called, marked the earliest days of the drug trade in Colombia. But it has received little in the way of coverage — and thereby artistic treatment.
"You'll find little on the internet," says Guerra. "In the end, there are like five books on the subject: two novels, a journalistic account and two academic theses."
"It's not a really known period in history even though it affected the country in a large way," Gallego says. "Many people were involved in the business of the Bonanza Marimbera through money laundering or other types of business."
The trade was so profitable that Wayuu smugglers often built massive European-style McMansions for themselves in the desert; local banks didn't count money, finding it easier to weigh it instead.
"It's like a secret history — a history that many people had something to do with, but that remains this unspoken past," Gallego says. "The film was an attempt to confront this taboo."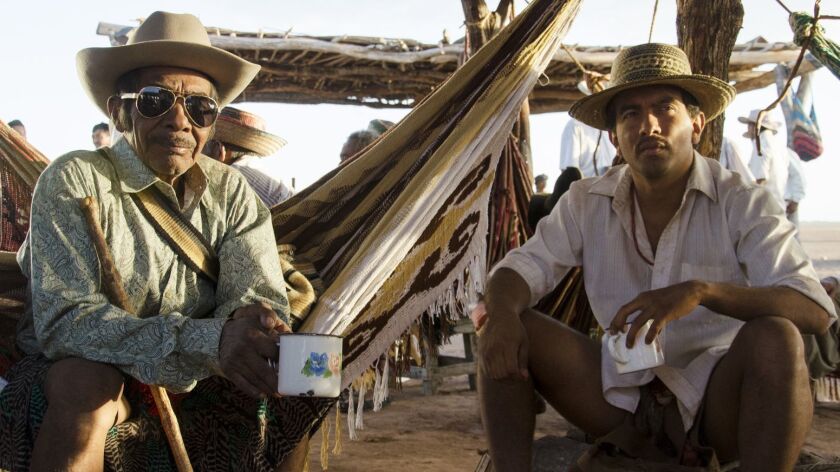 While the Bonanza was real, the characters and stories in "Birds of Passage" are fictional. Rapayet, intent on marrying Zaida, has to produce a dowry he doesn't have. Already trafficking in booze, he turns to marijuana to help come up with the 30 goats, 20 cows and five necklaces he will need to wed the young woman. A one-time trafficking operation, however, turns into a profitable habit — a habit that comes with escalating levels of violence against a related clan, all governed by a strict code of honor and revenge.
Wayuu journeys
Gallego and Guerra began thinking about making a movie on the Bonanza Marimbera about a decade ago, when they were working on "The Wind Journeys," shot partly on location in La Guajira.
"I was making a movie about music," recalls Guerra, "and people would tell me that the Bonanza Marimbera was more interesting."
But trying to shoot an entire feature in a remote region was going to be expensive. Moreover, the Wayuu have not always been especially welcoming to outsiders. "It's a very remote and arid territory, and it is Wayuu because they haven't let others enter," Guerra says. "Not the Spanish, not pirates, not the government — nobody."
But "Wind Journeys" gave him contacts in the area. And the success of "Embrace of the Serpent" made raising funds for a feature possible. ("Birds of Passage" cost $2.8 million to make — expensive for a Latin American indie, which generally run less than $1 million.)
None of this means the movie was easy to make. For one, aside from the film's leads, most of the actors were not professionals but individuals drawn from the community (including at least one former smuggler). Some participants demanded the filmmakers make a sacrifice before filming could begin. Others wouldn't participate after foreboding dreams.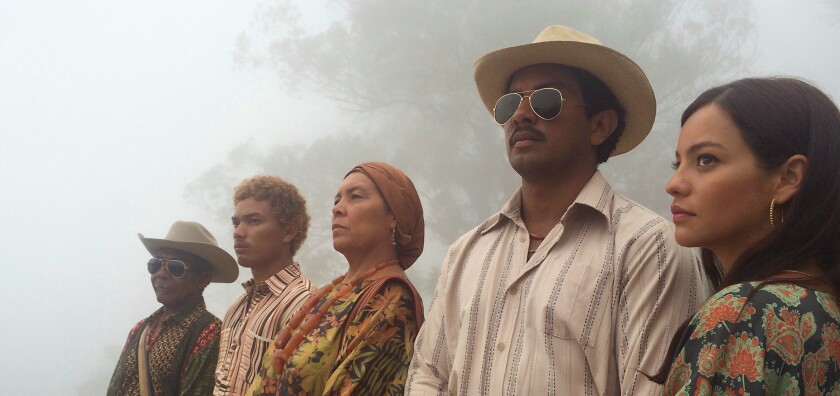 ALSO: Worlds collide in the poetic Colombian film 'Embrace of the Serpent' »
Plus, there were the elements. For two weeks during the shoot, they contended with dust storms. Later, an engorged river broke free of its course and flooded their location. As they prepared to shoot a climactic scene, rain and an electrical storm damaged the elaborate mansion set they had built.
"This was after six years without rain," says Guerra. "Six years."
In some of the film's later scenes, a literal black cloud hovers over the horizon. There were days when the directors wondered if they'd finish the film.
"There was a moment in which I went to a local priest and he told me, 'If you are still filming, it's because they are helping you,' " Gallego says. "La Guajira is the kind of place that banishes so many people."
But all the challenges, she notes, only made the film stronger.
Certainly, the environment and the deeply spiritual nature of Wayuu culture resulted in a singular story. The film isn't told in three acts, but in five cantos, a nod to the oral traditions of the Wayuu (not to mention Greek tragedy). And in many ways, the languid pace of the film evokes that of an epic poem.
Birds make mysterious appearances. Dreams govern actions. The bones of ancestors are ceremoniously exhumed. Characters sleepwalk through an existence that leads them to a preordained fate. If it sounds like a story by García Márquez, it's because it could have been — the novelist was known for drawing from Wayuu culture for his magical realism. His short story "The Incredible and Sad Tale of Innocent Eréndira and Her Heartless Grandmother" is set in La Guajira.
Ultimately, "Birds of Passage" is a way of tackling Latin American history with a distinctly Latin American lens.
So much cinema on the drug trade has been "exploitative; it has ended with the glorification of criminals and assassins," says Guerra. "There has been no responsibility in the way history is told."
"We wanted to tell the story as a tragedy," Gallego adds, "because for our society that's what it has been."
In ways both dreamlike and surreal, the filmmakers find a way of telling a story about the very real destruction the drug trade has wrought.
"Birds of Passage"
Rated: Not rated
Running time: 2 hours, 5 minutes
Playing: Laemmle Royal, 11523 Santa Monica Blvd., Los Angeles
Sign up for our weekly Essential Arts & Culture newsletter »
carolina.miranda@latimes.com | Twitter: @cmonstah
---
Your essential guide to the arts in L.A.
Get Carolina A. Miranda's weekly newsletter for what's happening, plus openings, critics' picks and more.
You may occasionally receive promotional content from the Los Angeles Times.