The fight to save Boyle Heights' Casa 0101 Theater, founded by 'Real Women Have Curves' playwright
Xavi Moreno remembers the exact moment he encountered Casa 0101 Theater. He was 18, riding his bike along East First Street in Boyle Heights, when he passed by a small storefront that was hosting a public event.
"People were reading plays and doing spoken word," he recalls. Intrigued, he went in and sat down. "The following Saturday I went back and took a class called 'Power of the Word' — it was called something like that — and it completely changed my life."

For the record:
3:00 p.m. Feb. 8, 2018An earlier version of this story stated that Xavi Moreno is based in Ashland, Ore. where he works for the Oregon Shakespeare Festival. While he is currently based in Ashland, he does not work for the festival.
Moreno is today an actor and director who works with theatrical organizations such as the Independent Shakespeare Co., which organizes the free Shakespeare festivals staged in Griffith Park.
"Casa was for me a safe haven," he says. "It was a space to tell our stories. It'll always have a special place in my heart."
Casa 0101's days as a safe haven, however, may be numbered.
The theater was founded in 2000 by Josefina Lopez, the playwright and co-screenwriter behind "Real Women Have Curves." It began as a 1,000-square-foot storefront on East First Street and expanded to include a 99-seat, 5,400-square-foot venue across the street. But now the community theater is facing a budget crunch. Low ticket sales in 2017, combined with lower than usual grant income, has put the organization in a precarious financial position — to the point where the theater could be forced to shut its doors.
"If worse comes to worse, if we get no support whatsoever," says executive director Emmanuel Deleage, "that could be by June."
But the theater hopes to turn that around — by launching a new fundraising campaign and working to expand its board.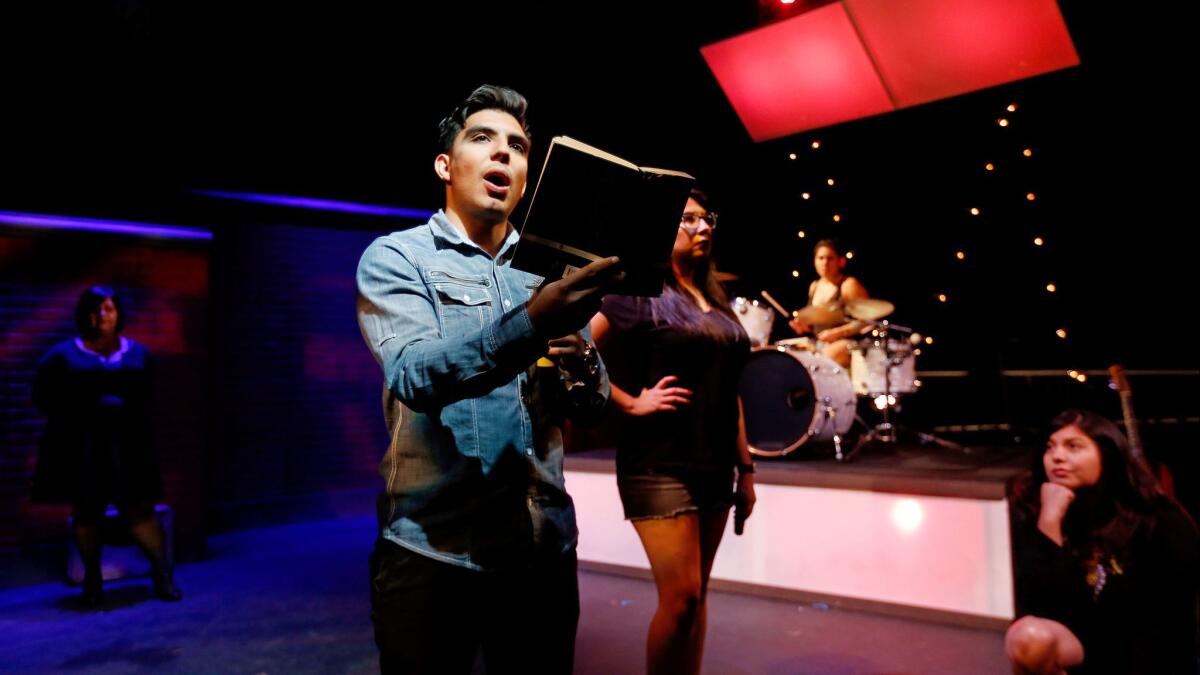 I wanted the children of Boyle heights to have the opportunities with theater that I didn't have.
— Josefina Lopez, founder, Casa 0101 Theater
Over the years, the theater has produced a slew of work — an average of eight plays a year on the main stage, many of which focus on the Latino experience. This includes productions such as "Eastside Heartbeats," which told the story of a Latino band that opened for the Beatles in 1965, as well as restagings of well-known pieces such as Lin-Manuel Miranda's pre-"Hamilton" musical "In the Heights." Casa 0101 has also staged key plays by Lopez, including "Simply Maria, or the American Dream" and "Boyle Heights" — as well as revivals of her best-known "Real Women Have Curves."
Festivals at the theater have been devoted to short, one-acts that regularly explore Chicana culture and the music of Morrissey (a popular series known as "Teatro Moz"). Casa 0101 also hosts community workshops on dance, singing, playwriting and filmmaking.
When Lopez founded the theater 18 years ago, she says via email, she wanted to "make theater accessible to the residents in Boyle Heights. I wanted the children of Boyle Heights to have the opportunities with theater that I didn't have."
To lose it now, she adds, would be "to lose a cultural treasure that provides opportunities for artists and a platform for performers."
Casa was for me a safe haven. It was a space to tell our stories.
— Xavi Moreno, actor and director
Casa 0101 is prolific, but it operates on slim margins. Most years, its budget hovers around the half million dollar mark, according to 990 forms filed with the Internal Revenue Service between 2014 and 2016. During 2013, the theater received more than $87,000 in government grants. In 2015, that amount had dipped to less than half that amount: $32,000. (Statements for 2016 are not yet available.)
Deleage says some of the dip in grant funding can be attributed to one-time, multi-year grants that are coming to an end.
Casa 0101 also relies heavily on ticket sales — which make up roughly a third of the annual operating budget. A series of plays that drew low attendance in 2017, says Deleage, meant that finances suffered.
"That's where we hit problems," he says. "And I'm not sure what led to that. We brought a play that was written and performed by Herbert Siguenza from Culture Clash. He is very well known in L.A., and that play has been shown in big theaters in other cities. But it didn't do that well."
Overall, the 990 statements show a lean organization. (Though, in 2015, it managed to turn a small profit of $7,700.) Their rent has remained stable — despite concerns about gentrification in the neighborhood. And the number of paid staff is low, consisting only of Deleage, a technical director and a marketing manager.
"We have always been a little bit paycheck to paycheck," Deleage says. "The ecosystem for a 99-seat theater is a very tough one."
The theater counts important funders among its patrons, including the Herb Alpert Foundation and the California Endowment. Government agencies such as the L.A. County Arts Commission and the Department of Cultural Affairs also contribute.
"But those two government agencies make up only 5% of our operating budget," says Deleage.
Everyone needs to turn around for a second and say, 'What can we do to save Casa?'
— Rafael Cardenas, artist and photographer
To make up the shortfalls, Deleage is looking to expand the board. (Board members are expected to contribute or raise $1,800 per person per year.) In that regard, he has already had some success: Two weeks ago, the board added performer Arturo Aranda to its ranks.
Moreover, last month, Casa 0101 launched a fundraising campaign seeking to attract 350 donors who will pledge to contribute $25 a month.
"If we can reach that number, it can help pay for overhead," Deleage says. "It can help cover operating costs. It can give us some of the long-term funding that we seek."
So far, about 88 funders have been secured — about a quarter of the goal.
In the meantime, Deleage is working on programming that has the potential to fill seats. Opening Friday is the festival "Brown & Out IV," the fourth iteration of one-acts devoted to Latino LGBTQ themes. The festival, he notes, has been popular with audiences in the past.
Opening in conjunction with the show in the theater's lobby gallery is a photo exhibition by Rolando Rodriguez, who works as a coordinator at REDCAT in downtown L.A. The show is his first gallery exhibition.
"There is a need to show the voices of our community," Deleage says. "Casa gives a platform to that."
In its 18 years in existence, writes Lopez, "we have mentored over 100 playwrights, empowered at least 40 Latinas and over 100 Latinx to write, direct and produce … we have taught acting to hundreds of children, have presented over 100 cultural events, including film festivals, musical events, poetry events."
For so many — like Moreno and Rodriguez — the theater has been an important stepping stone to a life in the arts.
Rafael Cardenas is an artist and photographer who grew up in East Los Angeles and currently lives in Boyle Heights. He is an avid theatergoer and, over the years, has gone to numerous productions at Casa 0101.
"You hear stories from locals, produced by locals and performed by locals," he says. "A lot of people have started by seeing theater there. Then they take a class there. Then they create theater. And then they have gone on to professional and commercial work elsewhere.
"We should all fight for it to stay," he adds. "Everyone needs to turn around for a second and say, 'What can we do to save Casa?'"
Sign up for our weekly Essential Arts & Culture newsletter »
ALSO
'Teatro Moz': A theater festival in Boyle Heights takes on love, loss and the Mexican fascination with Morrissey
'Eastside Heartbeats': New musical inspired by Latino band that opened for the Beatles in '65
A Mexican actor became a worker making less than $5 a day for art, theater and understanding poverty
Ceramic artist Dora De Larios on shaping her own path by melding the Mexican, Japanese and Modern
---
UPDATES:
3:00 p.m.: This article originally stated that Xavi Moreno works with the Oregon Shakespeare Festival, but it is his wife who does.
This article was originally published at 12:25 p.m.
Get our L.A. Goes Out newsletter, with the week's best events, to help you explore and experience our city.
You may occasionally receive promotional content from the Los Angeles Times.