Photos:: The 'Psycho' house on the Met's roof is cool, but can it outweird Hitchcock's at Universal Studios?
Take the elevators to the roof of the Metropolitan Museum of Art in New York and you will be greeted by the creepy sight of the house from Alfred Hitchcock's "Psycho." Rendered at a shrunken scale, and constructed with wood harvested from an old barn, the structure strikes a decidedly dilapidated pose against the gleaming midtown Manhattan skyline in the distance.
"Transitional Object (PsychoBarn)," by British artist Cornelia Parker, is the latest commission for the museum's roof garden, which every summer features work by an international artist.
Parker is known for taking bits of architecture — burned buildings, an old shed — and suspending them in explosive arrangements. In her well-known 2005 piece, "Anti-Mass," she suspended the charred remnants of an African American church. ("Anti-Mass" is part of the permanent collection of San Francisco's de Young Museum.)
Now she has turned her attention to an icon of American pop culture — which itself makes reference to other American icons. Hitchcock's "Psycho" house was inspired by Edward Hopper's austere 1925 painting "House by the Railroad," depicting the gloomy facade of a Second Empire-style structure.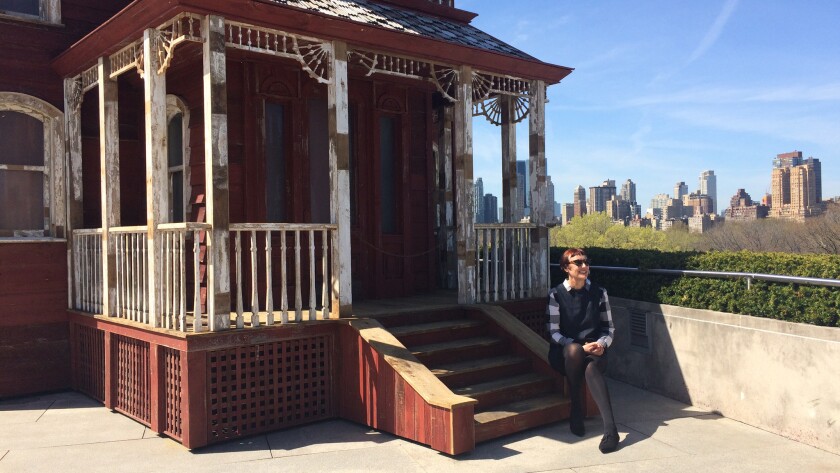 Parker's piece also nods to another important symbol of American culture: the red barn. At a news conference to unveil the piece last week, Parker said her initial idea had been to take apart, then rebuild a barn on the roof of the museum. "Then I realized how big a barn is," she chuckled.
But she nonetheless employed pieces of a barn in her reimagining of the "Psycho" house, for a building that evokes the creepiness of the "Psycho" movie while nodding to a symbol of corn-fed Americana.
There is something charming and highly Instagrammable about seeing Parker's structure on the roof of New York's most venerated museum.
But if you're an Angelena like me, you will likely be less impressed by the piece — since we can go see the actual "Psycho" house any time we like on the studio tour at Universal. Even better, we get to watch Norman Bates put a body in the trunk of a car as we gaze upon it.
Conclusion: Art may be weird. But it's hard to outweird Hollywood — Hitchcock — on this one.
Cornelia Parker, "Transitional Object (PyschoBarn"), is on view at the Metropolitan Museum of Art through October 31. 1000 Fifth Ave., New York, metmuseum.org.
Find me on Twitter @cmonstah.
---
Get our daily Entertainment newsletter
Get the day's top stories on Hollywood, film, television, music, arts, culture and more.
You may occasionally receive promotional content from the Los Angeles Times.