Herb Alpert Foundation to donate $10.1 million to LACC — making studies for music majors tuition-free
Trumpeter Herb Alpert, known for his unique brand of Latin-tinged jazz pop, and for being a co-founder of A&M Records, a label that released key albums by artists from Cat Stevens to Janet Jackson, is now making his mark on education. The musician's namesake foundation, co-founded with his wife, singer Lani Hall, is making a $10.1-million donation to Los Angeles City College that will provide all music majors at the school with a tuition-free education.
"LACC is a gem of an institution," Alpert said regarding the donation. "The biggest motivation was helping kids who don't have the financial energy to go to a major college. At LACC, they've nurtured thousands of dedicated students every year. My brother went there. My ex-partner [record producer] Lou Adler went there. I've visited the school. It's alive. It's kickin'."
Robert Schwartz, the director of the LACC Foundation, said the gift to the public, two-year college, will be transformative.
"It's the largest gift to an individual community college in the history of Southern California," he said. "And it's the second-largest gift in the history of the state."
Sign up for our weekly Essential Arts & Culture newsletter »
The money will be used to create an endowment that will fund tuition for the school's music majors and help supply them with music instruction. It will also allow LACC to increase the number of music majors from 175 to 250. The free tuition will take effect beginning in the fall of 2017.
The Herb Alpert Foundation has supported the school in the past — beginning with smaller gifts of $10,000 about 15 years ago. That was followed by larger amounts in recent years, including a three-year, $300,000 grant, which just ended, that provided scholarship support, among other things.
A meeting nine months ago between Schwartz and Alpert Foundation head Rona Sebastian, to determine what else the foundation could do, culminated in the new gift.
"It's really extraordinary," Schwartz said. "Herb is definitely a leader when it comes to giving — he and Lani both."
Alpert said that, above all, he was interested in supporting a public institution where kids of all socioeconomic backgrounds might get a shot at a good education.
"Maybe we can help open the door to students who are financially challenged," he said, "and don't have an opportunity to go to a UCLA."
Schwartz said the donation couldn't be more welcome — or needed. California's community colleges were hit hard by the state budget crisis. Funding plummeted, courses were slashed, the lack of resources made it difficult for students to complete courses of study in a timely fashion.
Schwartz said, "As one official in the state system once said, 'The community college system in California has gone from being state-funded to being state-located.'"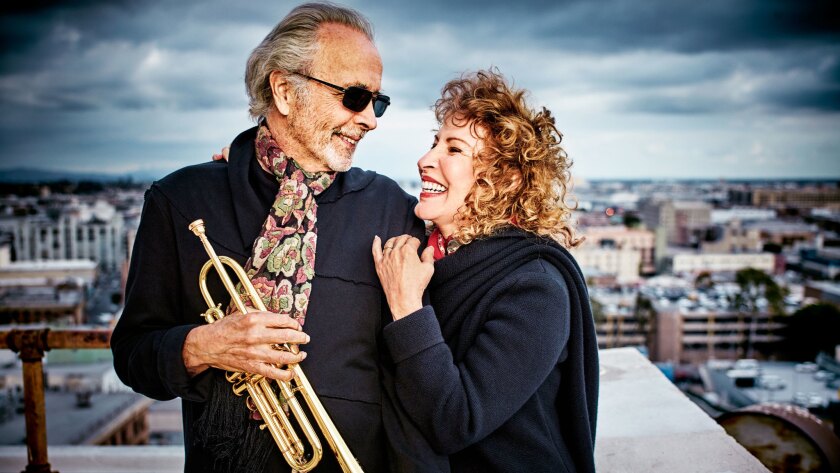 Moreover, philanthropy to the community college system remains weak. According to an estimate provided by the Council for Aid to Education, a national organization that maintains data on educational giving, only 1.5% of charitable gift dollars raised by educational institutions go to two-year institutions.
But Schwartz is hopeful that the Alpert Foundation's donation might inspire other individuals to become involved in supporting a system that is often geared for working-class students, many of whom are returning to school as working adults.
"Herb's instinct is that by making this gift," he said, "others will follow his lead."
Alpert, in the meantime, hopes to do for some future musician what music did for him.
"I was super-shy and the trumpet was speaking for me," he said. "It made the noise I couldn't get out of my mouth. It's a way for kids to experience their own uniqueness and appreciate the uniqueness of others."
Find me on Twitter @cmonstah
ALSO
Five artists and performers receive $75,000 Herb Alpert Awards
UCLA's art school plans to build a $31-million expansion in Culver City with major donation
USC Roski School of Art and Design rebuilds with 'transformative' new hires
As enrollment declines, L.A. public schools borrow a tactic from the charters: marketing
L.A. Unified projects a record 75% graduation rate for Class of 2016
---
Your essential guide to the arts in L.A.
Get Carolina A. Miranda's weekly newsletter for what's happening, plus openings, critics' picks and more.
You may occasionally receive promotional content from the Los Angeles Times.