Wander into artist John Bock's show at Regen Projects in Hollywood and you may think you've wondered into some bizarre architectural science experiment. Objects such as chairs, lamps and televisions are rendered out of wire. Some are three dimensional — others exist only in two.
"Rooms" are crafted out of little more than tubing and strategically placed cardboard. Within these spaces are all kinds of objects that border on the uncanny: a bathroom in mirror image, a neon-lighted cloth creature that looks like it's in the process of being dissected, a set of shelves with household objects that manage to be both banal and sinister.
Making all of this more hyper-real is the color palette. Bock has swaddled the entire room in black — floors, ceiling and walls — but his objects are mostly white. The stark contrast makes the whole thing feel space-age and retro at the same time.
See the most-read stories in Entertainment this hour >>
This unusual installation is actually a crudely elaborate set — one that Bock used to create a 40-minute film, "Three Sisters," that tells the story of a group of women who are avenging the death of one of their daughters. It is also on view in the gallery.
The film plays with visuals, as much as it does with story and language (it is in German with English subtitles). The characters use odd phrases to describe themselves and their sentiments. Some of the bulbous set pieces function almost as bodily parts, with the actors attaching themselves to the forms. Things happen — or they appear to happen. But it could have also all been a hallucination. (The extreme look of German Expressionist film is a source of inspiration.)
For the viewer, it's an experience not to be missed — one in which you can travel from film to set and back to film in the course of a single gallery visit, marinading in story or simply in the strangeness of the objects on view.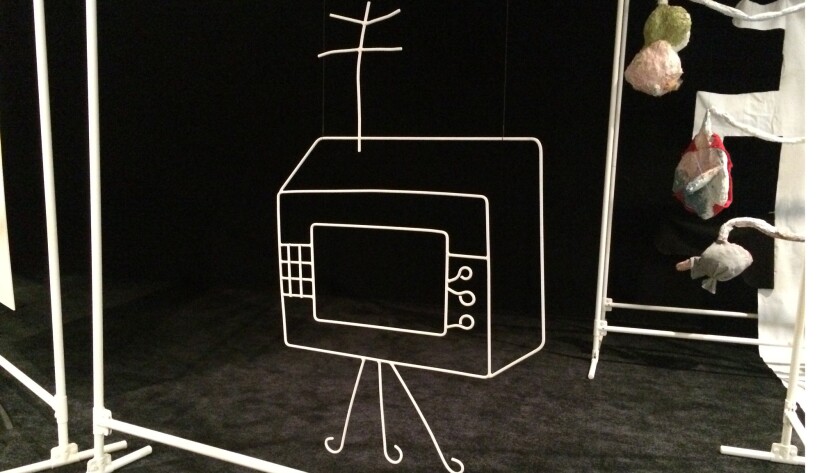 Read Times contributing critic David Pagel's review.
John Bock, "Three Sisters," at Regen Projects is on view through Saturday. 6750 Santa Monica Blvd., Hollywood, regenprojects.com.
Find me on Twitter @cmonstah.
---