99 Seat Beat: A workplace misogyny take-down, an American horror story, an Oscar Wilde classic, and more
At a first glance, L.A.'s small theater scene may look like unrelated companies randomly scattered across a vast terrain. In fact, they're all part of the same ecosystem. They work together. They cross-pollinate. This week, Matthew McCray from Son of Semele is directing "The Other Place" at the Chance Theater in Anaheim. Michael Michetti of Boston Court is directing "A Picture of Dorian Gray" at A Noise Within. The venerable Victory Theatre is presenting the world premiere of a new comedy, "Showpony," while down in San Pedro the players from Shakespeare by the Sea have moved to their winter venue, the Little Fish Theatre, to put on two very different but mutually evocative dramas, "Bloody Poetry" and "On Clover Road."
"Showpony" at Victory Theatre Center
The essentials: These days our understanding of human identity — race, sexual orientation, gender — is evolving so quickly that we have to work hard to keep up. When is a micro-aggression actually a macro-aggression? Is communication even possible? Judith Leora's office-politics comedy "Showpony," having its world premiere at the Victory Theatre, grabs the bull by the horns, drags it into the china shop and lets the shards fly.
Why this? Director Tom Ormeny, who founded the Victory Theatre Center with his wife, Maria Gobetti, calls Leora's comedy "fiercely funny" as well as topical. He hopes it will trigger conversations in the lobby about misogyny and racism in the workplace, and how we can work together to fight back. "We need that now," he says. "We need to be able to talk to each other. We need to be able to laugh."
The Details: Victory Theatre Center, 3226 W. Victory Blvd., Burbank. 8 p.m. Fridays and Saturdays, 4 p.m. Sundays. Ends Nov. 18. $24-$34. (818) 841-5421 or www.thevictorytheatrecenter.org.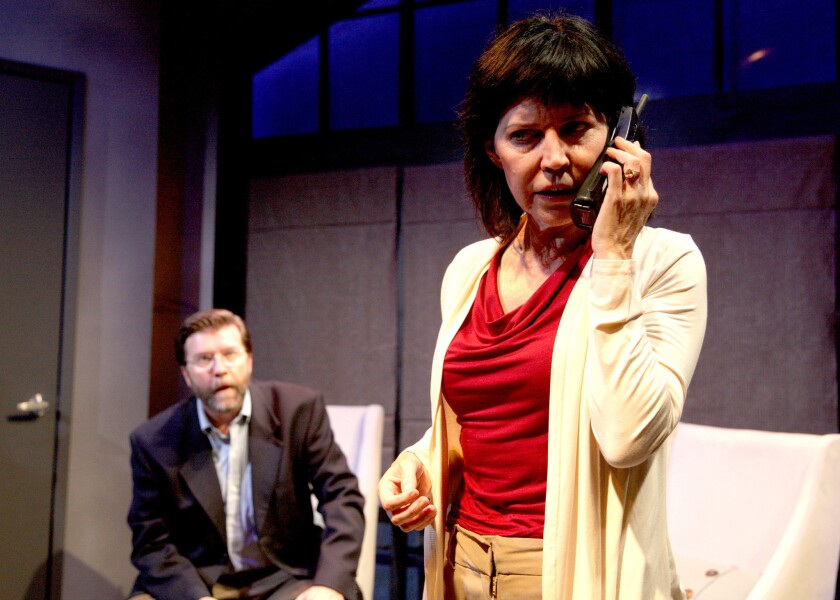 "The Other Place" at Chance Theater
The essentials: Sharr White's psychological thriller "The Other Place," a recent hit both off-Broadway and in L.A., is having its O.C. premiere at Anaheim's Chance Theater. Director Matthew McCray describes this twisty drama about a woman losing her grip on reality as "one of these wonderful plays that keeps you guessing and holding on to the very end."
Why this? McCray is the founding artistic director of L.A.'s Son of Semele Ensemble, but he works in plenty of other places too. He made his debut at Chance in 2016, directing "Dogfight," and has since helmed three enthusiastically received musicals there. The drama "The Other Place," which according to David C. Nichols in The Times, "zigzags from dark comedy to stark drama on a hairpin," should give McCray a chance to display his much-admired artistic inventiveness. Critics have noted that the play asks a lot of its lead actress — Laurie Metcalf off-Broadway, Taylor Gilbert here in Noho. How will Jacqueline Wright, locally beloved for her adventurous, full-bore, weird performances, tackle the role? Whatever happens, it's not likely to be dull.
Details: Chance Theater @ Bette Aitken Theater Arts Center, 5522 E. La Palma Ave., Anaheim. Opens Sept. 29. 8 p.m. Fridays, 3 and 8 p.m. Saturdays, 3 p.m. Sundays. Ends Oct. 21. $21-$35. (888) 455-4212 or www.chancetheater.com.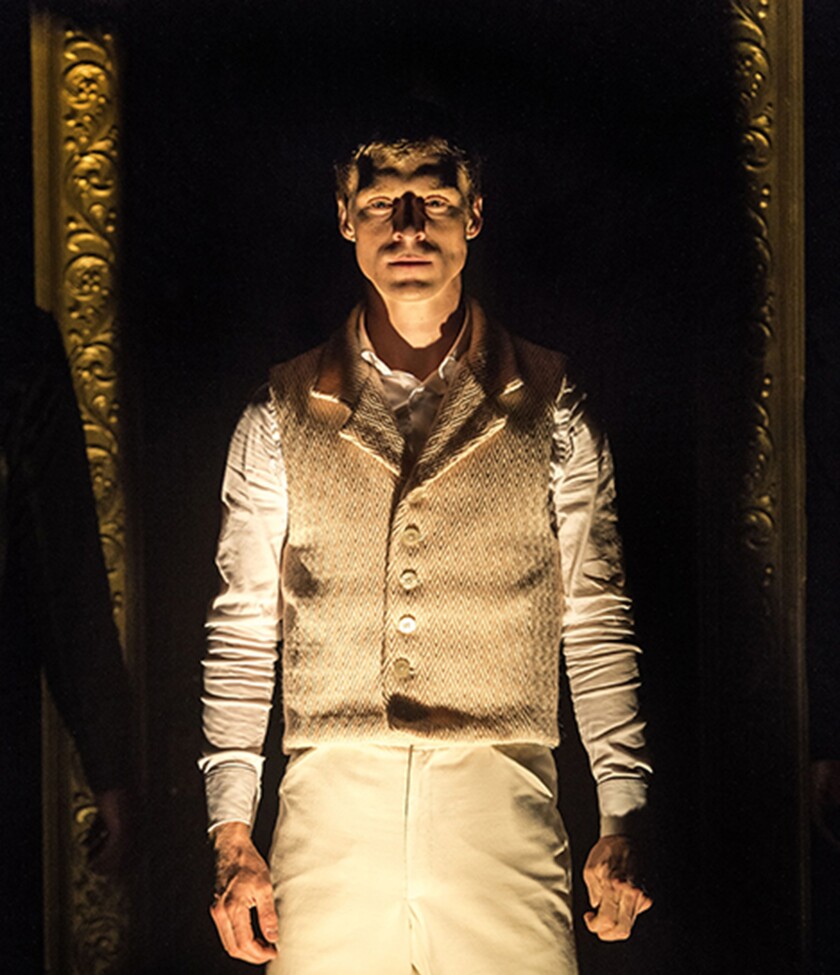 "A Picture of Dorian Gray" at A Noise Within
The essentials: Back in 2006, Michael Michetti, the co-artistic director of Boston Court in Pasadena, adapted Oscar Wilde's novella "The Picture of Dorian Gray" for the stage. With his subtle tweak of the title ("a picture," not "the picture"), Michetti may have been assuring skeptics that he wasn't trying to supplant the original, just supplementing it with one of many possible interpretations. The world premiere he directed at Boston Court was a hit — but Michetti wasn't quite ready to lock it up in the attic. He's directing an updated version, with a different cast and crew, down the road from his home base at A Noise Within.
Why this? The story of Dorian Gray, whose portrait suffers the consequences of aging and debauchery while his body remains young and gorgeous, is such a cogent reflection of the human dilemma that it's unlikely to go out of style. Some things, however, have changed since Wilde's day — when homosexuality was a crime. Michetti, whose modern-day update of "A Streetcar Named Desire" was one of last season's buzziest productions, is the right man to shine new light on this resonant classic, examining both how we've changed and how we haven't.
Details: "A Picture of Dorian Gray," A Noise Within, 3352 Foothill Blvd., Pasadena. Opens Sept. 29. 8 p.m. Fridays, 2 and 8 p.m. Saturdays, 2 and 7 p.m. Sundays (See website for exceptions). Ends Nov. 16. $25 and up. (626) 356-3121. www.anoisewithin.org.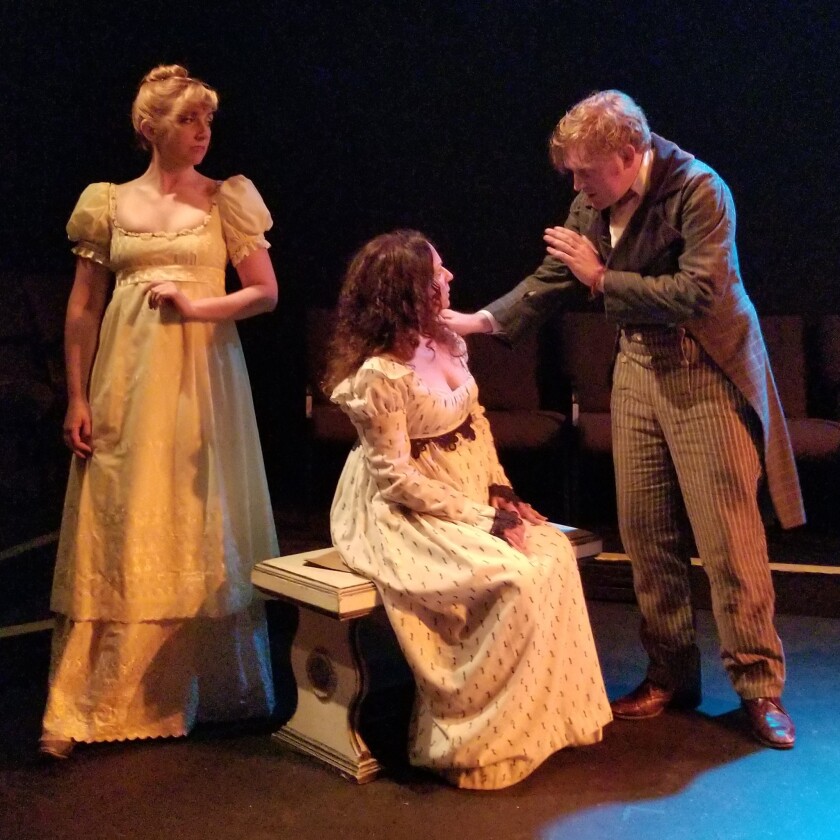 "Bloody Poetry" and "On Clover Road" trade off in San Pedro
The essentials: The two shows currently playing at the Little Fish Theatre can be seen as appetizers for the Halloween horror banquet soon to follow. On Thursdays, Howard Benton's "Bloody Poetry" takes us back to the tumultuous summer of 1816, when 19-year-old Mary Shelley — having fled England amid scandal with her husband, Percy, Lord Byron and his lover — wrote "Frankenstein." On Fridays and Saturdays, Steven Dietz's "On Clover Road" sends a mother trying to rescue her daughter from a cult down a dangerous, suspenseful path.
Why these? The Little Fish Theatre, in San Pedro's arts district, is a bricks-and-mortar offshoot of Shakespeare by the Sea, where the ensemble can explore all its extra-Shakespearean, indoors-y dramatic impulses. The space is intimate; the programming is inventive; the ensemble has won consistent critical praise. And for fans of the fantasy series "Xena: Warrior Princess" who might be in the neighborhood some weekend, Renee O'Connor, who played Xena's sidekick Gabrielle (a.k.a. the Battling Bard of Potidaea), stars in "On Clover Road."
The details: Little Fish Theatre, 777 S. Centre St., San Pedro. "Bloody Poetry," 8 p.m. Thursdays. Ends Oct. 18. "On Clover Road," 8 p.m. Fridays and Saturdays. Ends Oct. 20. $15-$27. (310) 512-6030 or www.littlefishtheatre.org.
---
The complete guide to home viewing
Get Screen Gab for weekly recommendations, analysis, interviews and irreverent discussion of the TV and streaming movies everyone's talking about.
You may occasionally receive promotional content from the Los Angeles Times.