Street artist Alec Monopoly is a blinged-out, socially engaged paradox
Street artist Alec Monopoly says it's been his dream to show at the Beverly Hills Hotel. After two years of planning, it's finally happening.
Opening Nov. 4, "Alec x Beverly Hills Hotel" is a monthlong exhibition at the 90210 landmark. The launch date includes an art class for kids under 12 taught by Monopoly, with proceeds benefiting UCLA Children's Hospital. The show features works inspired by the hotel, tributes to past guests like Marilyn Monroe, and collaborations with photographer Tony Kelly. There will be new merch available, including a skateboard deck, a Modernica chair and Monopoly's first designer toy.
The 10-inch-tall vinyl figure looks a bit like the artist himself.
"It's almost a self-portrait," says Monopoly, 32, inside his Beverly Crest home studio. But the figure also has the long, cartoonish eyes and short slash of brows reminiscent of comic book character Richie Rich, as well as a top hat and tuxedo jacket recalling Monopoly Man, from the board game. Both characters frequently appear in the artist's work. The figure seems to ask the question: Where is the line between the artist and the art?
With Monopoly, that's not easy to answer. He got his start leaving his mark on city streets and is still reserved when it comes to revealing himself. When asked to confirm that his last name is Andon, as has been reported in various outlets online, he responds, "I'm not confirming anything." He and Avery Andon, the manager Monopoly has had for his entire career, did confirm that they're brothers.
Monopoly still shields his face for photos. That semi-privacy is important, he says, "just to have some freedom to still be doing graffiti."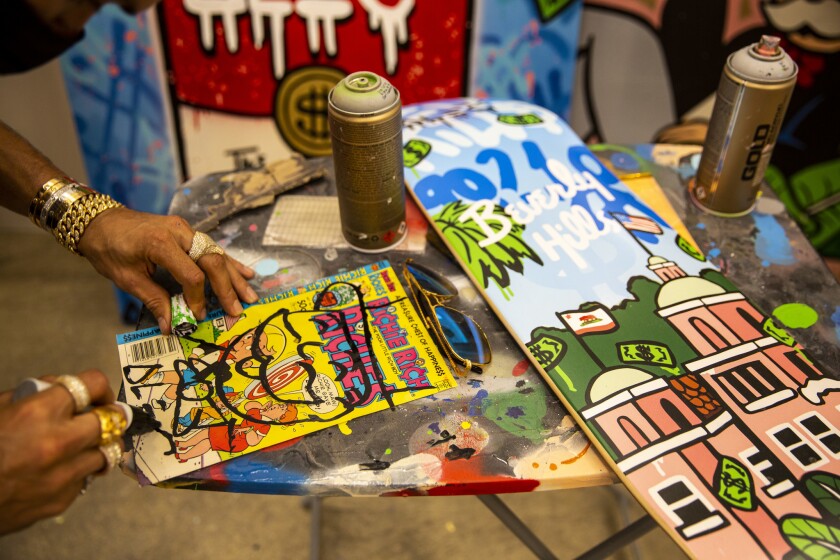 Then there's the persona of Alec Monopoly, one that came up alongside the popularity of Instagram. He has 880,000 followers on the social network, peeping pics of the artist making high-end work while living the high life as he jets from L.A. to Miami, where he splits his time, and vacation destinations like St.-Tropez, France.
In one of the Beverly Hills Hotel pieces, "Richie BHH Date Night," Richie Rich and his girlfriend stroll in front of the landmark as brightly colored cash floats around them. Monopoly says he hangs out at the hotel with his own girlfriend often. "Each piece is kind of reminiscent of the life I live almost," he says.
Inside his studio, Monopoly is loaded with bling. He wears multiple necklaces, including a Monopoly Man pendant with diamonds floating inside and one that boasts his signature encrusted in gems. Among the jewelry on his arms is a large, custom TAG Heuer watch. He's the "art provocateur" for the Swiss luxury brand. In his studio, there are five canvases made from vintage Louis Vuitton trunks.
Monopoly says his major influences are Warhol, Jean-Michel Basquiat and Keith Haring. He notes that the way he writes the letter "e" is a nod to Basquiat and his marks above the letter "c" are a reference to Haring. It's the Warhol influence that's the most striking, though. That's obvious in Monopoly's use of pop culture iconography, but it runs deeper than the surface. Monopoly, who mentions that he double-majored in art and business before dropping out of college, praises Warhol's business acumen.
There's also the aspect of the artist's public persona reflecting the times. Warhol became a symbol of downtown New York, evolving from 1960s counterculture to the celebrity glitz of '70s disco.
Monopoly, from New York but based in L.A. for about a decade, is now a symbol of today's highly curated online lives. and that, too, has changed over the years. He went from street level social commentary to Instagrammable luxe life.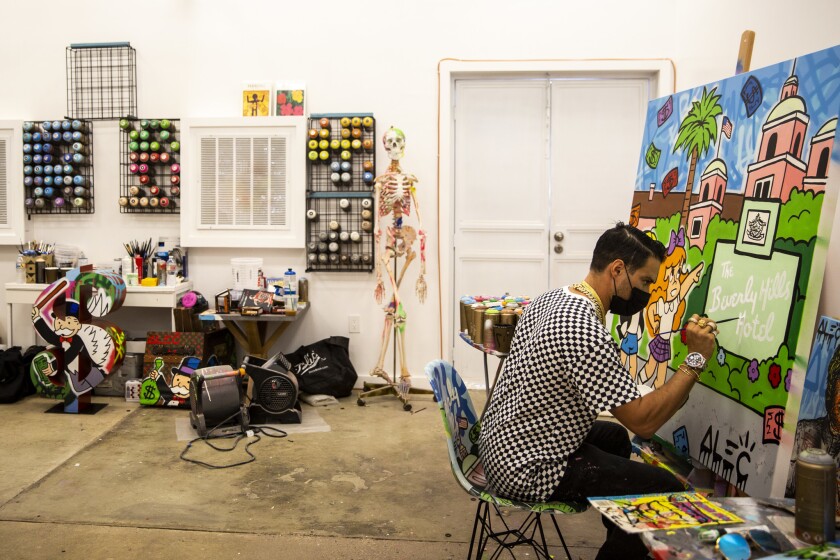 Monopoly began using what would become his signature images as the financial crisis took hold of the U.S.
"I was using it as a meta-narrative for what was going on on Wall St. and Bernie Madoff," he says. "It was kind of a negative connotation then."
But that changed. Monopoly began showing in galleries and amassed celebrity collectors. He painted Adrien Brody's Rolls-Royce and Khloe Kardashian's Birkin bag.
"I changed the Monopoly Man from being a negative connotation to being a positive connotation of wealth and prosperity, and as I started selling paintings more, I started living this life of the Monopoly Man, and now I'm almost consumed by the Monopoly Man," he says. "I'm living this life of almost a performance art version of him."
But that could change.
"Who knows what I'll be doing 10 years from now. Maybe I won't be painting Monopoly Man anymore," says Monopoly. He has thought about leaving the character behind him, but that hasn't happened yet. "I still enjoy painting him. Maybe when I get bored of doing it I will."
Alec Monopoly x Beverly Hills Hotel
Where: Beverly Hills Hotel, 9641 Sunset Blvd, Beverly Hills
When: Through Nov. 30.
---
From the Oscars to the Emmys.
Get the Envelope newsletter for exclusive awards season coverage, behind-the-scenes stories from the Envelope podcast and columnist Glenn Whipp's must-read analysis.
You may occasionally receive promotional content from the Los Angeles Times.