Bob Baker Marionette Theater is closing soon but will live on at new location, its director says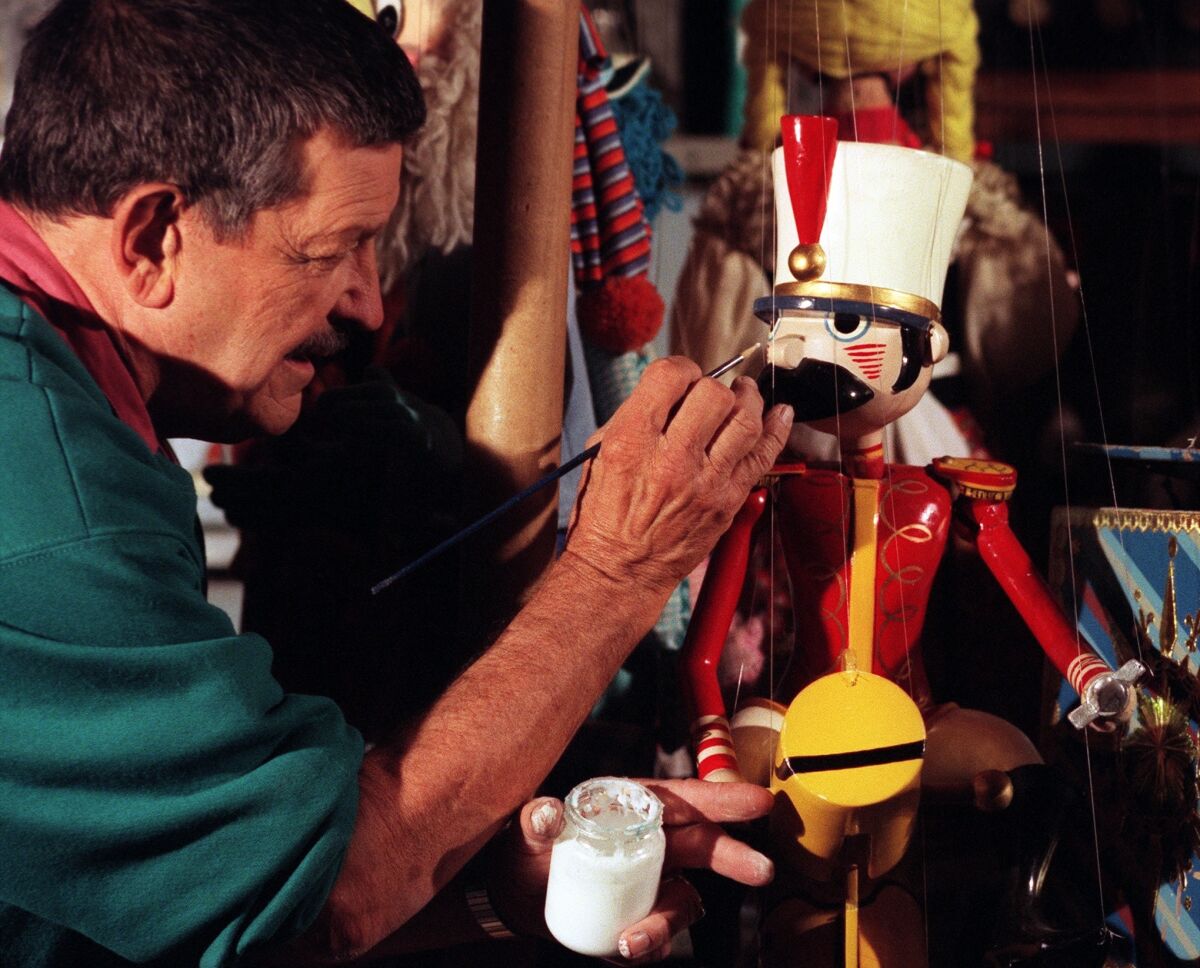 "In my mind, this is the best room in L.A.," says Alex Evans in an office above the main floor of the Bob Baker Marionette Theater, where he serves as executive director and head puppeteer.
In this room full of art and music, there is everything that Bob Baker, the late co-founder of this L.A. institution, needed to bring his puppets from idea to stage. On a table in front of Evans are designs for some of Baker's creations. Winona Bechtle, director of development and community engagement, holds up a concept from "Close Encounters of the Third Kind," one of Baker's many Hollywood credits.
Although the room is crammed with decades of history, the puppet theater is preparing to leave this space. The last show inside its venerable venue on the cusp of Echo Park and Westlake will be on Nov. 23, precisely 55 years after it opened.
Evans says that the company will reveal the location of a new, permanent home "soon." Meanwhile, it will be staging performances at various locations, including the Santa Monica Pier and Pasadena Playhouse. The popular "Bob Baker's Nutcracker" opens at the Pasadena Playhouse on Nov. 24.
For generations, the Bob Baker Marionette Theater, which Baker founded with Alton Wood, was synonymous with kid-friendly entertainment. was synonymous with kid-friendly entertainment. By the early 2000s, though, it struggled to stay afloat. Donations and the 2013 sale of the property helped keep the theater alive. Baker died in 2014 at age 90.
"The options after he died were that [the theater] closed and got dispersed somewhere or that it continued," Bechtle says. "And, for it to continue, it required people to take ownership of it."
After Baker's death, there were some changes. The theater booked more evening events, mixing puppet shows with movie screenings and musical performances. Because Baker requested not to have a funeral, the company opted to celebrate his birth annually with Bob Baker Day. It also sought, and ultimately attained, nonprofit status.
But there was also the issue of the property itself. After the property sold, the theater existed with little stability. "We've been month-to-month for the past five years, knowing that some change was coming, sometime," Evans says.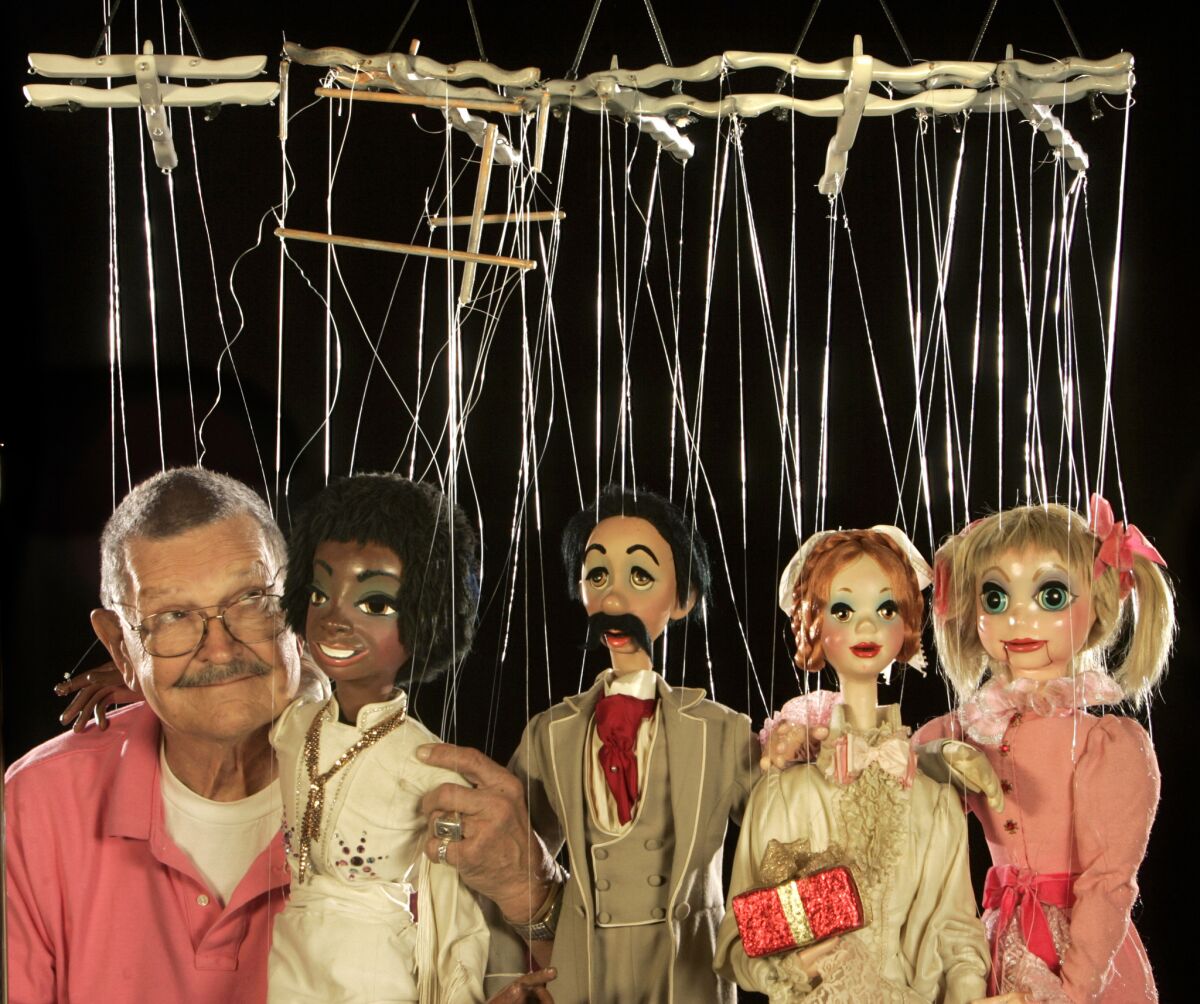 In late 2017, reports surfaced that, although an apartment building was planned for the property, the theater would maintain space at the complex.
The plans have changed, according to Evans.
"The best-case scenario would involve us shrinking as a company," he says. The company is still small — Evans and Bechtle are the only full-time employees and other staff members work when needed — but the volunteer base is large and programming has expanded. Plus, the company has many goals based on Baker's plans for the theater. It is fundraising with the capital campaign "In L.A. to Stay" and a campaign for their traveling theater called "Imagination Dwells Here."
A recent news release conveyed the company's excitement for the move, and Evans is adamant that this isn't just spin.
"We feel confident that it's change that is not only necessary, but change that can be productive and good," he says.
---
UPDATES:
12:25 p.m.: This story has been updated to name Alton Wood as co-founder of Bob Baker Marionette Theater.
---
Get our daily Entertainment newsletter
Get the day's top stories on Hollywood, film, television, music, arts, culture and more.
You may occasionally receive promotional content from the Los Angeles Times.