12 Images
Red Carpet Rewind: 2009 BET Awards
BET Awards
By Elizabeth Snead
The BET Awards was more than a musical tribute to
Michael Jackson
's music.
Top stars also gave a nod to Jackson's timeless fashion influence on the red carpet and onstage.
Opening the show, New Edition performed a medley of
Jackson 5
tunes wearing '70s fringed suede vests and huggy bear caps, but no afros or platform shoes. Seems like a natural to us.
Other performers emulated Jackson's iconoclastic style: crop leather jackets (especially red), white T-shirts, pegged black pants, black shoes, white socks -- and a single white glove.
But no matter what everyone wore, the man on everyone's mind at the BET Awards was definitely Michael Jackson.
(Kevin Winter / Getty Images)
BET Awards
Alicia Keys wore a '70s-inspired turquoise shimmery sequined mini- tunic. Or... is this really a blouse?
(WireImage)
BET Awards
Beyonce got into a mini-mode with this super short '60s swirl print dress. What a relief after her sea of ball gowns lately.
(WireImage)
BET Awards
Spiky boots, skin-tight leggings, a flowing wizard's robe. Chaka Khan looks like she's dressed for the next Harry Potter premiere. And is that a corset or some kind of velvet chastity belt?
(WireImage)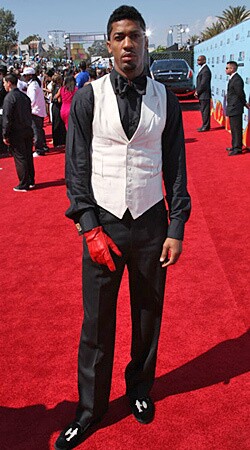 BET Awards
Farnsworth Bentley pulled out the stops with his Michael Jackson tribute ensemble. Skinny black pants, a white vest and one red glove. What, no white socks? Chicken.
(WireImage)
BET Awards
Jamie Foxx had it all going on: The Sgt. Pepper-inspired red leather jacket, skinny black pants (cropped for authenticity) and white socks. And, natch, a white sparkly glove. Michael would have approved.
(WireImage)
BET Awards
Ne-Yo wore a Michael Jackson tribute T-shirt under a black jacket with bright red pants and a "Man in the Mirror"-style hat. Somewhere, Michael is smiling.
(WireImage)
BET Awards
Omarosa wore a hot pink neon pouf dress -- very late '80s -- for her Michael Jackson fashion tribute. It's actually not a bad color. If you're going for that circus clown look.
(WireImage)
BET Awards
Taraji P. Henson pulled a late-'80s Donna Karan-esque sleek one-shouldered black jersey gown out of her closet for the BET Awards tribute to Michael Jackson. Very fitting indeed.
(WireImage)
BET Awards
Speaking of "Man in the Mirror," Ne-Yo was a modern reflection of Jackson's classic silhouette during the show with this sleek jazzy look -- black pants, red sweater and black fedora. We think Michael would have loved this look. Maybe even copied it!
(Wireimage)
BET Awards
New Edition's fringe leather vests, oversized shirts and newsboy caps had a vintage '70s
Michael Jackson
feel. But these guys couldn't pull off Michael's skinny jeans routine. Hey, can you?
(Wireimage)
BET Awards
Keri Hilson started off her performance sitting on a motorcycle, dressed in a plain V-neck T, a cropped biker jacket and skin-tight black pants. But no glove! So is she dressed like Fonzi or Michael?
(Wireimage)