Chris Meledandri of Illumination Entertainment to oversee DreamWorks Animation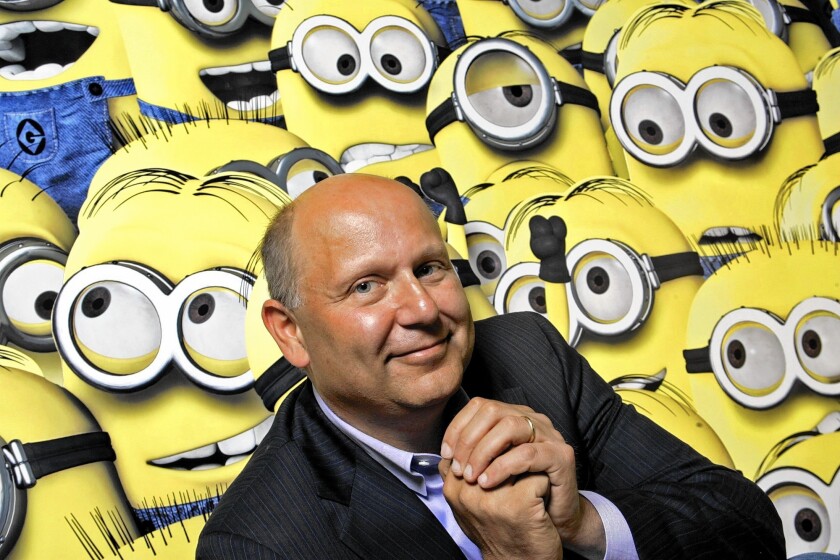 In Hollywood's animation business, all eyes are now on one man: Chris Meledandri.
Meledandri, 56, was already riding high as head of Illumination Entertainment, the main supplier of animated family movies such as "Minions" and "Despicable Me" to Universal Pictures. Now, with NBCUniversal buying DreamWorks Animation, he will also have creative oversight over that Glendale studio.
Jeff Shell, chairman of Universal Filmed Entertainment, called Meledandri "one of the most important and valuable people within the entire company."
"Whatever involvement that he wants to have at DreamWorks, big or small, he can have," Shell said in an interview. "People have asked: What will Chris do with DreamWorks? And the answer is: Whatever he wants."
Following news of the deal, Meledandri was quick to credit Jeffrey Katzenberg for his legacy in the animation sector during the executive's years at DreamWorks Animation and Disney. Katzenberg, DreamWorks' chief executive, will remain involved with the studio through a newly created new-media division.
"There are few people in the history of our industry who have made a bigger impact than Jeffrey Katzenberg," Meledandri said in a statement. "There is no better testament to Jeffrey's vision than the films DreamWorks Animation has produced and the rich talent that populates the company today."
Meledandri has also made a name from himself in the field. The New York native has burnished a reputation for making hit movies at a lower costs than typical computerized films. He made heads turn by producing movies with mass family appeal for $70 million to $80 million, well below the budgets of movies from DreamWorks and Disney, where budgets are well over $100 million.
"He's a pioneer in that he showed a different way to make movies," said Steve Hulett, business representative for the Animation Guild, the union representing animation workers. "He's basically changed the way theatrical animated features are done."
Illumination keeps cost down by maintaining a small staff in Los Angeles and outsourcing most of the animation work to the company's Paris-based studio Illumination Mac Guff, which benefits from French subsidies. Meledandri also is known for his savvy ability to avoid cost overruns on animation projects, which can take years to develop.
There is an expectation that he will outsource more work at DreamWorks Animation, which also has facilities in China and India. That could mean further layoffs at the studio, which is still recovering from a devastating downsizing last year when it cut about 20% of its workforce.
"I think it will be good for the company and long term," Hulett said, referring to the new ownership. But, he added, "It's going to mean people will be losing their jobs."
A graduate of Dartmouth, Meledandri got his start producing films such as 1993's "Cool Runnings" at Walt Disney Co. He moved on to 20th Century Fox Animation, which he helped turn into a digital animation powerhouse with its acquisition of Blue Sky Studios, Fox's wholly owned CGI animation studio. He oversaw such box-office moneymakers as the "Ice Age" and "Alvin and the Chipmunks" films.
By 2007, recognizing the value of the computer-animation craze as one of the bright spots in an industry squeezed by sputtering theater attendance, Universal lured Meledandri into its fold to spearhead the studio's entry into the family film market.
Meledandri, joined by his assistant, Kelly Martin, started Illumination Entertainment, whose movies Universal finances and distributes. It now stands as one of the biggest profit centers for Comcast-owned Universal. The studio's "Despicable Me" and "Minions" films are among the most profitable in its history. "Despicable Me" and its sequel "Despicable Me 2" have grossed more than $1.5 billion worldwide. The franchise's offshoot, "Minions," meanwhile, has brought in $1.16 billion worldwide.
The year the studio will release two originals: "The Secret Life of Pets" and "Sing."
Times staff writers Meg James and Richard Verrier contributed to this report.
---
From the Emmys to the Oscars.
Get our revamped Envelope newsletter for exclusive awards season coverage, behind-the-scenes insights and columnist Glenn Whipp's commentary.
You may occasionally receive promotional content from the Los Angeles Times.