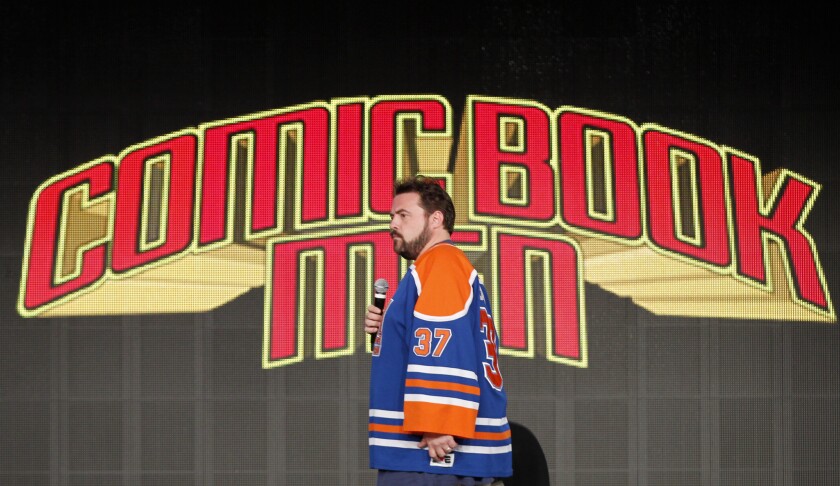 AMC is undergoing a reality check.
The cable network is dropping most of its unscripted programs to re-shift its focus to maintaining its power in the scripted arena.
The network, in a short time frame, has transformed its image from a "classic" movie rerun network to a prestige programming force with programs such as "Mad Men," "Breaking Bad," and "The Walking Dead."
But with ""Breaking Bad" over, and "Mad Men" on its way out, the cable channel is running low on breakout dramas. Recent entrants "Turn" and "Halt & Catch Fire" haven't yet established themselves as cultural touchstones. And the network can't rely on "The Walking Dead," no matter how much of a ratings juggernaut it is, to maintain its bragging rights.
"Scripted originals are at the core of the AMC brand. Iconic shows like Mad Men, Breaking Bad and The Walking Dead have driven AMC's evolution into a must-have television network," an AMC spokesman said in a statement. "We are proud of our efforts in unscripted programming and the unique worlds we have been able to introduce, but in an environment of exploding content options for viewers, we have decided to make scripted programming our priority."
The network's foray into reality programs began in earnest in 2011, with the goal of selecting shows that closely followed the network's mind-set of genre-based storytelling. The move to beef up its reality slate was originally envisioned as an eventual movie replacement.
"We don't want to be--and couldn't pull off--being in the Kardashian business or being in 'The Real Housewives' business," AMC's president of original programming Joel Stillerman told The Times in 2011.
For the network, that meant shows such as "Small Town Security," which introduced viewers to the offbeat world of a family-owned Georgia security firm, and "Mad Men"-esque "The Pitch," which followed top creative ad agencies as they prepared campaigns and pitches. As well as Kevin Smith's "Comic Book Men," which documents the fanboy culture as seen through the comic book shop, and "Talking Dead," a talk show companion for "The Walking Dead."
Recent entrants included arm wrestling series "Game of Arms" and "Freak Show," which followed the goings on of the Venice Beach staple.
Its re-positioning away from unscripted fare will leave only "Comic Book Men" and "Talking Dead" on its schedule, as both have been strong performers.
Getting scrapped are current reality shows "Small Town Security," "Freak Show" and "Game of Arms," which was recently renewed. And those unscripted shows in development, which included projects from Smith and "Talking Dead" host Chris Hardwick, have been abandoned with the option of the producers shopping the shows elsewhere.
The dissolution will likely extend behind-the-scenes as well. The network had fortified the staff of its unscripted department, with 10 employees in New York and L.A. Eliot Goldberg served as senior vice president of unscripted programming. Working under Goldberg were Marco Bresaz and Tracey Lentz as vice presidents of unscripted on the East and West coasts, respectively. Reductions to the staff are expected.
Turning its attention to its scripted output seemed inevitable, particularly as "Mad Men" gears up for its 2015 end date. Earlier this week, the network renewed "The Walking Dead" for a sixth season. But a show about zombies can last only so long.
The network has ordered more seasons of low-rated dramas "Halt & Catch Fire" and "Turn," with hopes that they might pick up steam. Gearing up for a launch in the new year is the highly anticipated "Breaking Bad"-prequel "Better Call Saul," which has already been given a second season.
Also coming up is its martial arts drama "Badlands," which is likely to drop at the end of 2015 or early 2016. The network also has a co-production in the works called "Humans." Its western "Hell on Wheels," if renewed, will also be part of its lineup.
In its pilot pipeline, AMC has dramas "Knifeman," "Galyntine," "White City" and a "Walking Dead" companion series, in addition to the comedy "We Hate Paul Revere." The network is also developing an adaptation of the popular comic book "Preacher."
Twitter: @villarrealy
---